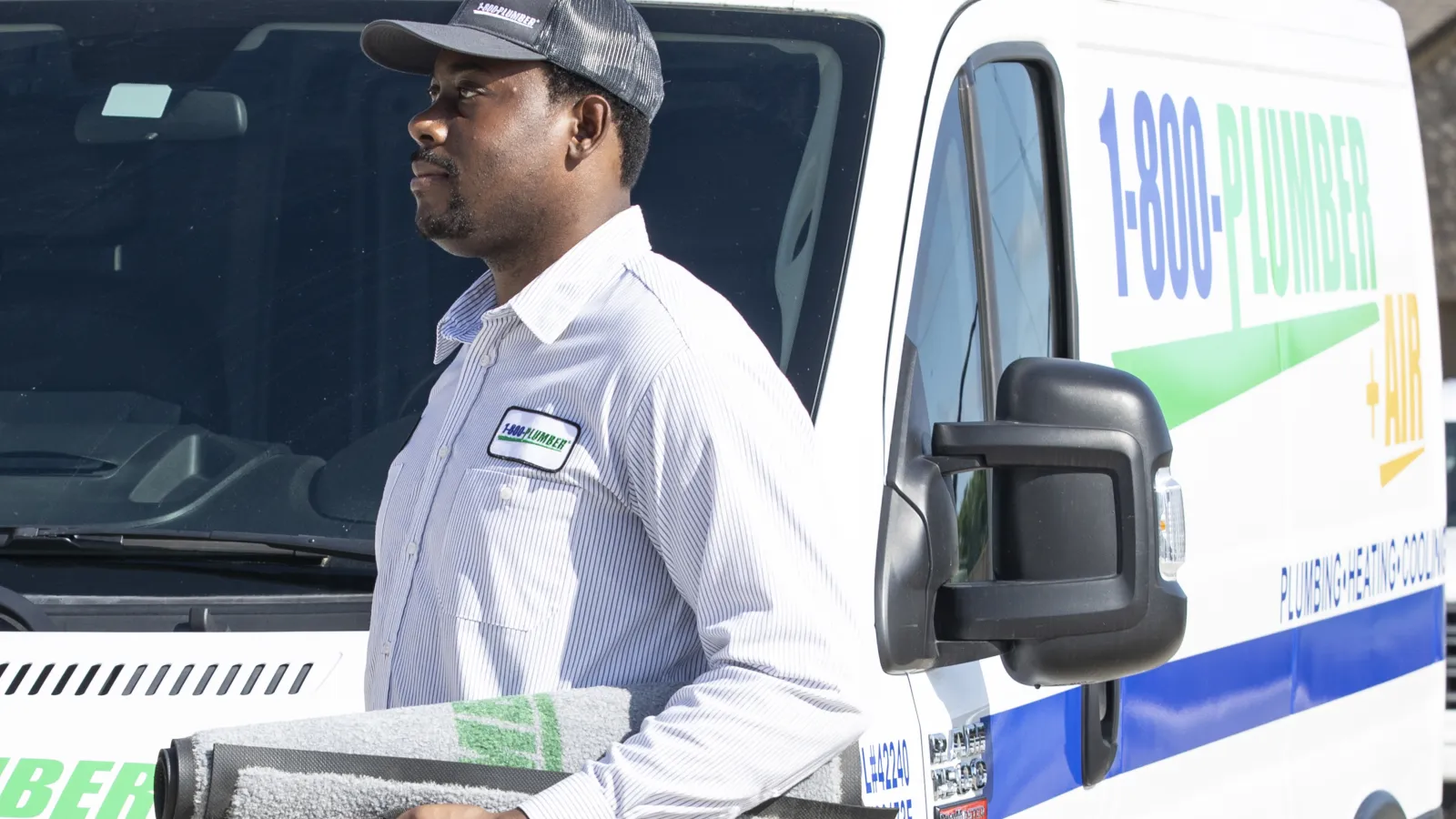 Amarillo
HEATING & COOLING
Having a
HOME EMERGENCY?
Call or Find Your Nearest Pro!
The zip code you entered is not associated with one of our locations. Please visit our Locations page to find your closest location.

Your Professional
SERVICES
Our Top Electrical
Services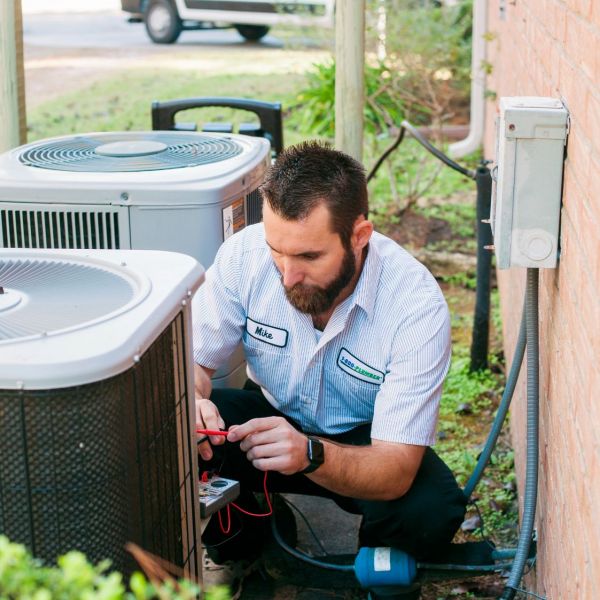 1-800-Plumber +Air and Electric | Heating and Cooling Repair Services
Here in Amarillo, Texas, temperatures can fluctuate between extremely hot and pretty darn cold. As such, residents in the area require both heating and cooling systems in their homes.
But who do they call when these systems need attention? Who do they call when these systems need replacement? Look no further than 1-800-Plumber +Air & Electric of Amarillo.
We've well-versed in heating and cooling repair services, having repaired countless heating and cooling systems throughout the Amarillo area. Regardless of your needs, our team can help you. Contact us now to discuss your needs!

Ready to
GET IT FIXED?
Contact us now!
How to Find a Local Cooling Specialist Near Me
Finding a cooling specialist near you is really fairly easy. You just need to follow a few key steps. They are as follows.
Check Search Engines
Your search for a heating and cooling specialist should start with search engines. Google or Bing will do the trick. Go to one of these sites and type "cooling specialist" into the search bar.
Upon doing this, the search engine will return a list of heating and cooling specialists in your area. This list will include not only star ratings but reviews from past customers as well. Comb through this list and look for the specialists with the most favorable ratings and reviews.
We recommend choosing specialists with at least 4 stars out of 5. Generally speaking, the higher the rating, the better service the specialist will provide. Write down a list of your favorite candidates and then continue on to the following steps.
Compare Experience Levels
When it comes to heating and cooling repair, the experience is of huge importance. Typically speaking, the more experience a specialist has, the higher level of quality he or she will provide. Those with little experience are bound to make mistakes, while those with tons of experience are bound to know exactly what they're doing.
Experience is important because it gives repair technicians the time and opportunity to work past mistakes and hone necessary skills. Without experience, heating and cooling specialists are just using their customers as guinea pigs.
For this reason, we recommend choosing a specialist with at least 2 years of experience in the field. If a specialist is still in business after 2 years, he or she is likely doing something right.
Ensure Insurance
Repairing a heating or cooling system isn't always a straightforward process. As such, it can sometimes result in damage, not only to the system itself but to the home in which the system exists. Even the great heating and cooling specialists make mistakes.
The most important thing is that you, the customer, don't have to pay for these mistakes. This is why it's important to check that your prospective heating and cooling specialist has insurance.
Insurance will monetarily protect you in the event that damage is done to your property. It will also protect you in the event that one of the specialist's employees is injured on your property.
So, before signing any contracts, make sure to see proof of both general liability and workers' compensation insurance. If a specialist can't show you this proof, you shouldn't use his or her services.
Check for Licensure
In the state of Texas, heating and cooling specialists are required to have HVAC licenses. If a specialist doesn't have an HVAC license, he or she is working out of the realm of legality and should be avoided entirely.
Fortunately, it's fairly easy to check for licensure. All that you need to do is consult the Texas license lookup tool.
Click that link and type the name of your prospective heating and cooling specialist into the search box. Hit submit and see what licenses come up. If an HVAC license shows, that specialist will be a suitable option; if it doesn't show, that specialist should be passed by.
Make Sure of Suitable Services
Not all heating and cooling repair specialists provide the same services. For instance, whereas some are equipped to repair furnaces and central ACs only, others are equipped to repair boilers, ductless mini-split systems, and heat pumps in addition to furnaces and central air conditioners.
As such, before choosing a repair service, you need to ensure that it's equipped to make the repair you need. Most heating and cooling specialists list their services on their websites. If you can't find this information on a specialist's website, call him or her and ask for it instead.
Compare Costs
Different heating and cooling specialists charge different rates. In fact, some can charge very little while others charge an arm and a leg. The key is to find one that works within your budget.
To do this, you need to obtain cost estimates from several different specialists in your area. Any reputable heating & cooling specialist will give you an estimate without trouble or resistance.
Once you've received your estimates, compare them to one another. We recommend staying away from companies that give exceedingly low estimates. If an estimate is remarkably lower than the others, it's likely indicative of some sort of failure in the company (ie. doesn't have much experience, doesn't do good work, etc.).

Signs You Need Heating or Cooling Repair Services
Determining whether you need heating or cooling repair services is generally fairly straightforward. That said, it's not always that simple. So, to determine whether they're really needed, look out for the following signs.
Your Unit Is Only Running for Short Periods of Time
One sign that you need heating or cooling repair services is that your unit is only running for short periods of time. This is called short cycling and it can be caused by everything from a poorly sized unit to dirty sensors and more. Allowing it to persist unchecked will not only result in energy efficiency issues but it will also cause the unit to deteriorate before its time.
For this reason, you need to have it inspected. We here at 1-800-Plumber +Air & Electric are the people to see.
Your Rooms Are Different Temperatures
When you use a whole-home heating or cooling solution, it's supposed to provide equal temperatures to each room. If it's not doing this, there's something wrong. It could be dirty ducts, it could be malfunctioning ducts, or there could be something wrong with the unit itself.
Regardless of what the problem might be, you need to bring in a professional heating and cooling specialist. He or she will take a look at the problem and make any repairs necessary.
Your Energy Bills Just Keeping Getting More Expensive
The bulk of an energy bill typically comes from the home's HVAC system. In the winter, it's the heater. In the summer, it's the air conditioner. As such, if you witness a sharp spike in energy costs, there's plenty of reason to believe that your heating or cooling system is to blame.
There could be any number of problems causing this to occur. So, it's best to have it assessed by a professional. We here at 1-800-Plumber +Air & Electric can help you.
Your Unit Takes a Long Time to Initiate
When you make a temperature change on your thermostat, your heating or cooling system should initiate the change within around 30 seconds. If it's taking over a minute for the change to be initiated, there is undoubtedly something wrong. The thermostat might have malfunctioned or the sensors could be dirty, to name just two possibilities.
In any case, have the problem assessed by a professional heating and cooling specialist. He or she will find the source of the issue and make all necessary repairs.
There Are Bad Smells Coming from Your Vents
You fire up your heater or air conditioner ... only for horrible smells to pour out of your vents. As you might suspect, this is an issue. In all likelihood, clogged and dirty ducts are the culprit.
The fix is to have the
duct system cleaned
. This will eliminate the source of the smells, thus eliminating those smells entirely. The professionals with 1-800-Plumber +Air & Electric can get the job done.
Need Heating and Cooling Repair Services in Amarillo?

Do you require heating and cooling repair services in Amarillo, TX? If so, we here at 1-800-Plumber +Air & Electric are the people to see.
Regardless of the problem that your heating or cooling system is facing, our skilled and experienced team can get it back to normal. We look forward to assisting you.
Contact us now to schedule service!