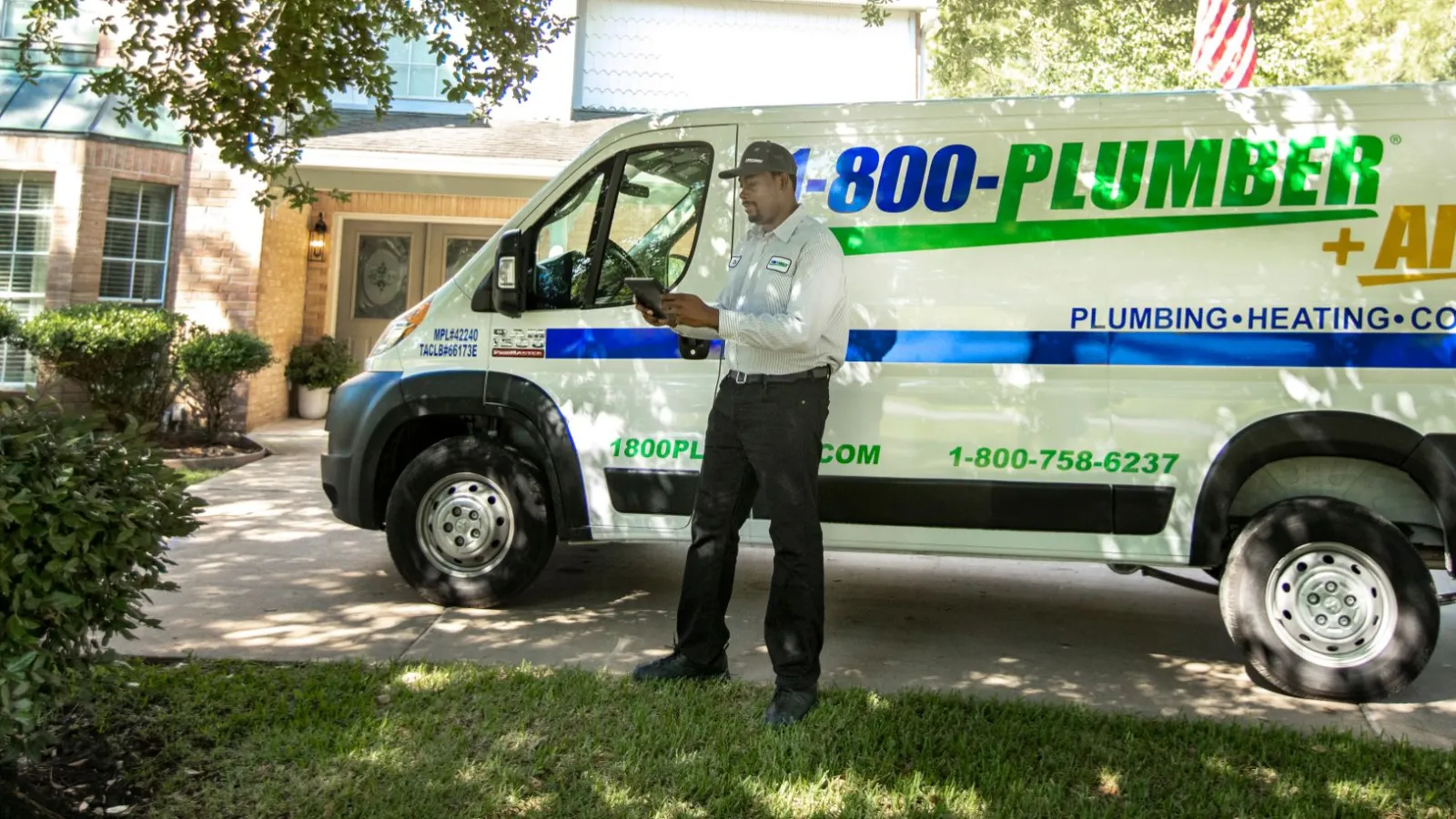 Amarillo
PLUMBING SERVICES
Having a
HOME EMERGENCY?
Call or Find Your Nearest Pro!
The zip code you entered is not associated with one of our locations. Please visit our Locations page to find your closest location.

Your Professional
SERVICES
Our Top Electrical
Services
1-800-Plumber +Air and Electric of Amarillo | Plumbing Services
Hiring a plumber in Amarillo isn't as easy as making a phone call and signing a contract. There is a lot that goes into selecting the right plumber for the job you need to complete, especially if you have an urgent plumbing issue.
If you don't want to endure the painful process of wasting your money on horrible plumbing services, then follow these steps to learn how to identify a good plumbing company.
Ready to
GET IT FIXED?
Contact us now!
How to Find a Great Amarillo Plumbing Technician
Check Online Reviews
82% of consumers read online reviews. This is because online reviews are a valuable tool to help consumers tell the difference between a good and inexperienced contractor.
You can easily check the online reviews for a business by visiting Google Maps, searching for local plumbers in your area, and clicking on their business listing. From there, you can browse dozens of reviews from a plumber's past clientele.
This way, you'll never be caught off guard when you finally decide to hire a plumber in Amarillo.
Get Personal References
Word-of-mouth advertising is still powerful, especially when choosing the right plumber. People usually trust their friends and relatives enough to be referred to capable plumber.
Therefore, if you're struggling to find a plumber that's within your budget and level of expertise, you can rely on a family member or friend to point you in the right direction.
Collect References
During an interview with a plumber you're considering, ask them for professional references. These are past clients of the plumber in Amarillo, and you can contact them to ask for specific information about the plumber's service and professionalism.
If a plumber does not have professional references, then you should count it as a red flag. Normally, plumbers and other contractors are proud of their work and will have no problem giving you a long list of references to verify.
Verify References
After receiving a reference from an Amarillo plumber, make sure that you verify every single reference. Don't just use their word for it. Put in the effort to pull five references and call them.
Ask specific questions to each reference, such as:
What was the plumber's service like?

Was there anything you've found to be unpleasant?

How much did the plumber cost?

Did you fix your issue?

Would you recommend them?
By asking these questions, you can receive the peace of mind of knowing that you won't waste your money hiring an ill-suited plumber for the job.
Request a Consultation
Many Amarillo plumbers will provide a consultation to diagnose your plumbing issue and provide the best course of action. During this consultation, you can see a plumber truly at work.
In addition, you can see a plumber's arsenal of tools and resources when they visit your home. You can also get a firm grasp of their level of expertise in troubleshooting your main plumbing issue.
Some plumbers will offer free consultation when they visit your home. Others will charge a flat-rate fee for their services.
Ask Plenty of Questions
When you have created a shortlist of your plumber candidates in Amarillo, the next step is to prepare a list of questions to ask them. Are you wondering what to ask a plumber? If so, you can refer to these questions during the interview process:
How many years have you been in business?

Are you a licensed plumber?

Do you have insurance?

Have you ever seen a problem like mine before?

What is the total cost for your services?

What is your hourly rate?

Are there any extra fees I should be aware of?

When do you want to be paid?

Who's doing all the work?

What will you do if something goes wrong?

Do you provide maintenance?
Asking these questions will give you more confidence in selecting a plumber you can trust.
Check the Better Business Bureau (BBB)
The BBB is still one of the most trusted sources of information for consumers. You can check the BBB for a plumber's profile to see if they are accredited. The BBB is a nonprofit organization that's devoted to restoring trust in the marketplace.
They help people make better hiring decisions. Therefore, when you come across a plumber that has a BBB accreditation, you can trust that they're going to provide an outstanding service.
Know What You Want Before Getting an Estimate
Be clear about what you want and expect from your plumber in Amarillo. Otherwise, a plumber may under-deliver and leave you feeling unsatisfied after the final bill. You can start by analyzing the issue you're facing.
For example, if your drains are clogged, make it clear to your plumber that you want them fully unclogged. Also, tell your plumber to perform preventative maintenance to ensure that your drains stay in working order.
Knowing what you want beforehand will help you receive an accurate estimate and avoid any future surprises with the final bill.
Interview at Least Five Contractors
There are dozens of qualified and licensed plumbers in Amarillo, Texas. It can be overwhelming to contact all of them and conduct a long interview process. For this reason, you should create a shortlist of five contractors to interview.
This method will allow you to complete the total interview process much faster and make a hire within the week. Also, you'll have backup candidates just in case your chosen plumber doesn't work out.
Don't Expect Sudden Availability
If you want to learn how to find a local plumber near me in Amarillo, then take consideration of one fact. Successful plumbers have tight schedules and often won't be immediately available.
With that said, you should watch out for a plumber who claims that they can fix your plumbing issue within a few hours. This can be considered as a red flag since contractors are often busy and have to schedule you in.
Ask What Work Will Be Done by Subcontractors
Subcontractors are professionals hired by the main contractor. In this case, they're hired by the plumber. A large plumbing project may require the plumber to hire subcontractors to help out.
Since the privacy of your home is sacred, you'll clearly want to know who'll be entering and exiting your home with the plumber. The worst-case scenario here is being caught off guard by what you believe to be intruders in your home.
Check Litigation History, Complaints, and Licenses
Some plumbers do business without a license. Working with them not only can result in your wasting your money on a poor job, but it can also lead to liability issues if your home is damaged.
Ask the plumber for their license and the licenses of the subcontractors who will be involved in the project. You can also check the BBB for recent complaints and lawsuits directed to the plumber.