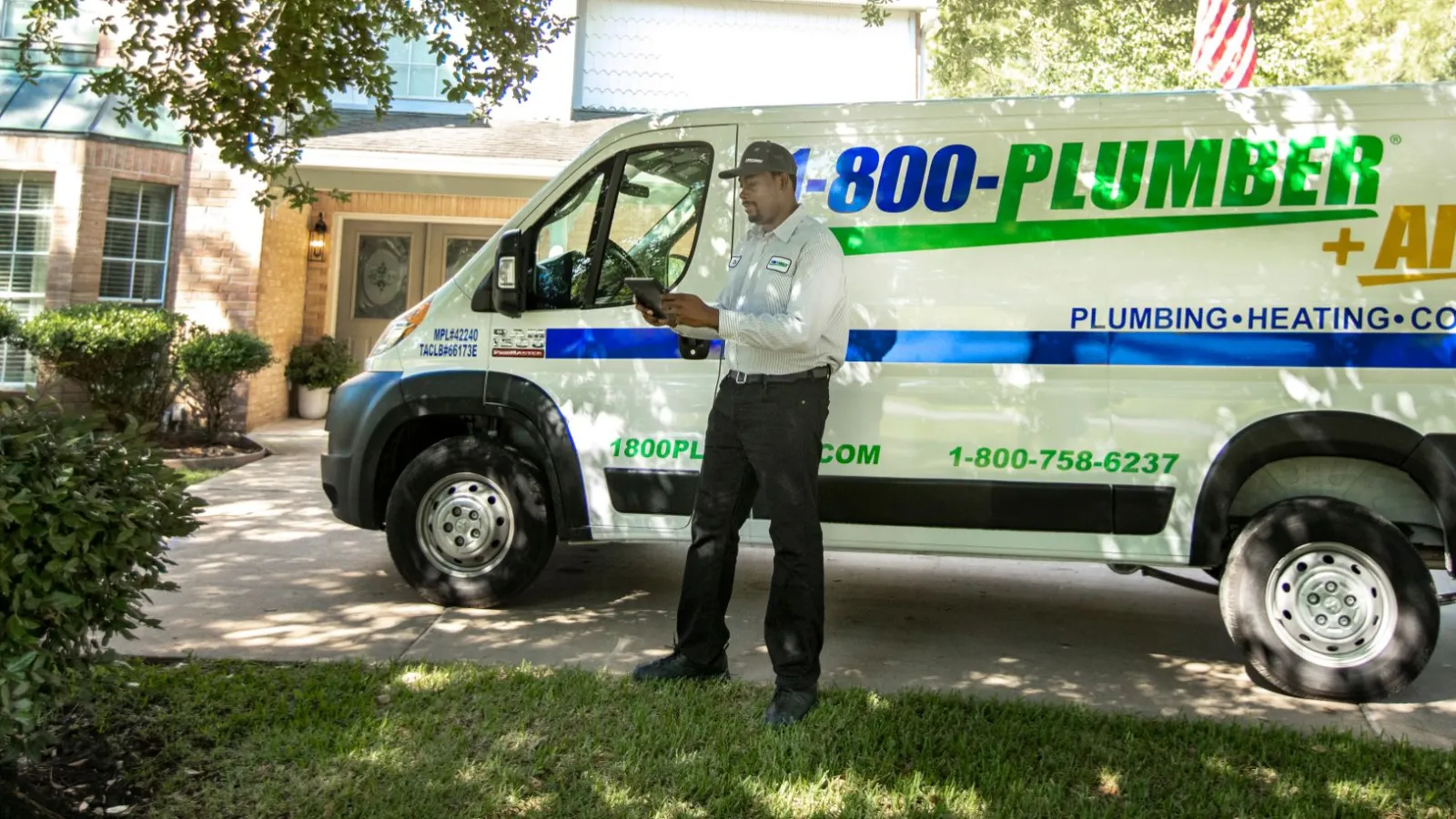 Amarillo
PLUMBING SERVICES
Having a
HOME EMERGENCY?
Call or Find Your Nearest Pro!
The zip code you entered is not associated with one of our locations. Please visit our Locations page to find your closest location.

Your Professional
SERVICES
Our Top Electrical
Services
Finding the Best
Plumber in Amarillo
Dripping faucets, leaking pipes, low water pressure, water heater problems, and sluggish drains are sure signs that you need plumbing services.
Before you go all gung-ho trying to fix things up, beware that most plumbing jobs require a professional. DIY could make things much worse and cause extensive damage to your home or business. But don't just get on the phone and call any plumber either. You need a reputable, proven, and professional plumber.
How do you find the right plumber to entrust your home or business? Read on to discover how to find the best plumber in Amarillo, what to ask a plumber, and common habits likely to damage your plumbing systems.
How to Find a Great Amarillo Plumbing Technician
Finding a local plumbing company in Texas can be as easy as searching the White Pages or for better yet, Google. Nevertheless, that won't be enough to ensure you are
How to Identify a Good Plumbing Company
Consider the following factors to identify a professional, reputable plumbing company in Amarillo.
1. Proper Licensure
Before engaging a plumber, ensure they are licensed. Most states, including Texas, require licensing for professional plumbers. Familiarize yourself with these requirements and then begin your search based on this information.
For example, in Texas, the law requires plumbers to pass the Texas Plumber exam and hold a Journeyman Plumber license. Ask to see a copy of this license, then visit the Texas State Board of Plumbing Examiners to confirm their name is listed.
At Amarillo 1-800-Plumber +Air, all our plumbers are well-trained, licensed experts capable of handling all residential and commercial plumbing issues.
2. Reputation
No matter how professional they look, don't believe it when a contractor tells you how great they are. Instead, ask around.
For example, because contractors, builders, and developers often engage plumbers, you can start there. Ask a trusted builder, contractor, or real estate agent to recommend a few reputable plumbers.
Word-of-mouth is another excellent way to get such information. Inquire from colleagues, neighbors, or friends about any excellent plumbing service they have used.
3. Reviews
A professional plumber should have a portfolio of plumbing jobs they have completed, and these don't have to be highly sophisticated tasks. Even smaller jobs can give you a glimpse of their professionalism.
Look out for jobs that they completed over two years ago. It proves their work has stood the test of time and that majority of their clients have no complaints. Just make sure you don't rely solely on what the plumbing company shows you. Hear what their former clients have to say about their service.
A simple way to know what past clients think about the plumber is to check their online reviews. Check for customers' overall satisfaction and be very wary if there are any repetitive complaints. Although some customers can be nitpicky, looking at all reviews can help. Just keep in mind that no company can ever satisfy everyone. All you need to do is make sure the positive reviews outweigh the negative ones.
Amarillo 1-800-Plumber +Air takes pride in their excellent customer reviews, showing how satisfied their customers are with their services. Most customers note that they received outstanding professional, thorough, and courteous plumbing services from the company.
4. Experience
Besides training, the plumber's experience is crucial. However, you need to focus more on the plumber's experience when you have a commercial plumbing project. It indicates that they are savvy with handling some complex issues that a regular residential plumber may find challenging.
A simple way to find out if they have experience with corporate customers is again through their reviews. Do they have positive reviews from commercial clients? Such information is easy to find on their site, company description, and popular review sites such as The Business Bureau.
1-800-Plumber + Air of Amarillo has a professional team of plumbers experienced in both residential and commercial plumbing services. They offer the perfect solutions to plumbing and HVAC issues, no matter the complexity.
5. Equipment
A professional plumber has all the necessary tools and materials for the job. They're also serious about safety, and they understand and apply safety measures to protect both themselves and the client. The way they organize themselves and layout their tools is an indicator of their professionalism.
Also, because of plumbing services' messy nature, a good plumber will wear appropriate clothing and avoid messing up homes and businesses beyond what's necessary. And this should also apply to private plumbers, not just technicians who are employees of big plumbing companies.
Amarillo 1-800-Plumber +Air plumbers are fully equipped to offer a wide range of professional plumbing services. You will find that they are also highly organized and follow safety measures and precautions to the tee to avoid unnecessary messes and accidents.
6. Insurance
All plumbers, no matter how experienced, are susceptible to injuries and accidents when working. That's where insurance comes in.
Although it may not be a state requirement, confirm that the plumber is insured. If an accident occurs or damage is done to your home, insurance will protect both you and the plumber from the financial burden of hospital bills or costs of fixing damages.
To be safe, confirm with the insurance provider that the policies are up-to-date.
Amarillo 1-800-Plumber +Air plumbers are fully insured, so apart from excellent services, you will enjoy peace of mind when working with them.
7. Modern Technology
Technology changes continually, giving way to equipment that enables a contractor to work more efficiently and enhance productivity.
A professional plumber will continually stay up-to-date with the latest technology available for fixing all plumbing issues, as well as the newest plumbing trends.
8. Costing
A professional plumber can determine how much a job will cost up-front, and they should be open about the pricing. Always ask for a written estimate, not verbal, before any work begins.
While most plumbers will provide an accurate estimate, there are often clauses stating that you will pay for additional expenses incurred. For example, if extra materials are required or if the job takes longer than expected, you may be required to top up.
It's advisable to get at least three quotes on the plumbing services you require and see if they match up. Also, get a list of the materials needed and compare their prices with those at your local store.
At Amarillo 1-800-Plumber +Air, there are no hidden costs and no surprises for any plumbing services offered.
9. Honest Communication
A good plumber is open about the job and ready to explain the options available. They are upfront about what needs to be done and how long it will take to complete the job.
It can be very disappointing to hire someone for a job that they promise will take a day or two, only to take a week. Make sure the plumber you're hiring has a good track record of finishing on time.
At Amarillo 1-800-Plumber +Air, we communicate all the options available to solve your plumbing problems and provide accurate and detailed answers to any questions.
10. Availability
You need a plumber who is readily available when you need them. A local plumber is always the best choice, and getting one is an easy task. Ask around the neighborhood or online "how to find a local plumber near me" and you'll get scores of answers.
Also, the nature of plumbing systems necessitates the need for an emergency plumber, so you need a plumber who will be available 24/7.
At Amarillo 1-800-Plumber +Air, we answer calls 24/7. Simply call us, and we will provide help with immediate steps you can take to mitigate damage, and then one of our expert plumbers will visit you as soon as possible.
11. Guarantee
Always ask for a guarantee of all plumbing work. If there's no guarantee and the issue recurs, you will suffer a loss because you have to pay again for the plumbing service. Remember, make sure it's a written guarantee.
By offering a guarantee, a plumber shows that they are confident in their work.
There should be fair terms, and a plumber that offers absolutely no guarantee is a plumber you should avoid. It should be a deal-breaker.
What to Ask a Plumber
Now that you know how to identify a good plumbing company, the next step is knowing what to ask a plumber before hiring them.
Remember, as the client, you have a right to ask questions about what will happen to your home or business, so never hesitate to ask the plumber any queries you may have. No matter how complex a problem is and how clueless you are about plumbing issues, a good plumber will answer all your questions confidently. They should be able to explain it to you in terms you can understand.
Here is a recap of some questions you should ask your plumber:
Are you licensed?

What needs to be done, and how long will it take?

How much will it cost?

Do you have experience with commercial plumbing?

Do you offer a guarantee? What are the terms of the warranty?

Are you available in case of an emergency?
Habits That Damage Your Plumbing System
Amarillo 1-800-Plumber + Air cares about you. Here are the practices that could be the reason behind the troubles you're facing with your plumbing system.
Treating your garbage disposal like it's a trash can: The garbage disposal is not built for all kinds of dirt you wash off the plates. Fats from foodstuffs form a layer in the drains that builds up into a clog, causing blockages.

Pouring too much drain cleaner: The chemicals in these cleaners eventually eat away pipes and make them vulnerable to cracking.

Letting hair down the drain: Hair and soap deposits flushed down the drain cause massive clogs.

Ignoring minor leaks: Ignoring a leak and its source can result in more damage, hence costlier repairs.

Using your toilet as a trash can: Avoid throwing sanitizing wipes, paper towels, and tissues - even those labeled flushable - in the toilet.
Contact the Pros!
Whatever plumbing service you need: drain fittings, valves, valve assemblies, pipework, tubing, or repairs, Amarillo 1-800-Plumber + Air has got you covered. Our team of highly skilled professional plumbers is capable and ready to handle all your plumbing needs. Call us today at 806-622-3862 and get the best plumbing services available getting the best company.
You will need to understand how to determine plumbing business. Customer evaluations can be beneficial and an indication of the top quality of services, yet you should never only trust these reviews. Always make sure to ask the right questions and verify that you have the right plumber for the job.
Ready to
GET IT FIXED?
Contact us now!