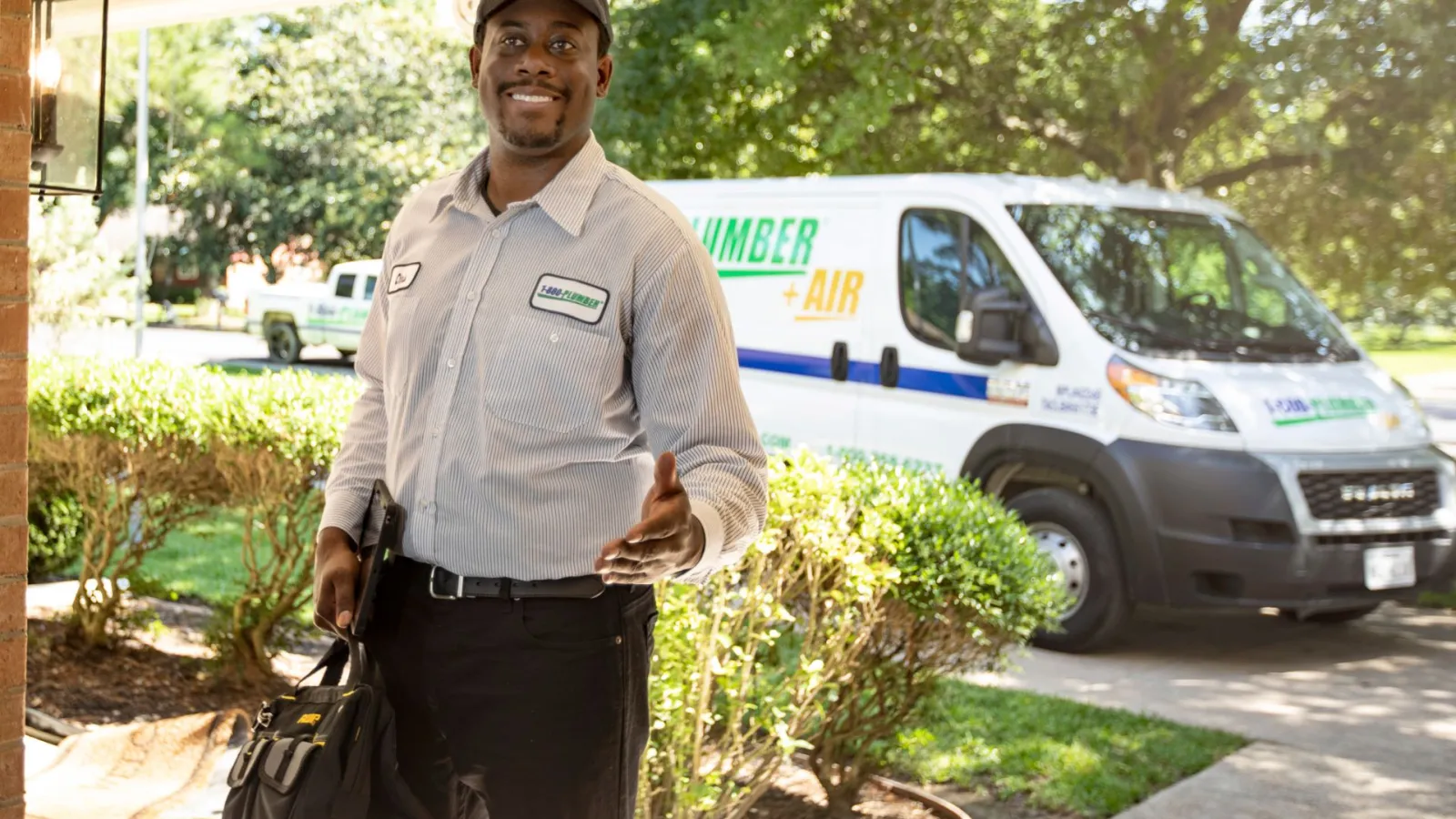 Amarillo
COMMERCIAL PLUMBING
Having a
HOME EMERGENCY?
Call or Find Your Nearest Pro!
The zip code you entered is not associated with one of our locations. Please visit our Locations page to find your closest location.

Your Professional
SERVICES
Our Top Electrical
Services
Commercial Plumbing Services
1-800-Plumber +Air & Electric of Amarillo

What to Look for in a Commercial Plumber

Before you can choose the right company for your commercial plumbing job, you should know what to look for in your prospective options. There are lots of commercial plumbers in Amarillo, but only a few excellent ones.
Experience
One of the main things it takes to be a good commercial plumber is experience. You simply can't put a pricetag on it. Experience in plumbing means that you've seen a wide variety of problems and know what to do to overcome them. It also means that when you confront an unexpected obstacle, you know how to think outside the box to find a solution and get the job done.
Craftsmanship
When you think of plumbing, you probably don't think of craftsmanship and taking pride in your work. At 1-800-Plumber, however, craftsmanship and quality are one of our top priorities. We don't just want your plumbing fixtures and pipes to work the way they should, we want them to look good doing it. We take a great deal of pride in doing the job right the first time and in the quality of our work.
Transparency
The worlds of commercial plumbing, electricity, and HVAC are cutthroat and companies are looking for any way they can to make an extra buck. That often comes in the form of hidden fees or unexpected price hikes that end up making your project cost twice as much as it should.
Contact us at 1-800-Plumber if you're afraid of getting taken advantage of on your commercial plumbing project. We won't hit you with unexpected costs unless your project calls for them.
Manpower
If you're in a hurry to get your job or repair done, you need a company that has the manpower to deliver. No matter the size or scope of your project, we have the manpower to deliver and finish your job in a timely manner. Our goal is to make sure that your project never gets held up because of us, and we can guarantee it won't.
Good Communication
Finally, it's tough to trust a company that doesn't communicate with you or let you know about unexpected changes. A good commercial plumber should be someone that's always there to answer your questions or concerns and keep you in the loop about what's going on.
The Difference Between a Commercial Plumber and a Residential One
Most people that are unfamiliar with plumbing don't realize that there's a difference between commercial plumbers and residential ones. While both types of plumbers work with similar materials and their work sometimes overlaps, there's a big difference between commercial and residential plumbing.
Size and scope of projects
In general, commercial plumbing projects are much bigger than residential ones. The materials and tools that get used on commercial plumbing jobs are also bigger than residential ones. Where a residential property will have drain lines an average of 3" big, commercial properties sometimes have drains big enough to crawl through!
There are also different licensing requirements for commercial plumbers as opposed to residential ones. While it's possible for a single company to have both types of licensing, many of them specialize in one or the other.
Last but not least, the building code requirements are different for commercial properties than they are for residential ones. Unless you're experienced in commercial plumbing and have performed the necessary classes to obtain your license, you might not be aware of these code differences.
Typical Duties of a Commercial Plumber
While there are many differences between commercial and residential plumbers, the type of work they do isn't. Plumbers of all classes specialize in installing, maintaining, repairing, and replacing plumbing fixtures, pipes, and water lines. Here are some of the specific duties that the commercial plumbers at 1-800-Plumber + Air & Electric of Amarillo specialize in.
New construction projects where you're building a new structure on a commercial property.

Remodelling projects where there's existing plumbing that needs to be replaced or retrofitted.

Remodelling projects where a building doesn't have plumbing at all and we need to start from scratch.

Installing, maintaining, repairing, and replacing water heaters, toilets, sinks, and other plumbing fixtures and appliances.

Service calls where you have a plumbing emergency on your commercial property.

Fixing and repairing plumbing leaks in drain lines or water lines.

Repairing or replacing sewage lines for your septic system.

Gas line installation or repair for natural gas or propane.

Working with plumbing pipes of all shapes, sizes, and materials.
Our plumbing professionals handle any kind of job no matter how big or small it is. Whether you're replacing an entire plumbing system or simply need help unclogging a toilet, we're the team for you.
The Best Commercial Plumber in Amarillo
If you haven't figured it out yet, we'll say it plainly: 1-800-Plumber + Air & Electric of Amarillo is the commercial plumber for you. No matter what your needs are or what condition your plumbing system is in, we've seen it all. Our skilled plumbers have years of experience, excellent communication skills, and take a ton of pride in their work. We're also one of the few companies that specialize in residential plumbing as well as commercial.
Additionally, we have the manpower and workmanship to handle jobs of all sizes. Whether you're building a 30,000 square foot commercial building or need an emergency repair in the middle of the night, we've got your back.
Ready to
GET IT FIXED?
Contact Us Now!