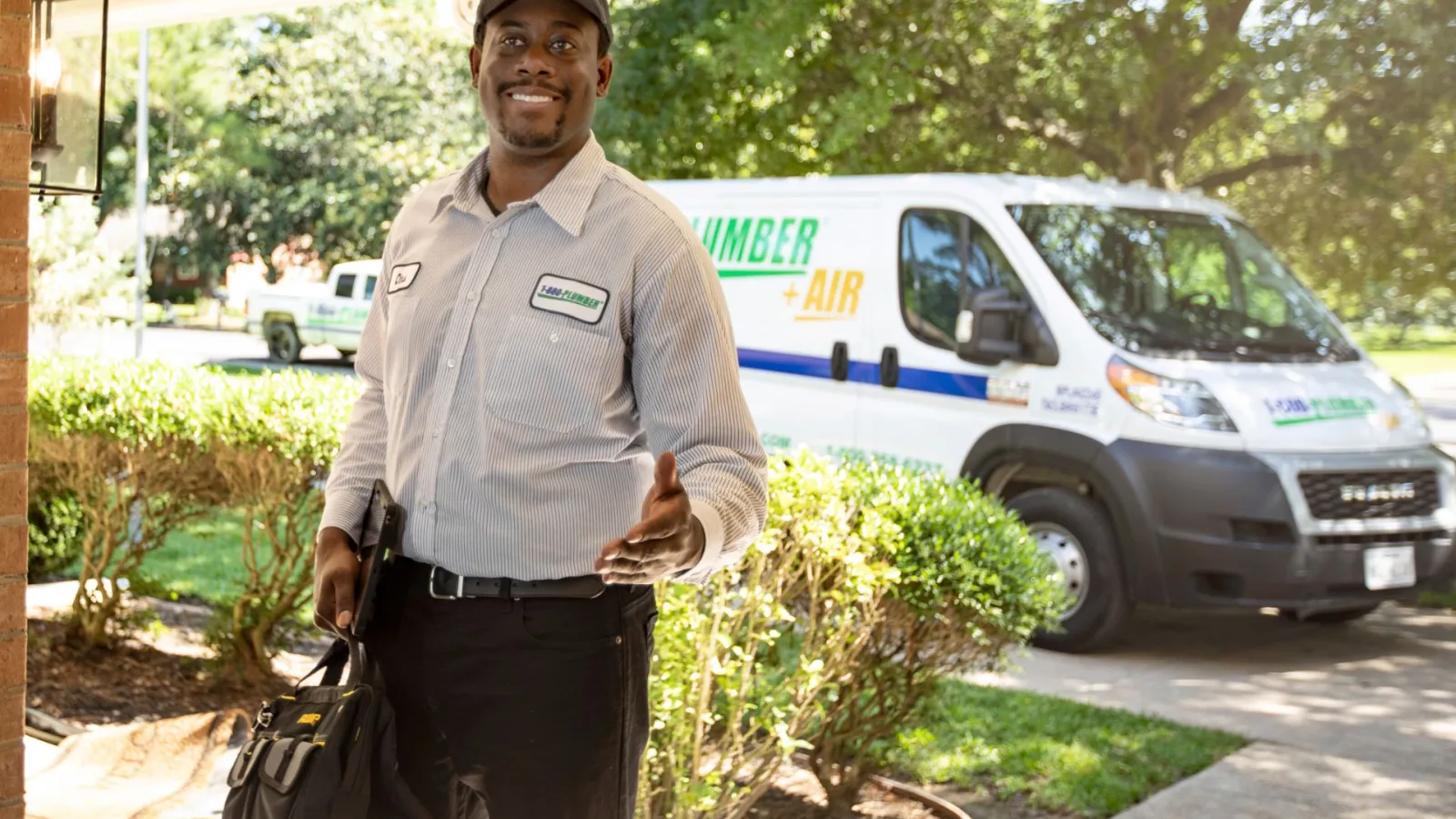 Amarillo
WATER HEATER SERVICES
Having a
HOME EMERGENCY?
Call or Find Your Nearest Pro!
The zip code you entered is not associated with one of our locations. Please visit our Locations page to find your closest location.

Your Professional
SERVICES
Our Top Electrical
Services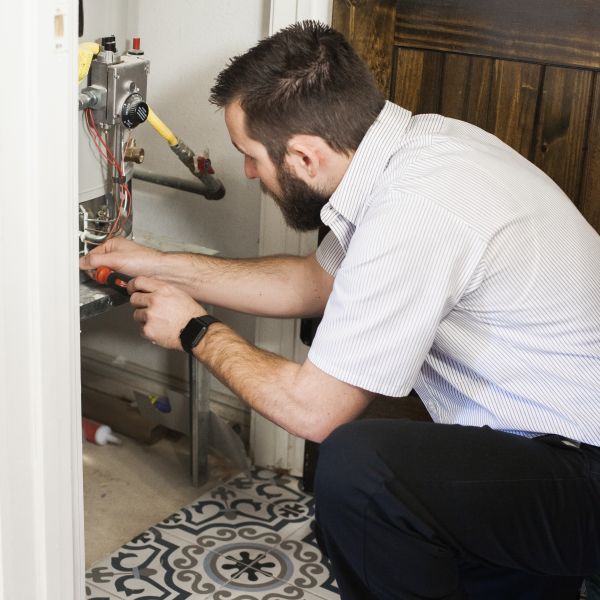 1-800-Plumber +Air & Electric of Amarillo
Water Heater Services
Typical water heaters can last up to 10 years, so if yours is nearing this age, it's a good time to consider getting a new one. However, hot water systems can fail early, especially with a lack of upkeep. Incorrect installation, degree of usage, and construction quality all play a role, too.
If your existing system is quite old, it may be time to schedule water heater services. The same goes if it's giving you a lot of trouble, or if you need a new one, perhaps for a detached structure of your home.
To that end, we've come up with this guide to help you make the smart choice when considering a new water heater. Read on to learn what your options are, and why you should call 1-800-PLUMBER® +Air & Electric.
Ready to
GET IT FIXED?
Contact us now!
Signs That It's Time for a New Water Heater
If your hot water tank has severe rusting, you should also take that as a cue to schedule it for replacement. Otherwise, the corrosion can give way to considerable water leaks. Massive leaks, in turn, can lead to severe water damage, which is even more expensive to deal with.
Moreover, water leaks can increase your home's indoor relative humidity (RH). You don't want this, as indoor RH can give rise to mold problems, which can contribute to poor health. Indeed, an estimated 4.6 million asthma cases are attributable to dampness and molds in US homes.
It's also a smart idea to consider upgrading your water heater if its tank size can no longer meet your needs. Let's say your household has grown, so there are now more people who depend on the water heater. In this case, you guys likely frequently encounter issues like running out of hot water.
The best and most convenient solution is to upgrade your water heater. You can either get a bigger tank or opt for a tankless water heating system.
Legal Must-Knows About Water Heater Installation in Amarillo, TX
A permit for water heater installations has been a legal requirement in Texas since 2007. Meaning, you need to acquire a plumbing permit before you can install any kind of water heater. However, you must also be a licensed plumber before the state issues this document.
The local
Amarillo, TX government
also imposes the same strict permitting rules. Also, safety inspections are a must for all new water heaters installed in the Yellow Rose of Texas. This ensures the safety of everyone who will use the unit, as well as avoid fire, gas, and electrical hazards.
Different Types of Water Heaters to Choose From
Conventional, tankless, and heat pumps are the most common types of water heaters in the US. The same goes for homes throughout Texas, including those in Amarillo. They all provide heated water, but their process of doing so can significantly vary.
Let's take a look at how each one works, as well as their pros and cons.
Conventional Storage Water Heater
Of all types of water heaters in the US, the traditional storage water heater is still the most common. If you have a water tank in your Amarillo, TX home, you likely have a conventional tanked water heater.
Just because these heaters are "traditional" doesn't mean that they use outdated technology. In fact, these units have had a mandatory boost to their energy efficiency since April 16, 2015. It was then that new water heaters had to follow improved efficiency measures.
With that said, you can still opt for a single-family storage water heater to replace your old one. Today, you'll find these with tank sizes ranging from 20 to 80 gallons. With a tank size upgrade, you can have more hot water ready for use at all times.
How Storage Water Heaters Work
These systems heat the cold water that flows via an opening at the bottom of the tank. The hot water then rises to the top of the tank, ready for use. When you run a hot water tap, the heated water then flows out of the tank, into the hot water pipe, and out of your faucet.
As you use hot water, cold water flows into the storage tank. This fresh supply of water gets heated again to ensure that the water in the tank remains hot.
As for energy sources, Amarillo provides many options, from gas to electricity. You can have your water heated by natural gas, fuel, propane, or electricity. It's part of Texas, after all, the state that delivers over a fifth of all domestic energy production.
The Downside
The speed at which you use the heated water in the tank can outpace the speed at which the tank heats the water. So, if everyone at home runs hot water taps at the same time, you guys are likely to run out of hot water right away.
Also, keep in mind that conventional storage water heaters heat water continuously. Heating is constant for as long as the water in the tank becomes lower than the preset temperature. This means that you may end up paying for hot water that you don't get to use right away.
Tankless Water Heaters
Worldwide, the tankless water heater market had an estimated value of $2.8 billion in 2018. Experts also forecast this sector to grow by at least 7.5% up until 2025.
The increasing popularity of tankless heaters is mostly due to their energy efficiency. The US Department of Energy says they can be 24% to 34% more energy efficient than traditional heaters. This, in turn, can help homeowners save between $100 to $200 every year on electric bills.
How Tankless Heaters Work
Tankless water heaters heat water without relying on a storage container. Instead, they come with a heating element powered by gas or electricity. So, whenever you run a hot water tap, the unit heats the cold water that flows through.
Once the water flows out of the faucet's opening, you can expect it to be hot.
This direct heating is the reason such heaters are also known as "on-demand water heaters." Since it's "on-demand," you don't have to wait for a tank to fill up with hot water. You can enjoy a continuous supply of sufficiently heated water for your showers or baths.
The Downside
If you have a big household, you may need two or more tankless water heaters. That's because most models have a limited hot water output rate of about 2 to 5 gallons per minute. As such, they may not be "powerful" enough to deliver hot water when there's simultaneous demand.
Also, the energy efficiency of each tankless heater drops based on hot water usage. The figures mentioned above (24% to 34%) applies to homes that use no more than 41 gallons of hot water per day. If your daily usage is 86 gallons or more, it can still be 8% to 14% more efficient than a traditional storage heater.
Electric Heat Pump Water Heaters
Heat pumps aren't only in heating and air conditioning units: you can also find them in water heaters! They run on the same premise on either type of equipment, which is via heat transfer.
In this way, heat pumps work hand in hand with the environment to provide you hot water. As such, their peak performance is most evident in hot climates.
How Heat Pumps for Water Heaters Work
An electric heat pump water heater works by amplifying the heat that the pump takes from the air. It then moves and transfers some of the heat into the water stored in a tank. As it does, the water heats up, and you can get hot water flowing out of your taps or showerheads.
The Downside
Considering the climate in Amarillo, a heat pump can be an option for your home. However, come winter, when the temperatures can be as low as 25 °F, a heat pump may not work as great. That's because they work best in temperatures of 40 °F to 90 °F.

Who to Call When You Need Water Heater Services in Amarillo, TX
For unparalleled Amarillo water heater services, choose our team here at 1-800-PLUMBER® +Air & Electric. We provide hot water unit installation, repair, replacement, and maintenance services. We are a fully-licensed, insured, and bonded plumbing, water heating, and HVAC company.
More than that, you can rely on our team of experts for emergency services, whatever time of the day it is. Yes, even if it's a weekend or a holiday, we can come to your rescue and resolve your water heater issues. You don't have to worry about "extra" or "hidden" fees for emergencies, either, as we don't charge such things.
The 1-800-PLUMBER® +Air & Electric team in Amarillo, TX also covers the following zip codes:
79001 79015 79016 79019 79025 79039 79042 79045 79058 79068 79080 79091 79092 79094 79097 79098 79101 79102 79103 79104 79106 79107 79108 79109 79110 79111 79118 79119 79121 79124
As consumers ourselves, we know how big of a hassle a malfunctioning water heater is. That's why we strive hard not just to deliver top-notch services, but prompt assistance, too.
As seasoned service providers, we know that many plumbing and HVAC woes can arise all at the same time. That's why we've trained in multiple sectors: from plumbing to HVAC to electrical.
As such, 1-800-PLUMBER® +Air & Electric can do more than just install your new water heater. Consider us your go-to for all your plumbing, HVAC, and electrical requirements.
Get That New and More Energy-Efficient Water Heater Now
Regardless of why you need a new water heater, it's always best to leave the task of installing it to the pros. It's for your safety, after all, as water heater installation is a complex process. The last thing you want is to damage the unit and your home, or worse, injure yourself.
So, to keep things simple, quick, and safe,
get in touch
with the 1-800-PLUMBER® +Air & Electric in Amarillo, TX! We'll be happy to take care of all the water heater services you need.