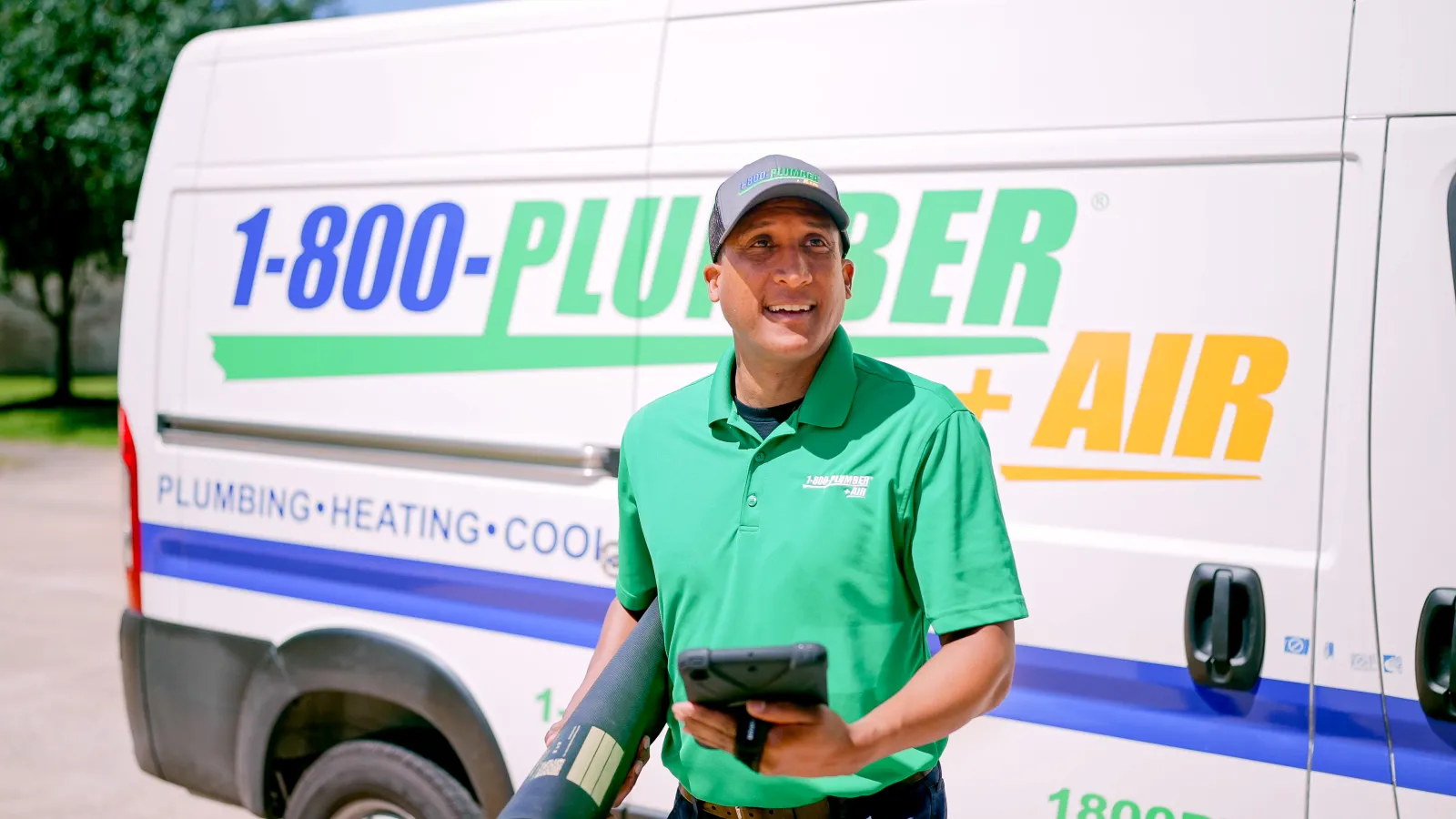 Amarillo
HOT WATER HEATERS
Having a
HOME EMERGENCY?
Call or Find Your Nearest Pro!
The zip code you entered is not associated with one of our locations. Please visit our Locations page to find your closest location.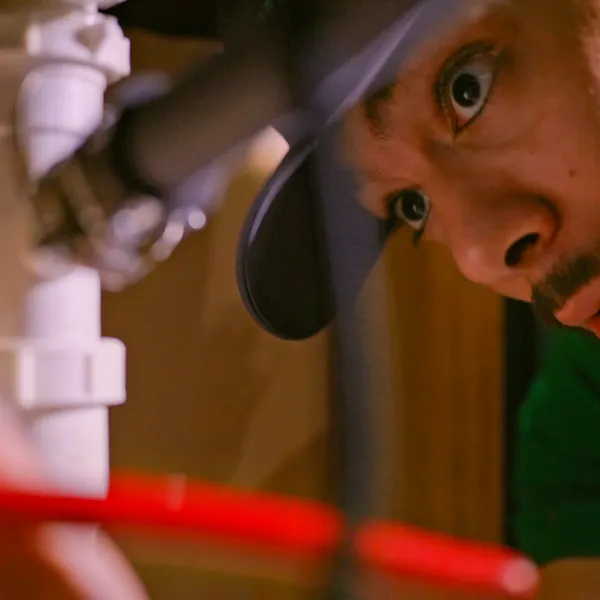 Hot Water Heater
1-800-Plumber +Air & Electric of Amarillo
Most of us don't think about our water heaters until there's an issue with it, like our shower goes cold right after getting in. But a water heater is an important appliance to maintain and give regular inspections. Especially if you're noticing anything like your hot water not working for long periods of time or any puddles near the tank. Read on below to see what signs could spell trouble for a water heater, how to fix it, and how to make your water heater last longer.
Ready to
GET IT FIXED?
Contact us now!
When is it time to replace a water heater?
A water heater does a lot for your house. It heats your showers, faucets, dishwasher, washing machine, and other household appliances. You use it every single day, multiple times a day, therefore, it can't last forever. Your hot water heater should last about 10-12 years if it's given the proper yearly maintenance. Each year, once a year, you should have a professional, licensed plumber come to inspect and flush your water heater tank. The reason it needs to be flushed is that sediment builds up naturally within a water heater tank. This sediment is the result of minerals that are naturally present in water. Because the water is constantly being heater inside the tank, this heat can cause these sediment pieces to harden and stick to the inside of the tank. While this buildup isn't dangerous, it does cause issues with the water heater like less hot water at a time, or it can cause erosion of the tank (which could cause an issue), or it can cause your water pressure to be lower because there's less space in the tank for water if there's lots of sediment in there. A professional will flush all that sediment out regularly to make sure there's no buildup so your tank can last a bit longer. However, if you're noticing any serious signs it's time to replace a water heater, it's imperative to replace it quickly because water heaters can become dangerous if the age is accompanied by dangerous signs. Here are some signs to look for:
Puddles of water under the tank
If you see a puddle at the base of the water tank, this is typically a serious issue that needs to be addressed right away. It can be a number of things causing the leak:
Temperature and Pressure Valve
If the water inside the tank gets too hot, or there's too much pressure, there's a valve on the bottom of the tank that's designed to release this pressure by draining some of the water. This is a serious issue because too much pressure inside a hot water heater is what leads to water heater explosions. These explosions can be dangerous, and even fatal. If you see water at the bottom of your hot water heater, please do not try to fix the issue on your own. A faulty water heater is a dangerous water heater. Call a professional plumber immediately to address the issue to ensure your family and your home are safe.
Of course, the issue could be a faulty drain valve or a leaky drain valve. These issues are common and could lead to a dangerous situation if not taken care of. Again, we don't recommend taking care of this on your own. You will find do-it-yourself articles online, but a licensed and insured professional is the best person to handle this job because they won't make mistakes, and if they do, the price will be covered by the professionals, and not you.
Do I have to replace my water heater? Can I do it myself?
If you're seeing a puddle of water under the base and find that it is a pressure issue, you will need to replace your hot water heater. Otherwise, it's prone to dangerous or fatal explosions. If you're hearing any knocking or banging noises, this could just be sediment within the tank, which can be flushed by a plumber. You may not have to replace the tank if it's just sediment or a leaky valve. But the best way to find if you need to replace or repair is by calling a professional and having them assess the situation with their years of expertise and training.
We don't recommend fixing any part of your water heater by yourself. While there are articles online that will show you how to do it yourself, it just isn't worth the risk it poses to you, your family, and your home. Water heaters are complex pieces of equipment that handle water that could burn or harm you, and if everything is not done entirely correctly, there can be fatal consequences. If you suspect something is wrong with your water heater, call us at 1-800-Plumber +Air & Electric of Amarillo. We can assess the situation to see if it's a repair or a replacement. The best case scenario is that it just needs a repair or maintenance, but we will make sure to give you the option that is the safest and smartest.
How do you make a water heater last longer?
To get the longest lifespan out of your water heater, have it regularly serviced by a licensed professional. Once a year, a professional can come to your home and have the tank flushed, which will get rid of the natural sediment that builds up within the tank. A plumber can ensure that everything is working properly and can tighten any loose valves or replace little pieces before they can become bigger issues leading to a replacement of the whole water heater. With regular maintenance, a water heater can last for as long as 10-12 years, but if your water heater is any older than that, we recommend replacing it. It isn't a good idea to keep a water heater past 12 years because this is when they can become dangerous. Explosions can be fatal, and the risk to you and your family just isn't worth it. If you've got an older water heater, call us to replace it!
Call us at 1-800-Plumber +Air & Electric of Amarillo
If you have a water heater that you think needs a repair or you need it replaced, or you need annual maintenance, give us a call at 1-800-Plumber +Air of Amarillo. We've seen it all, and we'll make sure you have the safest and smartest decision for your home and your finances.
Different Types of Water Heaters to Choose From
Conventional, tankless, and heat pumps are the most common types of water heaters in the US. The same goes for homes throughout Texas, including those in Amarillo. They all provide heated water, but their process of doing so can significantly vary.
Let's take a look at how each one works, as well as their pros and cons.
Conventional Storage Water Heater
Of all types of water heaters in the US, the traditional storage water heater is still the most common. If you have a water tank in your Amarillo, TX home, you likely have a conventional tanked water heater.
Just because these heaters are "traditional" doesn't mean that they use outdated technology. In fact, these units have had a mandatory boost to their energy efficiency since April 16, 2015. It was then that new water heaters had to follow improved efficiency measures.
With that said, you can still opt for a single-family storage water heater to replace your old one. Today, you'll find these with tank sizes ranging from 20 to 80 gallons. With a tank size upgrade, you can have more hot water ready for use at all times.
How Storage Water Heaters Work
These systems heat the cold water that flows via an opening at the bottom of the tank. The hot water then rises to the top of the tank, ready for use. When you run a hot water tap, the heated water then flows out of the tank, into the hot water pipe, and out of your faucet.
As you use hot water, cold water flows into the storage tank. This fresh supply of water gets heated again to ensure that the water in the tank remains hot.
As for energy sources, Amarillo provides many options, from gas to electricity. You can have your water heated by natural gas, fuel, propane, or electricity. It's part of Texas, after all, the state that delivers over a fifth of all domestic energy production.
The Downside
The speed at which you use the heated water in the tank can outpace the speed at which the tank heats the water. So, if everyone at home runs hot water taps at the same time, you guys are likely to run out of hot water right away.
Also, keep in mind that conventional storage water heaters heat water continuously. Heating is constant for as long as the water in the tank becomes lower than the preset temperature. This means that you may end up paying for hot water that you don't get to use right away.
Tankless Water Heaters
Worldwide, the tankless water heater market had an estimated value of $2.8 billion in 2018. Experts also forecast this sector to grow by at least 7.5% up until 2025.
The increasing popularity of tankless heaters is mostly due to their energy efficiency. The US Department of Energy says they can be 24% to 34% more energy efficient than traditional heaters. This, in turn, can help homeowners save between $100 to $200 every year on electric bills.
How Tankless Heaters Work
Tankless water heaters heat water without relying on a storage container. Instead, they come with a heating element powered by gas or electricity. So, whenever you run a hot water tap, the unit heats the cold water that flows through.
Once the water flows out of the faucet's opening, you can expect it to be hot.
This direct heating is the reason such heaters are also known as "on-demand water heaters." Since it's "on-demand," you don't have to wait for a tank to fill up with hot water. You can enjoy a continuous supply of sufficiently heated water for your showers or baths.
The Downside
If you have a big household, you may need two or more tankless water heaters. That's because most models have a limited hot water output rate of about 2 to 5 gallons per minute. As such, they may not be "powerful" enough to deliver hot water when there's simultaneous demand.
Also, the energy efficiency of each tankless heater drops based on hot water usage. The figures mentioned above (24% to 34%) applies to homes that use no more than 41 gallons of hot water per day. If your daily usage is 86 gallons or more, it can still be 8% to 14% more efficient than a traditional storage heater.
Electric Heat Pump Water Heaters
Heat pumps aren't only in heating and air conditioning units: you can also find them in water heaters! They run on the same premise on either type of equipment, which is via heat transfer.
In this way, heat pumps work hand in hand with the environment to provide you hot water. As such, their peak performance is most evident in hot climates.
How Heat Pumps for Water Heaters Work
An electric heat pump water heater works by amplifying the heat that the pump takes from the air. It then moves and transfers some of the heat into the water stored in a tank. As it does, the water heats up, and you can get hot water flowing out of your taps or showerheads.
The Downside
Considering the climate in Amarillo, a heat pump can be an option for your home. However, come winter, when the temperatures can be as low as 25 °F, a heat pump may not work as great. That's because they work best in temperatures of 40 °F to 90 °F.

Who to Call When You Need Water Heater Services in Amarillo, TX
For unparalleled Amarillo water heater services, choose our team here at 1-800-PLUMBER® +Air & Electric. We provide hot water unit installation, repair, replacement, and maintenance services. We are a fully-licensed, insured, and bonded plumbing, water heating, and HVAC company.
More than that, you can rely on our team of experts for emergency services, whatever time of the day it is. Yes, even if it's a weekend or a holiday, we can come to your rescue and resolve your water heater issues. You don't have to worry about "extra" or "hidden" fees for emergencies, either, as we don't charge such things.
The 1-800-PLUMBER® +Air & Electric team in Amarillo, TX also covers the following zip codes:
79001 79015 79016 79019 79025 79039 79042 79045 79058 79068 79080 79091 79092 79094 79097 79098 79101 79102 79103 79104 79106 79107 79108 79109 79110 79111 79118 79119 79121 79124
As consumers ourselves, we know how big of a hassle a malfunctioning water heater is. That's why we strive hard not just to deliver top-notch services, but prompt assistance, too.
As seasoned service providers, we know that many plumbing and HVAC woes can arise all at the same time. That's why we've trained in multiple sectors: from plumbing to HVAC to electrical.
As such, 1-800-PLUMBER® +Air & Electric can do more than just install your new water heater. Consider us your go-to for all your plumbing, HVAC, and electrical requirements.
Get That New and More Energy-Efficient Water Heater Now
Regardless of why you need a new water heater, it's always best to leave the task of installing it to the pros. It's for your safety, after all, as water heater installation is a complex process. The last thing you want is to damage the unit and your home, or worse, injure yourself.
So, to keep things simple, quick, and safe,
get in touch
with the 1-800-PLUMBER® +Air & Electric in Amarillo, TX! We'll be happy to take care of all the water heater services you need.