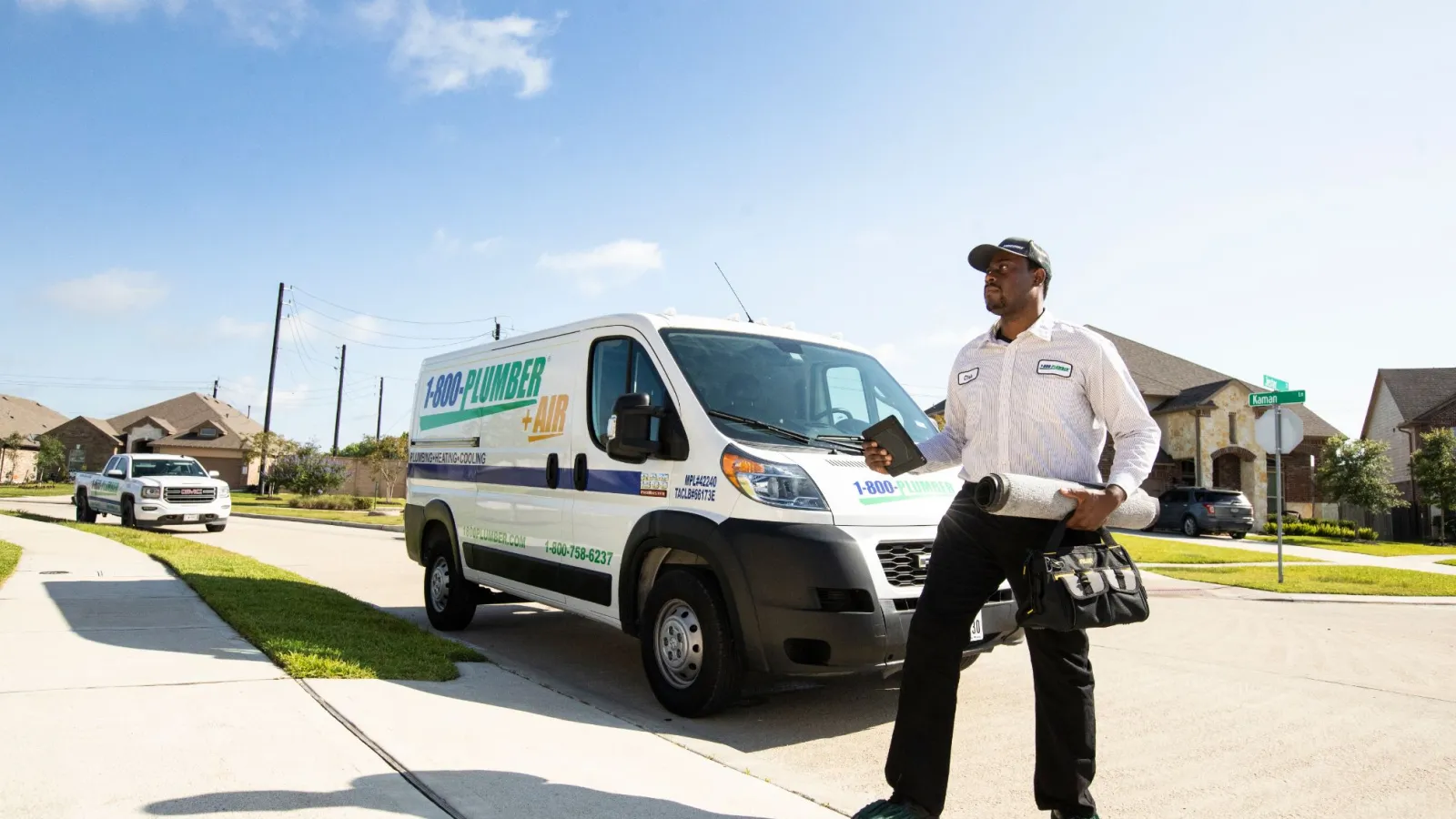 Amarillo
DUCTLESS MINI SPLITS
Having a
HOME EMERGENCY?
Call or Find Your Nearest Pro!
The zip code you entered is not associated with one of our locations. Please visit our Locations page to find your closest location.

Your Professional
SERVICES
Our Top Electrical
Services
Ductless Mini Split Services in Amarillo | 1-800-Plumber +Air
In 2019, Texas' monthly residential electricity bill averaged $134.07. That's the highest within the West South Central Region and about $14% higher than the US average.
A considerable chunk of that bill went toward air conditioning alone. In previous state reports, ACs accounted for 18% of residential electricity consumption.
So, if you've grown tired of high electricity bills, it may be time to switch to a ductless mini split.
What exactly are ductless mini split systems, though, and how do they work? What benefits do they bring to Amarillo homeowners?
We'll answer all these questions below, so read on to learn the wonders of these innovative HVAC units!
What Is a Ductless Mini Split?
A ductless mini split system is like a central HVAC system in that it has an indoor and an outdoor component. The indoor part of a mini split is an air-handling unit, while the one outside is a compressor/condenser. Unlike a central unit, though, mini split systems don't require ductwork.
In addition, mini splits provide a "zoning" feature. Each zone can be a "room," such as a living room and other individual bedrooms. You have full temperature control over each of these zones.
You'd need to set up an individual indoor air-handling unit for each zone. Don't worry, though, as a standard mini split system can power up to four individual indoor units. Some models even allow you to connect five or more indoor units.
This means that a single mini split system can have one outdoor unit and four to five air handlers. The indoor air handlers have their own thermostats, which is why they allow for zoning. As they come with separate temp controls, you can lower the setting on one without affecting the rest.
How Do Ductless Mini Splits Work?
Each mini split system comes with a conduit where the indoor and outdoor units meet. The conduit is the section where you can find the refrigerant lines. It also houses the suction tubes, power lines, and condensate drains.
The indoor unit is responsible for blowing warm air over cold evaporator coils. The heat from the air then gets absorbed by the refrigerant running within the coils.
The refrigerant brings all that absorbed heat to the outdoor unit. From there, the heat gets released back to the outdoors.
A ductless mini split system's indoor unit is inside each cooling/heating zone or room. This can be your living room, dining room, or bedroom. Since the air handler is in the room itself, it releases the conditioned air straight into that zone.
Benefits
How Much Does a Ductless Mini Split Cost?
A new mini split system can cost anywhere from as low as $1,300 to as high as $8,000. The higher price includes more indoor units, usually four to five. The more rooms you need to cool (and also heat), the more indoor units you need, so the higher the cost, too.
Is a Ductless Mini Split System a Good Choice for Amarillo Homeowners?
Definitely!
Mini splits provide cost savings, especially for homes without existing ductwork. They can also be a more practical choice for houses with rundown ducts. Moreover, they are more energy-efficient than other new air conditioning units.
No Pricey Ductwork Needed
According to Home Advisor, the cost of new duct installation runs between $1,500 to $7,000. The bigger the home and the better the quality of materials, the pricier it gets.
If your Amarillo home doesn't have ductwork, consider going with a ductless mini split. This way, you don't have to spend thousands more on having ducts installed.
Say Goodbye to Energy-Wasting Duct Leaks
The National Association of Home Builders says that ducts last up to a decade on average. However, proper maintenance and insulation can extend their life by several more years.
Still, the US Department of Energy says that even with up-keep and insulation, ducts can leak. So much so that typical duct systems can lose up to 40% of heating and cooling energy! The thing is, an HVAC system already needs to work twice harder if the ducts lose 20% of energy.
So, even if your Amarillo home has existing ductwork, you should still think about going with a mini split. This is especially true if you have old or failing ducts.
Zoning for Greater Energy-Efficiency
Central HVAC systems can waste a lot of energy as they heat and cool unoccupied rooms. So, it's no wonder that central HVAC unit spending is about twice more than individual units. This also explains why in 2015, hot and humid regions, including Texas, spent over $500 on central AC use alone.
This isn't an issue with a ductless mini split, as you can turn off the indoor unit in unused zones or empty rooms.
No More Feeling Too Cold or Too Warm
According to scientists, some people get hotter or colder more quickly than others. You may have such issues at home, wherein a family member says it's too hot even if you already feel cool. If you have a central AC, you guys would always need to compromise or meet somewhere in the middle.
Ductless mini splits help prevent these "disagreements," thanks to their zoning features. Since every zone comes with a thermostat, you can adjust each to your liking. This won't affect the other zones, so everyone at home stays happy and comfy.
Ability to Heat and Cool
Mini split systems can be "two-in-one" systems, offering both heating and cooling functions. This makes it a feasible choice if you need both a new space heater and air conditioner.
You can opt for a reverse cycle mini split or a mini split heat pump system. Since these serve as both a heater and a cooler, they eliminate the need for separate equipment. You can set them up to cool in the summer and then heat in the winter.
This kind of heating and air conditioning set up also helps you save precious space. This is especially beneficial for Amarillo homeowners with smaller homes. It's quite common in the city, as the median size of houses here ranges from just a little over 900 to 1,600 square feet.
Lower Installation Cost Compared to New Ductwork and HVAC Installations
As mentioned above, a new mini-split can cost $1,300 to $8,000. That averages to $4,650.
By contrast, a new window AC can cost $500 each, while a central AC can cost $3,800 to $7,500 or more. That's on top of the $1,500 to $7,000 duct installation cost. If you also need a new heating system, it can cost another $2,000 to $6,000.
Doing the math, the cost for an all-new central HVAC system with ducts averages about $14,900.
How to Install a Ductless Mini Split System
Installing a mini-split system is easier than a central HVAC, as there's no need for ducts. However, you still need to have mechanical, electrical, and plumbing knowledge. It also requires drilling, mounting, and proper power connections.
In any case, the first step is to decide how many indoor air-handling units you need. You can base this on the number of cooling/heating zones or rooms in your house. For instance, if you live in a 2-bedroom house, you may need one for each room, plus another for the living/dining area.
Next, you need to obtain permits for HVAC work from the Amarillo Government. These include mandatory mechanical permits for the installation and inspection of the system.
Inspection permit fees are separate, and the city may mandate more than one. This can happen if the first inspection fails because of incorrect installation. In many cases, such failures arise due to DIY HVAC system installation.
Also, you need the city-issued permits before you can start the installation. These documents have expiration dates, usually within 180 days from issuance. If they expire, you can renew them for an extra cost.
1-800-Plumber +Air & Electric of Amarillo Makes Mini Split Installation a Breeze
1-800-Plumber +Air & Electric of Amarillo can take care of your ductless mini split needs. Our licensed and insured HVAC technicians can help you even before the installation. You can have them assess your home to determine how many zones and indoor units you need.
Most importantly, our HVAC professionals will ensure the proper sizing of your system. Correct sizing is key, as a too-small system won't deliver adequate cooling or heating. By contrast, oversized systems won't reach their full capacity and cycle on or off faster.
We will also take care of all required permits as well as the scheduling of inspections. You can rest assured that our installation will pass the first inspection.
Moreover, 1-800-Plumber +Air & Electric is a plumbing and electrical specialist. That's another reason we complete our HVAC jobs faster than many others. Plus, this means that you can rely on us if you need help with your plumbing or electrical systems.
We also service all of Amarillo, including the following areas:
79015, 79107, 79121, 79068, 79016

79108, 79124, 79039, 79101, 79109

79045, 79019, 79102, 79110, 79098

79094, 79103, 79111, 79092, 79042

79104, 79118, 79001, 79097, 79106

79119, 79058, 79080
If your zip code isn't there, don't worry, as you can simply ring us up to ask about our services. We service areas nearby Amarillo, too, so feel free to get in touch with us anytime.
Year-Round Comfort for Your Amarillo Home
There you have it, everything you need to know about ductless mini split systems. Now that you know more about their benefits, too, consider making the switch. If you're still on the fence, though, it's a good idea to have your home assessed.
Our team here at 1-800-Plumber +Air & Electric of Amarillo can help. Please get in touch with us to schedule your ductless mini split assessment. We'll also be happy to address your other questions about these innovative systems.
Ready to
GET IT FIXED?
Contact Us Now!