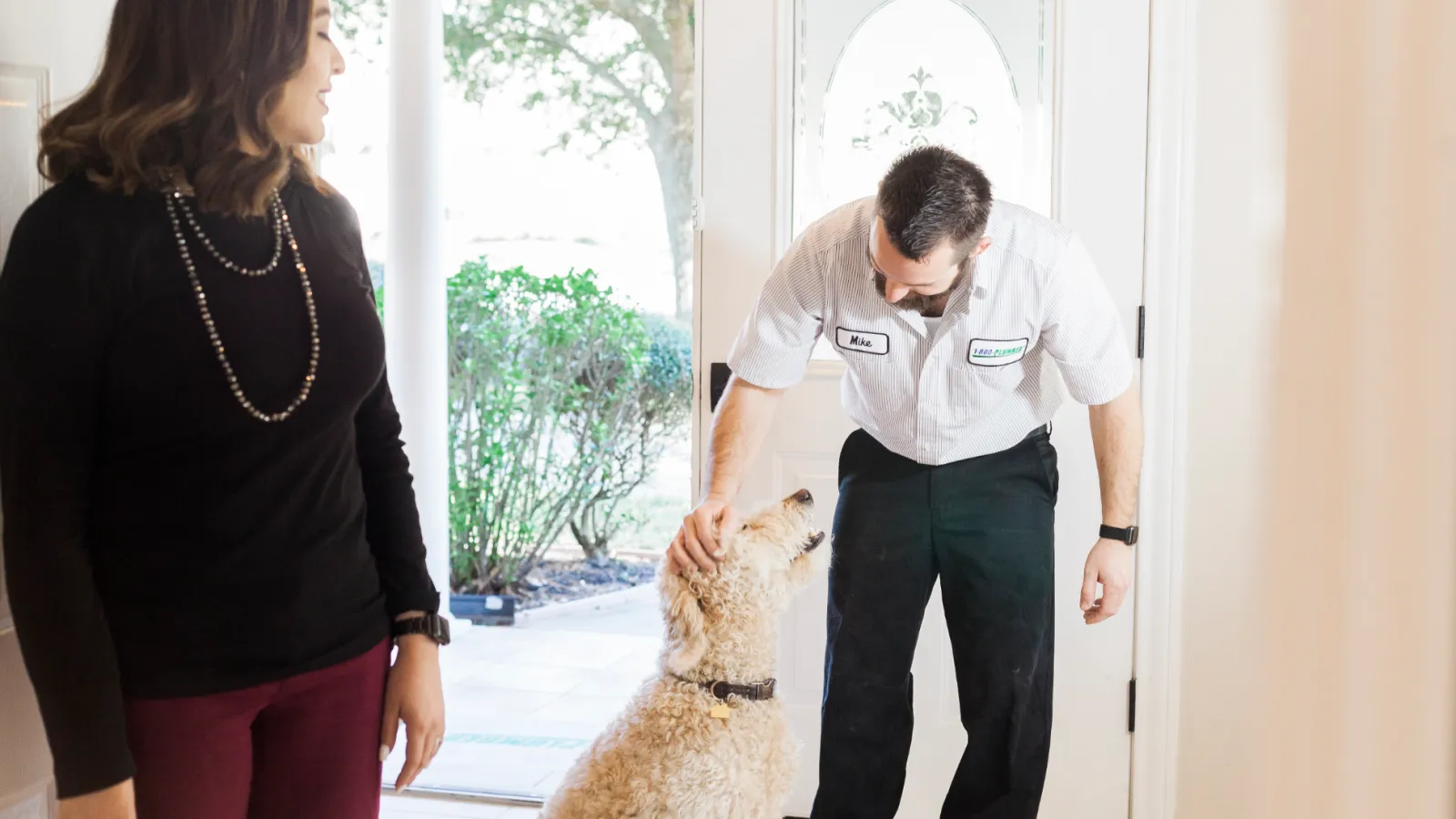 Having a
HOME EMERGENCY?
Call or Find Your Nearest Pro!
The zip code you entered is not associated with one of our locations. Please visit our Locations page to find your closest location.

Your Professional
SERVICES
Our Top Electrical
Services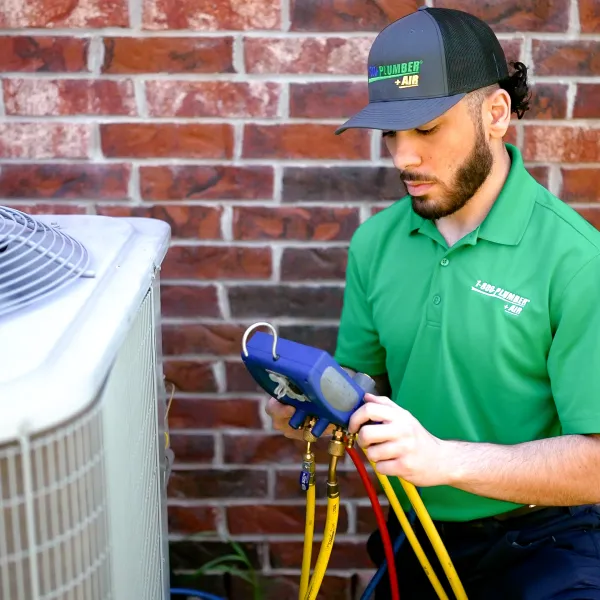 Air conditioner Maintenance
1-800-Plumber +Air & Electric of Amarillo
Air conditioners are a necessity in the hotter months, but proper maintenance is key to keeping them running well. 1-800-Plumber & Air & Electric of Amarillo offers tips on how to maintain your air conditioner so that you can keep cool all summer long.
Air conditioner maintenance is important to extend the life of your AC unit and prevent expensive repairs. Here are some tips from 1-800-Plumber + Air & Electric of Amarillo Contact us today!
Air conditioners are a necessary part of summer life - here's how to keep yours in good shape

Air conditioners are a necessary part of summer life. Here are some tips on how to keep yours in good shape:
1. Change your air filter regularly. A dirty air filter will make your air conditioner work harder and use more energy. Inspect the air filter monthly and replace it as needed. A dirty air filter will restrict airflow and cause your AC to work harder, leading to increased energy bills and potential damage to your unit.
2. Keep the area around your air conditioner clean. Make sure there is nothing blocking the airflow to and from the unit. Leaves, dirt, and dust can clog the coils and cause the unit to overheat.
3. Schedule a professional tune-up for your air conditioner every year. This will help ensure that it is running efficiently and catch any potential problems before they become serious. A trained technician will clean the coils, inspect the unit for any potential problems, and make any necessary repairs.
By following these simple tips, you can keep your air conditioner running smoothly all summer long. If you have any questions about AC maintenance or need to schedule a tune-up, call 1-800-Plumber + Air & Electric of Amarillo today. We're here to help keep you cool!
Air conditioner cleaning tips
Air conditioners need to be cleaned regularly in order to function properly and keep your home cool. Here are some tips for cleaning your air conditioner:
-Clean the air conditioner filter monthly or as needed. A dirty filter will reduce the air conditioner's efficiency and increase your energy costs.
-Clean the air conditioner coils yearly. The coils can be cleaned with a brush or vacuum attachment.
-Clean the Air conditioner drains monthly or as needed. Clogged drains can cause water damage to your home.
-Check the Air conditioner for leaks monthly or as needed. Leaks can allow coolant to escape, which will reduce the air conditioner's efficiency and increase your energy costs.
Regular Air conditioner maintenance will help keep your home cool and improve the air conditioner's efficiency. 1-800-Plumber + Air & Electric of Amarillo can help you with all your air conditioner needs, including cleaning, repair, and replacement. Give us a call today!
Summertime Air Conditioning Energy-Saving Tips
With the temperatures soaring, air conditioning is a must for most people. But running your AC all day can really add up on your energy bill. Here are some tips to help you save money on your AC this summer:
Make sure your Air Conditioning unit is tuned up and running efficiently. A well-maintained AC unit will use less energy and last longer.
Keep your AC filter clean. A dirty filter makes your unit work harder, using more energy.
Use a programmable thermostat to control the temperature in your home. You can save money by setting the temperature a few degrees higher when you're not home, and then cooling down the house before you return.
Take advantage of natural ventilation by opening windows and doors to let in the cooler air at night. Close them during the day to keep the cool air in.
Use fans to supplement your Air Conditioning. Ceiling fans can make a room feel up to 4 degrees cooler, and they use a lot less energy than an AC unit.
By following these tips, you can save money on your energy bill this summer while still staying cool and comfortable in your home. For more information on Air Conditioning maintenance and energy-saving tips, contact 1-800-Plumber + Air & Electric of Amarillo. We're here to help you keep your home comfortable all summer long!
If you have HVAC issues, contact 1-800-Plumber +Air & Electric of Amarillo
If you're experiencing any Air Conditioning issues, don't hesitate to give 1-800-Plumber +Air & Electric of Amarillo a call. Our Air Conditioning technicians are experienced in all areas of Air Conditioner maintenance, repair, and replacement. We'll have your home or business back up and running in no time!
From regular service appointments to emergency services our professional service for plumbing repairs, we are the plumbing company for you.
Apart from the services we offer, there's a lot that makes us stand out from the rest of the pack. First, we listen! We strive to give our customers exceptional service, which includes listening to your needs. Our technicians will listen and come up with a practical and lasting solution. We encourage our clients to ask questions whenever they need clarification. We also ensure we explain our proposals thoroughly and keep you informed every step of the way. So contact us today!
Ready to
GET IT FIXED?
Contact Us Now!
Professional AC Maintenance Checklist
Scheduling a check-up or tune-up for your air conditioner is an important part of maintenance. You should also know which services to expect your technician to perform when they arrive.
Here's a checklist of common processes and procedures that HVAC professionals will perform during a maintenance call.
Clean Outdoor Coils and Indoor Units
Your technician will inspect and clean the coils on your AC unit.
Condenser coils consist of refrigerant lines and the surrounding fins that outline the cabinet of your outdoor unit. The evaporator is the indoor counterpart to your outdoor unit and has its own coil.
Any dirt or debris on the coils will reduce efficiency and stress your air conditioning system's mechanical parts.
Check Refrigerant Level
Your AC's refrigerant level must meet the manufacturer's specifications. Having too much or too little refrigerant may cause issues with your system's moving parts, including the condenser and compressor.
An incorrect amount of refrigerant will make your compressor work too hard, which will reduce the system's efficiency and longevity.
Run a General System Test
Your HVAC technician will turn on your AC system to check certain operating functions, such as the starting cycle and shut-off switch. They will also check for unusual odors or noises and measure the system pressures and temperatures as needed.
Inspect Drain Pans and Condensate Drains
Next, inspect the drain pans and condensate drains to ensure that your condensate drain line is clear. If this line becomes clogged, it can cause water leaks as well as other moisture problems.
Call your technician to check and clear this drain line if you don't want water, bacteria, and mold in and around your AC unit. If you have a crack in your drain pan, this can also cause a leak. Your technician can repair or replace any leaking drain pans that they may discover.
Check Outdoor Fan Motor and Indoor Blower Assembly
The outdoor unit has a fan that pulls air through its coil fins, while the indoor blower is the fan unit on your furnace. If your blower is older, your technician will inspect and adjust or replace as needed.
Also, make sure your outdoor unit isn't blocked by weeds, high-grasses, or other lawn and garden features. If the unit cannot pull enough outside air into the system, it won't be able to cool and circulate air inside of your house. It's unnecessary to cover your condenser in the winter to protect it from the elements—they are designed to be outside.
Check Compressor and Tubing
If your unit's refrigerant tubing is leaking or blocked, it won't deliver enough coolant to the compressor. This lack of coolant will cause the compressor to work harder, which will cause compressor failure.
Lubricate Moving Parts
Your technician will lubricate moving parts if required. Older units will often include ports on fan motors, compressors, and other parts. These ports are designed for adding lubrication.
Newer units don't always have these ports because they don't need lubrication.
Inspect Electrical Wiring and Connections
All electrical wiring, hookups, and connections should be checked for wear and tear, damage, and soundness. Taking the time to check and tighten each of these connections will extend the lifespan of your AC system.
Inspect Air Filters
A clogged air filter will restrict airflow to the AC unit, which will cause the motor to run without producing results.
Air filters should be cleaned and replaced as necessary. New filters need to be inspected once a month. This is essential, as using clean filters can reduce your AC costs by as much as 15%!
A dirty air filter will destroy your AC unit's energy-efficiency if it doesn't cause your evaporator to ice over first. If you don't trust yourself to change your air filter each month, consider installing a permanent filter that you will clean each year.
Check Ductwork for Leaks
While a ductwork inspection may not be included in a standard maintenance call, ductwork air leakage is one of the main inefficiency drivers in a forced-air conditioning system.
It's smart to have a technician check your ductwork, ensuring that it is sealed and insulated in the right areas.
Double-Check the Thermostat
Finally, when you're using your air conditioner, don't forget to make sure it's in cooling mode! Setting the dial below room temperature is not enough to activate the AC unit if it's still set to heat mode.
Programmable thermostats are handy because you can customize your settings for various times throughout the day.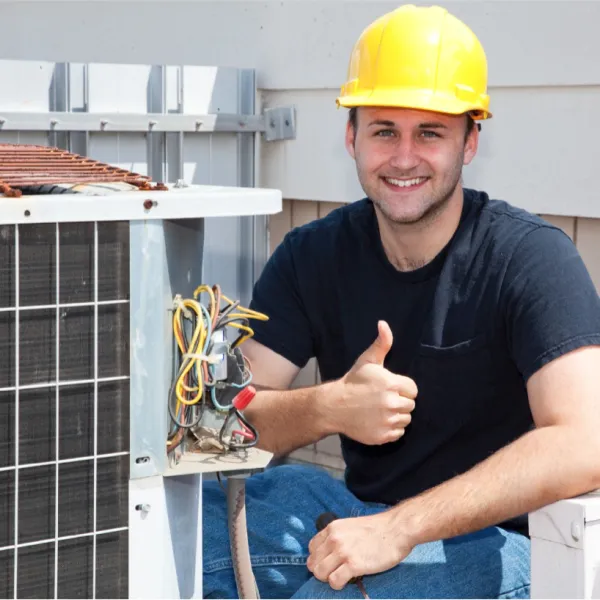 Amarillo, TX - AC Maintenance
As a homeowner in Amarillo or encompassing areas, you know how important it is to have a proper defense mechanism against adverse weather conditions.

Air conditioning units are expensive, so the last thing you want to do is avoid maintenance and have to replace a broken one. While repairing a unit is an option, sometimes older units must be replaced.
Whatever the case is, 1-800-Plumber +Air & Electric of Amarillo has you covered. We've been serving families in Amarillo since 1995—meeting all of our customers' plumbing, electric, heating, and cooling needs. Our mission is to take care of your customers with the highest level of customer service and expertise.

Please don't take the chance of sweating it out next summer. Have a professional perform this AC maintenance checklist today. Contact us today to schedule a service.