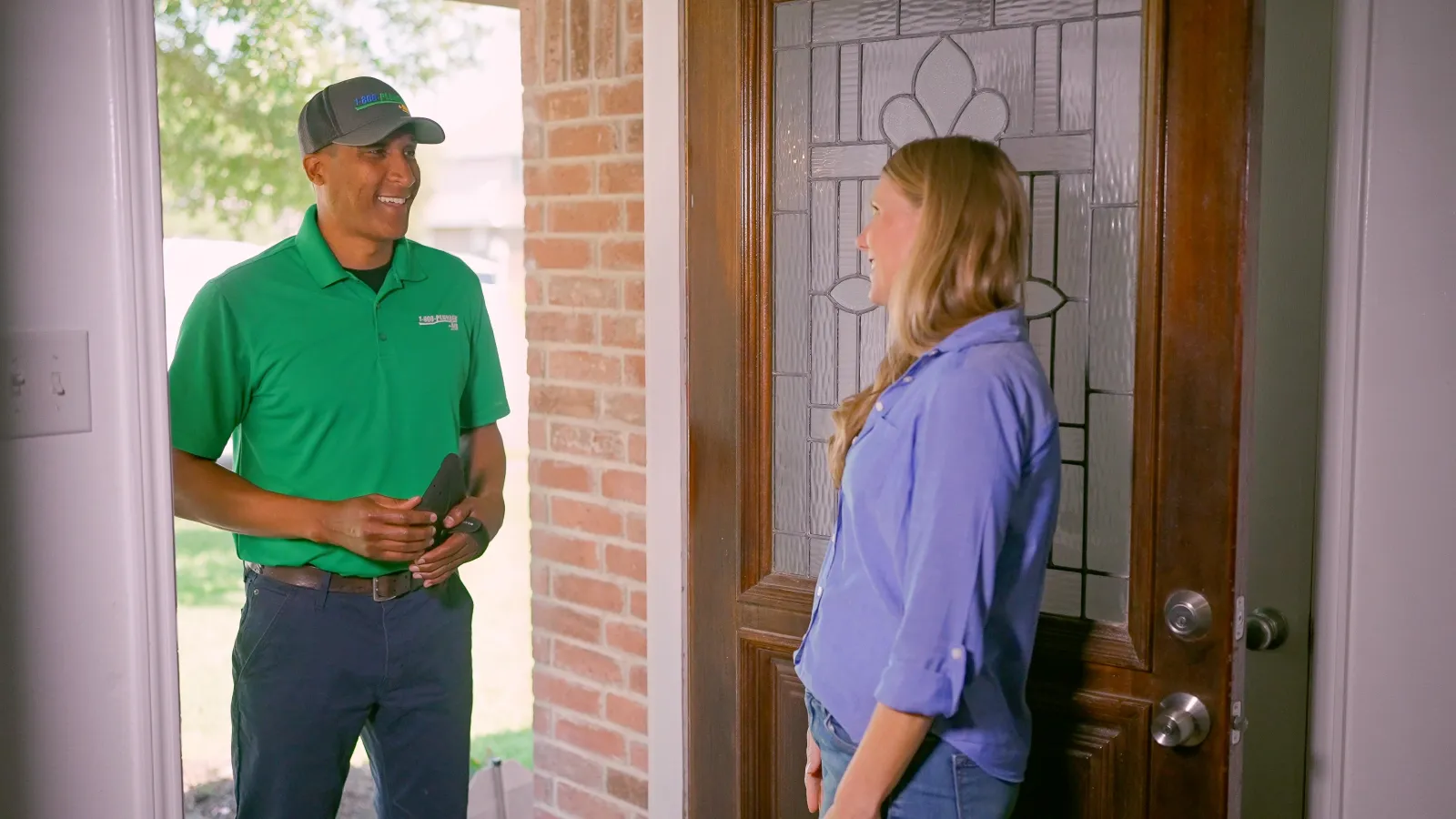 The Name You Trust for your
HOME GENERATOR
Having a
HOME EMERGENCY?
Call or Find Your Nearest Pro!
The zip code you entered is not associated with one of our locations. Please visit our Locations page to find your closest location.

Your Professional
SERVICES
Our Top Electrical
Services
Amarillo Electrical
SERVICES
Home Generator
1-800-Plumber +Air & Electric of Amarillo

Benefits of Having a House Generator
Different Types of House Generators
Installation of a Whole-House Generator
House generators are more popular today than they've ever been. People realize the benefit and value of having a house generator ready in case of a power outage. However, there are tons of questions when it comes to choosing the right generator. Size, price, brand, and type are all critical questions that need to be addressed before selecting the right generator. In this article, we'll look at how to make those decisions and who you should contact for quality generator installation.
Ready to
GET IT FIXED?
Contact Us Now!
Benefits of Having a House Generator

If the winter of 2021 taught Texans anything, it's that having a house generator on standby is extremely important. Millions of Texans were without power last winter, mainly because they didn't have backup electricity. Let's look at some of the top benefits that having a house generator provides.
Year-round Protection for Your Home and Family
Whether you lose power in the dead of winter or in the heat of summer, you don't have to worry when you have a generator at your side. House generators provide power to your essential appliances, including your furnace or AC, refrigerator, water heater, and sump pump. However, make sure you purchase one large enough to power all these things and anything else you value.
House generators also protect against power surges. When the power goes out, but you leave your appliances plugged in or turned on, there's a chance that your power grid will get overloaded when power is restored. Having a whole-house generator will maintain a steady flow of electricity and keep power surges from happening.
Quick and Reliable Power Transition
Standby generators are professionally installed to transition from primary power to generator power seamlessly. You might notice a slight blinking of the lights when the power initially kicks off, but this will be fleeting. Once your main power is restored, the generator will again make the transition from backup power to main power. Contact us to learn more about how to make a whole-house generator a reality.
Endless Power if Necessary
Depending on how your generator is being powered, it can run indefinitely. This is especially true for standby or whole-house generators powered by natural gas or propane. They'll operate as long as your propane tank is full and the gas flow is unobstructed.
Gives You Complete Control of Your Comfort Level
The power often goes out during a storm or when the weather suddenly changes. Having a generator ready to go means that you can keep your comfort level right where you want it, no matter the circumstances.
Peace of Mind is Paramount
If the Texas Freeze taught us anything, it's that we can't always rely on our power provider to keep the lights on. Having a backup standby generator will give you peace of mind knowing that you never have to be without power again.
Different Types of House Generators
There are several different types of house generators to choose from. The type of generator you choose will determine its abilities and the level of protection you'll have.
Inverter Generators
Inverter generators are unique and handy appliances, but they aren't ideal for powering your home. They produce AC power that they then convert to DC power and store up for when you need to use it. Inverter generators are ideal for camping trips, RVs, and similar activities but not for powering an entire house.
Portable Generators
Portable generators are the most popular type of generator for everyday use. They're smaller than whole-house generators and can be moved from place to place. While there are many different sizes of portable generators, they also aren't ideal for powering a house. At best, most portable generators are strong enough to power a handful of appliances and a few lights in your home. You'll also have to constantly refuel them with gas or diesel fuel.
Whole-House Generators
If you're serious about maximizing your home protection and having a reliable source of electricity, a whole-house generator is the way to go. Whole house generators check each of the boxes when it comes to the benefits of a house generator. No other type of generator can do this. Whole-house generators offer constant power and will run non-stop until you turn them off or power is restored to your home. Contact us for more details and to have a whole-house generator installed at your home.
Installation of a Whole-House Generator
Installing a whole-house generator is complicated work if you don't have electrical experience. Luckily, 1-800-Plumber + Air & Electric of Amarillo is here to help. We install and connect your generator in a way that it provides instant power when the electricity goes out. We also help you choose the right size and brand of the generator so that you can get its maximum benefits.
Whole-house generators are not portable, so we'll make sure we install them in a location that you approve of, and that makes sense for your home. We'll also install the inside transfer switch and the electrical wiring that connects the two in a similar location. From start to finish, our goal is to give you constant power and peace of mind while keeping your home neat and tidy.
How to Choose the Right Size Generator
Choosing the right size for your generator is the trickiest part of the whole process. We'll measure the amount of voltage you currently have and match it up with the right generator. We'll offer you several options so that you can make the right decision based on your budget and desires.
If you're still not sure, we can walk you through the process from start to finish and answer any questions along the way. Installing a generator takes time, and you can expect the whole process to take a day or two. Contact us for a free quote to find out any questions about pricing.