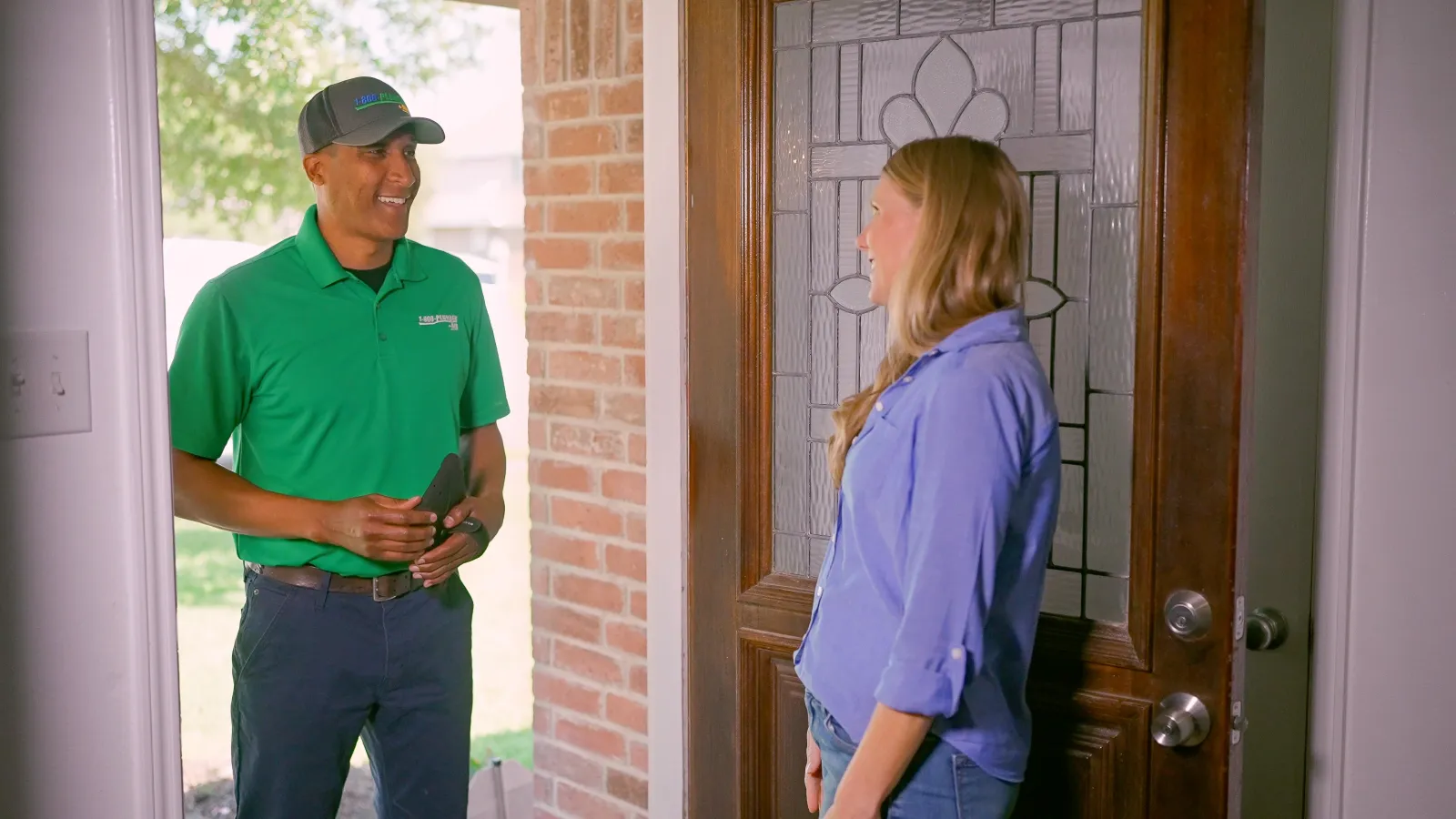 Amarillo
INDOOR AIR QUALITY
Having a
HOME EMERGENCY?
Call or Find Your Nearest Pro!
The zip code you entered is not associated with one of our locations. Please visit our Locations page to find your closest location.

Your Professional
SERVICES
Our Top Electrical
Services
Indoor Air Quality
1-800-Plumber + Air & Electric of Amarillo

How to Test Your Indoor Air Quality
Ways to Improve Your Indoor Air Quality
What Causes Poor Indoor Air Quality?
Who Can Give Me the Best Indoor Air Quality?
Air is the most essential element on earth in terms of what we need to live. However, it's also one of the most overlooked and underappreciated essentials that we have. Air, specifically our indoor air quality, often gets taken for granted because we get so used to it.
What if I told you that the quality of the air you're breathing in is just as important as whether or not you have air at all? It's impossible for us as individuals to control the quality of outdoor air, but each of us can control our indoor air quality. People assume that as long as they're breathing, that's all that matters. However, your indoor air quality will determine how healthy you and your loved ones stay, especially during seasons of sickness.
How to Test Your Indoor Air Quality

Testing the quality of the air you and your loved ones are breathing in and out each day should be at the top of your to-do list. Even trace amounts of mold, carbon monoxide, radon, and other deadly elements can cause chronic or short-term sickness. It's extremely important to perform monthly or bi-monthly tests of your air quality and enlist a professional's services at least once a year.
The first thing you should do is install an indoor air quality monitor. This monitor works similarly to a smoke detector and will sound the alarm if your air becomes too polluted. Next, you should perform a mold test and a radon test. Mold tests are done via gathering samples of your air and from the tops of your furniture to determine if mold is airborne or present in your home in any way.
Radon tests involve purchasing a radon detector that will determine whether radon is present in your home. Radon is the chemical breakdown of uranium that's found in certain rocks and soil, and there's a chance that your home is filthy with it. Radon, in large or prolonged doses, can be extremely harmful and even deadly.
As you can see, testing your indoor air quality on your own is possible, but being thorough requires time, experience, knowledge, and the right tools. Life is busy enough as it is without worrying about becoming a scientist. You also don't want to take the chance that you're doing something wrong and miss a deadly element in your home. Contact us if you're concerned about your indoor air quality and want to rest assured that the air you're breathing in and out isn't hurting you.
Ways to Improve Your Indoor Air Quality
If you're worried about your indoor air quality, you can do plenty of things to improve it. Even if you don't currently have any problems, the best way to avoid them is to follow these steps and keep them from occurring in the first place. Issues are always harder to clean up after they've had time to settle in.
Keep a Clean House
The first and most obvious way to keep your indoor air clean is to keep your house clean in general. Regularly vacuuming, cleaning your bed sheets, carpets, rugs, and picking up after yourself is essential. You should also make sure to keep your bathrooms and kitchen clean and mold-free.
Keep the Plants Outside
It's extremely tempting to want to have your plants indoors. After all, plants give off oxygen through photosynthesis which makes it seem like indoor plants are a good choice. However, indoor plants also present a huge risk of developing mold spores and allergens that can severely damage your indoor air quality.
Change Your Furnace Filter
One of the most important things to do as a homeowner is to change your furnace filter as prescribed. Most furnace filters have to be changed every three months to 1 year, depending on the type and quality of your filter. However, you would do well to check them every month or two and change them as needed to ensure that your HVAC system isn't a distributor of toxic air.
Let a Pro Help You Out
The best way to protect and improve your indoor air quality is to contact us at 1-800-Plumber + Air & Electric of Amarillo. Our experts have years of indoor air quality experience and will be able to test and improve the quality of your indoor air in a hurry.
What Causes Poor Indoor Air Quality?
There are a number of things that can cause poor indoor air quality, but your HVAC system is often the number one culprit. Your HVAC system works by drawing air in from the rooms around your home and recirculating it through a series of ducts and registers. As your system is sucking the air back into itself to recirculate it, the air passes through the aforementioned furnace or air filter connected to your HVAC system.
If this filter is improperly installed, overly dirty, or the wrong size, it won't be able to do its job of protecting your indoor air quality. Contagions, dirt, debris, pollen, mold, and mildew spores will pass freely through the filter area and re-enter your home. Rather than being the regulator and protector of your air, your HVAC system will turn into a distributor of toxic oxygen.
It's absolutely essential that you have your HVAC system inspected once a year to make sure everything is intact. Your furnace filter should be inspected and changed regularly, and your air ducts should be cleaned as needed. Only by protecting your HVAC system can you protect your indoor air quality.
Who Can Give Me the Best Indoor Air Quality?
If you're ready to take the next step in protecting your home and family, we're here to help. Our expert HVAC and service technicians have years of experience and knowledge under their belts. We also have all the equipment we need to properly test every component of your air and determine what needs to be done. Whether you need a new furnace filter, your ducts cleaned, or the installation of an air purification system, 1-800-Plumber + Air & Electric of Amarillo is here to help!
Improving Indoor Air Quality in Texas
There you have it!5 tips for boosting interior air high quality. As you can see, there is a lot you can do to ensure you are breathing safe air.
Need some assistance with your A/C system? Or maybe you've found a leakage? Do not hesitate to contact us to set up an appointment with your Amarillo 1800 Plumber! You can also call us at 806-622-3862
Ready to
GET IT FIXED?
Contact Us Now!