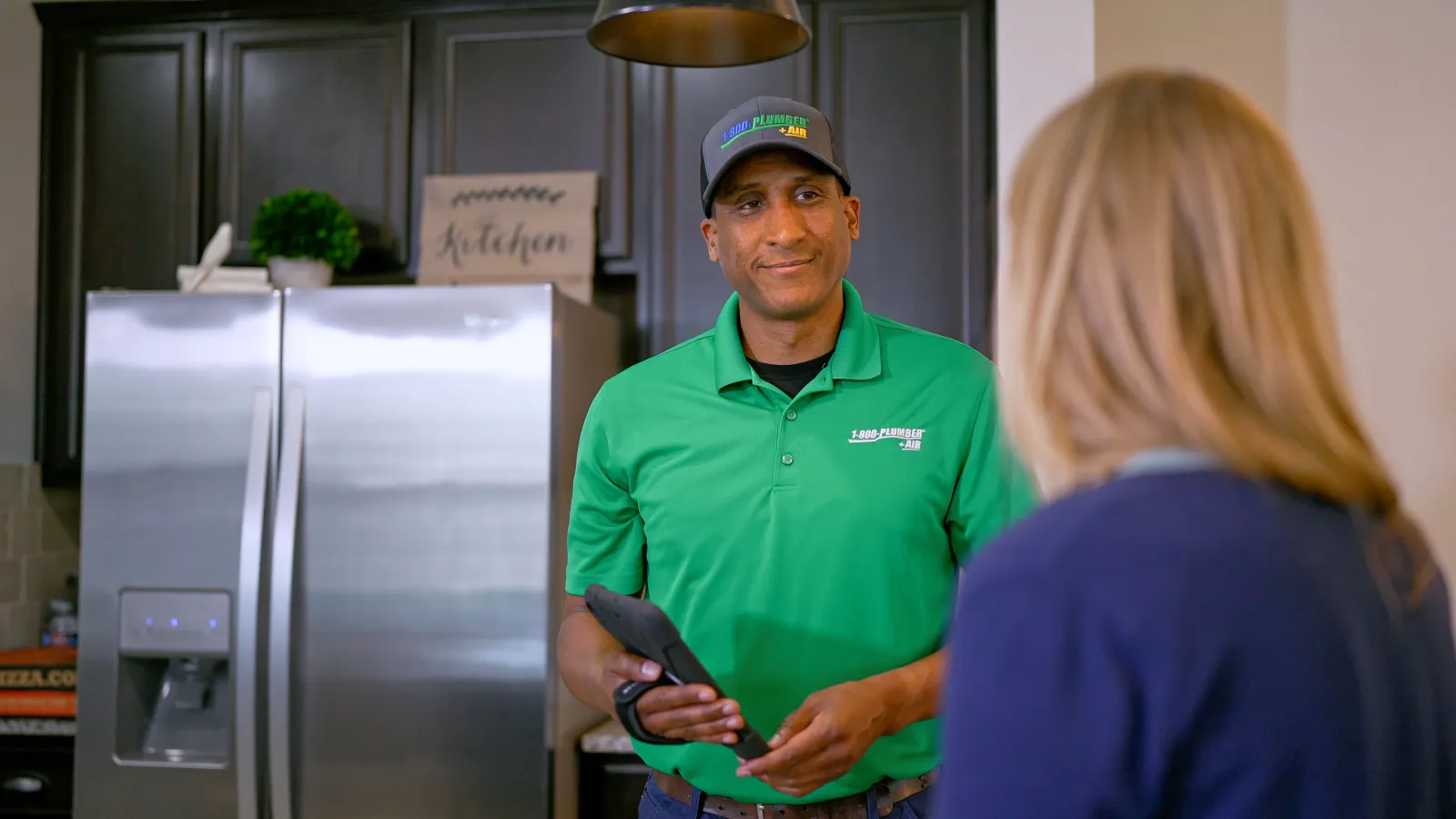 The Name You Trust for your
ELECTRICAL REPAIRS
Having a
HOME EMERGENCY?
Call or Find Your Nearest Pro!
The zip code you entered is not associated with one of our locations. Please visit our Locations page to find your closest location.

Your Professional
SERVICES
Our Top Electrical
Services
Amarillo Electrical
SERVICES
Electrician Near Me
1-800-Plumber +Air of Amarillo
Ready to
GET IT FIXED?
Contact Us Now!
What to look for when hiring an electrician

When it comes time to hire an electrician, there are a few key things to keep in mind:
Check references and reviews.
Make sure to ask the electrician for references, and check online reviews to get a sense of what others have thought of their work.
Ask about licensing and insurance.
Make sure the electrician is licensed and insured. This will help protect you in case of any accidents or damage.
Discuss your project in detail.
Be sure to discuss your project in detail with the electrician before hiring, so that they know exactly what you need and can give you an accurate quote.
Get everything in writing.
Once you've decided to hire an electrician, be sure to get everything in writing - from the quote to the project timeline to the payment schedule. This will help protect you in case of any disagreements down the line.
Hiring an electrician can be a daunting task, but following these tips will help make sure you find a qualified and reputable professional who can get the job done right. If you are looking for an electrical company that is licensed and insured, just contact us.
What are some common electrical problems
Electricity is something that many of us take for granted. We flip a switch and the light comes on. We turn on the TV and we're watching our favorite show. We plug in our phone to charge and within a few hours, it's fully powered up. But what happens when something goes wrong with our electricity?
There are a number of common electrical problems that can occur in a home. Some of these problems are minor and can be fixed relatively easily, while others can be more serious and require the services of a professional electrician.
One of the most common electrical problems is a blown fuse. This can happen when there is too much electricity being used in a home at one time, such as when several appliances are turned on at once. If a fuse blows, it needs to be replaced with one that has the same amperage rating as the one that blew. This can be a sign though of a bigger problem, if you keep having blown fuses call us to take a look.
Another common electrical problem is a short circuit. This occurs when electricity flows through an incorrect path, such as through metal or water. It can cause sparks, heat up wires, and even start fires. If you suspect you have a short circuit in your home, you should contact an electrician immediately.
These are just some of the common electrical problems that can occur in a home. If you experience any of these problems, be sure to call an electrician for help.
FAQs about Residential Electrical Work
What are some common electrical problems in homes?
There are many common electrical problems in homes, such as faulty wiring, overloaded circuits, and broken or outdated equipment. It is important to have a qualified electrician address any electrical issues in your home to prevent fires or other safety hazards.
When should I call an electrician?
You should call an electrician any time you notice a problem with your home's electrical system. It is also a good idea to have an electrician perform regular maintenance checks to ensure your home's electrical system is functioning safely and properly.
What does residential electrical work involve?
Residential electrical work typically includes installing new wiring, repairing or replacing outdated equipment, and diagnosing and fixing common electrical problems. Electricians may also be called upon to install or repair solar panels or other alternative energy systems.
Are there any safety concerns I should be aware of when hiring a contractor for residential electrical work?
Yes, there are several safety concerns to keep in mind when hiring a contractor for residential electrical work. Make sure the contractor is licensed and insured, and ask to see proof of both before hiring them. It is also important to get references from previous clients and to check the Better Business Bureau for any complaints against the contractor.
What are some tips for choosing a qualified electrician?
There are several things to consider when choosing an electrician, such as experience, price, and reputation. It is important to find an electrician who is experienced in the type of work you need done, and who charges a fair price. You can also check online reviews and the Better Business Bureau to see if there have been any complaints against the electrician. Finally, ask for references from previous clients and make sure to follow up with them to see if they were satisfied with the work.
Contact 1-800-Plumber +Air and Electric for all your electrical needs!
1-800-Plumber +Air and Electric of Amarillo is a full-service residential electrician. We provide top-quality electrical services to homeowners in the Amarillo area. From new construction wiring to repairs and maintenance, our team has you covered. We're always here to help with all your electrical needs! Contact us today to schedule a consultation.
From regular service appointments to emergency services our professional service for electrical repairs, we are the company for you.
Apart from the services we offer, there's a lot that makes us stand out from the rest of the pack. First, we listen! We strive to give our customers exceptional service, which includes listening to your needs. Our technicians will listen and come up with a practical and lasting solution. We encourage our clients to ask questions whenever they need clarification. We also ensure we explain our proposals thoroughly and keep you informed every step of the way. So contact us today!
Finding the Best Electrical Services: What to Look for in Amarillo Electricians
As you can see, it's a lengthy process to do your own residential electrical work in Amarillo. That's why the simplest, safest, and most convenient solution is to hire electricians.
However, finding the best electrical services in Amarillo requires some research, too. Here's a list of the minimum requirements you should look for in an electric company in the Yellow Rose of Texas.
H3: Texas Electrician License
Under Texas laws, anyone who conducts electrical work must have an electrician license. Such work includes the installation, maintenance, and extension of an electrical wiring system. These regulations also apply to work done on electrical equipment and accessories.
Please note that electrician licensing applies to all providers of electrical work. However, there are different licenses for Master Electricians, Journeyman Electricians, or Wiremen. Maintenance Electricians also need to carry a license in the State of Texas.
Either way, for electrical workers to apply for a license, they first need to show proof of education. For example, a maintenance electrician must have had 8,000 hours of on-the-job training. A Master Electrician or a licensed Maintenance Electrician must have supervised their training.
Texas also only awards licenses to electricians who passed state-issued examinations. Each class of electrician in the state must take and pass these exams before they can apply for a license.
As such, hiring a licensed electrician means you're hiring a qualified professional. This is especially true as these are difficult tests; just a little over one in four exam takers pass them. That should also make you realize why it's not a good idea for you to tinker with your electrical system.
H3: Registered With the City of Amarillo
Aside from a state license, Amarillo laws also require city registration. This applies to all electrical contractors. They must be a licensed Master Electrician or have a Master Electrician working for them.
This also gives you peace of mind, as you can be sure that you're hiring a legitimate entity. In the (unlikely) event you don't like the work rendered, it'll be easy for you to file a complaint. The City's Development Services can also help by pulling up the electrician's records.
H3: Proof of Financial Liability
Amarillo requires electrical contractors to meet minimum state liability insurance coverage. This means that the electrical company you choose should carry the following:
At least $300,000 coverage for property damage and bodily injury (per event)

At least $600,000 aggregate coverage (minimum coverage limit)

At least $300,000 aggregate for products and services rendered
These coverages are paramount as they protect homeowners from shoddy work. They also safeguard property owners from accidents that may occur during electrical work. Moreover, they ensure that clients receive satisfactory goods and services from the electrician.
Let's say that during a service call, an electrician drops a piece of equipment on your floor by accident. While not on purpose, it still led to your hardwood flooring sustaining cracks or holes. So long as the company has insurance, their insurer will pay to repair your damaged property.
You don't get this kind of reassurance if you hire an uninsured handyman. In this case, repairing any damage they may cause will come out of your pocket.
This is why it's crucial to hire only a licensed electrical company in Amarillo, Texas. After all, licensure means the contractor meets the city's and state's insurance requirements.
H3: Workers' Compensation Coverage
Unlike other states, Texas doesn't require private employers to get workers' compensation. There are a few exceptions, one of which is an electrical contractor. The Lone Star State requires them to get workers' comp for all their employees.
Why 1-800-Plumber +Air & Electric of Amarillo Should Be Your Choice
1-800-Plumber +Air & Electric of Amarillo specializes in plumbing, HVAC, and electrical services. That makes us your "one-stop-shop" for all your crucial home-related services. If you choose us, you never have to look for another plumber, HVAC technician, or electrician.
More than that, all our Amarillo electricians carry all required licenses and coverages. We also vet all members of our team, so you can rest assured of their trustworthiness. After all, our primary goal is to ensure the electrical safety of our Amarillo customers.
As proof of our dedication to providing exceptional work, we guarantee all our jobs. We provide warranties on all the products and services we deliver. This way, if you feel dissatisfied in any way, we'll work on it until we meet your expectations.
You can also rely on us if you ever need emergency services, be it for plumbing, HVAC, or electrical work. We'll come to your rescue, no matter the time of the day. Most importantly, we won't charge you any extra for the emergency work you hire us for.
Keep Your Home Safe and Lit With the Help of the Best Electricians
There you have it, the only guide you'll ever need for finding the best electrical services in Amarillo, TX. Licensure, registration, and insurance are three crucial things to look for. However, note that only the best electricians provide warranties and emergency services.
So, if you need top-notch electrical work, call 1-800-Plumber +Air & Electric of Amarillo!
Schedule your service now
so we can help you get your home all well-lit and up to safety code.