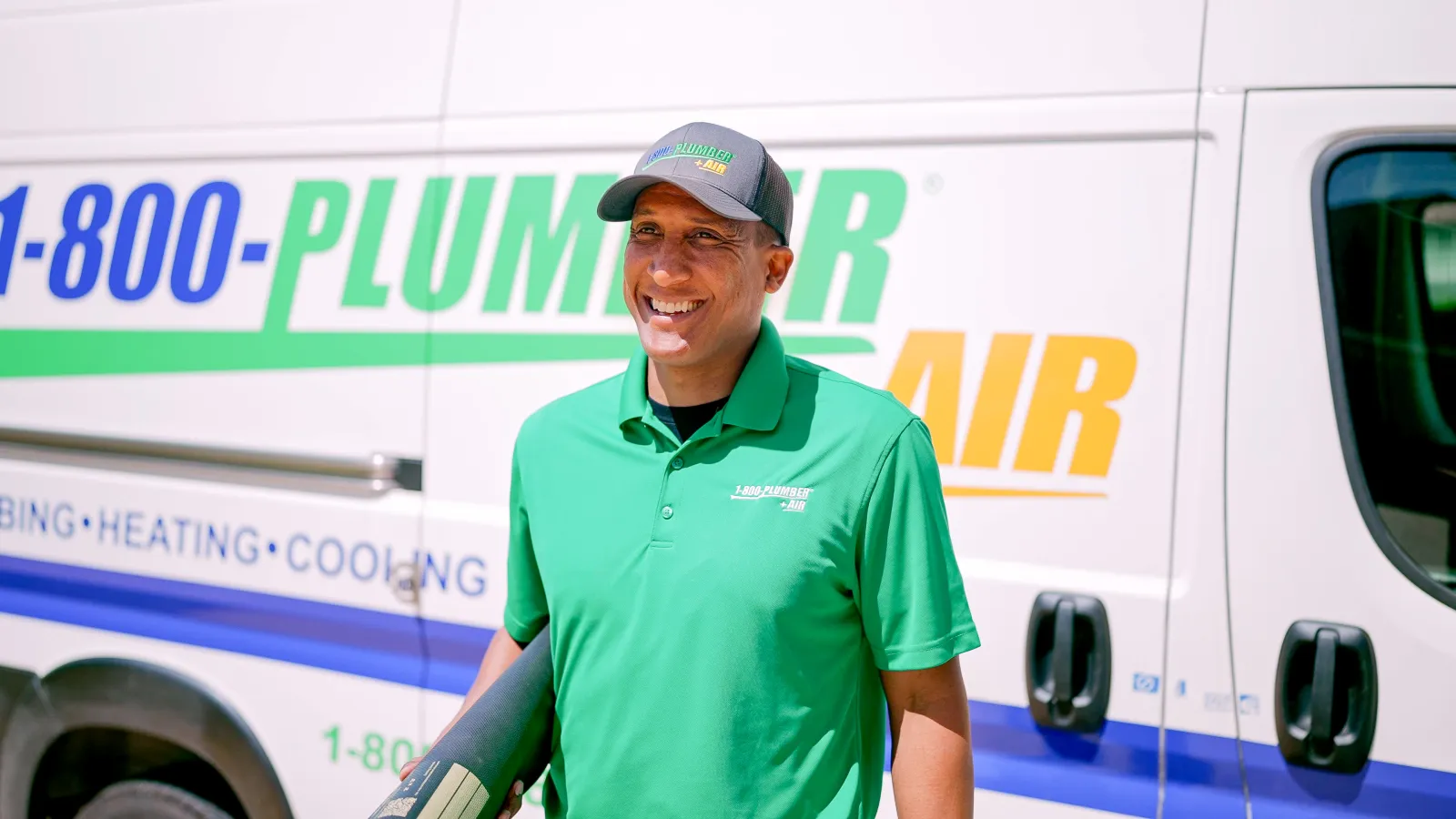 1-800-Plumber +Air
Heat Pump Services
Having a
HOME EMERGENCY?
Call or Find Your Nearest Pro!
The zip code you entered is not associated with one of our locations. Please visit our Locations page to find your closest location.

Your Professional
SERVICES
Our Top Commercial
Services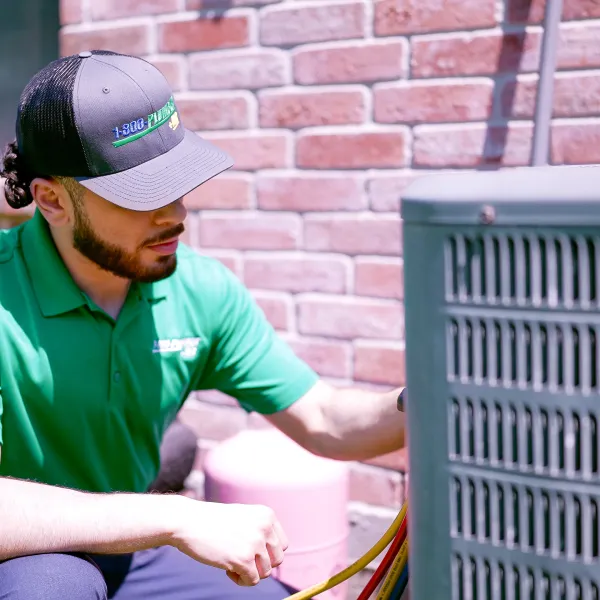 Heat Pump Services & System | 1-800-Plumber +Air
Heat pumps are becoming hot stuff, with almost 20 million households buying one in 2019. Despite this rise in popularity, though, they still only make up 5% of the residential heat market. Fossil-fuel and electric heating systems remain the top choices worldwide.
In the US alone, about 13 million homes have been using heat pumps for cooling or heating as of 2015.
With that said, you may now be wondering if you should invest in heat pump services. What are these devices, anyway, and how do they work? Most importantly, what are their benefits and advantages over furnaces?
This post delves deep into heat pump systems, so be sure to read on.
Ready to
GET IT FIXED?
Contact Us Now!
What Is a Heat Pump?
A heat pump is a device designed to transfer heat from one location or source to another. While they may have the term "heat" in their name, some of them can provide both heating and cooling. Moreover, heat pumps aren't just for indoor climate control; you can also use them to heat water.
How Does a Heat Pump Work?
All heat pumps work on the same "heat transfer" principle. Instead of combusting fuel to generate heat, the pump relies on existing heat. It then moves the heat that's already present from one source to another location.
Let's use an air-source heat pump as an example, as this is one of the most common devices used in the US.
An air-source heat pump pulls heat out of the air with a relatively low temperature. The device then pumps the drawn "hot" air into another area, which in this case, is your home. Throughout this process, the pump uses only a small amount of energy to carry out the heat transfer.
The Benefits and Advantages of Heat Pumps
A properly-installed air-source heat pump can be more efficient than a furnace or a wall/room AC. It can heat or cool your home for much less than a traditional HVAC system. Because of these features, it can be a greener option for eco-conscious homeowners.
Below we'll take a closer look at the benefits and advantages of heat pumps.
Efficient Heating and Cooling for Less
Heat pumps can give three to four times more heat using the same energy a traditional furnace uses. This means that you get more heat with a heat pump while consuming less energy. The higher amount of heat it delivers also means you can keep your home warmer longer than if you used a furnace.
Lower Energy Consumption Translates to More Utility Bill Savings
In 2019, the average monthly residential electricity bill in the US amounted to $115.49. Keep in mind that this figure is only for electricity, so it doesn't account for other energy bills. If you use other energy sources, like natural gas, you likely spend more toward powering your home.
The thing is, space heating and cooling alone accounts for over half of an average US home's energy use. However, space heating uses up to five times more energy than air conditioning. Space heaters comprise over 40% of a home's energy usage, while it's only about 8% for air conditioners.
Since a heat pump uses less energy than a traditional heater, it can help cut your energy bills.
Higher Energy Efficiency for Lower Carbon Footprint
Scientists say that heat pumps can be a key player in reducing greenhouse gas emissions by 12%. Their use, combined with regulatory measures, can help make the air less polluted. This is especially true for carbon dioxide (CO2) emissions.
So, by switching to heat pumps, you can reduce your home's carbon footprint. This, in turn, gives you a chance to do your part in conserving the environment.
Indoor Air Quality
GHGs don't only contribute to climate change; they also cause a spike in air pollution. They can also alter pollutants, create even more of it, and further contaminate the air. This polluted outdoor air can then enter your home and affect your entire family's health.
That's why you should invest in more energy-efficient systems, such as heat pumps. They bring more than financial benefits; they can also help boost your indoor air quality.
Heat Pump vs. Furnace/Boilers
Furnaces or boiler systems can only generate heat. Heat pumps, by contrast, can provide heat in the winter and cooling in the summer. This means that you can "convert" the same heat pump into a cooling unit during warmer months.
So, if you're also in need of a new air conditioner, you might want to consider going with a heat pump. This way, you can enjoy both heating and cooling capacities with a single piece of equipment.
This was THE most painless repair experience! We had a leak in a pipe behind our water heater, spewing water out into space, ugh. Joe and his apprentice, Dan, were here in about an hour or so. They were both so very friendly from the moment they showed up at the front door! After they determined the problem, we discussed the needed repair, and then they began to replace the pipe(s) behind the water heater. This was pretty much an all-day job and I can honestly say it was no problem having them in my home. They were not only professional and courteous employees; they were two very kind individuals, who were also comfortable and friendly around my crazy dogs! I have had nothing but the finest experiences with this company and cannot recommend them highly enough! They are the best!

Barbara H.
They replaced our heater and did an excellent job.

Satisfied Customer
1-800 Plumber + Air and Electric has done several jobs for me. They are professional and respectful. Shawn Harvey has been great to work with. Would highly recommend!

Satisfied Customer
So nice and professional.

Sharen B.
Kyle provided excelleent service as he always does. I have had some tricky plumbing problems and he has always solved the problem with efficient service and winning personality. He did a beautiful job on my pipe. He takes a lot of pride in his work .

Ruth L.
Nick did a great job and very nice and professional. Thanks

Evonne H.
Had a problem with my drain. Representative came out and knew exactly what was wrong. They fixed it the problem fast and customer service was great! Will definitely use them again!

Adrian B.
Very professional, friendly, and on time.

A M.
Jeff did a great job and let us know what was going on continually. He is a very personable technician.

Theresa D.
"1-800-plumber +Air is an A+ company !!! Our plumber was Robert , he was very knowledgeable and friendly! He was efficient and got the job done !l fixed two toilets for us! Thank you so much!! I highly recommend"
Diana M. No surprise
costs at the end of a job On-Time
Committed to on-time arrivals
Most Common Heat Pump Problems
Heat pumps encounter many of the same problems with furnaces, such as no hot air, weak airflow, or no power. Dirty parts and faulty thermostats are often the culprits behind these issues.
However, since a heat pump can also serve as a cooling unit, it may also develop leaks or low refrigerant levels. This is especially true for split-system heat pumps, as these get charged in the field. Sometimes, this in-field procedure can result in the system getting too little refrigerant.
Moreover, you may encounter a broken reversing valve with a split system heat pump. This is the component of the heat pump that allows for the reversal of the refrigerant. It's the part that lets you switch from heating to cooling mode and vice versa.
Also, like HVAC systems, heat pumps rely on optimal airflow to perform efficiently. Therefore, any kind of residue build-up on its components can reduce its efficiency. For instance, having a lot of dirt and debris on its evaporator coils can result in lukewarm air.
Regular Heat Pump Maintenance to Keep It Pumping Well
Since heat pumps can serve both as a cooler and heater, their usage rate is higher than a separate AC or furnace. After all, most people use their ACs only during the warm months, while they turn on the heat during winter. By contrast, heat pumps often get used most of the year, so it makes sense that they need more maintenance.
As mentioned above, dirt build-up is a common cause of airflow issues with heat pumps. Therefore, you'd want to schedule cleaning at least twice a year, one in spring, the other during fall. This way, you can make sure your heat pump works at its best by the time the peak season rolls in.
Also, keep in mind that dirty heat pump components reduce the system's efficiency. So, even the most efficient systems can become energy-hoggers if you let them get too filthy. If this happens, your energy bills will go up, defeating the intended purpose of using a heat pump.
What's more, the dirtier your heat pump gets, the harder its motors will have to pump. This can then hasten wear and tear, so you may end up with failed pump components earlier. The more often this happens, the shorter the device's overall service life.
When to Go for Heat Pump Services
If you're in the market for both a heater and an air conditioner, consider a heat pump instead. You may save more on the purchase and installation costs since you only need one system. You can rely on 1-800-Plumber +Air to have all your HVAC requirements met, be it a heat pump or a separate heater or AC.
You should also consider switching to a heat pump if you live in Climate Zone 1 to 3. These zones have milder climates, so heat pumps work best in these areas.
Heat pumps are also ideal for smaller homes, as they don't take up as much space as traditional furnaces. Most heat pump systems' outdoor units only require at least 24 inches of clearance on all sides. By contrast, furnaces often call for a minimum of 30-inch clearance on all sides.
The Advantages of Furnaces Over Heat Pumps
According to Home Advisor, the average cost of a furnace, including installation, is $1,950. On the other hand, heat pumps can cost anywhere from $5,000 to over $8,000 on average. So, if you only need a new heating system (you already have an AC, for instance), then a furnace is more affordable.
Furnaces also appear to have a longer-lasting service life compared to heat pumps. According to experts, furnaces can last from 15 to 25 years, longer if well-maintained. By contrast, heat pumps have a typical life span of 10 to 15 years.
A furnace may also be a smarter choice if you live somewhere with really harsh winters. In this case, the more intense heat provided by a furnace can make a huge difference in your health and safety.
Also, keep in mind that gas furnaces keep working even when the power is out. Electric heat pumps, on the other hand, will stop working if there's a power outage. So, if you live somewhere where these incidents are common, you may want to have a heating backup plan.
Heat Pumps Can Be a Smart Alternative to Traditional Heating
As you can see, heat pumps can be more energy-efficient than traditional furnaces and ACs. They cost more upfront, but they can save you quite a lot in the long run. However, they may still not be the best fit for your home despite their benefits and advantages.
The best way to know for sure is to have an HVAC expert carry out a home assessment for you. This way, they can help you determine if you'll benefit from heat pump services.
Are you interested in heat pumps but aren't sure if they're your smartest choice? If so, then please feel free to
get in touch with us
here at 1-800-Plumber +Air! We'll be happy to provide you the guidance you need.