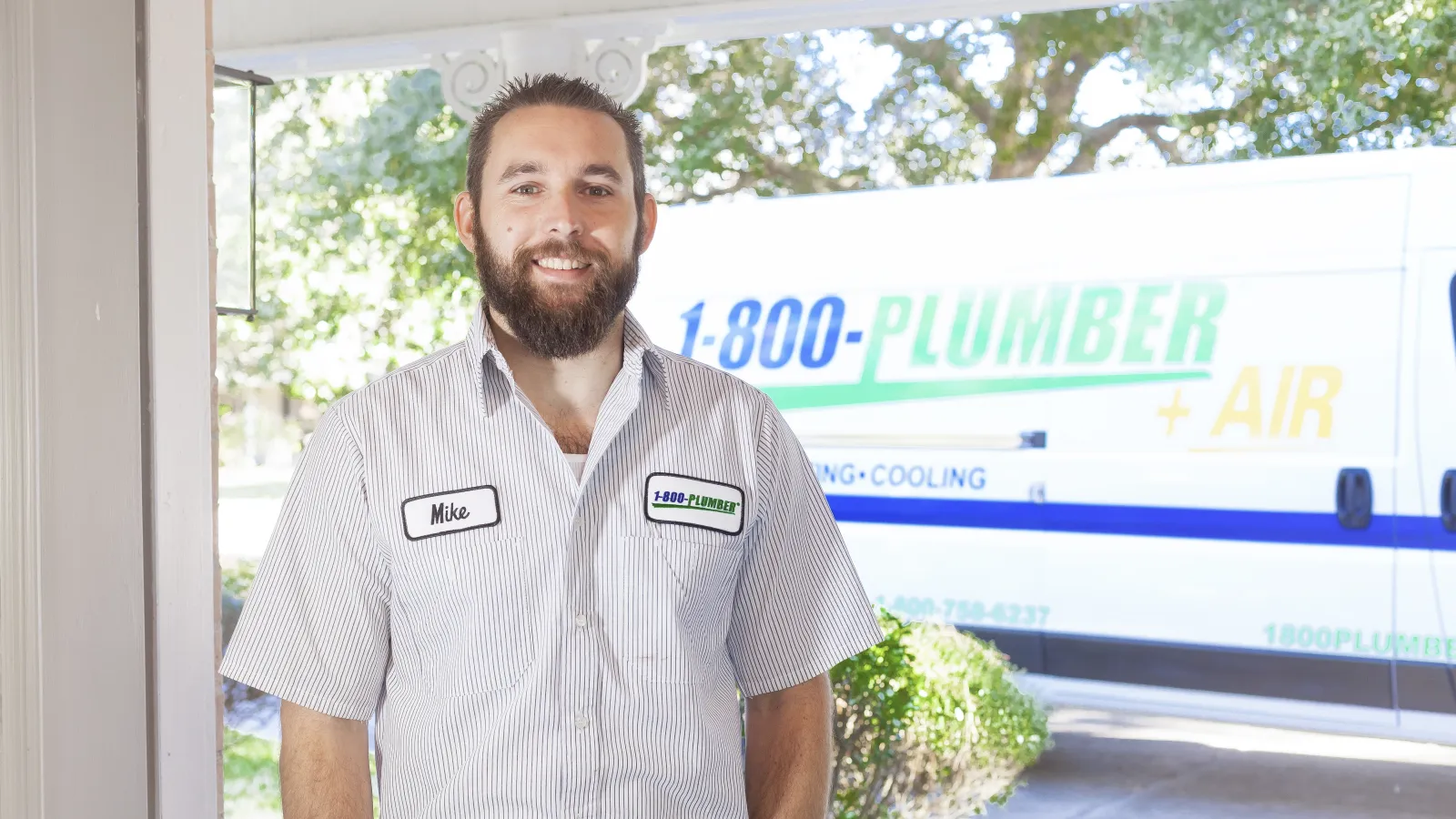 1-800-Plumber +Air
Professional Sewer Services
Having a
HOME EMERGENCY?
Call or Find Your Nearest Pro!
The zip code you entered is not associated with one of our locations. Please visit our Locations page to find your closest location.

Your Professional
SERVICES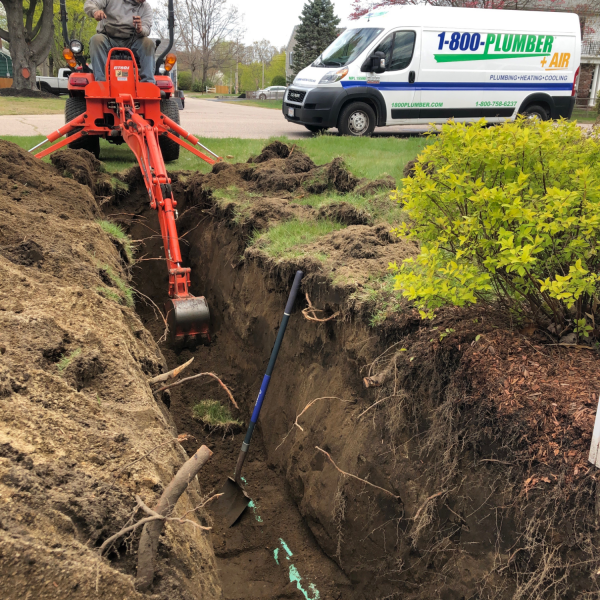 What's That Smell? Does my Sewer need Servicing?
Previous studies found that as many as 43% of sanitary sewer overflows (SSOs) are due to clogged pipes. SSOs, in turn, can cause indoor flooding in homes and other buildings. Worse, they can contaminate water supplies and cause illnesses like cholera.
It's because of these threats that you shouldn't ignore clogs and damages in sewer lines. Otherwise, your home may become at risk of severe water damage. Wastewater backups also have an indirect effect on indoor air quality.
At this point, the question, "how to know my sewer needs service?" may have already popped into your mind. It's underground, after all, so you may be thinking how difficult it is to troubleshoot.
Don't worry, though, as we're here to give you some guidelines. Read on to learn how to determine if you have sewer issues.
Multiple Drain Issues
A clogged or damaged sewer can cause signs of clogging in most of your drain lines. Meaning, you're likely to have slow-moving drains in multiple areas of your home.
Let's say that the sink drain, and floor drain in your kitchen, as well as those in the bathrooms, are all moving slowly. The water in the toilet also takes a long time to recede. In this case, you likely have a clogged sewer line.
If only one or two of your drains take forever, then your problem is likely a clogged drain line, not a sewer line. The same goes if only your bathroom sink and toilet are exhibiting signs of clogs. If this is what's happening at home, then you may only need drain cleaning services.
Water Comes Out of Other Drains When You Flush the Toilet
A damaged or blocked sewer line can also result in flushed water backing up and out of lower drains. Clogs, after all, block wastewater from exiting your property. With nowhere else to go, it can flow back into your home, leaking out of the first opening it passes by.
As such, you may notice wastewater backing up into drains set lower than the toilet bowl. These include tub, shower, and floor drains, as well as those that you may have in your basement.
Weird Noises from Drains
In some cases, water won't visibly back up into drains, but it may make weird noises like bubbling or gurgling. You may also hear something like rushing water from the drains whenever you flush the toilet. If these occur in multiple areas of your home, then you likely need water and sewer service.
Bubbling Toilet Water
You may also notice the toilet water bubbling and gurgling when you run water in your bathroom sink. These signs usually indicate the presence of trapped air in your plumbing system. The "entrapment," in turn, is likely due to a massive clog.
You can test this further by running the water in the sink for at least one minute. Monitor the water in the toilet bowl and see if it forms bubbles or make gurgling sounds, or if the water level rises. If either of the two occurs, then you may have a clogged sewer line in need of service.
Bad Sewer Smell
All sewer smells are pretty bad, seeing as how they come from waste matter. When organic waste breaks down, it releases sewer gas, which consists of several gases. The worst, however, are hydrogen sulfide (rotten egg smell) and ammonia (very pungent).
If the air in your home carries with it a foul sewer smell, then you likely have a problem with your sewer. It can either be sending wastewater and sewage into your home. Trapped waste in drains (due to clogs in the sewer) may also be decomposing and releasing these bad odors.
Ready to
GET IT FIXED?
Contact Us now!
Visibly "Healthier" and Greener Areas in the Lawn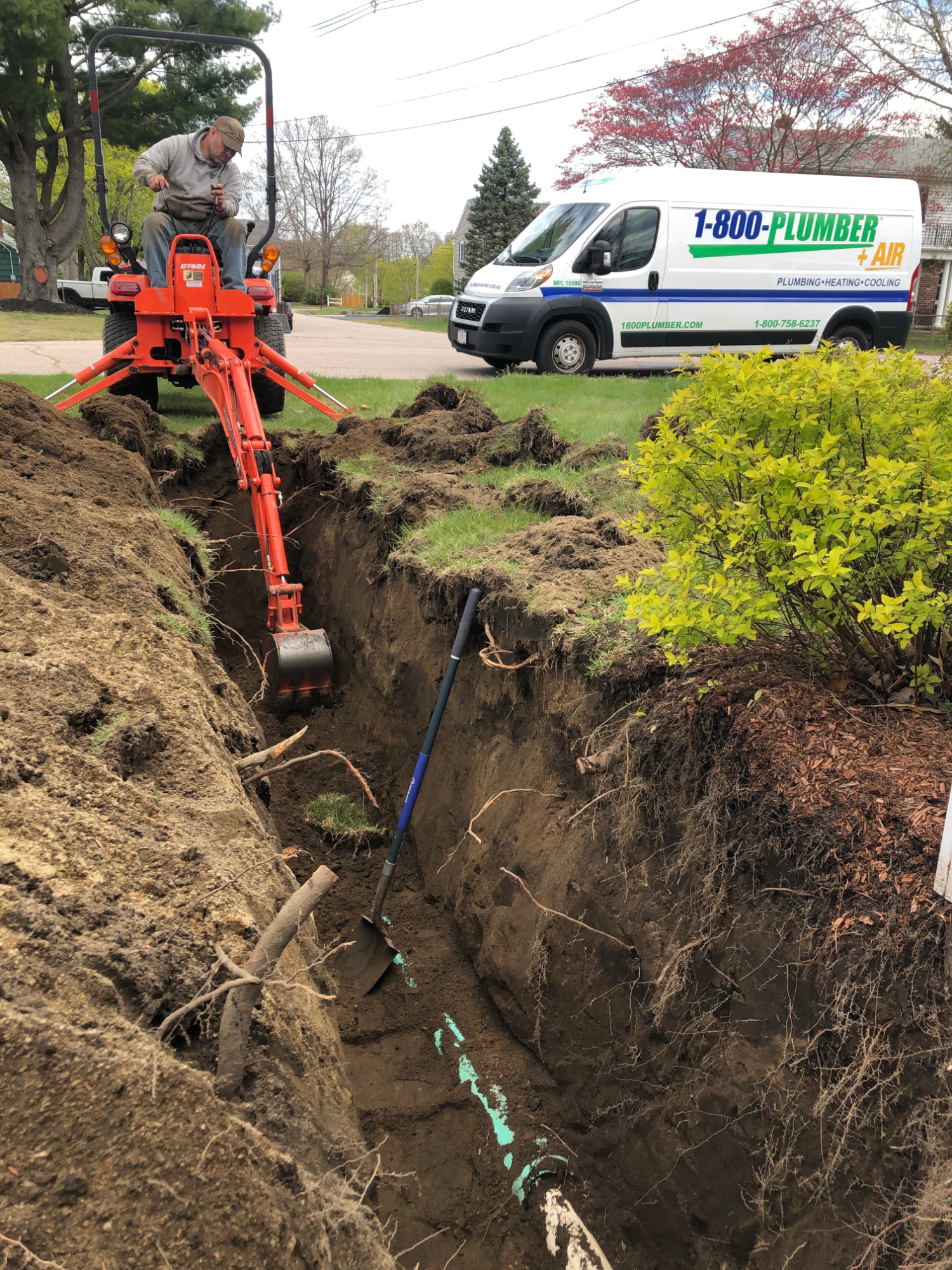 The wastewater that seeps out of a damaged sewer line is an excellent fertilizer. That's because sewage contains a lot of nutrients, especially phosphorous.
With that said, you might also notice how some parts of your lawn are flourishing better than the rest. Plants growing in these sections may be greener and visibly healthier.
All that sounds great, but keep in mind that sewage is still wastewater. It may be great for your plants, but it's harmful to both humans and animals.
In addition, the harmful contents of wastewater can spread through rainfall. They can mix with water runoff from rain or melted snow, for instance. The runoff can then end up contaminating other sources of water, such as nearby lakes or rivers.
Increased Pest and Vermin Encounters
The smell of sewage can attract unwanted visitors to your home, such as mice, rats, roaches, and flies.
Now, keep in mind that mice can squeeze in through a nickel-sized hole. Rats need something bigger, but they can still make their way past a half dollar-sized hole. That's why they can fit inside sewer and drain lines.
Roaches are also sewer-dwellers, so they love the smell of wastewater and sewage. If you have consistent water backups at home, the odors may beckon to them. While they may not cause property damage like rats or mice, they do carry at least six parasite species.
Flies also thrive in moist, organic materials, including garbage and sewage. These pests also lay their eggs in such materials. So, if you've seen more of these pesky fliers at home, you may either have a damaged sewer line or a recent water backup.
Health Symptoms
In the US, almost half of all residential properties have had mold or dampness problems. In these homes, respiratory issues appeared to be much more prevalent. Such health issues included asthma, coughs, wheezing, and even nausea and fatigue.
As mentioned above, mold and dampness are two things that plumbing backups can result in. They can cause a considerable reduction in your home's indoor air quality.
As such, if you or your loved ones seem to always be down with something, it may be due to poor IAQ. A clogged or busted sewer line, in turn, may be causing poor IAQ due to wastewater backups.
How to Know My Sewer Needs Service: Get Help from the Pros
As you can see, there are many possible answers to the question, "how to know my sewer needs service?" It can range from visible to audible and even olfactory signs.
Do note, however, that multiple drain lines may be the cause of your woes, and not the sewer line itself. If several clogs occur at the same time, they may exhibit the same symptoms.
If you have multiple slow drains or faulty toilets, please know that 1-800-Plumber +Air can help. Feel free to get in touch with us now so we can check and fix your faulty plumbing pipes ASAP.
Detailed orientated and honest inspection. Chad took his time and explained everything that was going on very well. The service fee was fair for the small issues he fixed, and he was able to make a referral for water restoration for us, I would use his service again and plan to when our water heater goes out.

Katie D.
Tony and Carlos are awesome in what they do. They did a great job on about 20 different projects for my family and me. They did security lights patio lights front porch lights. Ran all the electrical for our new master bath remodel. Added on some new interior lights and changed out some switches. I have light where there once was darkness. Thanks guys.

Satisfied Customer
Emanuel Reyes did a very thorough job and was very courteous.

Charles M.
Exceptional service! I highly recommend them for your plumbing needs!

Angelica C.
Emanuel Reyes replaced my kitchen faucet and sink basket strainer today, 3/2/20. I appreciate the quality of his work. Emanual did a fantastic job. If I need a plumber in the future, I'll call 1-800-Plumber and ask for Emanuel Reyes.

Jean Broussard M.
They were very professional and clean. Also did a great job on my air conditioning my house feels great.

Satisfied Customer
Chad was a pro..... personal..... and got right to work...... he explained each step he was taking and why .... very pleased with his. service and will highly recommend

Andy M.
Nick did a great job and very nice and professional. Thanks

Evonne H.
z was fantastic! Very nice and easy to talk to and he explained everything perfect! Very professional! I would recommend him to anyone !

Satisfied Customer No surprise
costs at the end of a job On-Time
Committed to on-time arrivals
Visible Liquid and Solid Wastes
When wastewater backs up into drains and toilets, it can bring along with it solid wastes. These may appear as "sludge" or "muck," and they can smell terrible.
If you see this coming out of your drains, step away from it. Contact 1800 Plumber for emergency sewer service as soon as possible.
For starters, wastewater is full of pathogens, which are disease-causing organisms. Scientists say that many of these are parasites, as well as bacteria like E. coli and Salmonella. They also note that one milliliter of sewage can contain 1,000 to 10 million virus particles.
Moldy Odors
Damaged and clogged sewers can make wastewater flow out of drains that you rarely use or see. These often include drains in the basement and guest rooms' baths.
Because there's less traffic in these areas of your home, you may not notice the backup right away.
Over time, however, the wastewater can give rise to mold development. Molds take as little as 24 to 48 hours to grow in damp and humid conditions. From there, they can spread and reproduce, giving the air in your home a "mold-like" odor.
So, aside from sewer smells, the air in your home may also smell like a pool or gym locker. It may also remind you of damp socks or stale bread.
If any of this sounds familiar, that's an indication that your sewer may need service. Do note, however, that leaks in your water supply line may also contribute to mold growth.
Wet Spots in the Garden
Sewer pipes can crack under the extra stress (and weight) of blockages. Tree roots can also encroach upon them, choking or even puncturing them.
Either way, such damages can cause the pipe to leak out wastewater. The more of it that comes out, the wetter the soil becomes.
In time, the water can reach the surface of the ground, causing visible wet spots. You may also notice actual pooled-up water on your garden or lawn.
If you've seen any of these symptoms, please don't hesitate to get in touch with 1-800- Plumber +Air. Our licensed plumbing technicians can come to your rescue any time of the day.