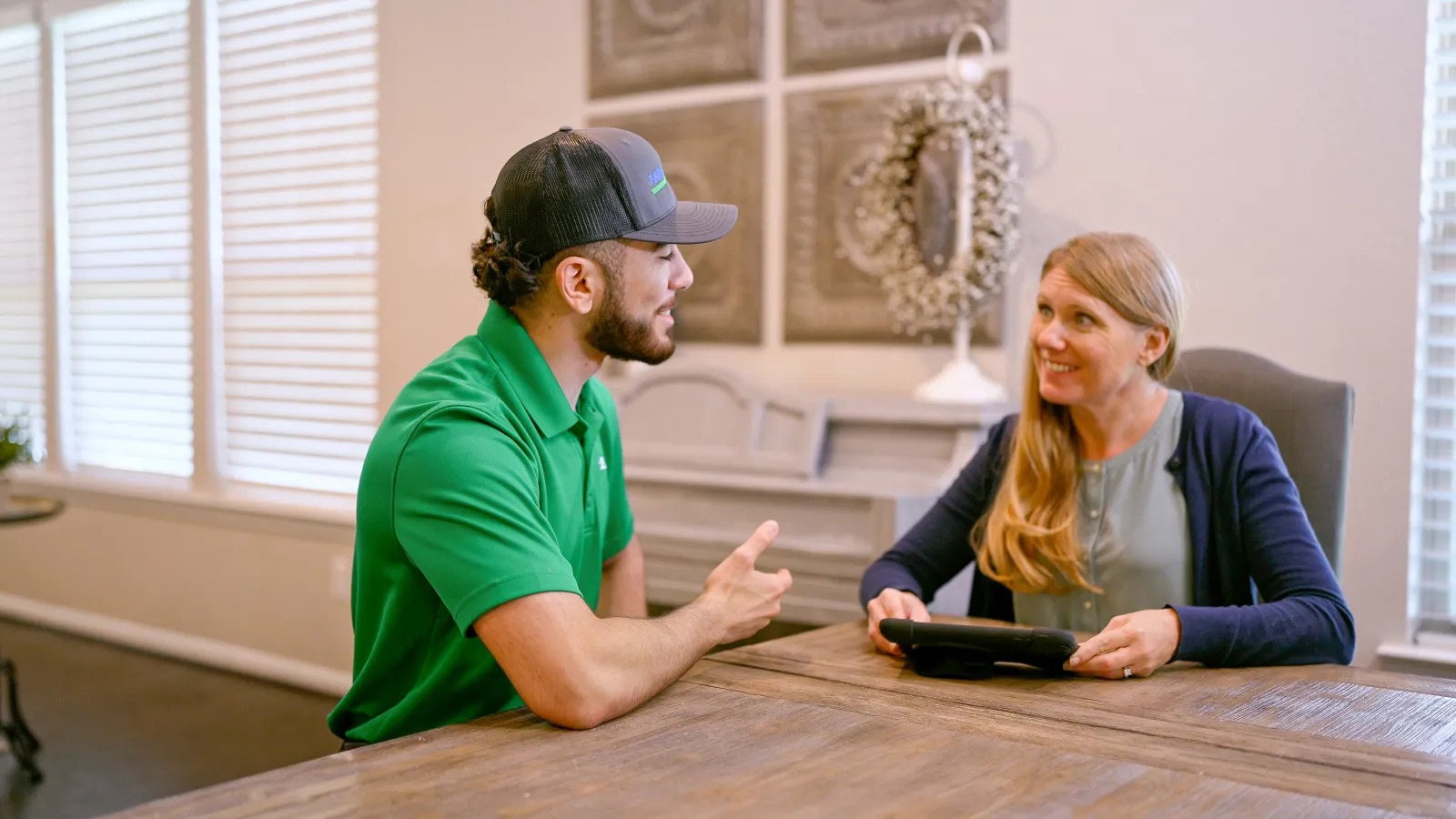 Air Conditioning Repair
1-800 Plumber +Air
Having a
HOME EMERGENCY?
Call or Find Your Nearest Pro!
The zip code you entered is not associated with one of our locations. Please visit our Locations page to find your closest location.

Your Professional
SERVICES
Our Top Commercial
Services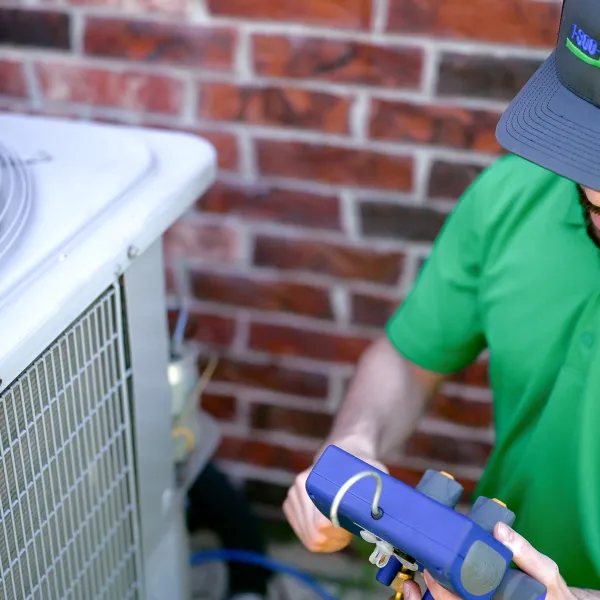 Emergency Air Conditioner Repair
1-800-Plumber + Air

Ready to
GET IT FIXED?
Contact Us Now!
What Constitutes an Air Conditioning Emergency?
An important thing to note is that it's not necessarily an emergency any time your AC isn't working. If it's a slightly cool spring, summer, or fall day when air conditioning would be nice but isn't necessary, this isn't an emergency. However, if we're in the middle of a Texas heatwave and your air conditioner gives out, you definitely have an emergency on your hands.
Extreme heat and humidity that go unmitigated aren't just uncomfortable. It can be downright dangerous to you and your home. High humidity can lead to mold and mildew damage, leading to house damage or even sickness to the inhabitants.
Another cause for an air conditioning emergency is if there's a noticeable refrigerant leak. Air conditioning refrigerant is expensive and essential to the functioning of your air conditioner. However, it's also terrible for the environment, which means that a bad leak can damage the air around you.
AC Emergencies That Require Professional Service
Unfortunately, nearly all air conditioning emergencies require the help of a professional HVAC service technician. As a homeowner, you can check the status of your thermostat and circuit breaker to make sure they're both working. You can also check your air filter and make sure it isn't too dirty, which can cause your air conditioner to shut down.
That's pretty much the end of the road when it comes to things you can do yourself. Air conditioners are complicated devices that require hour upon hour of hands-on experience and training to work with. Here's a list of the possible AC problems and issues that need professional service.
Refrigerant Leaks
As I said before, refrigerant is an extremely high-pressure liquid essential to your air conditioner. Even a tiny leak can lead to damaging the air around you and to your air conditioner itself. If an AC runs for an extended period of time without enough refrigerant, it will damage the AC and could cause damage to other components of your HVAC system.
Clogged Air Filter
Your air filter is located inside your home and attached to your furnace. Its job is to trap dirt, pollen, particles, debris, and other nasties that get into your HVAC system. The filter catches these items as they pass through your furnace and evaporator coil before they can enter your air ducts and sneak into your home.
Eventually, your air filter will get so clogged up with dirt and debris that it blocks the flow of air. When this happens, your air conditioner will start to get overloaded and will automatically shut down. The tricky part about a clogged air filter is that this often isn't something that homeowners think about. While it's an easy problem to fix, you have to be aware of it to fix it.
Electrical or Thermostat Problems
One of the most common causes of air conditioning emergencies is related to thermostat or electrical issues. The thermostat is ultimately what controls the air conditioner, which means that if it gives out, your AC will automatically shut down. Electrical problems consist of a flipped or faulty circuit breaker, a blown fuse, or damaged wiring. Electrical problems are dangerous to work with if you don't have electrical experience, and you should contact us at 1-800-Plumber + Air to check and fix this issue.
Ice on Your Condenser or A-Coil
There are several reasons why ice might form on your condenser or evaporator coils. If you have a refrigerant leak, a clogged air filter, or a malfunctioning thermostat, you can end up with ice on your condenser coil, indoor coil, or refrigerant lines.
You should immediately turn off your air conditioner and let the ice melt if this happens. You should also contact us and allow us to inspect your system and make sure this doesn't happen again. Ice on your HVAC system isn't necessarily dangerous, but it will cause your AC to malfunction.
How to Prevent AC Emergencies From Happening
The best way to prevent air conditioning emergencies is to take preventative measures. Like all appliances, air conditioners are more prone to problems if you don't maintain and service them on a regular basis. Here are some of the things you can do to protect your AC.
Change Your Air Filter
One of the easiest ways to help protect your HVAC system is to change your air filter every three to six months depending on how dirty it is.
Clean Your Coils
Every year or every other year, it's a good idea to clean your condenser and evaporator coils by spraying them off with water.
Schedule Regular Servicing
The best way to make sure that you're never in the middle of an air conditioner emergency is to contact us at 1-800-Plumber + Air and schedule recurring maintenance checks. There are only so many things you can do to care for your air conditioner if you don't have the proper tools and experience. If your AC is properly maintained and professionally serviced, you have a much smaller chance of running into an emergency.
Who to Call in Case of an Emergency
If you haven't figured it out yet, 1-800-Plumber + Air is the number you should call for any kind of service or maintenance on your HVAC system. We offer 24/7 emergency service if your AC or furnace breaks down when you need it most. Whether you're in the middle of an emergency or want to prevent one, give us a call and we'll put your worries to rest.
AC Is Working but Not Cooling
This common AC problem can also occur due to super dirty filters or clogged/closed vents. If you already have a new filter and all your vents are open, the culprit might be a refrigerant leak.
The refrigerant is the substance that absorbs heat from the air so that your AC can cool it down. So, if you have a refrigerant leak, you'll run out of the stuff and end up with an air conditioner that doesn't cool.
Note that the US has already banned the production of the popular "Freon" (or R-22) since the start of 2020. If your AC runs on this, and you have a refrigerant leak, recharging it could cost you $100 to $600 or more. It will become even pricier in the following months as the supply drops even further.
Aside from your AC not cooling, you can also tell that you have a refrigerant leak if your unit makes a hissing sound. If you hear this, get in touch with an air conditioning repair specialist right away. Not only is R-22 super expensive, but it's also harmful to humans, animals, and the environment.
If the AC technician determines that you have a Freon leak, you may want to think about replacing your old unit. New air conditioners use safer refrigerants, and they're also way more energy efficient.
Air Conditioner Not Working After Winter
Your outdoor air conditioner unit needs at least two feet of clearance on all sides. This ensures the optimal flow of air into your AC's outside unit.
After winter, however, plants, weeds, and vegetation will start to grow. They may then encroach upon your outdoor AC unit, blocking its airflow. This is one of the common reasons that your air conditioner may stop working after the snowy season.
In addition, your air conditioner may have built up a lot of debris throughout the winter. Some of these could have entered through the grilles of your outdoor AC unit. Try to remove as much build-up as you can and then see if this makes your cooling equipment work again.
If not, it's best to get in touch with your local air conditioning repair experts. They can quickly diagnose your AC and see if it has a broken or faulty compressor. Problems with this part can trigger the system's safety features, so you won't be able to turn it on.
AC Emits Unpleasant Smells
Did you know that from 2013 to 2017, at least 354,400 home fires occurred each year in the US? While most of these were due to cooking, many others were a result of electrical failures.
So, if you smell something burning as soon as you turn on your AC, shut it off right away. A wiring issue may have occurred while your AC was inactive.
If the smell isn't that strong, and there's no actual smoke coming out of your AC, it may just be the odor of burning dust. While you weren't using your air conditioner, debris could have settled all over its parts. Upon turning the unit on, these small particles get burned, hence the smoky smell.
In the above situation, the odors should quickly go away, though. If they don't, and the smell turns even more pungent, turn the AC off. Contact an HVAC technician, as the unit's motor may be overheating.
Leave More Complex Problems to Licensed AC Repair Specialists
As you can see, a new filter may be all it takes to resolve some issues with your air conditioner. Keeping your outdoor AC unit free of debris is also crucial, especially after winter. These two are also integral parts of air conditioner maintenance.
If these two don't fix your air conditioner woes, though, then it's time to get in touch with AC repair pros. There may already be complex issues affecting the critical parts of your AC.
If you're still having problems with your AC, please know that 1-800-Plumber +Air can help. Get in touch with us now so we can have your air conditioner back in full power as soon as possible.
On time, fast working, and did a great job

Michael R.
Justin and Richard did a great job.

Satisfied Customer
Nick did a great job and very nice and professional. Thanks

Evonne H.
Detailed orientated and honest inspection. Chad took his time and explained everything that was going on very well. The service fee was fair for the small issues he fixed, and he was able to make a referral for water restoration for us, I would use his service again and plan to when our water heater goes out.

Katie D.
Kyle Urban is great! He does beautiful work and is a great guy! We will request him personally from now on.

Kelly W.
Justin and Richard from electric cane. Did a superb job! Highly recommend always!

Satisfied Customer
Emanuel Reyes arrived on time and was extremely courteous and professional. Evaluated problem and took care of it in extremely short time and price was very fair. Will call again when necessary.

John T.
Kyle provided excelleent service as he always does. I have had some tricky plumbing problems and he has always solved the problem with efficient service and winning personality. He did a beautiful job on my pipe. He takes a lot of pride in his work .

Ruth L.
Emanuel Reyes did a very thorough job and was very courteous.

Charles M.
Jeff did a great job and let us know what was going on continually. He is a very personable technician.

Theresa D. No surprise
costs at the end of a job On-Time
Committed to on-time arrivals