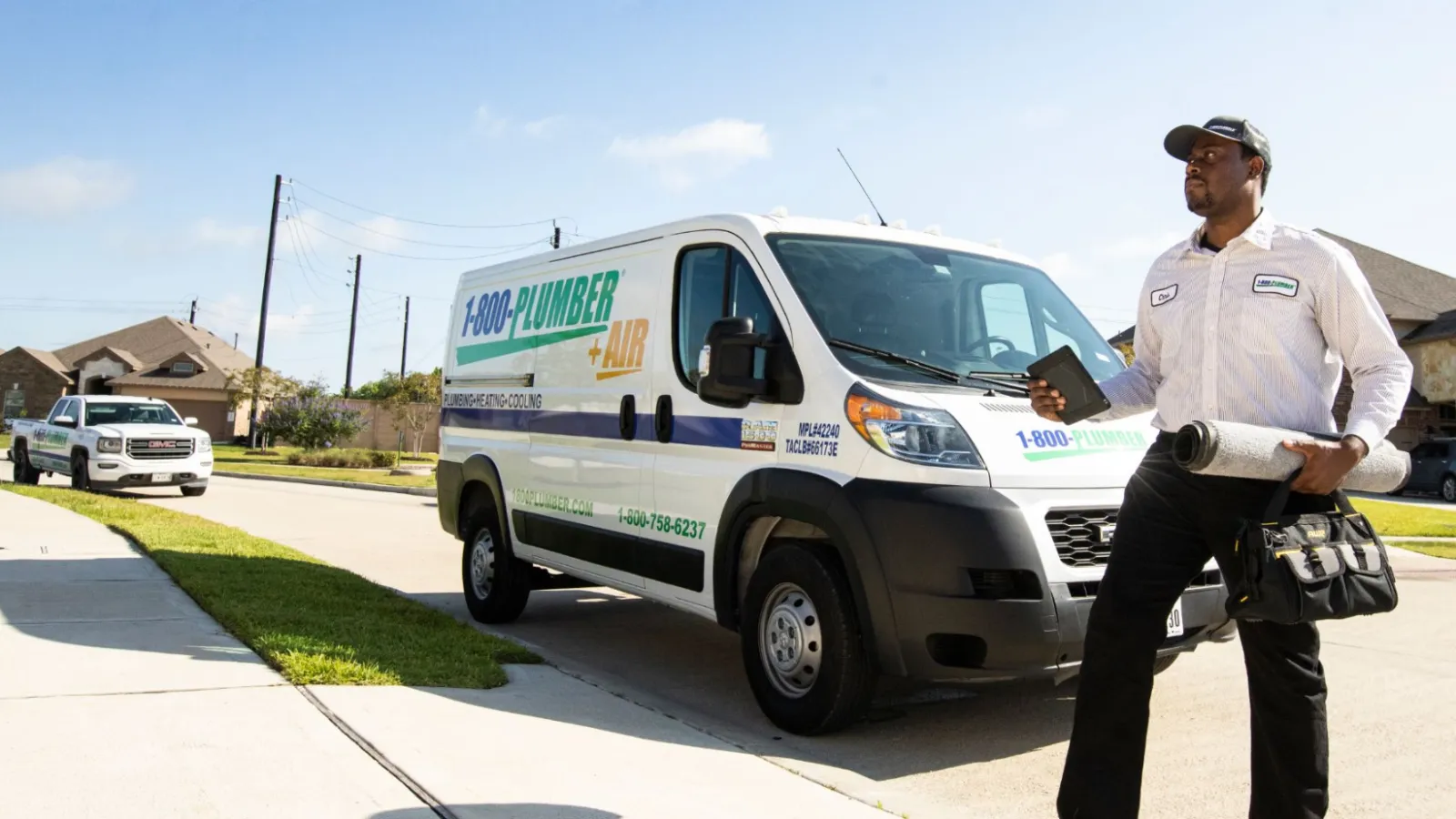 1-800-Plumber +Air
AC Installation & Replacement
Having a
HOME EMERGENCY?
Call or Find Your Nearest Pro!
The zip code you entered is not associated with one of our locations. Please visit our Locations page to find your closest location.

Your Professional
SERVICES
Our Top Emergency
Services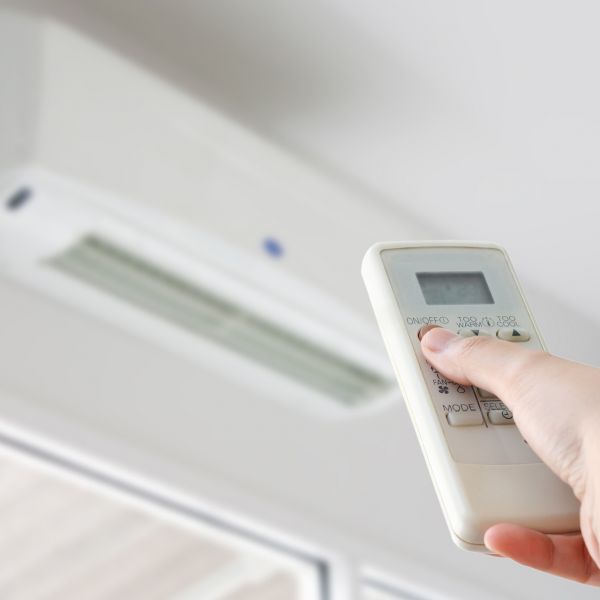 Central Air Conditioning Installation with
1-800 Plumber + Air
The central air conditioning is a crucial component of every American home. Were it not for it, most regions throughout the United States would be inhabitable during the winter and summer seasons.
Whether you need to upgrade or install a new central air conditioning system, there are several factors you must consider. Read on to learn about central air conditioning and why 1-800-Plumber +Air is an excellent choice for all your central air conditioning installation, repair, and after-installation services.
How Does Central Air Conditioning Work?
Hot air is extracted from the house and then replaced by cool, dry air through the ductwork. Cooled air is transferred from the air conditioner to the room through supply ducts and registers (openings in the ceilings, walls, and floors covered by grills).
The cool air then circulates through the house and gets warmed by the already hot air indoors. Then it's transferred back to the system through return ducts and registers.
Who Should Install Your Air Conditioning System?
A central air conditioning system should be installed by a professional who understands its complexities. It's advisable that you take the time to choose a professional contractor who can not only install but also maintain your system for years.
Here are some valuable tips to help you identify the best contractor:
Reputation: The ACCA (Air Conditioning Contractors of America) has a website where you can search for reliable contractors. If you have a trusted real estate agent, builder, or developer, you can request referrals. You can also ask colleagues, friends, or neighbors to recommend a good contractor they've worked with before.

Qualification: Check that they are affiliated with the ACCA (Air Conditioning Contractors of America) and hold an ACCA certificate in residential HVAC design. 1-800-Plumbing +Air has a team of experts who are well-trained and certified.

Reviews: Overall positive online reviews are a good indicator of a professional contractor. A reputable central air unit contract has many positive reviews from customers who were impressed by its professionalism, courtesy, and promptness.

Licensure and Permits: Familiarize yourself with your state's licensing requirements and ask to see a copy of the same from the contractor. In Texas, heating and air conditioning contractors can have a Class A license or Class B license. Also, permits are usually a requirement for installation work. 1-800-Plumber +Air is a state-licensed company with well-trained, fully licensed experts to handle all heating and cooling services.

Warranty: A warranty ensures you don't incur a cost when a repeat service is as a result of the contractor's failure. It also shows you that the contractor is confident in their work.

Availability: A reliable contractor is available when needed, including during emergencies. At 1-800-Plumber + Air, we are available 24/7. Call us with your emergency issue, and we'll provide immediate steps to mitigate the damage and then send over one of our experts for fast diagnosis and repair.
Qualities of a Good Central Air Conditioning System
Energy-efficiency: To know how energy-efficient an air conditioner is, check its SEER (Seasonal Energy Efficiency Ratio). The SEER tells you the amount of energy the system needs to produce a certain amount of cooling. A model with a higher SEER than the average can help you save more. Models made in the 1970's use more energy and are no longer a viable option. For the same amount of cooling, a newer model will utilize 30% to 50% less energy.

Sizing: A system that is too large will not remove humidity sufficiently. And if it's too small, reaching a comfortable temperature on the hottest of days will be next to impossible.

Insulation: Lack of proper insulation decreases efficiency.

Ductwork: When ducts are appropriately sized, they deliver conditioned air throughout the house evenly and quietly. However, if sized inappropriately, even the best energy-efficient model will not work well. It will not be able to get the hot and cool air where it's supposed to be.

Quiet: Besides being a disturbance, a noisy air conditioning system indicates that it's not working right.

A thermal expansion valve: A thermal expansion valve coupled with a high SEER will increase the central air unit's efficiency when it's too hot.
How Long Does an Air Conditioning System Last?
A well-maintained system should last about 15 years. Replacement is necessary after this period because the machine's efficiency decreases and it starts calling for frequent repairs.
If you're installing a new central air conditioning system, make sure your contractor factors the following:
Proper sizing of ductwork using duct-sizing methods: An example of such methodology is the Air Conditioning Contractors of America (ACCA) Manual D.

Installation of ductwork within the room as opposed to the attic or basement.

There is adequate supply and return registers to sufficiently supply cool air to the house and pull out warm air.

There is enough indoor room for the installation, maintenance, and repair of the system.

Installation of an access door in the duct to enable cleaning of the evaporator coil.

Attic ducts are heavily insulated, and all ducts are sealed with duct mastic.

The noise from the condensing unit will not disturb neighbors or keep them awake at night.

The condensing is such that the airflow is not blocked by objects that are near the system.

The airflow rate and refrigerant charge of the air conditioning system match the manufacturer's specifications.

The thermostat is located away from the supply registers or windows because they are heat sources.
1-800-Plumber +Air has heating and air conditioning professionals ready to provide expert advice and assistance on installing energy-efficient units that will save you money. We also provide replacement services to upgrade existing equipment.
Air Conditioning Installation Cost
Here are some factors affecting the pricing for air conditioning installation:
Ductwork: Most ducts are not built to handle a modern air conditioner's airflow. Your contractor should confirm that the existing one can. There should also be enough room for an air conditioner coil or vents that are big enough. Although modifications will increase the total installation cost, they can significantly minimize energy bills.

Equipment Size and Efficiency: The size here refers to the amount of air it can cool, measured in tons. But bigger does not mean best. A poorly-installed unit will also waste energy regardless of how high its SEER (Season Energy Efficiency Rating) is. So your contractor should only recommend a unit after evaluating your house's performance.

Labor Costs: The location and size of the contractor's business influence the installation cost. However, the lowest bid is not necessarily the best. It's important to note that more than half of all air conditioning systems are installed poorly, which automatically reduces their efficiency. It's worth your time and money to find the right professional to get the job done right.
According to HomeAdvisor, the installation cost ranges from $3,000 to $7,000. A good contractor should be upfront about their pricing, including the expenses, replacement materials, labor costs, service charges, and other costs.
You can get an air conditioning installation estimate using a basic central air installation cost calculator online or request a detailed quote from 1-800-Plumber +Air.
Are You Ready to Install a New AC Unit?
Central Air Unit
The central air unit used will depend on the size and structure of your house. Here are the different types of units available:
Split air conditioning systems: These are best suited for houses that have a furnace. They're generally silent, work effectively, and are affordable to maintain. They consist of a condensing unit (a metal-like box that's placed outside), an evaporator coil, and an air handler, both of positioned inside.

Packaged central air systems: These are found in residential homes where a split system won't fit. They function to the same as the split air conditioning systems. The difference is that the three elements (condensing unit, evaporator coil, and air handler) are housed in a box that's outside the roof. They're less efficient than the split systems.

Heat Pumps: These are best suited for areas where the climate is mild. In the summer, the heat pumps remove hot air from the house to outside, and in the winter, it extracts cold air and pumps in the warmer outdoor heat.
How to Install Central Air Conditioning Ductwork
Installing ductwork is no easy work, hence the need to have a professional do it for you.
Here are seven rules your contractor should follow when installing central air conditioning ductwork:
Rule #1
Because when hot air rises, cold air falls, the contractor should install the registers (openings in the ceilings, walls, or floors covered by grills) that supply warm air on the floor, and the registers that supply cool air high up on the wall.
Rule #2
Ducts should be as straight as possible. When there are several turns, air will move slower, and lesser amounts of it will be delivered to the register.
Rule #3
Each register should feed directly from the central unit through its duct.
Rule #4
Before cutting any holes, have a strategy on how ducts will run to the upper floors. The ducts should be able to run between studs and joist bays (spaces between joists). Line up the studs and joist bays to ensure there's a clear path.
Rule #5
To ensure the air is moving efficiently, use the correct fitting each time you make a turn - one that's designed for that purpose.
Rule #6
Map out the heating ducts to surface at external walls. Place registers in the center of the external wall. For tiny rooms, a single duct will work.
Rule #7
Insulate ducts that run through spaces that are not heated. Failure to insulate will lead to extensive heat loss when on its way to the register.
Why Choose 1-800-Plumber
What makes us an excellent solution for your air conditioning installation needs is our all-round experience. We offer services for most household systems, including plumbing, cooling, and heating equipment. Whether you need installation, repair, or after-installation services, our highly skilled teams can handle it all.
Also, we are located in several cities, including:
Contact the Experts!
For central air conditioning installation, repair, or after-installation services, 1-800-Plumber +Air has you covered. Call us today for the best central air conditioning installation services. Our customer services are available around the call to receive your call and dispatch a repair team.

Ready to
GET IT FIXED?
Contact Us Now!
Mark was great! He took the time to not only give a price, but explain everything a new system could do and how it would benefit them not just in heating and cooling, but dust reduction, utility bills, etc. Very Very pleased. read less

Satisfied Customer
Mason with 1-800-Plumber first listened to my issues and past experiences with other plumbing companies. He did a thorough diagnosis of the problem and found a solution, the correct solution which wasn't the most expensive solution. Thanks for your honesty Mason.

Carolyn P.
On time, fast working, and did a great job

Michael R.
Kyle did an excellent job. H was very thorough and explained everything from start to finish. I would strongly recommend Kyle for any plumbing you might have.

Kyle
"Great service ,plumber was very good and did a great job .very happy"
Joseph G.

Friendly, courteous, knowledgeable.

Marylin L.
Detailed orientated and honest inspection. Chad took his time and explained everything that was going on very well. The service fee was fair for the small issues he fixed, and he was able to make a referral for water restoration for us, I would use his service again and plan to when our water heater goes out.

Katie D.
They replaced our heater and did an excellent job.

Satisfied Customer No surprise
costs at the end of a job On-Time
Committed to on-time arrivals