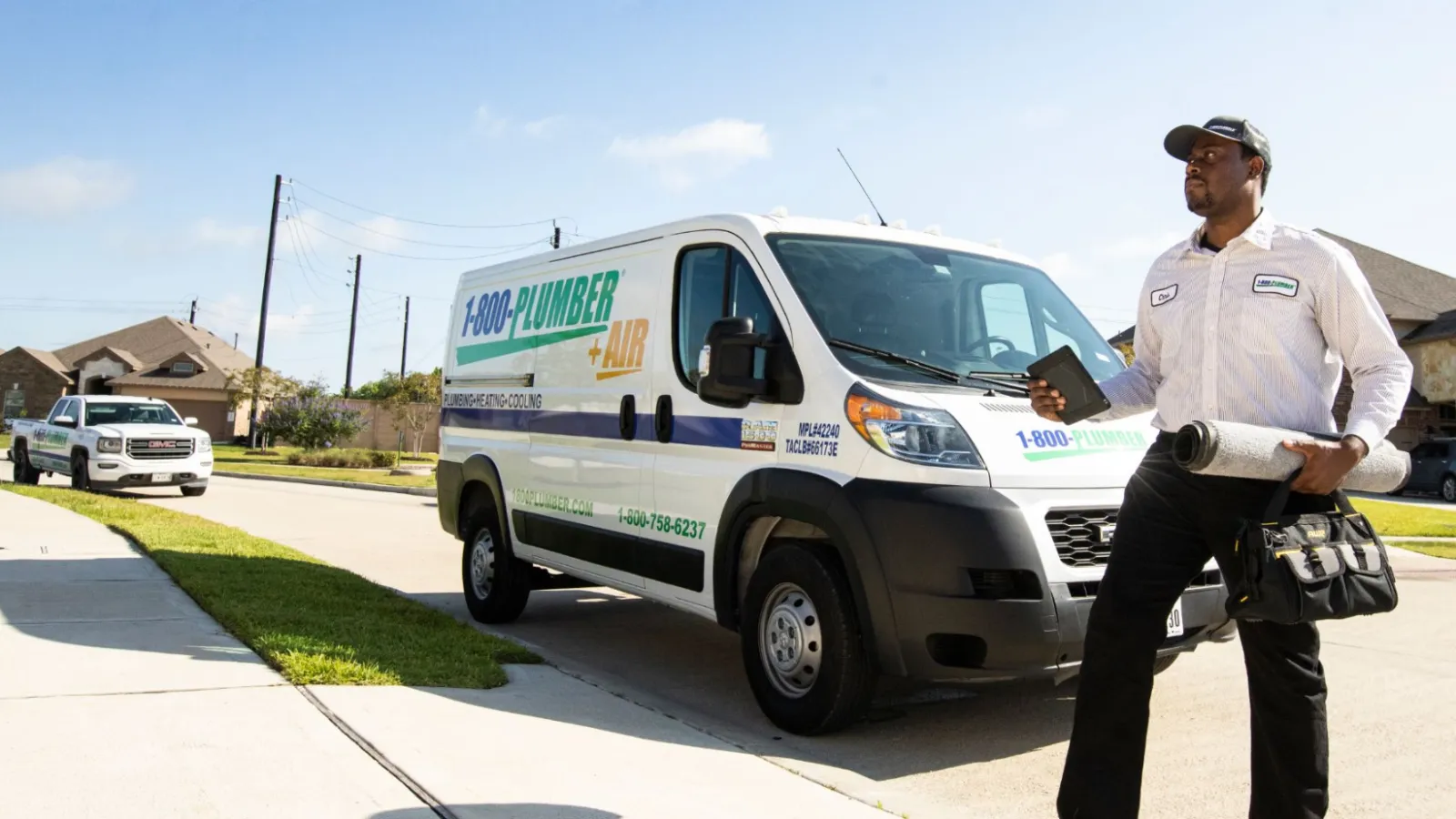 1-800-Plumber +Air
AC Installation & Replacement
Having a
HOME EMERGENCY?
Call or Find Your Nearest Pro!
The zip code you entered is not associated with one of our locations. Please visit our Locations page to find your closest location.

Your Professional
SERVICES
Our Top Emergency
Services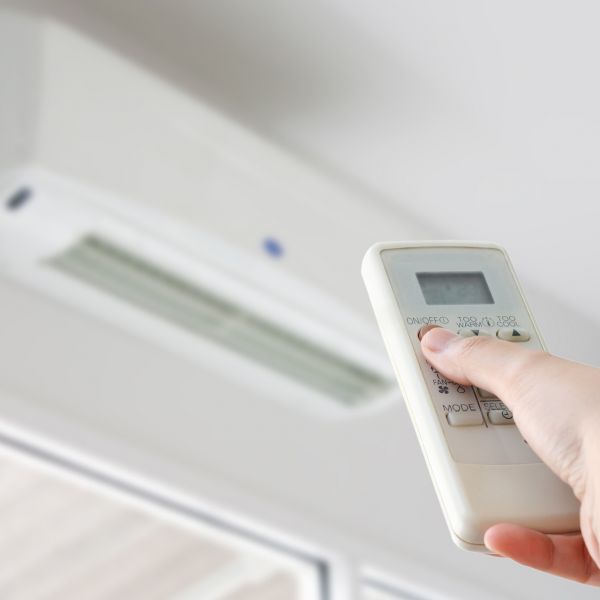 Air Conditioning Installation and Replacement by 1-800-Plumber +Air
Did you know that air conditioning makes up 12% of home energy expenditures across the US?
Without central air in our homes, half of the United States would be an extremely unpleasant place to live during the summer months.
Air conditioning uses a lot of electricity to keep our homes cool. Old AC units in particular are a huge drain on power sources and cost residents a lot of money each year. If it's been more than 10 years since your AC has been installed or upgraded, it's time to consider a new air conditioning installation.
Or if you still rely on window-mounted air conditioners, it's time to install central air. The benefits of a new, modern, energy-efficient AC system far outweigh the immediate cost.
Here at 1-800 Plumber + Air, we are committed to not only giving you the best price on your air conditioning install but also give you the best service and experience possible.
If you are considering an AC upgrade, continue reading to find out how much it costs, what the benefits are, and how to get started today.
The Downside of Window AC Units
Having central AC in your home is far more effective than using a window cooling unit.
Window units are only able to cool one room and are not as energy efficient as a new central air system.
They also pose a security risk, particularly on ground floor windows. It wouldn't be difficult for someone to remove the air conditioner and access an open window. This is primarily a concern when nobody is home for an extended period of time.
You may need to take the unit down on occasion, which is a hassle.
Windows vary in size quite a bit. You need to make sure to get a unit that fits your window properly and make sure there is an electrical outlet in range. Otherwise, you'll have to deal with unsightly extension cords.
Window AC units aren't very appealing to look at, either. Most people consider them an eyesore. They certainly don't add to the value of your home.
Why Central Air Is Important
Having a central air conditioning system, however, is much more enjoyable for many reasons.
To start, central air is able to cool your entire home with the push of one button on your thermostat. The ease of use for a modern AC system is a huge plus.
With central air, you'll be able to enjoy every room of your home in the summer, not just the basement, or the room with a window AC unit.
You'll get to keep the functionality and views from all of your windows. Installing a new central air unit will definitely increase the value of your home.
Plus, the system is installed outside. When running central air, the inside of your home is much quieter than when you use a window unit.
Benefits of Upgrading Your AC System
The benefits of installing a new air conditioner in your home are numerous.
The main benefit is maximum comfort. Your entire home will be cooled and comfortable during the long hot summer months. After a day spent outside in the yard, you'll now have a more enjoyable house to relax in.
If you live in a humid environment, modern AC systems will also help to dehumidify your home, making it more comfortable and protecting your home from excessive moisture damage.
New units are also much quieter than old ones, thanks to constant advances in technology.
Another huge benefit of the new AC installation is energy efficiency and cost savings.
If you have an older AC system in your home, it could be costing you a lot of money every month.
Replacing an old system with a new, energy-efficient AC unit can reduce energy costs by as much as 40%, which could translate to hundreds of dollars saved per year.
On top of that, many power companies across the country offer rebates and incentives for upgrading. In the summer months, their resources are strained. They will gladly pay you to upgrade your system and use less power during peak times.
There are usually federal and state tax credits you can claim, as well as many power company rebates available depending on your region. In order to claim these rebates and credits, a certified professional needs to complete the installation.
What Makes a Quality Air Conditioning System?
If your unit is more than 10 years old, anything you get will improve energy efficiency.
However, you'll still want to pay attention to the SEER rating (Seasonal Energy Efficiency Ratio). A higher SEER value, while generally more expensive, is much more energy-efficient.
For example, your current unit might have a SEER rating of 8. Newer models can easily reach 15 or higher, saving you a considerable amount of energy and money.
You also need to ensure your new unit is sized properly for your home. If it's not big enough, it will struggle to effectively cool your home.
If it's too big, however, you might end up wasting excessive energy to cool your home. It also might not properly remove humidity.
When installed, your contractor should also seal and insulate around opening, ducts, and vents to maximize efficiency.
Installing New Air Conditioner Ducts and Vents
If you don't already have a central air system, then you probably don't have existing ductwork going through your home. Ducts carry the cool, dry air from your AC unit throughout your home, dispersing it evenly to keep your entire house cool.
Vents are installed either on the floor, wall, or ceiling to release the cool air into the room and remove the warm air.
But having a new central air system and proper ductwork will transform your home. You'll experience a new level of comfort all year long.
How to Install Central Air Conditioning Ductwork
Installing ducts and vents is a serious undertaking and should only be done by professionals. Not only is it a lot of hard work, but you need to understand your local areas building codes and rules to ensure safety and functionality.
The process includes:
Install ductwork as straight as possible. The more twists and turns a duct encounters, the less air will eventually make it through to the room

Installing vents in the ceiling to release cold air into each room

Installing return air vents in the floor or walls to remove warm air

Feeding the vents directly from the main duct

Insulate and seal all openings and transitions to prevent air loss and improve efficiency
Ready to
GET IT FIXED?
Contact Us Now!
How Much Does It Cost to Install Air Conditioning?
Air conditioning installation cost averages $7,000 in the US.
The cost of air conditioner installation varies by the energy efficiency rating (SEER), the size of the home and the size of the unit required, the location of the home, and whether or not ductwork already exists or not.
A larger home will require a larger, more powerful AC unit to effectively cool the entire home.
Your region may also impact the cost of installation. AC units needed in the extreme heat of Texas, for example, will be different from units needed in mild summers such as Minnesota.
If you already have an existing system and ductwork and place, you might not need to install new ductwork, saving money upfront.
If the ductwork is really old, though, it might be worth improving or replacing in order to maximize efficiency.
To get a better idea of the cost, you can use the central air installation cost calculator. Or for a more specific quote, you can call us today.
Air Conditioning Installation Near Me
1-800 Plumber + Air is located in several cities across the country. You can find an air conditioning installation contractor in each of the following areas:
Amarillo, TX

Duncanville, TX

Pearland, TX

Sugar Land, TX

McKinney, TX

Attleboro, MA

Long Island, NY

Shelton, CT

Plymouth, MN

Portland, OR

Scottsdale, AZ

Indianapolis, IN

We are a growing team and new locations are being added every year.
Why Call 1-800-Plumber +Air?
We are a professional team of licensed contractors serving multiple states across the country.
In case of an emergency, we are available 24/7. We also work nights and weekends to ensure you can get service when it's most convenient for you.
All of our work is held to the highest standards and is guaranteed. We value integrity and will not surprise our customers with additional costs at the end of a job.
Along with your air conditioner, we are also available to service your heating and plumbing needs, making it easy to upgrade and improve the efficiency and comfort of your home in every season.
Schedule Your Service Today
When it comes to making your home a more enjoyable place to be and saving money for years to come, there is no reason to wait.
Especially when it comes to cooling your home down in summer. It's hard to relax when you are sweating inside all day.
If you are considering a new air conditioning installation, you can call us today for a free quote.
Otherwise, if you are ready to get started, you can schedule your service now.
We can't wait to partner with you to make your house feel more like home.

did a excellent job on repiping my house n clean n very please with the work they done.

Willie W.
Swayze did a wonderful job yesterday, he answered all my questions perfectly, was very respectful and took the time to clean up his mess. I am really impressed and pleased with his work. read less

Satisfied Customer
Swayze did a wonderful job.

Satisfied Customer
We had to have someone come out today due to a sink and toilet leak. Swayze McLauglin was our plumber and he did a great job explaining the problem and how we could get it fixed. He was great at explaining price as well as what he was doing. Swayze was friendly and professional while he was here as well as working in these trying times with COVID-19 he followed all procedures and was great. We will be using yall the next time we need someone. Thank you so much Swayze for all your help!

Satisfied Customer
Nice bunch of guys. Did what they said and did it very well. Explained everything and took extra pre cautions with the Virus outbreak.

Mike P.
Mark was great! He took the time to not only give a price, but explain everything a new system could do and how it would benefit them not just in heating and cooling, but dust reduction, utility bills, etc. Very Very pleased. read less

Satisfied Customer
Joe and Kyle installed a new water heater. They were very professional and courteous. They explained my options and I was also offered a discount. I will definitely use this company again.

Linda B.
Nick was wonderful did an outstanding job, explained all options and extremely thorough. She will call back and use us again. She was very pleased and very happy that she didnt have to clean up after him.

Satisfied Customer
Wow wow wow, Paul was excellent. Fair price, honest, did everything he said he would do and more. Fixed a line not slopped and 2 breaks at the tap. I recommend this business any day of the week. Excellent. I will use them for all my plumbing needs. He let me use my online coupon.

Debra's Passion Boutique No surprise
costs at the end of a job On-Time
Committed to on-time arrivals