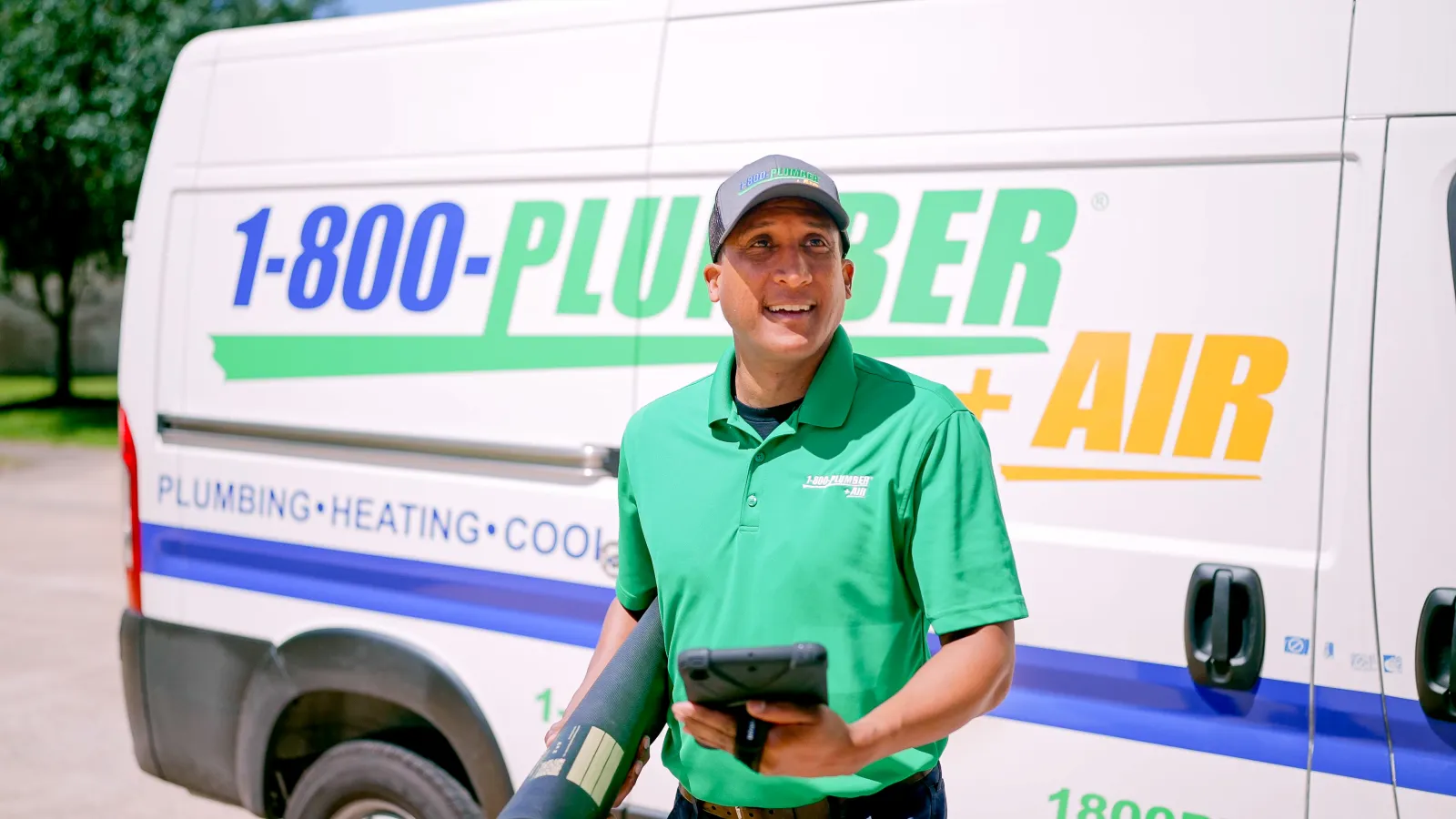 1-800-Plumber +Air
AC Installation & Replacement
Having a
HOME EMERGENCY?
Call or Find Your Nearest Pro!
The zip code you entered is not associated with one of our locations. Please visit our Locations page to find your closest location.

Your Professional
SERVICES
Our Top Commercial
Services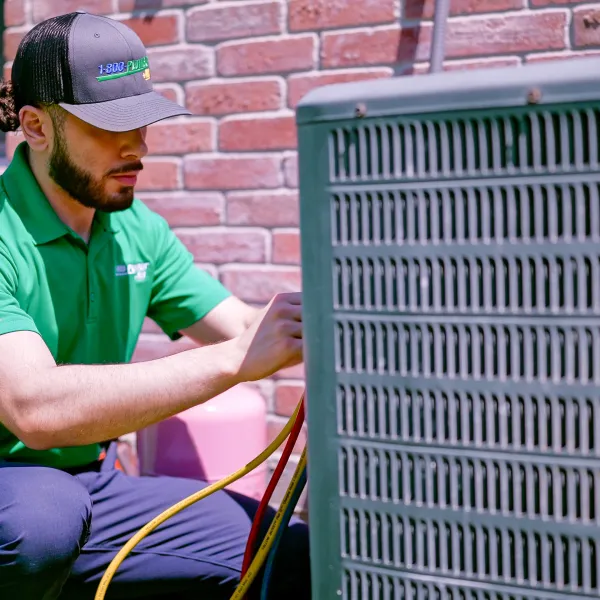 Air Conditioning Installation and Replacement | 1-800-Plumber +Air
A functioning air conditioning system is a must for homeowners that live in hotter climates. However, air conditioning installation can be fairly expensive, but it's important to have it in your home. There are ways to afford an installation! This is 1-800-Plumber +Air's guide to understanding the different air conditioning installation cost factors.
Why should you install a new air conditioner?
There are a few signs that could signal that you need to replace your air conditioner. They aren't made to last forever. Typically, they last between 10-15 years, so if yours is older than that, you may start experiencing some of the signs below.
Blowing hot or warm air
If your air conditioner is blowing air that is not cool or is hot, this could be a sign it needs to be replaced. The usual issue that causes no cold air is thermostat issues, a clogged filter, a clogged drain, a dirty compressor, or low refrigerant levels. It's best to get a professional licensed HVAC technician to look it over to find out what the issue is. Trying to fix an air conditioner unit on your own is a bad idea because if any problems happen, it could cause costly damage to the unit or your home.
Excessive Moisture
All air conditioning units will create moisture, but they will be able to handle it without creating an excessive amount. If you're noticing a leak, or a high amount of water, this signals a problem with your air conditioning unit. It could be a refrigerant leak, and if that's the case, that can be dangerous to your family and your home, because it can cause health issues. It's best to call a professional if you suspect a refrigerant leak and get it fixed right away for the safety of you and your home. On top of that, it can be a way for mold to grow in your home. Both the chemicals in refrigerant or mold can be toxic to breathe in. Please call a professional if you spot mold near your unit or if you suspect any kind of leak.
Strange Noises
AC units are supposed to make such a small amount of noise that they should be undetectable when turning on or off. If you hear any kind of grinding, banging, or chattering, that's a sign you may need to repair or replace the unit. It's best to have a professional take a look to know what you'll need to do to fix the extra noise.
Musty Smell
If you're smelling a moldy or musty smell from your air conditioning unit, it may be time to clean it or replace it. Even worse is a burning or smokey smell. That means the unit needs to be fixed immediately because it could be dangerous if the problem is not taken care of.
Higher Electricity Bills
If your electricity bills have suddenly spiked, it may be because your air conditioning unit is working too hard to try to cool your home. If everything in the unit isn't working at tip-top shape, it will cause the machine to work harder and use more electricity, therefore, causing higher bills.
It's hot in the house
If your air conditioner has been on all day but it's still hot in the house, this could be the unit working too hard and still not cooling, meaning it may be too old to keep up like it used to. This could also be a clog in the duct rather than a full replacement.
The unit is old
If your air conditioning unit is older than 15 years, it may be an issue that requires a replacement. However, some air conditioning units with regular maintenance can run for up to 20 years. It all depends on the unit, the climate, and how it's taken care of. It's best to have a professional take a look at the unit to see if it needs a repair or a replacement. The good news about purchasing a new unit is that newer systems are more efficient and can actually save you money by using less energy and working less hard, saving you from having to replace anything sooner or running up your electricity bill.
Your AC requires frequent repairs
If you find yourself having to fix your unit often, even if it's just little fixes, it may be time to replace the whole unit. Not only will this save you money in the long run, but will let you rest easy that your unit won't need another fix for a while. It's better to spend more now to get a brand new and efficient unit rather than continuing to fix an old one because eventually, you'll fix every part that will equal more than just buying a new one in the first place.
Humidity builds up in the house
Your air conditioner is supposed to cool the house, but it's also supposed to control humidity by keeping it outside. If you're noticing more moisture in the house than normal, it may be a sign that your air conditioning unit can't keep up anymore and may need to be replaced.
Ready to
GET IT FIXED?
Contact Us Now!
How much does air conditioner installation cost?
The cost completely depends on your home, the company doing the installation, and the unit you want to install. You can expect a range anywhere from $1,000-$4,000. But make sure to speak to a professional and tell them everything you can about your home and your unit. Some companies will offer payment plans to make the cost easier to pay over a longer period of time. Always ask a professional for a price range. If anyone gives you a firm price before seeing your home and the unit, you may want to avoid them because no one can give you a firm price without seeing everything they will be working with.
Save on your air conditioning installation. Call us!
At 1-800-Plumber +Air, we want to make sure you are satisfied with our services and the cost. We will work with you to help you install your unit without hurting your finances! If you need help repairing or replacing your AC unit, or you're not sure where to start, contact us! We'd be happy to help!
fast appointment. service tech was awesome.

Satisfied Customer
Alex was just wonderful. He explained everything did a great job and was friendly and courteous. Very professional in every way.

Satisfied Customer
I cannot thank Nick enough for taking care of my plumbing inspection and fixing those shut off valves. He s a true professional and have a wonderful future ahead of you! God bless you and thanks again! read less

Satisfied Customer
Chad was a pro..... personal..... and got right to work...... he explained each step he was taking and why .... very pleased with his. service and will highly recommend

Andy M.
Emanuel came out to inspect why our commode was not flushing properly. After an inspection he describer the options. Since the commode was over 40 years old we picked the option to replace the commode with a new one. He Asked several questions about what we would like and the showed us two options. We picked the one that we liked and he obtained the commode from the ware house and installed it the same afternoon.. He completed the installation and did a great clean up of the area and answered answered all of our questions. I fully recommend Emanuel and 1-800-Plumber of Pearland

Steve E.
Wow wow wow, Paul was excellent. Fair price, honest, did everything he said he would do and more. Fixed a line not slopped and 2 breaks at the tap. I recommend this business any day of the week. Excellent. I will use them for all my plumbing needs. He let me use my online coupon.

Debra's Passion Boutique
Nick was wonderful did an outstanding job, explained all options and extremely thorough. She will call back and use us again. She was very pleased and very happy that she didnt have to clean up after him.

Satisfied Customer
He is very professional and very respectful.

Satisfied Customer
Emanuel was excellent. He fixed our issue very quickly and explained exactly what the problem was and how he fixed it. Very friendly and trustworthy!

Kyle S. No surprise
costs at the end of a job On-Time
Committed to on-time arrivals