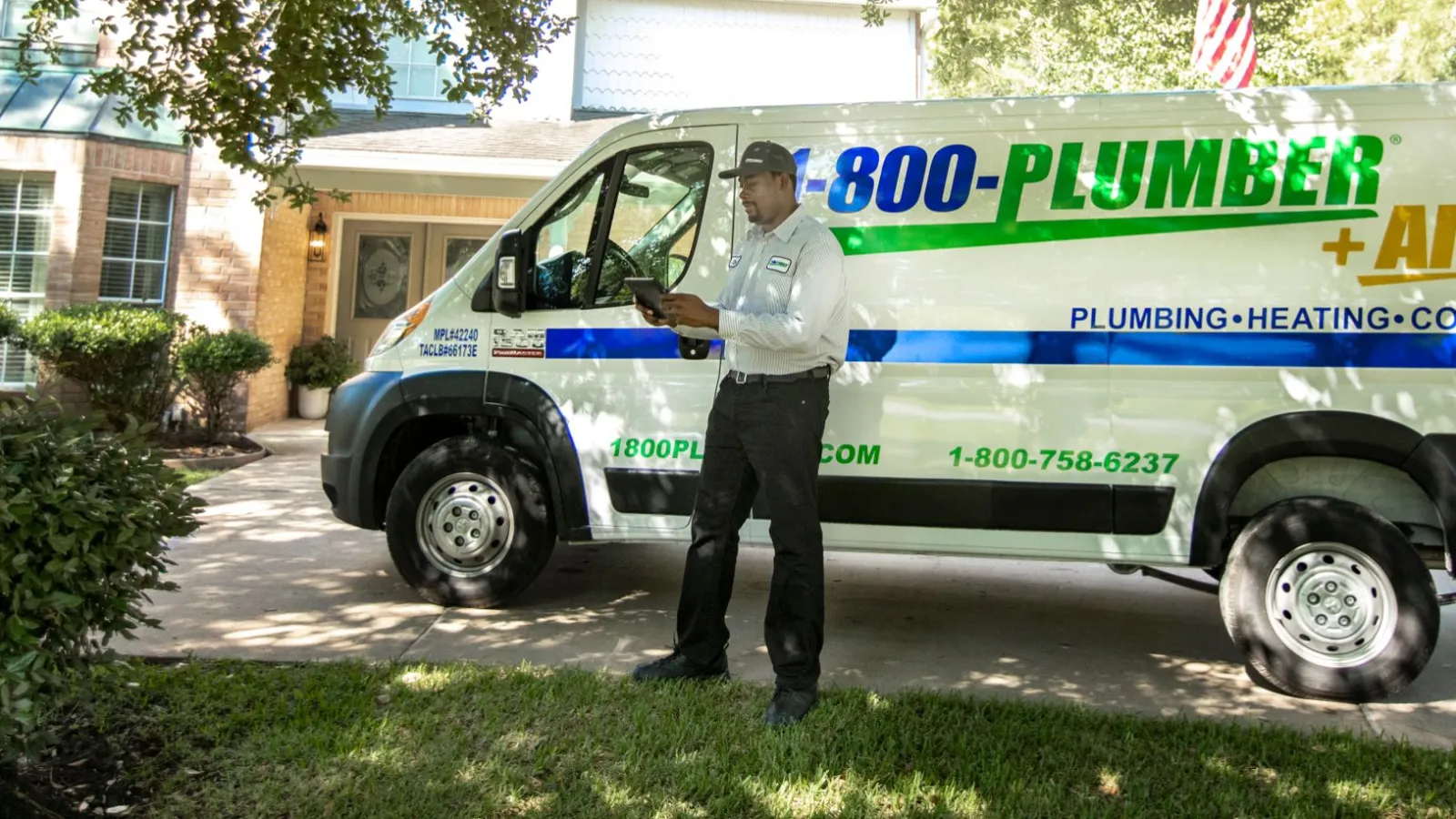 1-800-Plumber +Air
Emergency Cooling
Having a
HOME EMERGENCY?
Call or Find Your Nearest Pro!
The zip code you entered is not associated with one of our locations. Please visit our Locations page to find your closest location.

Your Professional
SERVICES
Our Top Commercial
Services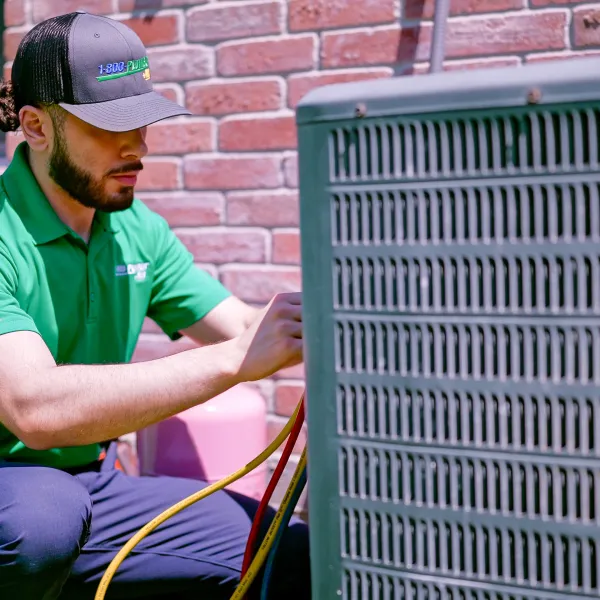 Emergency Air Conditioner Repair
1-800-Plumber + Air

What Constitutes an Air Conditioning Emergency?
An important thing to note is that it's not necessarily an emergency any time your AC isn't working. If it's a slightly cool spring, summer, or fall day when air conditioning would be nice but isn't necessary, this isn't an emergency. However, if we're in the middle of a Texas heatwave and your air conditioner gives out, you definitely have an emergency on your hands.
Extreme heat and humidity that go unmitigated aren't just uncomfortable. It can be downright dangerous to you and your home. High humidity can lead to mold and mildew damage, leading to house damage or even sickness to the inhabitants.
Another cause for an air conditioning emergency is if there's a noticeable refrigerant leak. Air conditioning refrigerant is expensive and essential to the functioning of your air conditioner. However, it's also terrible for the environment, which means that a bad leak can damage the air around you.
AC Emergencies That Require Professional Service
Unfortunately, nearly all air conditioning emergencies require the help of a professional HVAC service technician. As a homeowner, you can check the status of your thermostat and circuit breaker to make sure they're both working. You can also check your air filter and make sure it isn't too dirty, which can cause your air conditioner to shut down.
That's pretty much the end of the road when it comes to things you can do yourself. Air conditioners are complicated devices that require hour upon hour of hands-on experience and training to work with. Here's a list of the possible AC problems and issues that need professional service.
Refrigerant Leaks
As I said before, refrigerant is an extremely high-pressure liquid essential to your air conditioner. Even a tiny leak can lead to damaging the air around you and to your air conditioner itself. If an AC runs for an extended period of time without enough refrigerant, it will damage the AC and could cause damage to other components of your HVAC system.
Clogged Air Filter
Your air filter is located inside your home and attached to your furnace. Its job is to trap dirt, pollen, particles, debris, and other nasties that get into your HVAC system. The filter catches these items as they pass through your furnace and evaporator coil before they can enter your air ducts and sneak into your home.
Eventually, your air filter will get so clogged up with dirt and debris that it blocks the flow of air. When this happens, your air conditioner will start to get overloaded and will automatically shut down. The tricky part about a clogged air filter is that this often isn't something that homeowners think about. While it's an easy problem to fix, you have to be aware of it to fix it.
Electrical or Thermostat Problems
One of the most common causes of air conditioning emergencies is related to thermostat or electrical issues. The thermostat is ultimately what controls the air conditioner, which means that if it gives out, your AC will automatically shut down. Electrical problems consist of a flipped or faulty circuit breaker, a blown fuse, or damaged wiring. Electrical problems are dangerous to work with if you don't have electrical experience, and you should contact us at 1-800-Plumber + Air to check and fix this issue.
Ice on Your Condensor or A-Coil
There are several reasons why ice might form on your condenser or evaporator coils. If you have a refrigerant leak, a clogged air filter, or a malfunctioning thermostat, you can end up with ice on your condenser coil, indoor coil, or refrigerant lines.
You should immediately turn off your air conditioner and let the ice melt if this happens. You should also contact us and allow us to inspect your system and make sure this doesn't happen again. Ice on your HVAC system isn't necessarily dangerous, but it will cause your AC to malfunction.
How to Prevent AC Emergencies From Happening
The best way to prevent air conditioning emergencies is to take preventative measures. Like all appliances, air conditioners are more prone to problems if you don't maintain and service them on a regular basis. Here are some of the things you can do to protect your AC.
Change Your Air Filter
One of the easiest ways to help protect your HVAC system is to change your air filter every three to six months depending on how dirty it is.
Clean Your Coils
Every year or every other year, it's a good idea to clean your condenser and evaporator coils by spraying them off with water.
Schedule Regular Servicing
The best way to make sure that you're never in the middle of an air conditioner emergency is to contact us at 1-800-Plumber + Air and schedule recurring maintenance checks. There are only so many things you can do to care for your air conditioner if you don't have the proper tools and experience. If your AC is properly maintained and professionally serviced, you have a much smaller chance of running into an emergency.
Who to Call in Case of an Emergency
If you haven't figured it out yet, 1-800-Plumber + Air is the number you should call for any kind of service or maintenance on your HVAC system. We offer 24/7 emergency service if your AC or furnace breaks down when you need it most. Whether you're in the middle of an emergency or want to prevent one, give us a call and we'll put your worries to rest.
Contact Us
Are you in need of emergency air conditioning repair? If so, contact us now. Our friendly, expert team offers 24 hour ac repair near you.
Air conditioning repairs can be unexpected and stressful, so we are here to make the repair as quick and easy as we can for you, so you can get back to enjoying your home.
Ready to
GET IT FIXED?
Contact Us Now!
Very professional and informative!

A B.
1-800 Plumbers Sugar Land is the best!! Hector the owner and his team of men, specifically Chad were great! Very friendly, thorough, fast, and I didn't feel like I was being taken advantage of or robbed.

Erinn D.
I was very impressed with Nick and that he was very professional. This was the first time we had used 1-800 Plumber and it wont be the last. Nick went above and beyond. read less

Satisfied Customer
Jeff did a great job and let us know what was going on continually. He is a very personable technician.

Theresa D.
1-800 Plumber + Air and Electric has done several jobs for me. They are professional and respectful. Shawn Harvey has been great to work with. Would highly recommend!

Satisfied Customer
As a consumer and customer I am very happy with 1-800-Plumber Air of Pearland. I really appreciate the concern Joe and his helper showed for my issue and for the work they performed. I highly recommend 1-800-Plumber Air of Pearland

Lee
I had Kyle U as my plumbing tech. He did a great job and worked really hard to get to the bottom of things (like roots). He was also polite and honest.

Linda D.
On time, fast working, and did a great job

Michael R.
Joe and Kyle installed a new water heater. They were very professional and courteous. They explained my options and I was also offered a discount. I will definitely use this company again.

Linda B. No surprise
costs at the end of a job On-Time
Committed to on-time arrivals