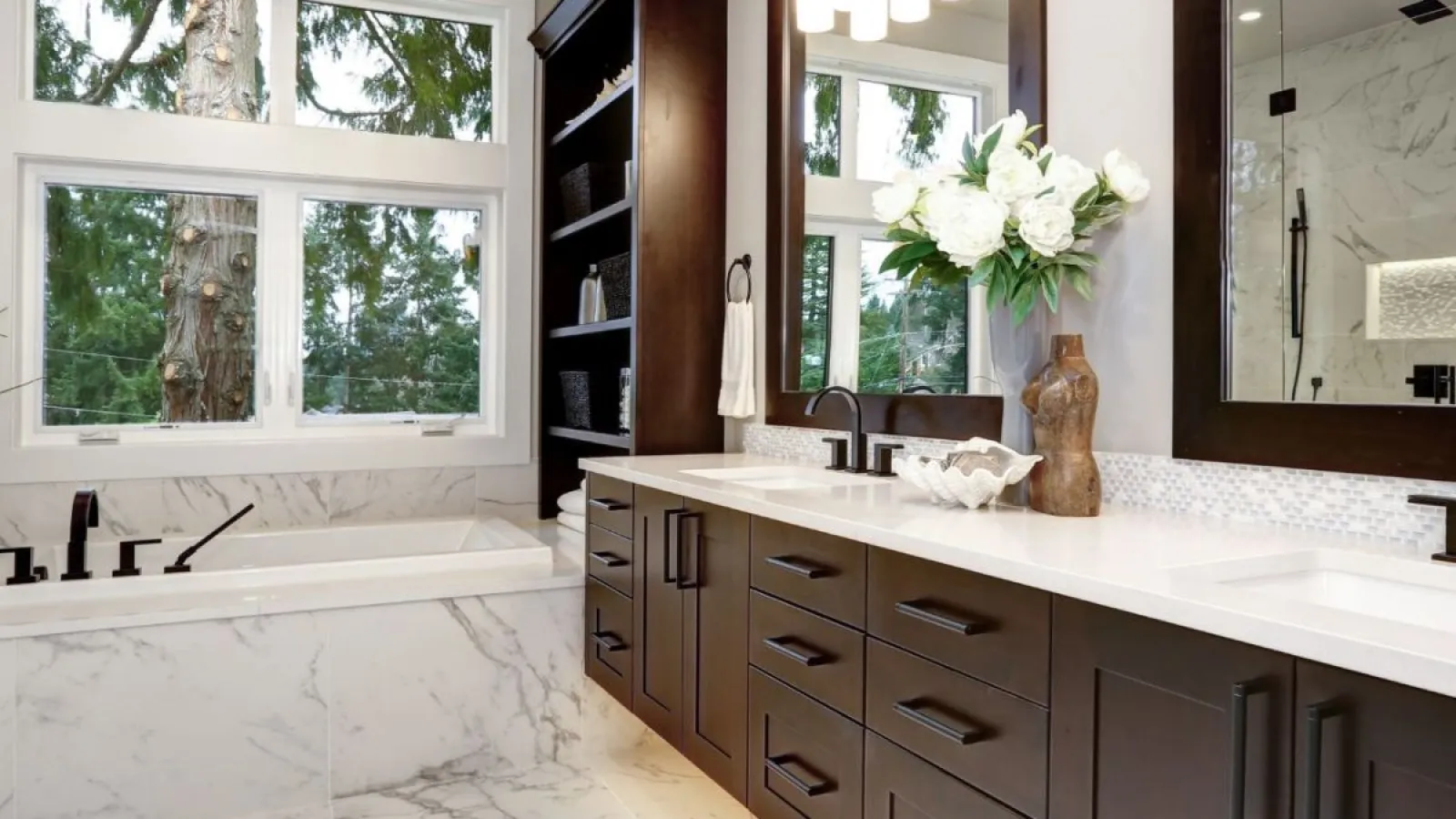 1-800-Plumber +Air
Bathroom Plumbing Services
Having a
HOME EMERGENCY?
Call or Find Your Nearest Pro!
The zip code you entered is not associated with one of our locations. Please visit our Locations page to find your closest location.

Your Professional
SERVICES
Our Top Commercial
Services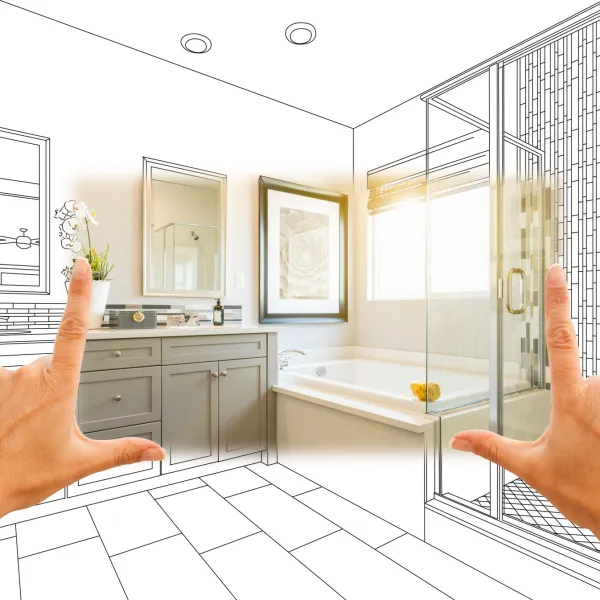 Your Complete Guide to
Common Bathroom Plumbing

When you think of the bathroom, what do you think of first? Is it the almighty throne, your clawfoot tub, or a gorgeous sea glass sink basin? Whatever fixture catches your fancy, you're probably aware that each component has a lot of moving parts.
So, how about a little rundown on the integral bathroom plumbing fixtures that tie it all together? Whether you're wondering how to do plumbing for a toilet or install a new shower head, we'll break down each moving part for you and douse you with a little bit of lingo.
Lay out your plumbing tools. We're going to cover:
We'll have you drawing a bathroom plumbing diagram in no time as you become the master of your very own throne room.
Ready to
GET IT FIXED?
Contact Us Now!
The Toilet
Let's start with the most important fixture. A bathroom plumbing layout drawing quickly reveals that a toilet is much more than a seat and a lever. Within the tank atop the seat, there are a lot of levers and valves. So, let's start there.
The Tank
Within the tank, you have your external tank lever which leads to a fill valve. The job of the fill valve is to refill the tank after it's been flushed. If this valve starts to see a lot of wear and tear, it can create a leak and have a domino effect on some of the other moving parts within the tank.
Next up, we have the flush valve. This is located in the center of the tank. It includes an overflow tube, the hole that allows water to enter the bowl whenever it's flushed, and a rubber ball (or flapper) that covers the hole when the tank is full.
When the flush valve goes kaput, the tank can no longer hold water because the seal which holds the water in the tank has been broken. This creates a leak in the tank. It's that pesky sound of water that never seems to stop running.
So, when the flush valve is acting up, you can first try replacing the rubber ball or flapper. Or, it might be time for a new flush valve. Ultimately, a fresh and new valve will help you conserve water.
At the base, you'll find a flapper seal. This brings us back to that pesky sound of running water. If you've ever heard a toilet that sounds like it's refilling too often or steadily hissing out water, there may be a faulty flapper.
You may also hear the flapper seal referred to as the flush valve seal. It's simply the plug that presses up against the drain hole on the bottom of the tank.
Sometimes, people replace the flapper seal, hoping it'll stop the sound of running water. But, if that doesn't seem to be the solution, then it's likely the flush valve seal that's the culprit. This component can become pitted over time.
We can't leave off without mentioning the mounting hardware. Although we consider them to be one unit, the tank can actually separate from the bowl. So, it's important to secure the connection with proper mounting hardware.
The Bowl
While the mounting hardware is integral to a secure connection between the tank and the bowl, there's also an important gasket. Typically, it's just referred to as the tank to bowl gasket. To no surprise, this needs to be an airtight, secure connection.
At the base of the bowl, there's an internal wax ring and flange that leads to the sewer pipe. And, you guessed it; this needs to be another airtight, secure connection. Any little leak could create quite a fuss either in liquid or gaseous form.
You've also probably noticed little white caps at the base of a bowl. These are called mounting caps and they cover the mounting hardware that bolts the bowl to the floor (similar to the mounting hardware that links the tank to the bowl).
And there you have it. Something we use a few times a day - and probably take for granted - actually has a lot of moving parts. It's much more than stand and flush. All connections need to be secure like Fort Knox and it's a bit of a domino effect.
If the tank lever doesn't connect with the fill valve or the flush valve, things won't be movin' and groovin'. Likewise, if any of the mounting hardware isn't installed properly, things will go south pretty quickly. But, with secure connections, a well-installed toilet should give you years of stress-free visits to the throne room.
Wow wow wow, Paul was excellent. Fair price, honest, did everything he said he would do and more. Fixed a line not slopped and 2 breaks at the tap. I recommend this business any day of the week. Excellent. I will use them for all my plumbing needs. He let me use my online coupon.

Debra's Passion Boutique
Plugged drain outside of house. Came out the next day, showed us the video of the tree branches in our line, gave me a quote over the phone and I had them start work. Finished in a few hours and left with our system drain restored.

Craig C.
Got a text! Dispatcher was friendly and informative. Several text keeping me up to date and giving me plenty of opportunity to cancel if need be. Z was prompt, curtious and knowledgeable. Was glad to sign up for future business with the company. Excellent experience.

Tambre L.
So nice and professional.

Sharen B.
z was fantastic! Very nice and easy to talk to and he explained everything perfect! Very professional! I would recommend him to anyone !

Satisfied Customer
Justin and Richard from electric cane. Did a superb job! Highly recommend always!

Satisfied Customer
Nick did a great job and very nice and professional. Thanks

Evonne H.
Kyle provided excelleent service as he always does. I have had some tricky plumbing problems and he has always solved the problem with efficient service and winning personality. He did a beautiful job on my pipe. He takes a lot of pride in his work .

Ruth L.
Nick was wonderful did an outstanding job, explained all options and extremely thorough. She will call back and use us again. She was very pleased and very happy that she didnt have to clean up after him.

Satisfied Customer
Very professional and informative!

A B. No surprise
costs at the end of a job On-Time
Committed to on-time arrivals