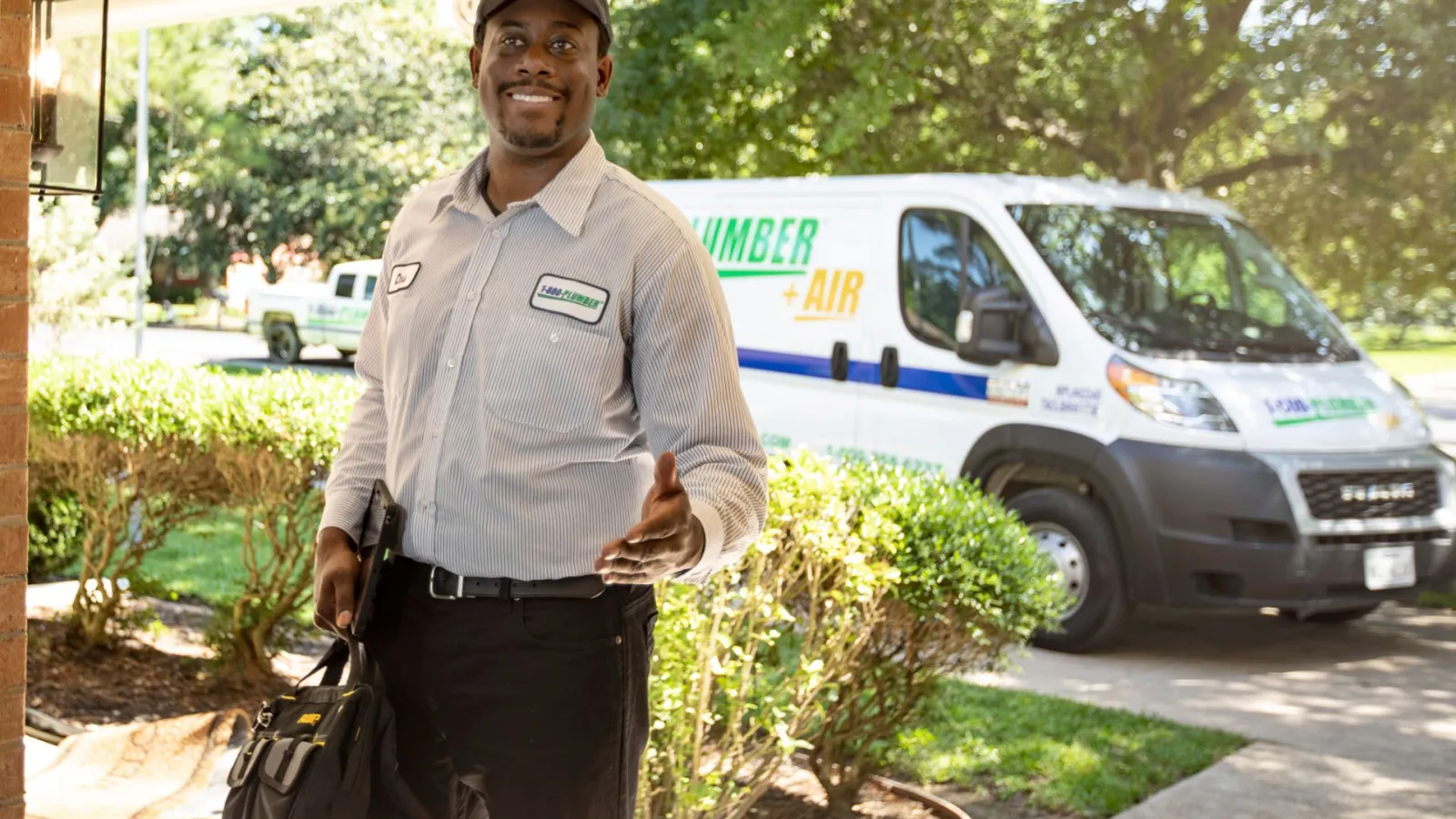 1-800-Plumber +Air
Furnace Maintenance
Having a
HOME EMERGENCY?
Call or Find Your Nearest Pro!
The zip code you entered is not associated with one of our locations. Please visit our Locations page to find your closest location.

Your Professional
SERVICES
Our Top Emergency
Services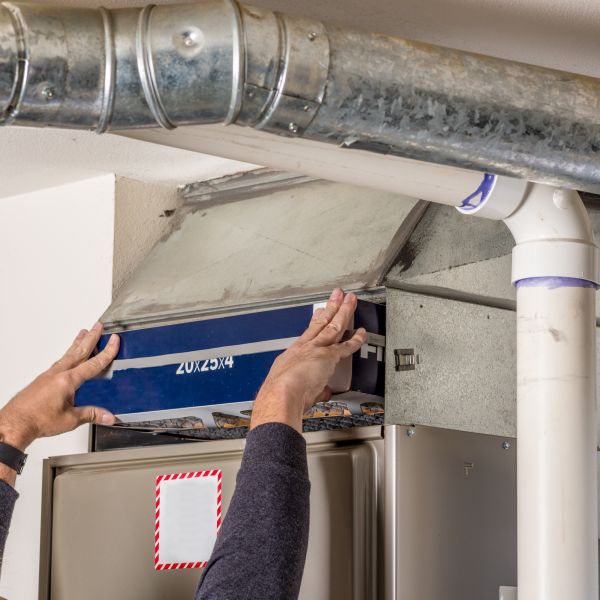 Furnace Maintenance Checklist: 10 Tips for the Winter
When winter's around the corner, you need to make sure that your furnace is ready to go. But how do you get started, and what should you look for? The good news is that if you follow a simple furnace maintenance checklist on an annual basis, you'll keep your furnace running smoothly — and your home nice and warm.
Read on to learn 10 tips to get your furnace ready for the colder winter months!
1. Start By Cleaning the Furnace
When summer approaches, you need to check and clean your air conditioning unit — and the same holds true for your furnace when winter approaches. If you don't pursue regular furnace upkeep, you risk losing money on an inefficient piece of machinery. You also run the risk of jeopardizing your safety if the furnace is leaking dangerous gasses.
Fortunately, you can spot some issues and prevent others through regular cleaning. But before you do anything, stary by turning off the furnace and unplugging it.
Next, take off the panel on the front of your furnace. Then use a combination of soap and water to gently clean the fan blades and blower area. Dry everything completely before putting it back together and using it for the season.
2. Assess Your Furnace's Burners
Assessing your furnace includes taking a look at the burners. There normally are several burners in a furnace, and they work to combine air and fuel to yield heat. Since burners are critical to the proper functioning of your furnace, they need to be evaluated each year.
Your burners can develop issues such as cracks and collect excess dirt. Or they can lose their connection to the gas line— another furnace component you'll need to check. Without a functioning burner, you may not be able to feel any heat from your furnace.
If you're wondering if something is wrong with your burners, stop and listen. Burners tend to get noisier and may even emit a booming noise when they need attention from a professional. Oftentimes, the burners will just need an adjustment or cleaning, which should be done by an expert.
3. Monitor Your Furnace's Duct System
The duct systems are a critical part of your furnace's ability to function well, too. When the ducts have leaks, that cuts into the efficiency of your furnace, and you could see higher heating bills. You may also find more unhealthy particles floating around in the air with a dirty duct system — which is problematic for people with respiratory issues.
Make a point of checking your ducts before the winter season arrives. You can get your ducts repaired or sealed by a professional. That way you'll ensure that you're not losing out on warm air when you need it most!
4. Check the Belts
Checking blower belts needs to be another component of your annual furnace maintenance. These belts aid in the proper functioning of your fan, so if they're worn down, the fan blades might not turn as efficiently. And with malfunctioning fan blades, you won't feel the efficient production of hot air on those cold January days.
Fortunately, you can do a visual inspection of the belts to assess their status. Cracks or visible fraying are signs that you'll need to invest in a new belt, and these can be found at most hardware stores or online suppliers. Also, make sure that the belts have enough tension and are aligned properly each time you check them.
5. Add Safety Checks to Your Furnace Maintenance Checklist
A furnace is a source of warmth throughout the colder months, but if it's not maintained properly, it can endanger you and your loved ones. Knowing how to ready a furnace for winter means completing a few important safety checks.
Look around your furnace, and move any objects or other machinery that may be sitting to close to it. While you're at it, assess the burner ignition to ensure that it doesn't turn into a safety problem by leading to trapped gasses. Turn off the gas first, and then check to see if the ignition is worn down.
Know that emergencies can arise when it comes to furnaces and plumbing issues, so make sure that you stay calm, do what you can, and call the experts. When in doubt, it's better to seek a professional opinion if you have any concerns about the safety of your furnace.
6. Look at the Flue Pipe and Gas Line
Both of these elements need to be checked to avoid safety issues and ensure functionality. The exhaust flue pipe emits gasses outside your home. You'll need to do a visual inspection outside and remove any branches, twigs, grasses, or other objects that may be in the way.
Your furnace's gas line also can be prone to leaks or obstructions, so you'll need to check that, too. If there's a leak, that means your furnace won't have access to enough gas to do its job. Issues with your gas line can result from corrosion or even accidental punctures through digging or other ground work.
Getting an expert inspection is the most reliable way to check for gas line issues. And if you smell gas in your home, don't hesitate to leave the space and call for help!
Ready to
GET IT FIXED?
Contact Us Now!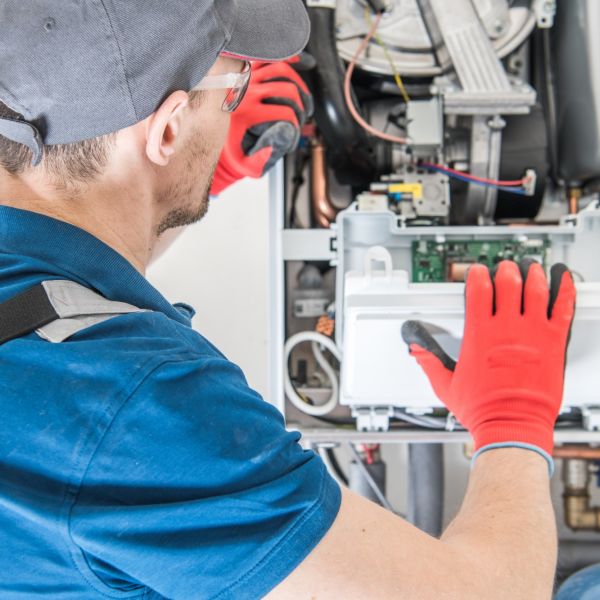 7. Evaluate the Heat Exchanger
A malfunctioning heat exchanger can be another source of furnace problems. The heat exchanger covers a vital step in the heating process by moving heat from one place to another, and ensuring that you're only breathing in the safe, warm air. So, be sure to assess your heat exchangers when doing a furnace evaluation.
Start with a visual inspection. Heat exchangers must be sealed properly in order to do their job, but over time the metal tubes wear down and even break. If you see any sort of cracking or holes, it's time to consider your options.
Since heat exchangers are not exactly cheap, you may be better off opting for a new furnace. Talk it over with your service technician so you're able to make the best financial decision.
8. Is Your Thermostat Working?
Don't just assume that your furnace will start working perfectly once the cold weather kicks in. It's critical to pay attention to performance in those first few days of use. An easy place to start is with your thermostat.
Turn up your thermostat and wait. If you don't hear the furnace come on even though your thermostat is set at the right temperature, something could be wrong with your furnace. It could also be that the thermostat unit needs to be replaced.
9. Furnace Maintenance Also Includes Checking Other Heat Sources at Home
When it comes to winter heating tips, you'll need to look beyond your furnace, too. Look at the vents in your home. Dust them so that they can permit the warm air from your furnace to flow more easily, and make sure that there aren't pieces of furniture obstructing them.
As another suggestion, keep your blinds or drapes open during the day to let in as much sunlight as possible. At the end of the day, close them to keep in as much warm air as possible. While you're at, check the status of the insulation in your home since it will impact how hard your furnace will need to work.
And one more important step is to see if your carbon monoxide detector is in good working order. It may come as a surprise that furnaces can leak carbon monoxide, a deadly gas, when they're not functioning properly, especially if there are cracks in your heat exchanger. Since carbon monoxide is odorless and hard to notice, you should place a detector near your furnace to keep your family safe.
10. Consider Upgrading to a More Energy-Efficient Furnace
Ultimately, you may reach a point where you need to invest in a new furnace. You can expect that most furnaces will last around 20 years. If your furnace is close to or past that age, an upgrade could be a wise move.
Furnaces start to lose efficiency as they age, and they're more likely to need costly repairs. Price out the costs of repairs to determine if it's worth it to keep patching up your current furnace — or if an investment will save you money in the long run. And if you're wary of putting up the money for a replacement, look into getting an extended warranty to offset the cost of repairs.
Get Your Furnace Ready
Using a furnace maintenance checklist is a smart step toward ensuring a safe and functional furnace. When the temperatures plummet, you want to be comfortable at home. With a little planning and expert help, you can rest assured that your furnace will do its job well.
When you're ready to get your furnace in shape for the winter months, contact us and we can help!
Emanuel was excellent. He fixed our issue very quickly and explained exactly what the problem was and how he fixed it. Very friendly and trustworthy!

Kyle S.
z was fantastic! Very nice and easy to talk to and he explained everything perfect! Very professional! I would recommend him to anyone !

Satisfied Customer
Emanuel came out to inspect why our commode was not flushing properly. After an inspection he describer the options. Since the commode was over 40 years old we picked the option to replace the commode with a new one. He Asked several questions about what we would like and the showed us two options. We picked the one that we liked and he obtained the commode from the ware house and installed it the same afternoon.. He completed the installation and did a great clean up of the area and answered answered all of our questions. I fully recommend Emanuel and 1-800-Plumber of Pearland

Steve E.
Thanks for getting here so quickly and finding the issue. Also thanks for suggesting the locking caps - Hopefully this will prevent theft of the freon.

David P.
"They were very professional and on time, the technician did what he was suppose to do then cleaned up and left me with instructions on how to finish installing the parts after I finish doing some tile work that needs to be done."
Andrei G.

So nice and professional.

Sharen B.
1-800-Plumber fixed burst water pipe in my home. Hector and Chad explained the issue well, communicated timelines and completed work with an affordable price tag. I recommend their services.

Bhavna P.
Kyle, was great! 800-PLUMBER called to say when he would arrive, and he was right on time. He even completed another job that wasn't planned on my end while he was there. I would recommend 800-Plumber to any of my family or friends. Laura Clear Lake

Laura E.
Kyle provided excelleent service as he always does. I have had some tricky plumbing problems and he has always solved the problem with efficient service and winning personality. He did a beautiful job on my pipe. He takes a lot of pride in his work .

Ruth L.
Alex was just wonderful. He explained everything did a great job and was friendly and courteous. Very professional in every way.

Satisfied Customer No surprise
costs at the end of a job On-Time
Committed to on-time arrivals