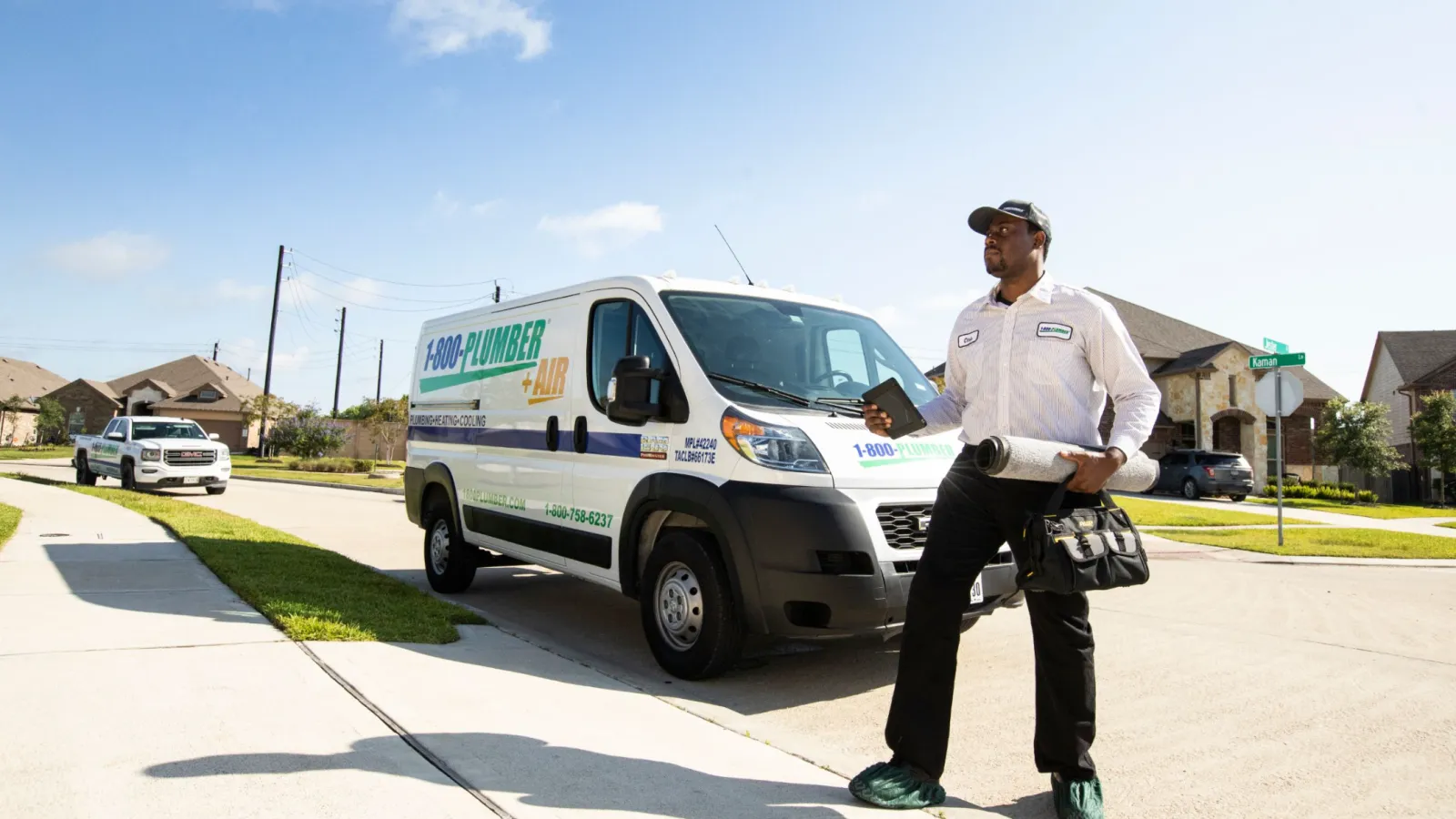 1-800-Plumber +Air
Heating Furnace Repair
Having a
HOME EMERGENCY?
Call or Find Your Nearest Pro!
The zip code you entered is not associated with one of our locations. Please visit our Locations page to find your closest location.

Your Professional
SERVICES
Our Top Emergency
Services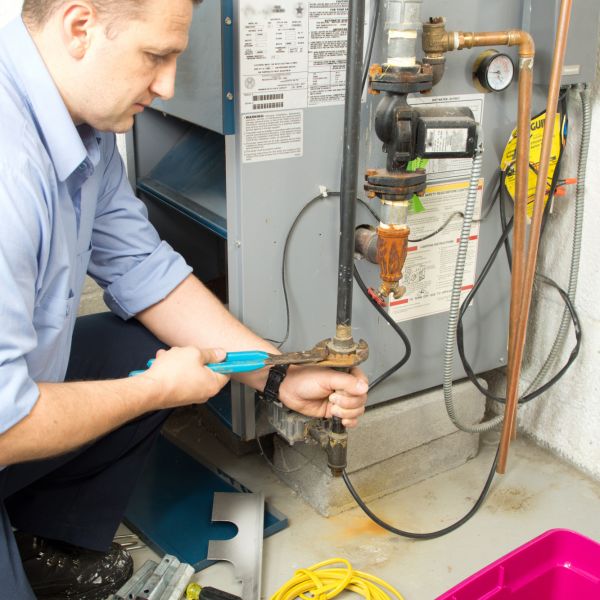 Heater Replacement & Repair | 1-800-Plumber +Air
Can I repair my furnace? It's a question most homeowners ask at some point—usually when the heater breaks down on a holiday weekend. We've all been there!
A better question might be, should you attempt to tackle heater repair on your own?
While the average homeowner can troubleshoot HVAC system issues by watching a video online or asking a friend, most repairs need a qualified HVAC technician. In today's post, we're talking about what to do when your furnace goes on the fritz.
Please take a minute and explore common furnace problems and their solutions.
Ready to
GET IT FIXED?
Contact Us Now!
How Dirty Is Your Filter?
You've likely heard it before, but it's something people tend to either put off or forget about altogether. Since they're two of the most uncomplicated heater repairs a homeowner can make without calling an HVAC technician, we want to make sure you put both tasks on your home maintenance to-do list.
Check Your Filter

Change Your Filter
Okay, so maybe these aren't true repairs, but if you make a point of checking and changing your furnace filter on a routine basis, you can avoid a complete furnace meltdown.
Will something as simple as changing the furnace filter keep your furnace working? In short, yes. Dirty filters can cause a furnace to shut down, and here's why.
Furnace filters trap dust, pet hair, and all kinds of gunk pulled in through the return duct. After several weeks of heavy use, dust and dirt clog the filter, which restricts airflow. A completely clogged filter can cause the heat exchanger to overheat and shuts off.
The heat exchanger's primary role is to warm the air before it circulates back into your home.
While you can always call your HVAC company to change the filter, it's a quick and easy DIY project. The owner's manual for your furnace should have instructions.
What to Do When the Furnace Will Not Turn On
Have you ever experienced the sinking feeling that it's going to be a cold night? We have, and typically happens when we turn on the furnace and hear nothing.
When the furnace doesn't turn on, don't panic. First, check the thermostat. More often than not, when a furnace fails to turn on, it's a communication issue between the thermostat and the furnace.
Now, please don't laugh, but the first thing we suggest you do is to make sure you've set the thermostat to HEAT instead of COOL. Ask your HVAC technician if they've ever made a service call for a furnace breakdown and discovered the homeowner made a mistake setting the thermostat.
Once you determine you're heating, not cooling, look at the temperature setting. The thermostat should indicate the current room temperature and the temperature that makes the furnace turn on. Bump the thermostat up 5 degrees and wait.
If the heater doesn't turn on within five minutes, change the thermostat batteries, and give it a gentle cleaning. Blow out any dust accumulated inside the unit.
When none of your steps work, it's time to call for furnace service. You could have a faulty wire or another issue with your thermostat.
But first, read the next section.
Shutoff Switches and Tripped Breakers
Whether you have a gas or electric furnace, it has a switch. Before you schedule a service call, verify the furnace switch is in the right position—it should be ON. If it's ON, then you have one more thing to explore.
All furnaces use electricity to operate the mechanical parts, even those running on oil or natural gas.
A tripped electrical circuit can bring a furnace to its knees. Can you imagine a furnace falling and landing on its knees? Use your imagination!
Looking for a tripped breaker requires locating the electrical panel. Suppose you find a tripped breaker on the board, reset it. Then, see if it trips again when you turn the furnace on.
When a furnace continues tripping a circuit, it means there's an overload on the electrical system. This is the time when you need your HVAC technician. When you have electrical problems, it's best to call for heater repair ASAP.
You Have No Heat When You Turn the Gas Furnace On
There's no more talking about when winter arrives. In many parts of the country, nighttime temperatures are already dropping below freezing. Now is the time you need your heater to step up and keep you warm.
If you've discovered that your furnace turns on but doesn't supply warm air, you have a few things you can check.
Is your furnace natural gas? If so, follow these steps to locate the gas shutoff valve:
Start at the furnace and trace the gas line back to the gas meter.

Locate the handle on the gas pipe.

If the handle is perpendicular to the pipe, turn it so that it's parallel.

You've just turned the gas service on.
If you're wondering why the gas would be off in the first place, there are usually only two explanations: your child turned it off, or your gas company turned on your service.
How old is your gas furnace? Older heaters and boilers may have a pilot light. You can remove the front panel, then the burner cover and look for a flame.
Suppose you see a blue flame, great! If not, several issues could cause a pilot light to go out or flicker. You'll need your HVAC technician to come out and troubleshoot and make any necessary adjustments or repairs.
Electric Furnaces and Heating Problems
While they don't have pilot lights, electric furnaces still rely on clean filters, thermostats, and switches. You should perform the same troubleshooting checks you would for a gas or oil furnace.
The most significant difference is the heating element. An electric furnace depends on a heating element to warm the air before circulating it back through the supply vent. Heating elements burn out or suffer from broken wiring.
It would be best if you did not attempt to repair a heating element or an electric furnace's other components. Let your HVAC company take care of the problem. It's safer, and you'll have the issues corrected faster so that you can get back to keeping your home warm.
Troubleshoot the Furnace Blower
The blower is a vital component of your furnace. It's also one of the most common reasons homeowners call for furnace repair. Blowers have one job—blowing hot air through the ducts.
When you hear people talk about their furnace blower, they may be referring to either the blower motor or the blower fan. The blower motor will cause most of your blower problems.
After the heat exchanger warms the air, it depends on the blower motor to turn the blower fan. If the blower fails, the warm air goes nowhere.
As is true with most furnace components, several things could cause a broken blower motor, including:
Bad Blower Motor Belt

Faulty Limit Switch

Blower Assembly Problem
Troubleshooting a furnace blower often means listening for clues. Screeching noises usually mean the blower motor needs lubrication. If you hear banging, the mounts may be loose.
Whether the problem is the blower motor itself or the blower motor fan, your heating and cooling company can repair or replace the blower.
Positive: Professionalism , Punctuality , Responsiveness Up front pricing

Satisfied Customer
Had a problem with my drain. Representative came out and knew exactly what was wrong. They fixed it the problem fast and customer service was great! Will definitely use them again!

Adrian B.
The tech was so nice, knowledgeable and efficient.

Satisfied Customer
Although plumbing is an extremely expensive repair, these guys always get it right and make it as painless as possible.

Satisfied Customer
Joe and Kyle installed a new water heater. They were very professional and courteous. They explained my options and I was also offered a discount. I will definitely use this company again.

Linda B.
Great job! Very professional and friendly! Thank you for coming out on short notice!

A.S.
This was my first time with 1-800-Plumber Air of Pearland. I called with a minor issue with the dishwasher drain hose and asked that a tech be dispatched on Saturday so that I could be home from work. Chad was scheduled between 8am & 10am today (Sat) and arrived just before 9am. Chad was very knowledgeable and explained to me the entire process. He also answered my many many questions about what he was doing as he was doing it. I'm a smart guy but know very little about plumbing. I felt very comfortable with Chad doing the repair. The long and the short of it, 1-800-Plumber Air of Pearland has a new longtime customer and I will request that Chad be sent if possible the next time I have a plumbing issue.

George T.
Friendly, courteous, knowledgeable.

Marylin L. No surprise
costs at the end of a job On-Time
Committed to on-time arrivals
Why the Furnace Is Not Igniting
First, how would you know whether the furnace ignites or not? The most critical tool you have to detect furnace ignition problems is your ears.
When you turn the furnace on, the first thing you hear is clicking. The clicking lets you know the furnace is about to kick on and start heating the house.
If you hear clicking and then nothing, it means the furnace failed to ignite.
You should check the thermostat before you panic. You may have set the thermostat to a temperature colder than the current room temperature. Bump the thermostat up and see if the furnace ignites.
Some furnace ignition issues go beyond what you can figure out with your troubleshooting efforts.
A faulty pilot light or ignition sensor is a common cause of furnace ignition failure. You may also have a dirty sensor or igniter. While you may be able to clean a dirty sensor, unless you're familiar and comfortable working on a furnace, it's best if you let your HVAC technician take a look.
Need to Schedule Heater Repair?
Dropping temperatures and accumulating snow. Say hello to the winter and home heating season!
Even if you look forward to pulling out your flannels and wool socks, no one looks forward to furnace problems. When you need heater repair, you want someone you can rely on to figure out the problem and get it fixed.
The team at 1-800-PLUMBER® + Air is your go-to provider for both furnace repair and furnace replacement. Contact us today and schedule service. We'll send one of our qualified HVAC technicians out to make sure your furnace is repaired quickly and in excellent working order.