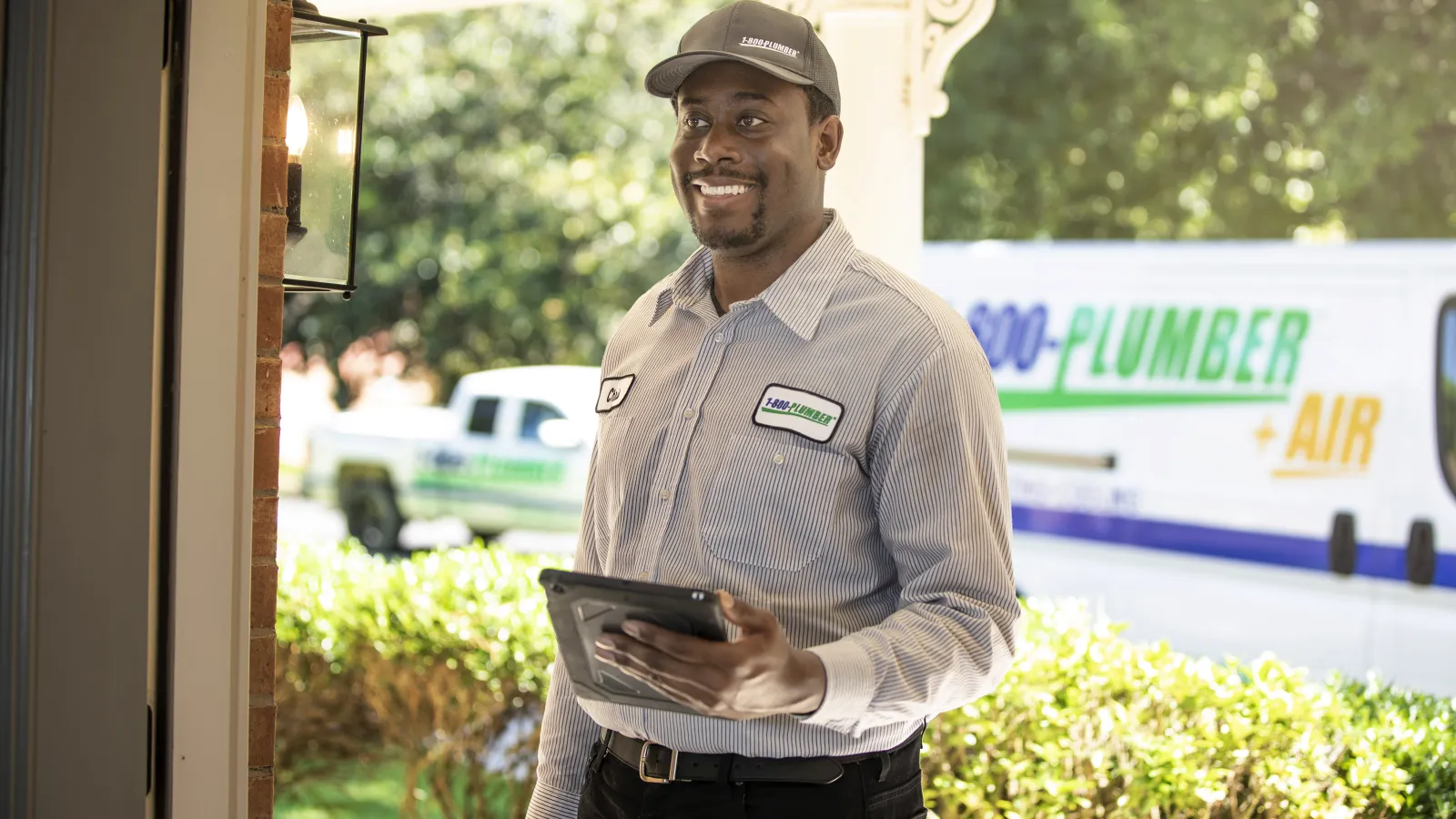 1-800-Plumber +Air
Drain Cleaning Experts
Having a
HOME EMERGENCY?
Call or Find Your Nearest Pro!
The zip code you entered is not associated with one of our locations. Please visit our Locations page to find your closest location.

Your Professional
SERVICES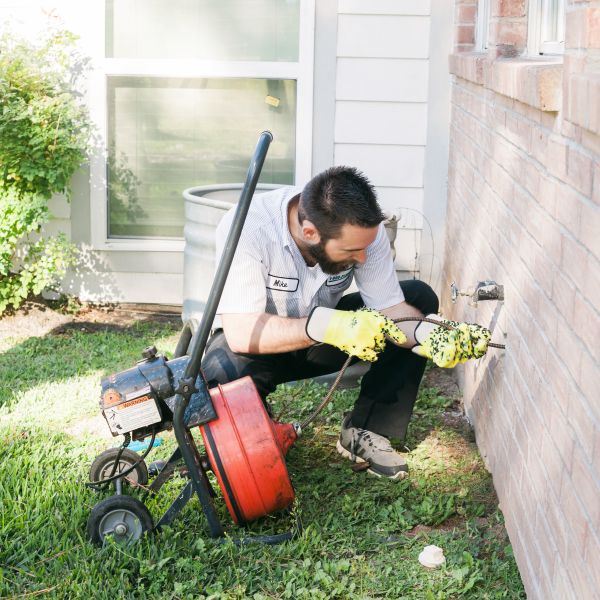 Drain Cleaning Services | 1-800-Plumber +Air
In the US, urban wastewater releases over 10²¹ bacterial units to water bodies on a daily basis. That's a lot, and that doesn't even include the other microorganisms in wastewater. Aside from bacteria, it also contains viruses, fungi, archaea, and worms, among others.
So, it's no wonder experts believe that up to 80% of infectious diseases have something to do with water.
That alone should be enough reason to schedule routine drain cleaning services. After all, clogged drains can serve as a gateway for wastewater to enter your home.
However, clog-free drains bring more benefits than just keeping wastewater back-ups at bay. We've rounded up everything you need to know about drain cleaning in this post, so be sure to read on.
Efficient Removal of Waste from your Home
Keeping your drains clean and clear of clogs ensures that waste can flow freely out of your home. The faster it exits your drains, the sooner it can reach the treatment facility. The wastewater treatment plant can then do its job of cleaning sewage and water.
These facilities get rid of solids, contaminants, and pollutants in wastewater. They are crucial to the removal of hazardous organic in urban wastewater. In this way, they help ensure that polluted water doesn't contaminate water bodies.
So, in keeping your drains 100% functional, you get to do your part in keeping the environment safe, too.
Signs of a Clogged Drain:
Healthy Drains for a Healthy You
Many of the microorganisms in wastewater facilitate the breakdown of the waste itself. However, many of them are also pathogens, which means that they cause disease. E. coli, salmonella, and shigella are just a few of these harmful microorganisms.
The pathogenic strains of E. coli alone causes at least 265,000 illnesses in the US each year.
You can get exposed to these harmful germs if you touch wastewater that backs up out of clogged drains. As such, you should pay more attention to your drains and get them cleaned at least once a year. If your drains are already backing up, though, be sure to call an emergency drain cleaning service.
Helps Keep Your Home Stink-Free
When waste breaks down, it releases various gases like sulfur, ammonia, and methane. These are gases collectively known as "sewer gases." If your drains work fine, you don't have to worry about these gases, as your vents expel them out of your home.
However, if you have clogged plumbing pipes, the gases can leach out of the drains. They can make your home stink, as they give off a rotten egg smell. Damaged kitchen and bathroom plumbing pipes can also allow these gases to escape.
Low doses of sewer gases aren't dangerous, but they're still very unpleasant. You don't want your home stinking like sewage, so it's best to keep your drains clog-free.
Do note that rotten egg smells can also result from leaking gas lines. If you're unsure where the odor is coming from, close your main gas valve and all your gas appliances. If you can, open all your windows before you exit your home.
Gas leaks are dangerous, as they can cause health symptoms, fires, and even explosions. What's more, many of the 600+ pipeline incidents that occur each year in the US are gas-related. So, if you think you have a gas leak, be sure to call your gas provider and a gas repair company ASAP.
Keep Your Drain Pipes Tight and Intact
A lot of people associate plumbing leaks and burst pipes with water supply lines. While it's true that leaking water pipes are common, drain pipes can also crack and leak. Leaks from drain pipes are even worse than supply line leaks, seeing as the former carry dirty water.
Clogs are a common culprit behind drain pipe damage, as they can raise the pressure inside pipes. Moreover, the bigger the clog, the heavier it can be. The increased pressure, plus the extra weight of the build-up, can then cause the pipe to give way or burst.
So, do your home a favor and get its drains cleaned once or twice a year. This is especially crucial before winter, as the low temperature can freeze wastewater. If you have a clog blocking the passage of waste, you may end up with a burst drain pipe.
Lower Risks of Pest and Vermin Infestation
Experts estimate that homeowners spend an average of $3,000 to get rid of termites. They also say that rodents, mosquitoes, flies, and roaches have invaded all 50 states. There are now so many cases of invasions that pest control in the US has become a $17.4 billion industry.
The thing is, many of these unwelcome guests are pests of the pipes. Rats, mice, flies, and roaches are all drain dwellers. Water damage from leaking pipes, in turn, can also attract termites.
These creatures are more than an annoyance, though; they can bring a wide array of diseases. So, they cause not only more property damage but also health problems.
You can reduce your risks of pest invasions by keeping your pipes in tip-top condition. For starters, clean drains mean there's nothing much that pests can feed on. This lack of "nourishment," in turn, can make vermin less attracted to your home.
Prompt leak repairs also help reduce indoor humidity. High levels of moisture, by contrast, are attractive to pest and vermin. So, by fixing plumbing leaks, you can make your home "unfavorable" to these critters.
Better Indoor Air Quality
According to the EPA, the air inside US homes has two to five more common pollutants than the air outside. This means you could be breathing more polluted air while inside your home. And to think that you spend at least 90% of your time indoors!
Clogged drains, with all the germs they house, can contribute to poor indoor air quality (IAQ). The sewer gases they produce can also affect your home's IAQ. Pest droppings also harbor so many pollutants and contaminants that can mix with the air.
Moreover, leaking drain pipes and water back-ups promote mold and mildew growth. These fungi can release spores into your home, further reducing its overall IAQ.
If you or any member of your family has been sniffling a lot, your drains may also be to blame. Keep in mind that molds can promote the development of allergies and asthma. They can also trigger allergic reactions even in otherwise healthy people.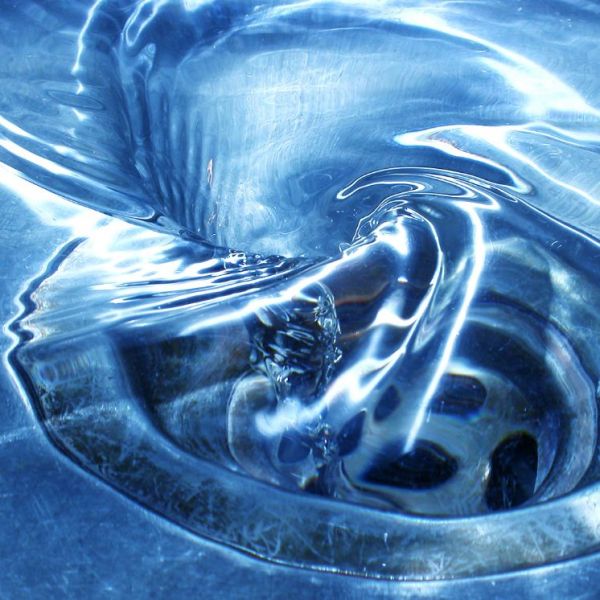 Reduced Greenhouse Gas Emissions
Scientists found evidence that sewer systems generate "non-negligible" greenhouse gas emissions. This means that they produce quite a lot of carbon dioxide and methane gases. These GHGs, in turn, are some of the culprits behind global warming.
The decaying waste matter in sewer systems contributes to these GHGs. So, the more clogs you have, the higher your home's carbon footprint can be. That should be a good enough reason to get these blockages out of the way.
Professional Drain Cleaning Services Cost Less Than Major Repairs
In the US, the average drain cleaning service cost is between $130 to $300, sometimes more. This depends on how big your home's plumbing network is and how stubborn the clogs are. The fewer clogs you have, the lower your overall bill will be.
By contrast, water damage from wastewater backups can cost thousands of dollars. A good reference point is the average cost of water damage insurance claims, which is $10,900. Note that this is only for insured losses, though.
Unfortunately, most insurers don't cover damages caused by preventable water backups. So, if your clogged drains damage your home, you're likely on your own.
Regular Drain Cleaning Maintenance Lengthens Pipe Life
Keep in mind that plumbing pipes can last for two to seven decades or even longer. However, lack of maintenance can trigger early corrosion and deterioration. Clogs, hard water, and pest infiltration can all contribute to the early demise of your pipes.
Plus, the longer you let clogs build up within your drain pipes, the bigger and heavier they will get. As mentioned above, this can result in burst pipes. Depending on the extent of the damage, you may already have to replace the pipes.
You can prevent most drain dilemmas by scheduling it for cleaning at least once a year. By ensuring your pipes remain clog-free, then you can also rest assured that they will last longer.
Avoid Congested Pipes With Regular Drain Cleaning
As you can see, regular drain cleaning services do more than just keep your drains efficient. They also help keep you, your loved ones, and your home safe from pathogens. Plus, they can give you a way to lower your household's carbon footprint.
So, as early as now, consider scheduling your home for drain cleaning. Our team here at 1-800-Plumber + Air is at your beck and call, so feel free to ring us up or
book your appointment online
. We operate 24/7, so you can reach out to us whenever you have plumbing woes or HVAC issues.
Ready to
GET IT FIXED?
Contact Us now!
Wow wow wow, Paul was excellent. Fair price, honest, did everything he said he would do and more. Fixed a line not slopped and 2 breaks at the tap. I recommend this business any day of the week. Excellent. I will use them for all my plumbing needs. He let me use my online coupon.

Debra's Passion Boutique
Kyle Urban is great! He does beautiful work and is a great guy! We will request him personally from now on.

Kelly W.
Great job! Very professional and friendly! Thank you for coming out on short notice!

A.S.
Very nice and knowledgeable people from office staff to the plumbers. Would definitely recommend using this plumbing company.
Linda G.
Enes provided a very thorough and professional inspection, assessment and proposal for my sewer drain replacement.

Rany W.
Kyle was efficient and professional when handling my faucet water leak. He was an expert problem solver to my numerous problems. Success!

Cheryl S.
Emanuel Reyes replaced my kitchen faucet and sink basket strainer today, 3/2/20. I appreciate the quality of his work. Emanual did a fantastic job. If I need a plumber in the future, I'll call 1-800-Plumber and ask for Emanuel Reyes.

Jean Broussard M.
did a excellent job on repiping my house n clean n very please with the work they done.

Willie W.
Swayze did a wonderful job yesterday, he answered all my questions perfectly, was very respectful and took the time to clean up his mess. I am really impressed and pleased with his work. read less

Satisfied Customer
I cannot thank Nick enough for taking care of my plumbing inspection and fixing those shut off valves. He s a true professional and have a wonderful future ahead of you! God bless you and thanks again! read less

Satisfied Customer No surprise
costs at the end of a job On-Time
Committed to on-time arrivals