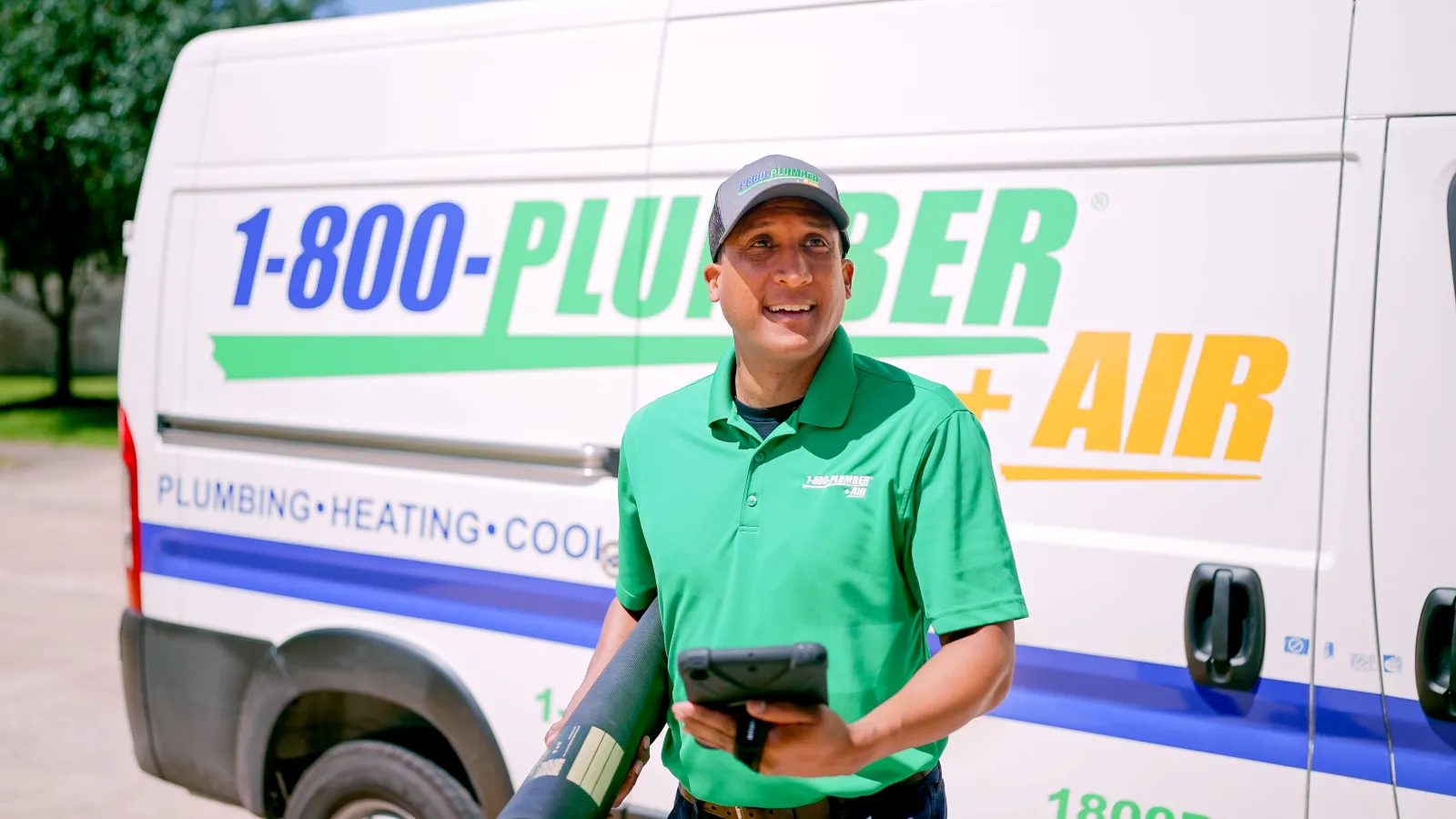 Having a
HOME EMERGENCY?
Call or Find Your Nearest Pro!
The zip code you entered is not associated with one of our locations. Please visit our Locations page to find your closest location.

Your Professional
SERVICES
Our Top EMERGENCY
Services
1-800-Plumber +Air: Ask a Plumber
Did you know that plumbing and related industries such as sanitation are considered essential according to guidelines presented by the Cybersecurity and Infrastructure Security Agency (CISA)? Plumbing is an essential part of not only your household but also of the country.
After all, having a functioning plumbing system in your home is important both because it keeps your drains working properly and ensures that your home is safe, with sewage ending up where it should.
If you're having plumbing issues, then, you likely want to ask a plumber some questions. These might include:
"How do I know if my plumbing system really needs repair?"
"How much do plumbing system costs usually cost?"
"I need a quick fix. Can you provide it?"
Especially if you need that quick fix, because you're having flooding or can't use any of your toilets, it can be an incredibly stressful time. That's why we've put together this guide. You can learn all about how to find the right plumber, what to ask them, and what plumbing services are available. So you can stop stressing and get the repairs you need.
Read on to learn more.
Ready to
GET IT FIXED?
Contact Us Now
How to Find a Local Plumber Near Me
If you're asking yourself, "How do I know how to find a local plumber near me?" we've got the answer. The first thing you'll want to do is ask your family and friends if they have anyone to recommend. When looking for word of mouth recommendations, ask:
"What was it that made the plumbing services stand out?
"How long did it take them to get the job done?"
"Would you use their services again?"
"How much did the service cost? Were you able to negotiate?"
Put together a list of their answers, and compare and contrast the different plumbing service options, which will help you make your final choice.
You'll also want to contact your landlord or community representative to ask if they recommend any plumbers and if there are any who offer discounts to people in your building or area.
You'll also want to do some online research. Go on Google Maps and find plumbers near you, and read the reviews people have left.
Use a reviews site like Yelp as well, and don't forget about Angie's List, where you can find out about repair and construction companies near you.
1-800-Plumber +Air
1-800-Plumber +Air is also a great choice for any of your plumbing needs. We're available 24/7, and can answer many of your questions related to costs, licensing, how long a job will take, and more.
We also offer many services, which include:
The replacement of your sewer line

Water leak and tub leak repair

Repair of your faucets

Installation and repair of your water filter

Repair of your toilet
We also offer emergency services, so if you have a sudden problem with your plumbing system that requires someone to come over immediately, we can help you. Especially if you're experiencing flooding, which can cause irreversible and costly damage to your home, you should contact us ASAP.
What to Ask a Plumber
When you're dealing with plumbing issues, there are many questions to ask a plumber. If you're wondering what to ask a plumber, here are some of the questions you should be asking:
"What is the total cost of the repair?" When asking this question, ask it after the plumber has come by to look at the repairs that need to be done.
Otherwise, the cost might end up being different than what they tell you over the phone because there might be unexpected costs.
"Do you charge by the hour, or per service?" When asking this question, if they reply by the hour, then have them come over to take a look so you can get an estimate of how long the work will take.
Otherwise, you may end up paying more than expected. You'll also want to ask if labor is included.
As you can see, when you're asking the question, "What kinds of questions should I ask a plumber?" they're often related to the cost, process, and hours of the work being done. However, remember to ask the following additional questions, which are just as important.
Additional Questions
The additional questions to ask are about ensuring that you're working with a legitimate, experienced plumber, who will get the repairs done quickly and well, without running off with your money. Ask them:
"Do you have the right credentials (such as a plumbing license) and good references and reviews?" Out of what to ask a plumber, this is one of the most important questions, because you don't want to end up being scammed by a fake company.
By asking for this information, you'll know that the company doing repairs is legitimate. Don't forget to also ask if their independent contractors have plumbing licenses, too.
These questions about credentials and references are ones you can ask a plumber online, so put together a list to send via email. That way, you can review all the documents they send you.
When you ask a plumber a question, it's in large part to protect yourself. That's why you should also ask if the company does a background check of their employees or independent contractors.
How to Identify a Good Plumbing Company
If you want to know how to identify a good plumbing company, then there are a few things you'll want to look out for. First of all, you'll want to look into their reputation. Are the reviews online raving, or are there one-star ratings?
Next, you want to find out how long the plumbing company has been around for. The longer, the better.
When you're asking the plumber for a quote of their price, see how it compares to other companies. If the price is much higher or much lower than average, that should be a red flag.
It's also a good idea to check that the plumber is part of a trade association.
The best ones in the US to be a member of Gas Safe Register, the Chartered Institute of Plumbing and Heating Engineering (CIPHE), and the Association of Plumbing and Heating Contractors (APHC).
You also want to find out about their availability. If a plumber is available 24/7, that means they can help you at any time, which means that they're a highly professional company.
Additionally, being reliable when it comes to customer needs is an important feature of a good plumbing company.
If they're transparent with customers about their rates and processes, always pick up the phone, and include contract terms for breakage, they're going to be a reliable company for you.
Plumbing Company vs 1-800-Plumber +Air and How They Are Better
Because of the reasons stated above, 1-800-Plumber +Air is better than other plumbing companies. In addition to providing 24/7 service, we also offer help at all hours and are happy to ask any questions you need.
We also have a website where anyone who needs help with plumbing issues or with home repairs can find answers on what to do. Additionally, we guarantee that there will be no surprise costs at the end of a job, and we are committed to on-time arrivals.
In terms of price, we offer services
at a flat rate
, instead of by the hour, and never add on additional charges if you call us during the holidays, night, or on a weekend. We're there for you when you need us—at no extra cost.
Plumbing Services
Once you've asked the right questions and reviewed the options of which plumber you want to hire, you should be aware of what plumbing services are available to you. These include backflow testing and repair, gas piping, cleaning of every drain in your home, and the repair of your backup pump.
Additional plumbing services include the installation of many parts of your home that are associated with your plumbing systems, such as your shower, toilet, sink, tub, water heater, dishwasher, laundry machine, and more.
Plumbing services also regularly do checks and inspections so that your plumbing system is running smoothly.
Need More Help?
Do you need more help figuring out what to do about a plumbing issue, or find the right plumbing services for the job? Maybe you have more questions you want to ask a plumber. Whatever you need help with, we're here to help you.
At 1-800-Plumber +Air, we're experts who can answer every question, and who are available to you 24/7 if you need an emergency repair. Go to
our contact us page
to learn more about what we can offer you.
The Perfect Solution to Your Plumbing and HVAC Needs
When you need first-rate plumbing and HVAC services, look no further than 1-800-Plumber. Our Name is Our Number and we're always ready to handle your residential and commercial plumbing needs.

Positive: Professionalism , Punctuality , Quality , Responsiveness , Value

Satisfied Customer
Emanuel Reyes arrived on time and was extremely courteous and professional. Evaluated problem and took care of it in extremely short time and price was very fair. Will call again when necessary.

John T.
Kyle did an excellent job. He was very thorough and explained everything from start to finish. I would strongly recommend Kyle for any plumbing you might have.

Kyle
Had a problem with my drain. Representative came out and knew exactly what was wrong. They fixed it the problem fast and customer service was great! Will definitely use them again!

Adrian B.
Nick was wonderful did an outstanding job, explained all options and extremely thorough. She will call back and use us again. She was very pleased and very happy that she didnt have to clean up after him.

Satisfied Customer
Swayze did a wonderful job.

Satisfied Customer
"1-800-plumber +Air is an A+ company !!! Our plumber was Robert , he was very knowledgeable and friendly! He was efficient and got the job done !l fixed two toilets for us! Thank you so much!! I highly recommend"
Diana M.

I was very impressed with Nick and that he was very professional. This was the first time we had used 1-800 Plumber and it wont be the last. Nick went above and beyond. read less

Satisfied Customer
Joesph came out right on time. Showed me what my issue was, and told me my options (very professional). This company is fair and honest! They don't try to up sale or over price their product or service.. I highly recommend 1-800-Plumer of Pearland!! Go with these guys and you won't be disappointed!

Terril Kelly No surprise
costs at the end of a job On-Time
Committed to on-time arrivals