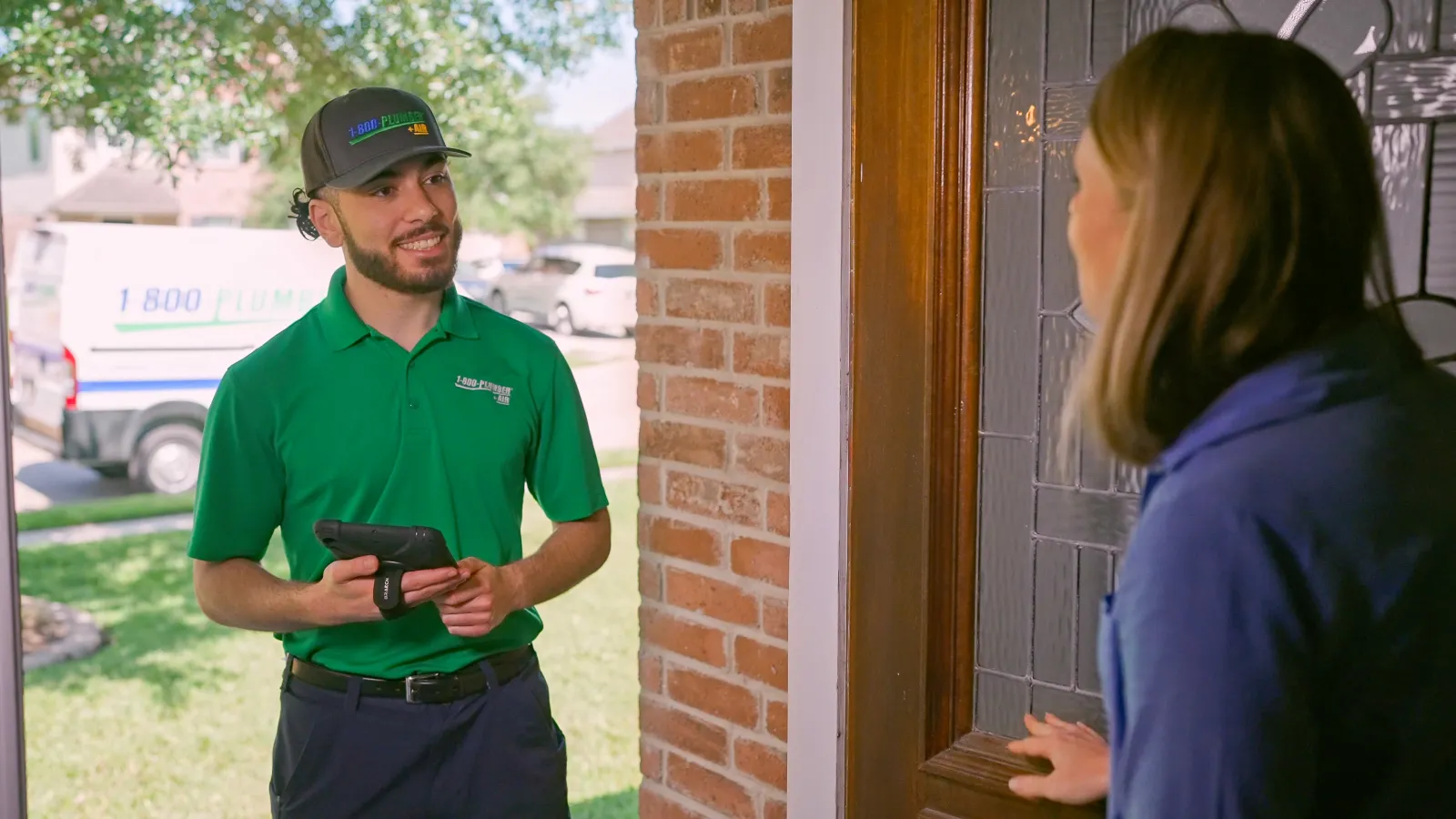 1-800-Plumber +Air
Indoor Air Quality
Having a
HOME EMERGENCY?
Call or Find Your Nearest Pro!
The zip code you entered is not associated with one of our locations. Please visit our Locations page to find your closest location.

Your Professional
SERVICES
Our Top Commercial
Services
What Does Indoor Air Quality Refer to?
Simply put, indoor air quality refers to the quality of the air inside your home. While it sounds like a simple concept, the process involved with measuring and caring for your air is quite complicated. We'll go into what acceptable indoor air quality is in a moment, but let's first look at some of the risks involved with poor indoor air quality.
In the Short Term
In the immediate short term, you're likely to experience physical issues if you have poor indoor air quality. These effects are because of pollen, dirt, debris, hair, bacteria, and other things that are constantly floating in your air. They can cause you to have trouble breathing, experience coughing fits, sneeze excessively, cause irritation to your eyes, and give you headaches.
Air pollution and poor indoor air quality can cause or exacerbate asthma, lung issues, and other problems with your respiratory system.
In the Long Term
While the short-term effects of poor indoor air quality are irritating and inconvenient, the long-term effects are potentially fatal. Breathing in impure air for long periods of time can lead to lung conditions, respiratory problems, and even death. For this reason, it's vital that you contact us to measure your indoor air quality and take corrective measures.
What is Acceptable Indoor Air Quality?
To achieve acceptable indoor air quality, it's necessary to exchange the indoor air .35 times per hour. This means that all the air inside a home or building has to be removed and exchanged with fresh air every two or three hours. There are lots of ways to go about doing this, and 1-800-Plumber +Air knows a few of the best ones.
What are the Five Main Factors That Affect Indoor Air Quality?
There are a number of things that can affect your indoor air quality and here are the five main ones.
Humidity
High humidity levels aren't just uncomfortable, they're also dangerous. High humidity inside your home can cause mold, mildew, and discomfort. High humidity can also cause the development of spores and bacteria that could potentially be harmful.
Dust
If you have asthma or any type of respiratory condition, there are few things that will irritate it more than dust and pollen. They also happen to be an ever-present threat no matter where you live in the world.
Ventilation
If your house or place of work has poor ventilation, the air won't exchange often enough to meet ASHRAE standards. As a result, the air you breathe in every day could be toxic and cause the development of respiratory and lung conditions.
Compounds
In addition to dirt and pollen, organic compounds are the next most dangerous thing when it comes to indoor air quality. These compounds include things like paint, stain, cleaning products, and many other things. Once again, you won't be able to see these things, but you'll certainly feel them in your lungs.
Pets
While you may love and adore your dog or cat, there's no doubt that they are potential oxygen hazards. This is especially true if you don't have a hypoallergenic pet and one that sheds frequently.
How Can I Improve My Indoor Air Quality?
Luckily, as we said at the beginning of this article, indoor air quality is within your ability to control. Let's take a look at a few of the things you can do to keep you and your family safe.
Change Your Air Filters
One of the best and easiest ways to boost your indoor air quality is by changing out your air filters. The main filter will be the one on your furnace or air conditioner, but take care of any other filters you have in your home.
Get Your Air Ducts Cleaned
If you have a traditional heating and cooling system with air ducts, it's important to keep them clean. The amount of dirt, debris, and pollen you have sitting in your ducts is mind-boggling, especially if you have an older home.
Have Ventilation While You're Cooking
If you do a lot of cooking, it's important that you have vents going and windows open in your kitchen. Cooking releases mist, steam, smoke, and food particles into the air and they'll remain there unless you send them outside your home.
Invest in a Dehumidifier or Humidifier
Your air conditioner will help reduce humidity, but it may be necessary to invest in a dehumidifier. Dehumidifiers are the best way to remove humidity from your home and reduce the chance of mold and mildew growth. However, during the winter months, having a humidifier might be necessary to protect your air during the dry winter months.
Call the Pros for Help
While each of the things we just looked at is a good start, the best way to protect your indoor air quality is to contact us at 1-800-Plumber + Air. We can accurately measure the quality of your air and recommend things to do to make it better. Whether you need a new, better air filter installed on your HVAC system or a thorough duct cleaning, we're the team for the job.
Another thing we can do to improve your indoor air quality is installing a fresh air intake in your HVAC system. A fresh air intake is the best way to remove stagnant air from your home and bring fresh air in from the outside. No matter what's necessary, we can get it done and keep the air in your home clean and your family safe.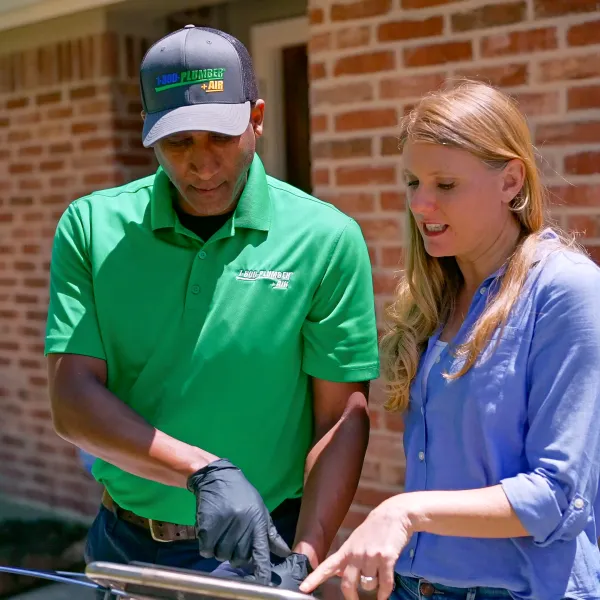 Improving Indoor Air Quality
And there we have it—five tips for improving indoor air quality. As you can see, there's more than one thing that you can do!
Need some help with your HVAC system? Or perhaps you've discovered a leak? Feel free to contact us to schedule an appointment!

Ready to
GET IT FIXED?
Contact Us Now!
My daughter Natalie Permenter actually ordered the service. I'm at her house during the day to keep my grandson. I was very impressed by Emanuel, the plumber that cam. He was very professional and seemed to really care about his clients. Natalie tells me the lady in the office also showed professionalism and a genuine desire to help. Emanuel was disappointed that he couldn't get the job done on day one; but promised to come back the next day. True to his word he was here bright and early. I am so impressed to finally find a company that really cares about the consumer; not just the dollar.

Judi W.
Emanuel came out to inspect why our commode was not flushing properly. After an inspection he describer the options. Since the commode was over 40 years old we picked the option to replace the commode with a new one. He Asked several questions about what we would like and the showed us two options. We picked the one that we liked and he obtained the commode from the ware house and installed it the same afternoon.. He completed the installation and did a great clean up of the area and answered answered all of our questions. I fully recommend Emanuel and 1-800-Plumber of Pearland

Steve E.
They replaced our heater and did an excellent job.

Satisfied Customer
This was my first time with 1-800-Plumber Air of Pearland. I called with a minor issue with the dishwasher drain hose and asked that a tech be dispatched on Saturday so that I could be home from work. Chad was scheduled between 8am & 10am today (Sat) and arrived just before 9am. Chad was very knowledgeable and explained to me the entire process. He also answered my many many questions about what he was doing as he was doing it. I'm a smart guy but know very little about plumbing. I felt very comfortable with Chad doing the repair. The long and the short of it, 1-800-Plumber Air of Pearland has a new longtime customer and I will request that Chad be sent if possible the next time I have a plumbing issue.

George T.
Exceptional service! I highly recommend them for your plumbing needs!

Angelica C.
Excellent work by all, starting with the ease of making an appointment, the arrival of the service crew in a timely manner. They were on neatly dressed, very pleasant, explained everything and took the little extra steps to make the visit a success. I have used this plumber three times now and have always had exceptional service from them.

Jan C.
Very nice and knowledgeable people from office staff to the plumbers. Would definitely recommend using this plumbing company.
Linda G.
Detailed orientated and honest inspection. Chad took his time and explained everything that was going on very well. The service fee was fair for the small issues he fixed, and he was able to make a referral for water restoration for us, I would use his service again and plan to when our water heater goes out.

Katie D.
On time, fast working, and did a great job

Michael R.
"Great service ,plumber was very good and did a great job .very happy"
Joseph G. No surprise
costs at the end of a job On-Time
Committed to on-time arrivals