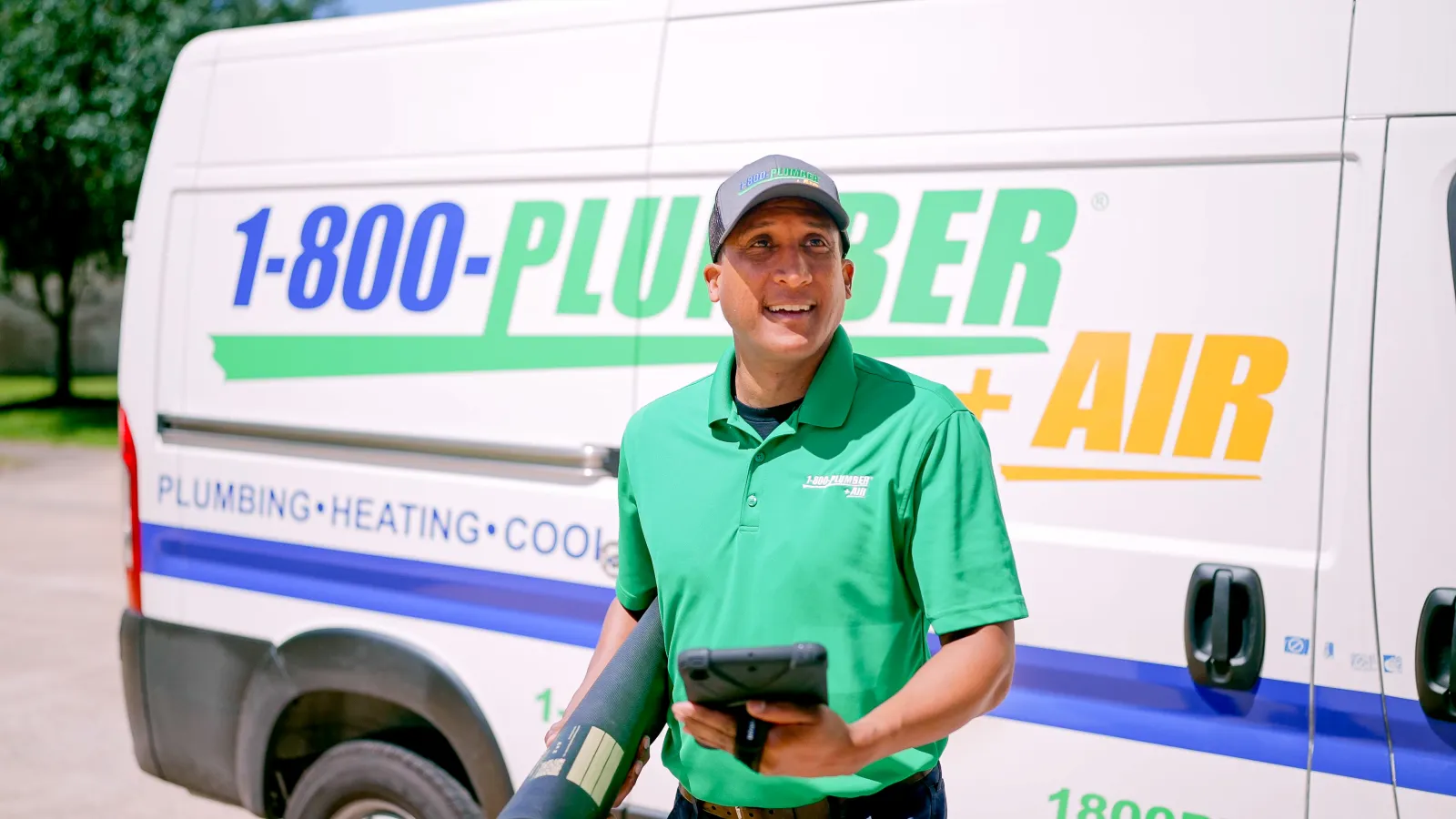 Thermostat Repair & Replacement
1-800-Plumber +Air

Having a
HOME EMERGENCY?
Call or Find Your Nearest Pro!
The zip code you entered is not associated with one of our locations. Please visit our Locations page to find your closest location.

Your Professional
SERVICES
Our Top Commercial
Services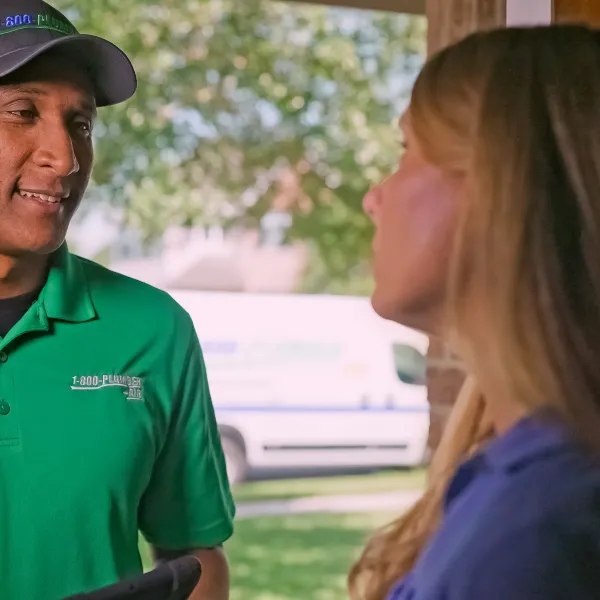 Thermostat Repair & Replacement
1-800-Plumber +Air

Most people are unprepared when their air conditioning, heat, or thermostat goes bust and quits working. If you live anywhere around extreme heat, it can consume much of your time and resources. The weather can change at any moment.
If you've noticed your thermostat has been irregular over the summer months or your home isn't as cool as it normally is, then it may be time to call in the professionals. The one thing you don't want to happen is to come home or be home and deal with a broken thermostat.
Thermostat repair can cost you far less if you are able to call a professional quickly. This will save you many resources versus replacing the entire unit. Our guide below gives you really detailed information regarding thermostat replacement and repair. The next time you are faced with a thermostat problem, give our local 1-800-Plumber +Air professionals a ring.
Thermostat Repair
There are many signs that will signal the need for a new thermostat to either be repaired or replaced. Yes, we can list a very comprehensive list, but wanted to focus on the top four issues that we often see.
#1 Is Your Thermostat Turning Off and On & Not Receiving Power
One of the symptoms of a thermostat getting ready to break is when you start noticing the power cycle is faulty. In other words, the backlight may be dimming or not working at all. This is a great time to check the batteries to ensure the issue is not minor. At times, it may be challenging to locate the batteries, but a quick YouTube search can do the trick.
If you have replaced the batteries, you may want to check and ensure your power circuit tripper hasn't been inadvertently flipped. If you find that the batteries are fine and your power circuit breaker hasn't tripped, your thermostat is still cycling on and off, or has a very dim control mechanism; it is time to call in the professionals at 1-800 Plumber +Air.
You can reach your 1-800-Plumber +Air who will help you check your thermostat's functionality. You never want to take a chance in hiring a company or individual who does not have working knowledge of ensuring your thermostat is working properly.
When you identify that you have a thermostat or an ac problem, it is best to immediately contact a hvac technician as it may help you save money in the long run. Being proactive is much more advantageous than reacting to a broken system.
#2 Is Your Thermostat Giving You Faulty Readings?
Is your house at a comfortable temperature but you realize your thermostat is kicking on? This may be a sign that it is not functioning correctly. Thermostats don't give faulty readings unless they aren't working properly. A thermostat that's improperly hung on the wall may not be receiving the information it needs from your air conditioner or heating unit.
There are ways you can check to see if your thermostat is hung correctly by using a bubble level. The bubble level check is best done by a professional because it's based on the physics of air being introduced into a cooling system. At times, air gets introduced to a cooling system and when it does it can get trapped and form a bubble in the liquid.
When the bubble gets into the liquid it interferes with the flow of air which creates hot spots in your cooling system. That's when you may notice your temperature gauge indicating to you that your house is much hotter than it should be. When this occurs, a plumber can come out and adjust your thermostat to fix the issue.
We know what you may be thinking. A Plumber? It's a strange but true fact that you may need a plumber to assist with the installation of your thermostat and there's no better place to find a professional at 1- 800-Plumber +Air in your area.
#3 Is Your Thermostat Too Close to Hot or Cool Air?
Many people are unaware that a thermostat that sits too close to hot areas can negatively impact the functionality of the thermostat. For example, if your thermostat is near a kitchen window or the coldest room in your house (that sees no light or warmth) it can cause it to malfunction. That's because it can't get a true reading of the heat or the coolness. We call those false readings because the thermostat is not in a position that is neutral. The placement of your thermostat can cause your temperature to continuously fluctuate.
#4 Cleaning Your Thermostat
We know it's crazy but at times, cleaning your thermostat may solve issues. Sometimes all you have to do is wipe your thermostat and you'll find that the broken thermostat is not fully functioning again. A dusty thermostat often keeps the temperature cooler. Sometimes, a poorly cleaning device can result in pseudo increased temperatures and thus will negatively impact the system.
Sometimes, you just need answers and do not want to deal with the thermostat. Our professional HVAC technicians at 1-800-Plumber +Air can provide you with the answers you need. You can trust your system in the hands of our professional technicians.
Thermostat Replacement Costs
You've tried to repair your thermostat but you realize that you just need a new device. Now what? You can budget anywhere between $900 - $1500 when it comes to having a professional properly install a new thermostat within your house. At times, you may assume you can install it yourself but it may end up costing you more money. It's always important to have an HVAC technician and professional address it first and foremost.
When you utilize a professional, you end up saving yourself the time, energy, and resources that you may encounter if it is incorrectly installed. Additionally, some electricians tout their ability to install a device, but the reality is that HVAC technicians can not only help you with your thermostat issues but can look at other components within your house; to ensure good working conditions.
How To Replace Analog Thermostat With Digital
If you decide to replace your analog thermostat with a new digital one, there are many steps to follow. We always encourage you to reach out to a professional before attempting to do the job yourself. The first step requires you to shut off your power; this must be done to ensure you are not operating or handling "hot wires" That may mean you turn off your furnace or your power to cool the house. This is extremely important because it is extremely dangerous to install any electrical items without turning off the power supply.
Next, you want to remove the faceplate from the old analog thermostat and label your wires. This needs to be done prior to any work being started as it will save you time. You may think you'll remember which wire did what but chances are you won't. Once you have completed the labeling, you can then remove the faceplate for the device.
You need to rewire the labeled wires to the new digital thermostat and attach the new faceplate to the new thermostat. Now that you have properly installed your thermostat, you need to test out the functionality to ensure it is working properly and cooling to the appropriate temperature. It's not as easy as it sounds which is why you need an HVAC professional to help you every step of the way.
Replacing Just Two Wires on A Faulty Thermostat
The two wire thermostat installation process is extremely common. That's because sometimes it only takes two wires to fix a faulty thermostat allowing you to go back to the comfort and ease you're used to having in your home and environment. The reality is that even a two wire installation effort can be complex and you should reach out to a professional to provide guidance.
Your Next Best Step In Keeping Your Home Comfortable and Your Thermostat Functional
There's nothing more frustrating than having a thermostat that is faulty. Fortunately, there's a company and service near you that provides you with timely service, affordable repairs and will deal with your thermostat repair in a way that lets you know they value you as a customer.
Contact Us
at 1-800-Plumber +Air today for your thermostat repair issues. There's no better feeling than knowing your time and money were well spent and that tonight you'll sleep in comfort!


Ready to
GET IT FIXED?
Contact Us Now!
Alex was just wonderful. He explained everything did a great job and was friendly and courteous. Very professional in every way.

Satisfied Customer
Very nice and knowledgeable people from office staff to the plumbers. Would definitely recommend using this plumbing company.
Linda G.
Enes provided a very thorough and professional inspection, assessment and proposal for my sewer drain replacement.

Rany W.
I cannot thank Nick enough for taking care of my plumbing inspection and fixing those shut off valves. He s a true professional and have a wonderful future ahead of you! God bless you and thanks again! read less

Satisfied Customer
Joesph came out right on time. Showed me what my issue was, and told me my options (very professional). This company is fair and honest! They don't try to up sale or over price their product or service.. I highly recommend 1-800-Plumer of Pearland!! Go with these guys and you won't be disappointed!

Terril Kelly
Nice bunch of guys. Did what they said and did it very well. Explained everything and took extra pre cautions with the Virus outbreak.

Mike P.
Detailed orientated and honest inspection. Chad took his time and explained everything that was going on very well. The service fee was fair for the small issues he fixed, and he was able to make a referral for water restoration for us, I would use his service again and plan to when our water heater goes out.

Katie D.
First plumber we called wanted $3500.00 to replace everything. Emanuel came out and suggested we change one part and less than $300.00 later we was up and running again. From Mark, to Taylor, and then on to Emanuel the whole experience was professional and I will be a customer for life. Hopefully not often though. Great working with you guys!.

Brian
1-800 Plumbers Sugar Land is the best!! Hector the owner and his team of men, specifically Chad were great! Very friendly, thorough, fast, and I didn't feel like I was being taken advantage of or robbed.

Erinn D. No surprise
costs at the end of a job On-Time
Committed to on-time arrivals