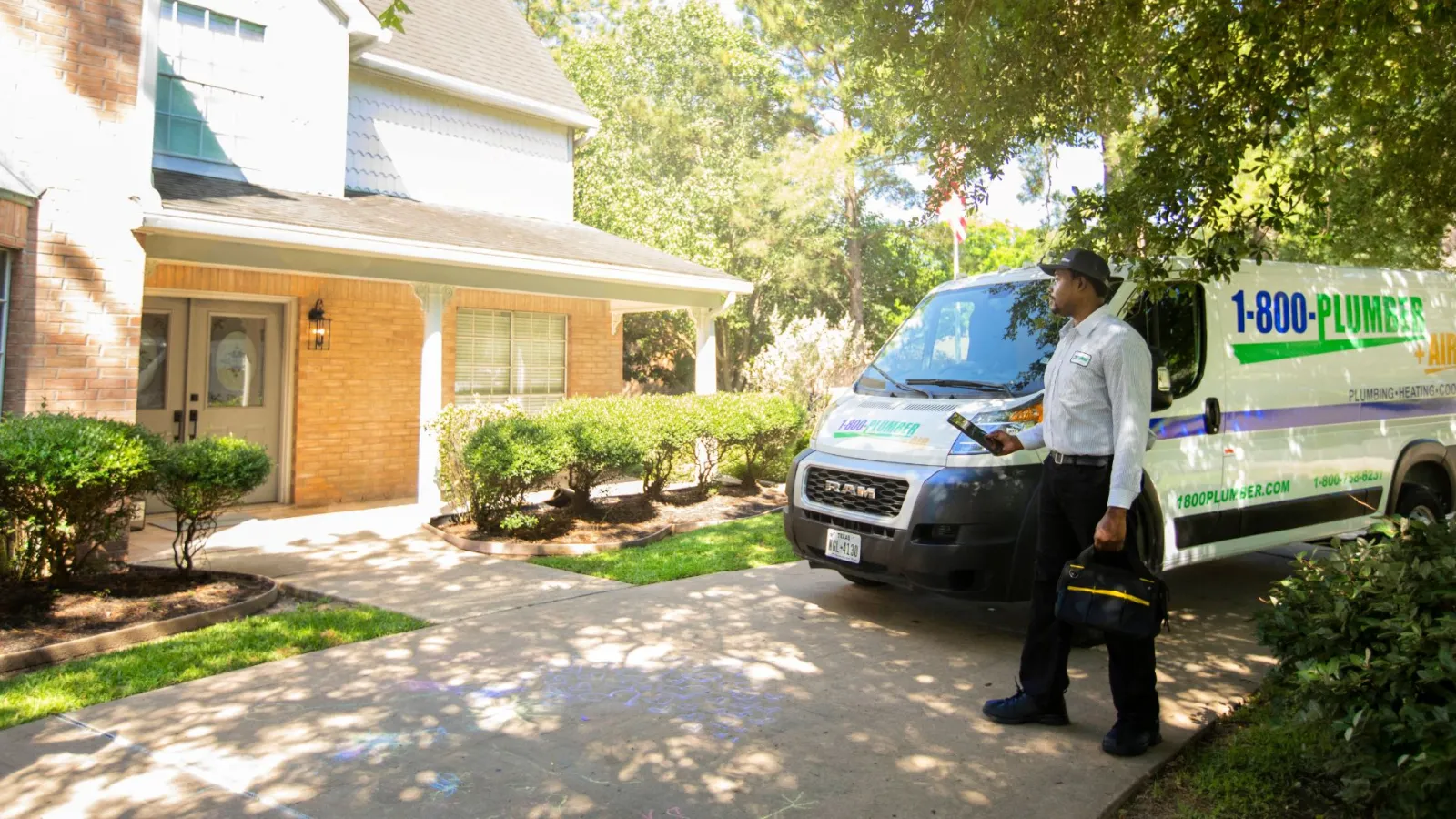 1-800-Plumber +Air
Thermostats
Having a
HOME EMERGENCY?
Call or Find Your Nearest Pro!
The zip code you entered is not associated with one of our locations. Please visit our Locations page to find your closest location.

Your Professional
SERVICES
Everything You Need to Know About
Thermostat Replacement Costs
Your HVAC control is something you rarely consider until you have to think about how to replace an old thermostat. Many people still have an old-style analog one with a dial, but the price of getting a new thermostat isn't as scary as you might expect. Read on to find out all there is to know about thermostat replacement costs and learn how to replace an old thermostat.
How Can You Tell When It's Time to Replace a Thermostat?
If the time for a new thermostat has arrived, it's a good idea to opt for a programmable digital one — or even better, a smart thermostat. The upfront cost might be a little more than an analog model, but within a year or two, you should earn that money back in savings on your energy bills. We'll discuss how to replace an old thermostat after taking a look at how to know you need a new one.
If you're unsure as to whether it's your thermostat or HVAC system that's at the root of the problem, don't hesitate to call an HVAC technician.
Signs your thermostat is broken:
A battery-operated thermostat is draining batteries too fast

The thermostat doesn't switch on at all

You notice the HVAC system doesn't respond to changes in the thermostat's settings

The HVAC doesn't switch on or off when the Air reaches the right temperature

If you notice the temperature outside isn't the same as the display on the thermostat
How to troubleshoot a thermostat in five simple steps:
Check the thermostat's screen to see that it's lit and the digital display is showing (if it is a digital thermostat)

In case the light is on, and you can see a display, check the settings against the manufacturer guidelines to ensure it's not a simple case of incorrect configuration

Say configuration is correct, but the HVAC system still isn't working correctly, check the location of the thermostat. If it's in direct sunlight or an area with a drought, it might read the temperature incorrectly

If the light is out, change the batteries to see if that's the issue

In case there's still no display after a battery change, check your circuit breakers
If none of the above works, call an experienced HVAC technician to install a new thermostat. You can ask them for guidance and advice about which type will save you the most on your energy bills. Alternatively, you could purchase a thermostat and install it yourself. In the next section, we'll discuss how to replace an old thermostat.
How to Replace an Old Thermostat
If you're wondering how to replace an analog thermostat with a digital one, we've gone ahead and written a simple, handy guide. Follow these steps to install a new digital thermostat:
Before you buy a thermostat, you need to find out if your home uses low voltage or line voltage. This makes a difference to the type you can get. For example, smart thermostats require a low voltage thermostat connection. You can get in touch with an experienced HVAC technician to help you work out the wiring in your property. Read on if you're comfortable doing it yourself

Power down your entire HVAC system at the breaker box

Turn your analog thermostat down all the way

Thoroughly read the manufacturers instructions and safety advice

Use a screwdriver to remove the cover, or faceplate, of the analog thermostat

Now is your chance to check the wiring. If there are two thick wires, you have a line thermostat. For a low voltage thermostat, there will be between two and nine smaller wires

Take a picture of the cables, so you know where they're connected

Unscrew each wire carefully from the terminal

Check where the holes in the wall are to mount the old faceplate and check it's compatible with the new one. If not, you'll need to measure the mounting holes and drill corresponding holes in the wall

Use the picture of the old wiring to rewire the thermostat. If there are any additional exposed wires, you don't need to worry about them

Insert the batteries

Replace the faceplate

Reboot your HVAC system and test out your brand new thermostat!
Replacing Old Thermostat: Only Two Wires
If your thermostat does only have two wires, the chances are that it's hooked up to a heating-only HVAC system. Cooling, fan control and air conditioning use more than two cables, so it's easy to tell a full HVAC thermostat apart from a furnace thermostat.
How to Install a Two-Wire Thermostat
To install a two-wire thermostat, you'll need to switch the furnace off. Choose where you'd like to install it, making sure you're out of direct sunlight or drafty areas. Drill a hole in the drywall where you'd like the thermostat to hang. Then, feed the wire from the furnace through the hole in the wall.
Two-Wire Thermostat Color Coding
Most thermostats have a white and red wire encased in a brown coating. Strip the wires back at the furnace end, and the thermostat end — approximately a quarter of an inch. Connect the red cable to the R terminal and the white wire to the W terminal.
Complete the Rewiring
When the wires are connected, you can attach the faceplate to the thermostat. Turn the furnace back on and program your thermostat. If the thermostat is programmable, you can save money on your energy bills. A smart thermostat can save you even more money by instinctively switching off as soon as the room reaches the desired temperature.
Thermostat Replacement Costs
At the lower end of the scale, you'd be looking at around $900 for a thermostat plus installation. For a modern smart thermostat, you shouldn't expect to pay more than about $1,600. You can spend as much or as little on a thermostat as you desire, provided you meet your needs. You deserve to feel as comfortable as possible in your own home, so spend as much as you can afford on an excellent HVAC system.
Home Thermostat Replacement Cost Comparison
The cheapest upfront cost is for an analog thermostat, but beware: they cost more in wasted energy. A digital thermostat that lets you program it saves more energy because the timing is automated. However, a smart thermostat delivers the most savings overall because it responds to the temperature. As such, there's never a moment of wasted power.
Non-Programmable Thermostat
A non-programmable or mechanical thermostat is the most basic type. To operate it, you simply turn a dial or use arrow keys to change the temperature. You can get digital and analog mechanical thermostats — but neither is usually particularly precise with regards to temperature control.
Programmable Thermostat
With a programmable thermostat, you set the temperature according to your preferences with regards to comfort and energy costs. For example, you can program it to switch off at certain hours of the night and the time you're at work.
Smart Thermostat
A smart thermostat is also programmable, but it has a variety of additional functionality to maximize convenience and well-being in the home. You can control a smart thermostat from your computer, phone or tablet — no matter where you are. You'll be able to program multiple schedules and use voice commands when you're at home.
Smart thermostats are best for people who are looking for the ultimate in comfort and convenience.
Why Use an HVAC Professional Instead of an Electrician?
Some people might opt to hire an electrician to install a thermostat, seeing as it involves disconnecting and connecting electric cables. However, with an HVAC technician, you can get expert advice about your heating and cooling system and bundle in any extra work you might need. Here are some more reasons to consider an HVAC specialist to install your thermostat:
An HVAC specialist can offer further pointers about how to save money on your heating and cooling bills

If you already have an HVAC technician installing a new system in your home, consider asking them to bundle in fitting a new thermostat

Find out how to get the most out of your new thermostat from a qualified HVAC engineer

Get access to bulk discounts from HVAC technicians
The Risks of DIY Thermostat Replacement
So there you have it — you've learned how to replace an old thermostat. Be careful, though, because it doesn't come without risk. There are several dangers associated with the process, including:
Blowing a circuit breaker

Getting an electric shock

Damaging the unit

Voiding your warranty

Faulty installation could lead to problems later on
1-800-Plumber +Air Can Help With Thermostat Installation in the Following Locations
If you're looking for HVAC experts, look no further than 1-800-Plumbing + Air if you live in the following areas:
We love helping homeowners overcome issues with HVAC and find the most cost-effective long-term heating and cooling solutions.
Placing the New Thermostat
Your new thermostat should come with stickers. Place the stickers onto the wires. You can reference the old thermostat's wiring, and check your new manual. You'll then need to loosen the terminal screws.
Place the new base over the wires and make sure it's level.
Next, drill the holes making sure to follow the directions in the manual. Place the plastic inserts into your wall.
You can then use a combination stripper to trim the wires if necessary.
Once it's connected you can activate the power back on.

Ensure It's Working
Once you've figured out how to replace the analog thermostat with a digital thermostat, you're almost ready to go. First, make sure it's working.
You can set the thermostat to your furnace. The AC will come at a different time. Let them have 5 minutes to activate. If it's not working correctly take a look at what you did and make sure no steps were missed.
You might need to hit the reset button on your new thermostat.
Once it's good to go, you'll want to program your thermostat. Every type of thermostat has different ways of being programmed, so check the manual.
A programmable thermostat is your best bet. It can also save you energy as well.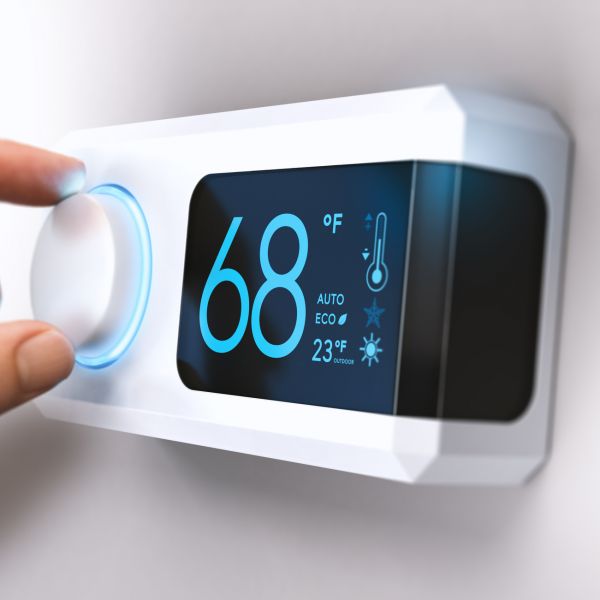 Exploring Thermostat Replacement
After reading this guide you should have a better understanding of thermostat replacement.
Do you need help with heating and cooling services? Contact us today and we can take a look and help you get it solved! We are available 24/7, even for emergency services.

Ready to
GET IT FIXED?
Contact Us Now!
Nick did a great job and very nice and professional. Thanks

Evonne H.
Positive: Professionalism , Punctuality , Quality , Responsiveness , Value

Satisfied Customer
Emanuel came out to inspect why our commode was not flushing properly. After an inspection he describer the options. Since the commode was over 40 years old we picked the option to replace the commode with a new one. He Asked several questions about what we would like and the showed us two options. We picked the one that we liked and he obtained the commode from the ware house and installed it the same afternoon.. He completed the installation and did a great clean up of the area and answered answered all of our questions. I fully recommend Emanuel and 1-800-Plumber of Pearland

Steve E.
He is very professional and very respectful.

Satisfied Customer
I was very impressed with Nick and that he was very professional. This was the first time we had used 1-800 Plumber and it wont be the last. Nick went above and beyond. read less

Satisfied Customer
Emanuel Reyes replaced my kitchen faucet and sink basket strainer today, 3/2/20. I appreciate the quality of his work. Emanual did a fantastic job. If I need a plumber in the future, I'll call 1-800-Plumber and ask for Emanuel Reyes.

Jean Broussard M.
I really appreciated Manolos attitude and the way he had patience for all of my questions and never seemed like he was rushing or annoyed with me. He took the time to reexplain it to my husband when he got home. I didn't feel pressured into spending more money or like he was trying to just sell me stuff. I felt like he really took his time and that I was his priority. Thank you for having great service.

Satisfied Customer
Nick was wonderful did an outstanding job, explained all options and extremely thorough. She will call back and use us again. She was very pleased and very happy that she didnt have to clean up after him.

Satisfied Customer
Swayze did a great job and was very courteous polite, and knowledgeable .

Satisfied Customer No surprise
costs at the end of a job On-Time
Committed to on-time arrivals