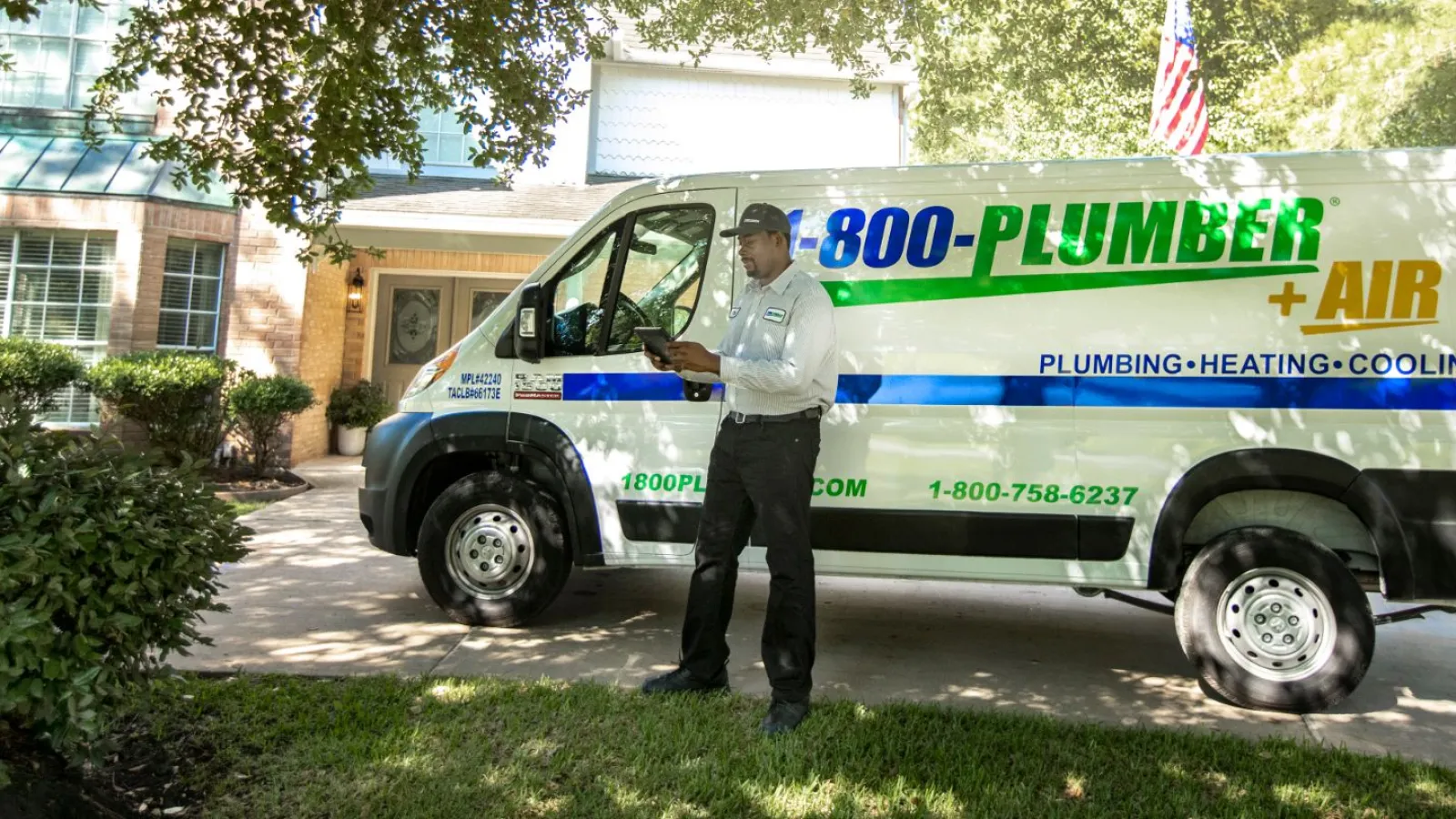 1-800-Plumber +Air
AC Maintenance
Having a
HOME EMERGENCY?
Call or Find Your Nearest Pro!
The zip code you entered is not associated with one of our locations. Please visit our Locations page to find your closest location.

Your Professional
SERVICES
Our Top Emergency
Services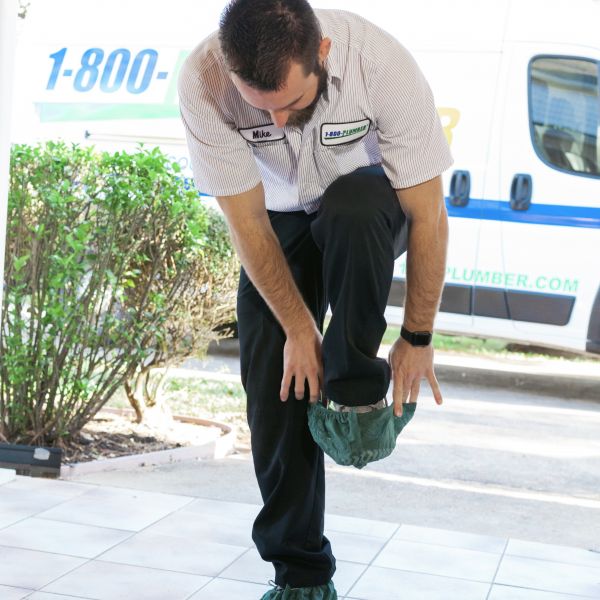 Why 1800 Plumber +Air Is the Company
You Need for AC Maintenance
Did you know that air conditioner use makes up 12% to 27% of home energy costs? If you live in one of the warmer states, it likely costs you even more! What's more, where you live can also influence the lifespan of your air conditioning unit.
On that note, central air conditioners can survive for a good 15 to 20 years. However, this only holds for systems that undergo routine air conditioning maintenance. After all, spring tune-ups ensure that an AC unit is all good to welcome the summer season.
If you've googled "AC service" (or similar keywords), chances are, you saw the name "1-800-Plumber +Air." The question now is, should you choose this company, and if so, why?
We'll give you a rundown of all the reasons below, so be sure to read on!
First Things First:
Why Do You Need Air Conditioning Maintenance?
Annual air conditioning maintenance will help retain and even boost your AC's performance. One way it can do so is by ensuring that nothing clogs up your unit's airflow. Such blockages can occur in both the indoor and outdoor components of your equipment.
With yearly tune-ups, you can prevent premature air conditioner breakdowns. When skilled HVAC techs inspect your unit at least once a year, they can spot problems right away. From here, the techs can address the issues on the spot so that they won't have time to get worse.
Once-a-year servicing is also key to ensuring your air conditioner stays energy-efficient. Keep in mind that energy-efficient appliances draw less power. The less electricity your AC uses, the less it'll contribute to your electricity bills.
Reducing your energy bills is even more crucial if you live in states like TX or CT. Texas's 2018 average monthly electricity bill was $131.63, while it was $153.46 in Connecticut. Those are considerably higher than the national average of $117.65.
All in all, pre-seasonal AC service translates to reduced cooling-related costs. It helps you avoid high electricity bills as well as the need to repair preventable AC issues. Moreover, it helps to minimize wear and tear, which, in turn, can lengthen the lifespan of your unit.
These are just a few of the benefits that you can expect with air conditioning unit tune-ups. However, there's more to enjoy if you choose 1-800-Plumber + Air for your AC maintenance needs.
So, without further adieu, let's talk about some of these value-added benefits!
We Follow a Comprehensive Air Conditioner Maintenance
Checklist
Your trustworthy 1-800-Plumber +Air technician will always follow a strict AC maintenance checklist. This includes a thorough inspection, cleaning, and sanitation of your central air conditioner. If you have multiple window units or wall ACs, your tech will clean and sanitize them all.
To give you an idea of what happens during an AC tune-up service, we've listed a few of the most crucial tasks below.
Careful Component Inspection
Your prompt-to-arrive AC service tech will first run a full inspection of all parts of your unit. This includes checking for worn or damaged nuts, bolts, screws, and fan blades, among others. The technician will also check the refrigerant level as well as potential leaks.
Clean-Up and Sanitation
Your friendly 1-800-Plumber +Air service crew will then give your AC a deep clean. This will get rid of accumulated dirt, debris, and other contaminants. The technician will use a sanitizing solution to clean all parts of your unit from inside to out.
After this, the tech will lubricate AC parts that have turned squeaky.
Temperature Checks
Your thermostat will also undergo a test to ensure it's reading temperatures right. If not, the tech will "re-calibrate" the device so that it becomes accurate again. If there's a need for fresh batteries, the service crew will place them for you.
Final Touches
Your reliable 1-800-Plumber +Air pro will then ensure that all wires are tight and snug. If there's any damaged cable, they'll let you know so that you can have it patched up on the spot.
Finally, the tech will put back everything in their proper places. Of course, you can also expect the AC maintenance specialist to clean up the worksite.
We Offer Various Affordable Maintenance Plans
In the US, the average air conditioner maintenance cost can run between $75 to $200. Again, where you live will impact your bill, as your state may have lower labor costs, after all.
1-800-Plumber + Air can help bring your costs down with its affordable maintenance programs. For instance, the company has service plans that already include heating system tune-ups. Aside from trimming your expenses, this also means you don't have to worry about your heater too!
Besides, it's quite convenient to have just one company service your cooler and heater. It can also help reduce the stress of having to find yet another company to tune-up your heater. Moreover, a service plan saves you time since you already have a guaranteed schedule.
Of course, if you need heater or air conditioner repairs, you can quickly reach out to 1-800-Plumber +Air.
We Have an Easy to Use Scheduling and Booking Platform
Don't worry if you have no fixed air conditioner maintenance schedule at the moment. It's easy to book a service call with 1-800-Plumber +Air's online scheduling system.
The booking platform will show you the daily available time slots per day of the week. Just pick one, provide your contact details, and you'll get a call confirming your schedule! Easy peasy.
We Deliver Emergency Air Conditioner Maintenance Services
Speaking of schedules, 1-800-Plumber +Air offers emergency services. You can also depend on its highly skilled technicians to come to your rescue during holidays. Best of all, there are no extra charges for night services, weekends, or holiday visits!
We're Your One-Stop Shop for HVAC and Plumbing Requirements
All 1-800-Plumber +Air technicians carry certifications to perform air conditioner maintenance work. However, as the company's name suggests, it also employs highly skilled plumbers. They're your go-to for whatever plumbing service you need, be it drain cleaning or pipe repairs.
Why is it crucial to hire a company that can deliver various maintenance services, though?
For starters, this will make it easier to keep your home in tip-top condition. Keep in mind that many parts of your plumbing system also require yearly inspections. There's your hot water tank, for instance, which needs flushing at least once a year.
It's also vital to run annual tests on your tank's "temperature and pressure relief" (TPR) valve. This safety device helps to ease excess pressure that may have built up inside the container. A working TPR valve shouldn't leak, and it should release pressure pretty quickly.
If you have water treatment systems, such as filters or softeners, it's also best to get them cleaned once a year. Significant amounts of sediments may have already built up in them over the course of a year.
As you can see, there are quite a few plumbing maintenance tasks that you also need to carry out yearly. You can make things a lot easier by scheduling these together with your annual AC tune-up. In doing so, you won't have to worry about forgetting these home maintenance must-dos.
We Have Multiple Service Areas
1-800-Plumber +Air caters to many areas throughout the country. Whether you live in TX, NY, MS, OR, or CT, this company has your back.
Here's a complete list of the areas that the company happily services:
If you're a resident of any of these municipalities, please feel free to get in touch with 1-800-Plumber +Air. The company's highly skilled craftsmen can help with your heater, cooler, or plumbing.
We Increase Safety Protocols
1-800-Plumber +Air has always been implementing rigorous safety protocols. However, the company has set even more measures due to the current health situation.
For starters, all servicing technicians wear additional personal protective equipment. These include not only gloves but also sanitary shoe covers. They keep these on throughout the entire scope of the job.
All HVAC techs also use antibacterial cleaning solutions. They go through hand and equipment sanitation before and after the job. For more information on how we're handling COVID-19, hear from our CEO!

1-800-Plumber +Air to the Rescue
There you have it, your ultimate guide on air conditioning maintenance, and why you should choose 1-800-Plumber +Air. Aside from affordable maintenance plans, the company also hands out discounts! Depending on the service you need, and where you live, you may be able to secure these money-saving deals.
Ready to have 1-800-Plumber +Air cater to all your heating, cooling, and plumbing needs? Then please don't hesitate to get in touch with us now! We'll be happy to answer any HVAC- and plumbing-related questions you have.
Ready to
GET IT FIXED?
Contact Us Now!
1-800 Plumber + Air and Electric has done several jobs for me. They are professional and respectful. Shawn Harvey has been great to work with. Would highly recommend!

Satisfied Customer
Nick was wonderful did an outstanding job, explained all options and extremely thorough. She will call back and use us again. She was very pleased and very happy that she didnt have to clean up after him.

Satisfied Customer
Great service and knew exactly what to do. Kyle, was very nice! When I need a plumber, I'll call 1-800-plumber and ask for Kyle

David D.
did a excellent job on repiping my house n clean n very please with the work they done.

Willie W.
"1-800-plumber +Air is an A+ company !!! Our plumber was Robert , he was very knowledgeable and friendly! He was efficient and got the job done !l fixed two toilets for us! Thank you so much!! I highly recommend"
Diana M.

This was THE most painless repair experience! We had a leak in a pipe behind our water heater, spewing water out into space, ugh. Joe and his apprentice, Dan, were here in about an hour or so. They were both so very friendly from the moment they showed up at the front door! After they determined the problem, we discussed the needed repair, and then they began to replace the pipe(s) behind the water heater. This was pretty much an all-day job and I can honestly say it was no problem having them in my home. They were not only professional and courteous employees; they were two very kind individuals, who were also comfortable and friendly around my crazy dogs! I have had nothing but the finest experiences with this company and cannot recommend them highly enough! They are the best!

Barbara H.
Swayze did a wonderful job.

Satisfied Customer
I had Kyle U as my plumbing tech. He did a great job and worked really hard to get to the bottom of things (like roots). He was also polite and honest.

Linda D.
Kyle did an excellent job. H was very thorough and explained everything from start to finish. I would strongly recommend Kyle for any plumbing you might have.

Kyle
"They were very professional and on time, the technician did what he was suppose to do then cleaned up and left me with instructions on how to finish installing the parts after I finish doing some tile work that needs to be done."
Andrei G. No surprise
costs at the end of a job On-Time
Committed to on-time arrivals