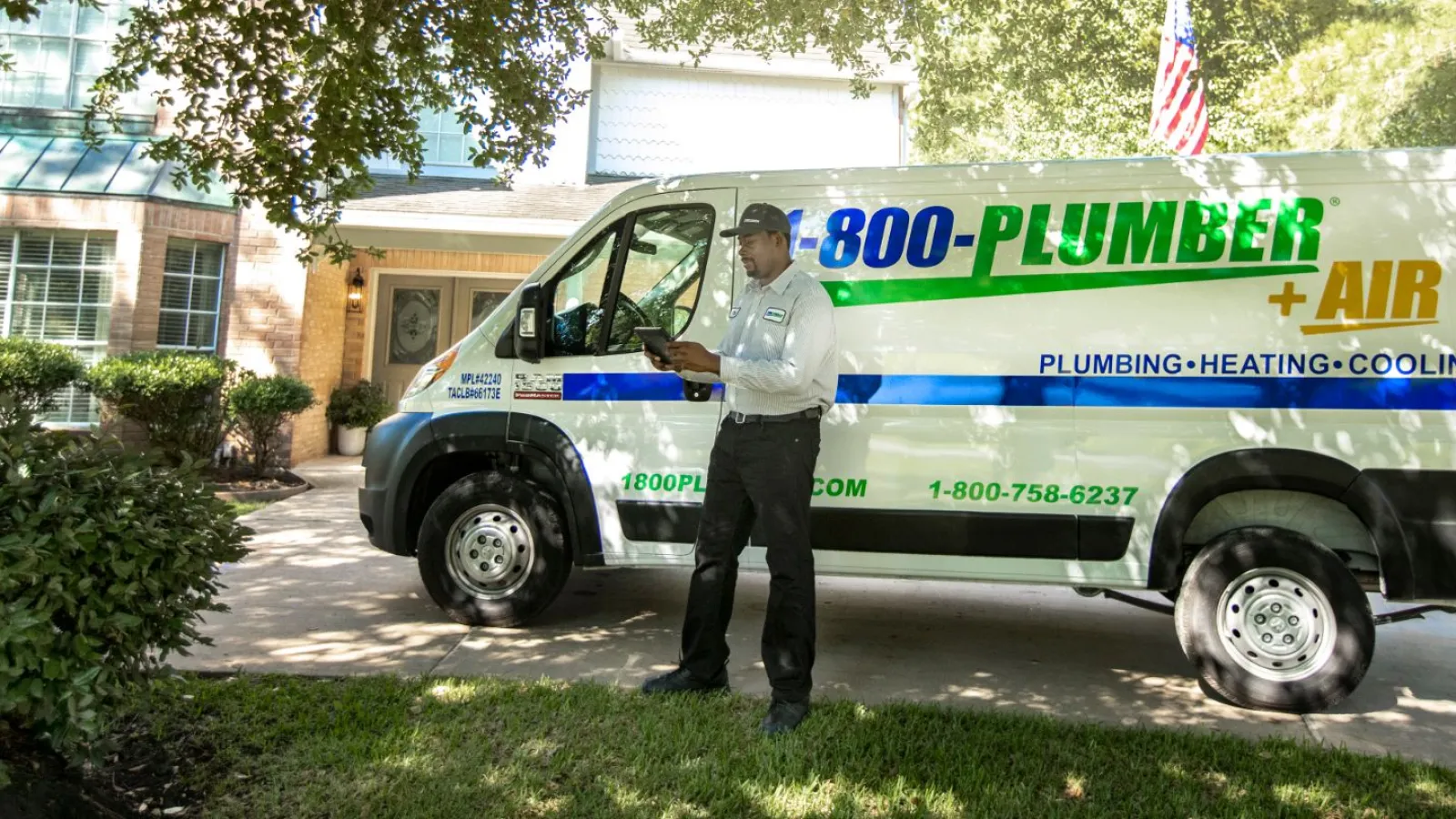 1-800-Plumber +Air
A/C Maintenance
Having a
HOME EMERGENCY?
Call or Find Your Nearest Pro!
The zip code you entered is not associated with one of our locations. Please visit our Locations page to find your closest location.

Your Professional
SERVICES
Our Top Commercial
Services
Air Conditioner Maintenance
1-800-Plumber + Air

Why is Air Conditioner Maintenance Important?
Constantly maintaining your air conditioner might seem inconvenient, but it's absolutely essential. Like all electrical appliances around your home or business, your air conditioner isn't designed to last forever. You're looking at anywhere between 10 and 25 years per air conditioner on average. However, with proper maintenance and care, your ACs lifespan will be on the long side rather than the short side.
Air conditioner maintenance will also help your AC run more efficiently during excessively hot or humid days. If you're in charge of paying the utility bills, you know how much electricity an inefficient air conditioner can use. AC maintenance will almost always result in lower electric bills and smoother operation. It's a lot cheaper to pay for service visits than it is to replace an air conditioner or pay constantly high electric bills.
Air Conditioner Maintenance Tips
If you're looking for maintenance tips that you can use around the house to protect your air conditioner, here are a few of the top suggestions.
Change Your Air Filters
A clogged air filter inside your furnace will cause your AC to run longer and less efficiently. It could also lead to ice building on your outside coils or on the A-coil atop your furnace. Either way, it's extremely important to replace your air filter every three months or as needed.
Keep the Area Clear Around the AC
It's also important to ensure that plants, bushes, and trees aren't crowding your air conditioner. Your AC must have sufficient airflow around it to function properly.
Check the Drain Line
Depending on how your condensation drain line was installed and what materials were used, it could be subject to clogging. It's important that you check your drain line periodically to ensure that everything is functioning as it should.
Install a Programmable Thermostat
A programmable thermostat is a great way to keep your air conditioner from being overworked. Programmable or smart thermostats might be a little pricy upfront, but they'll save you down the road on your energy bills. They also make life easier on you by knowing when to turn the temperature down or up without you having to manually switch it.
Wash the Coils
Another thing you can do to prolong the life and improve the efficiency of your AC is to wash the outside coils on the AC itself. Washing the coils is relatively easy. Simply take a garden hose and spray your air conditioner down at an upward or downward angle. Spraying the AC and coils will shake debris loose and help with the airflow necessary to operate.
Schedule Regular Maintenance Checks
While there are plenty of things that you can do on your own, the best way to protect your air conditioner is to contact us and schedule regular maintenance checks. We will be able to repair and service things that you can't and we'll also know if it's time to skip the service work and replace your AC with a new one.
Professional Air Conditioning Maintenance Checklist
Here are some of the things that you can't do on your own if you don't have HVAC experience.
Check electrical connections
One of the leading causes of air conditioner problems is related to its electrical connections. Oftentimes, electrical connections are loose or incorrectly done. There's even a chance that the supply power isn't adequate for the air conditioner and needs to be upgraded.
HVAC technicians have special air conditioning gauges allowing them to check the refrigerant levels of your air conditioner. They will determine if you have too much or too little freon and add or subtract as needed. They will also be able to determine if you have a leak in your lines, which could mean that the entire system needs to be replaced.
Properly clear condensate drain
They will also perform a thorough examination of your condensate drain to make sure there aren't any leaks or clogs. There's only so much you can do without taking everything apart, and an HVAC professional will do so if necessary.
Repair or replace the thermostat
If you want to upgrade to a new thermostat, it's much safer and easier to let a professional do the job for you. They will make sure that the thermostat is wired correctly and programmed appropriately.
Properly clean outside and inside coils
While spraying down the outside of your air conditioner is a good start, a professional will be able to do much more. If necessary, they will even remove the outer coverings of the AC and indoor coil, and perform extensive cleaning of both components.
Aside from these tasks, an HVAC professional from 1-800-Plumber + Air will do all the things that you would do yourself. Checking the air filter, coils, thermostat, and drain lines are also on the agenda during a regularly scheduled maintenance check. Our technicians will also make sure that the fan, compressor, and motor of the air conditioner are operating as they should. In short, if there's a problem, we'll find it and fix it whenever possible.

Who to Call for Professional Air Conditioning Maintenance
Whether you know you need AC repairs or want to schedule an air conditioning maintenance visit, contact the pros at 1-800-Plumber + Air today. The last thing you want is to be left out in the heat in the middle of a hot day because you forgot to service your air conditioner. We have the tools, experience, and knowledge necessary to spot a problem and fix it in a timely manner. Contact us today!

We Follow a Comprehensive Air Conditioner Maintenance
Checklist
Your trustworthy 1-800-Plumber +Air technician will always follow a strict AC maintenance checklist. This includes a thorough inspection, cleaning, and sanitation of your central air conditioner. If you have multiple window units or wall ACs, your tech will clean and sanitize them all.
To give you an idea of what happens during an AC tune-up service, we've listed a few of the most crucial tasks below.
Careful Component Inspection
Your prompt-to-arrive AC service tech will first run a full inspection of all parts of your unit. This includes checking for worn or damaged nuts, bolts, screws, and fan blades, among others. The technician will also check the refrigerant level as well as potential leaks.
Clean-Up and Sanitation
Your friendly 1-800-Plumber +Air service crew will then give your AC a deep clean. This will get rid of accumulated dirt, debris, and other contaminants. The technician will use a sanitizing solution to clean all parts of your unit from inside to out.
After this, the tech will lubricate AC parts that have turned squeaky.
Temperature Checks
Your thermostat will also undergo a test to ensure it's reading temperatures right. If not, the tech will "re-calibrate" the device so that it becomes accurate again. If there's a need for fresh batteries, the service crew will place them for you.
Final Touches
Your reliable 1-800-Plumber +Air pro will then ensure that all wires are tight and snug. If there's any damaged cable, they'll let you know so that you can have it patched up on the spot.
Finally, the tech will put back everything in their proper places. Of course, you can also expect the AC maintenance specialist to clean up the worksite.
We Offer Various Affordable Maintenance Plans
In the US, the average air conditioner maintenance cost can run between $75 to $200. Again, where you live will impact your bill, as your state may have lower labor costs, after all.
1-800-Plumber + Air can help bring your costs down with its affordable maintenance programs. For instance, the company has service plans that already include heating system tune-ups. Aside from trimming your expenses, this also means you don't have to worry about your heater too!
Besides, it's quite convenient to have just one company service your cooler and heater. It can also help reduce the stress of having to find yet another company to tune-up your heater. Moreover, a service plan saves you time since you already have a guaranteed schedule.
Of course, if you need heater or air conditioner repairs, you can quickly reach out to 1-800-Plumber +Air.
We Have an Easy to Use Scheduling and Booking Platform
Don't worry if you have no fixed air conditioner maintenance schedule at the moment. It's easy to book a service call with 1-800-Plumber +Air's online scheduling system.
The booking platform will show you the daily available time slots per day of the week. Just pick one, provide your contact details, and you'll get a call confirming your schedule! Easy peasy.
We Deliver Emergency Air Conditioner Maintenance Services
Speaking of schedules, 1-800-Plumber +Air offers emergency services. You can also depend on its highly skilled technicians to come to your rescue during holidays. Best of all, there are no extra charges for night services, weekends, or holiday visits!
We're Your One-Stop Shop for HVAC and Plumbing Requirements
All 1-800-Plumber +Air technicians carry certifications to perform air conditioner maintenance work. However, as the company's name suggests, it also employs highly skilled plumbers. They're your go-to for whatever plumbing service you need, be it drain cleaning or pipe repairs.
Why is it crucial to hire a company that can deliver various maintenance services, though?
For starters, this will make it easier to keep your home in tip-top condition. Keep in mind that many parts of your plumbing system also require yearly inspections. There's your hot water tank, for instance, which needs flushing at least once a year.
It's also vital to run annual tests on your tank's "temperature and pressure relief" (TPR) valve. This safety device helps to ease excess pressure that may have built up inside the container. A working TPR valve shouldn't leak, and it should release pressure pretty quickly.
If you have water treatment systems, such as filters or softeners, it's also best to get them cleaned once a year. Significant amounts of sediments may have already built up in them over the course of a year.
As you can see, there are quite a few plumbing maintenance tasks that you also need to carry out yearly. You can make things a lot easier by scheduling these together with your annual AC tune-up. In doing so, you won't have to worry about forgetting these home maintenance must-dos.
We Have Multiple Service Areas
1-800-Plumber +Air caters to many areas throughout the country. Whether you live in TX, NY, MS, OR, or CT, this company has your back.
Here's a complete list of the areas that the company happily services
If you're a resident of any of these municipalities, please feel free to get in touch with 1-800-Plumber +Air. The company's highly skilled craftsmen can help with your heater, cooler, or plumbing.
We Increase Safety Protocols
1-800-Plumber +Air has always been implementing rigorous safety protocols. However, the company has set even more measures due to the current health situation.
For starters, all servicing technicians wear additional personal protective equipment. These include not only gloves but also sanitary shoe covers. They keep these on throughout the entire scope of the job.
All HVAC techs also use antibacterial cleaning solutions. They go through hand and equipment sanitation before and after the job. For more information on how we're handling COVID-19, hear from our CEO!

1-800-Plumber +Air to the Rescue
There you have it, your ultimate guide on air conditioning maintenance, and why you should choose 1-800-Plumber +Air. Aside from affordable maintenance plans, the company also hands out discounts! Depending on the service you need, and where you live, you may be able to secure these money-saving deals.
Ready to have 1-800-Plumber +Air cater to all your heating, cooling, and plumbing needs? Then please don't hesitate to get in touch with us now! We'll be happy to answer any HVAC- and plumbing-related questions you have.
Ready to
GET IT FIXED?
Contact Us Now!
z was fantastic! Very nice and easy to talk to and he explained everything perfect! Very professional! I would recommend him to anyone !

Satisfied Customer
So nice and professional.

Sharen B.
I would like to recognize both Taylor and Emanuel for both outstanding customer service, professionalism,and craftsmanship on a recent repair at my home.

Alan J.
Tony and Carlos are awesome in what they do. They did a great job on about 20 different projects for my family and me. They did security lights patio lights front porch lights. Ran all the electrical for our new master bath remodel. Added on some new interior lights and changed out some switches. I have light where there once was darkness. Thanks guys.

Satisfied Customer
Chad was very informative and professional. He and his co-worker are a very rare breed in that they fully prepared to go to work and get the job done right then. I would definitely recommend and use again Chad an 1-800-plumber.

Kenneth C.
Exceptional service! I highly recommend them for your plumbing needs!

Angelica C.
The tech was so nice, knowledgeable and efficient.

Satisfied Customer
Joe and Kyle installed a new water heater. They were very professional and courteous. They explained my options and I was also offered a discount. I will definitely use this company again.

Linda B.
I cannot thank Nick enough for taking care of my plumbing inspection and fixing those shut off valves. He s a true professional and have a wonderful future ahead of you! God bless you and thanks again! read less

Satisfied Customer
Got a text! Dispatcher was friendly and informative. Several text keeping me up to date and giving me plenty of opportunity to cancel if need be. Z was prompt, curtious and knowledgeable. Was glad to sign up for future business with the company. Excellent experience.

Tambre L. No surprise
costs at the end of a job On-Time
Committed to on-time arrivals