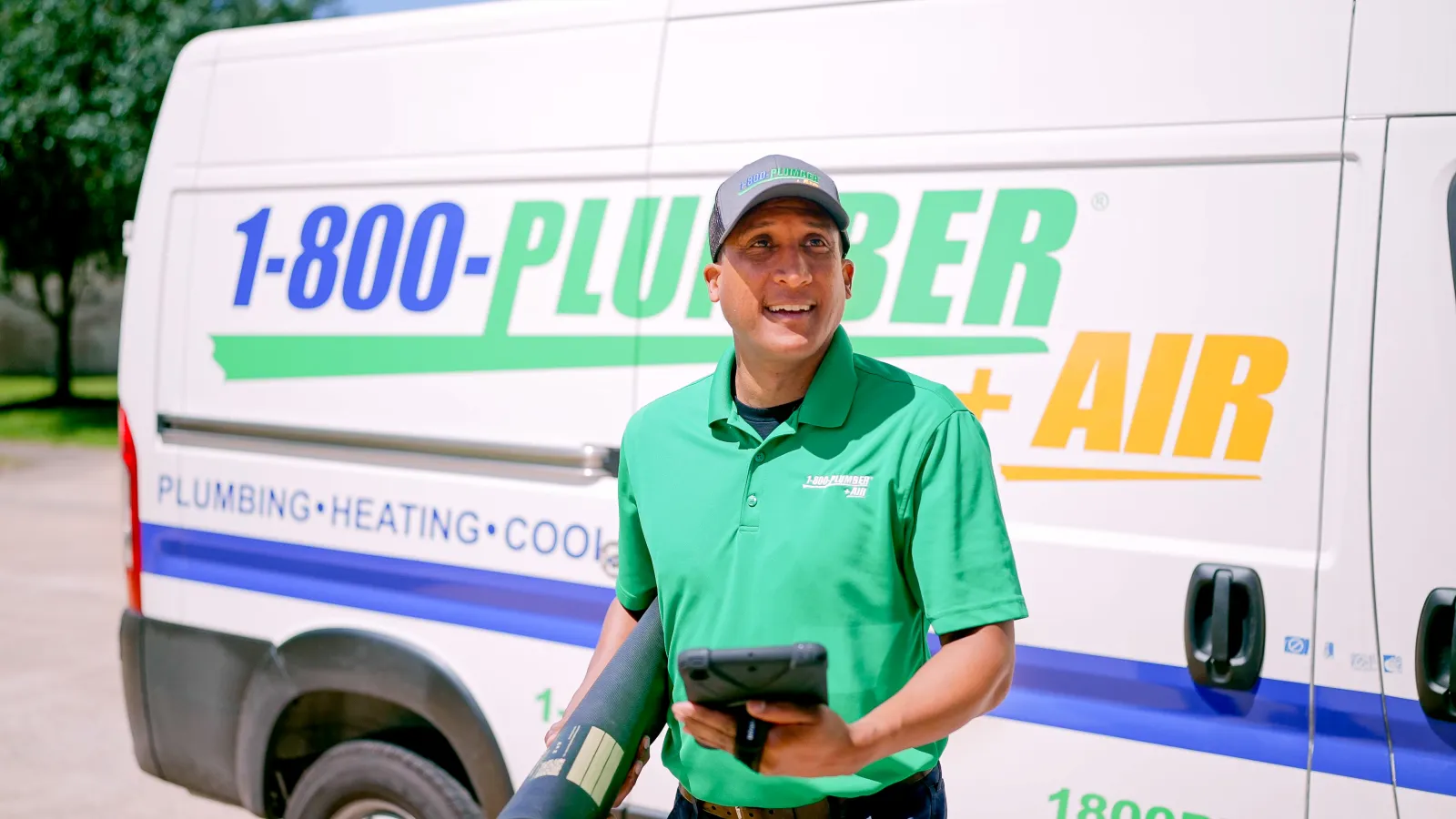 1-800-Plumber + Air
Tankless Water Heater
Having a
HOME EMERGENCY?
Call or Find Your Nearest Pro!
The zip code you entered is not associated with one of our locations. Please visit our Locations page to find your closest location.

Your Professional
SERVICES
Our Top Commercial
Services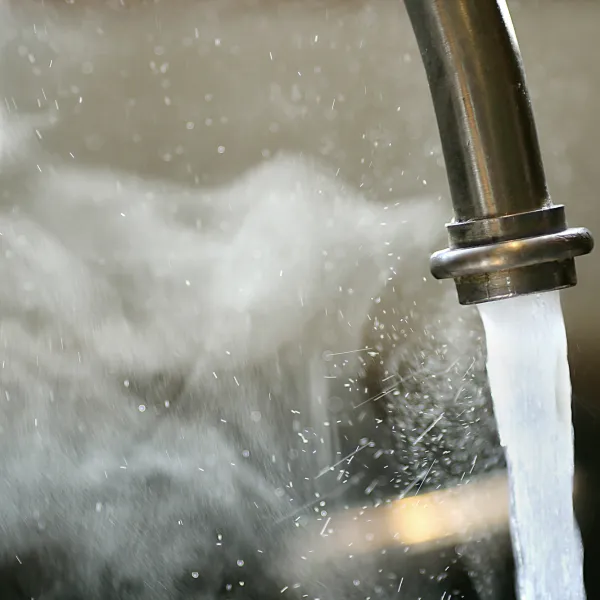 The Top 9 Benefits of
Tankless Water Heater Installation
What is a tankless water heater and how do they compare to more traditional water heaters? According to the Department of Energy, tankless water heaters can save you money on your energy bills compared to water heaters with storage tanks.
In this article, we'll compare a tankless water heater vs tank water heater and show you which one is best for you. We'll also offer you a closer look at the Rinnai tankless water heater installation process that our heating and cooling experts carry out.
Ready to find out more about tankless water heaters?

Ready to
GET IT FIXED?
Contact Us Now!
Tankless Water Heater Vs. Tank Water Heater
Many homes currently have a water heater with a tank. The water heater tank fills with water where it's heated and then delivered when hot water is needed.
In a tankless water heater system, the tank is eliminated. When you turn on the hot water in your home, the tankless system kicks in and heats the water on demand.
The tankless system has a regular water line connected to it. When you turn on your hot water, water runs into the tankless system. Tankless systems can be either gas or electric. Once the water is in the system the heating element kicks on and heats the water on demand.

How Is Tankless Different From a Traditional Water Heater?
The obvious difference is the tank or lack of tank. Traditional water heaters have tanks that hold and heat water. They run to keep the water hot and ready for use.
Most traditional water heaters have tanks of around 50 gallons. This means that your water heater is working to keep that warm even when you might not need hot water. They also use more space than the tankless version because of the size of the tank. For many people, the extra space is an issue.
The tankless system doesn't hold the water in the tank. It heats the water as needed, so it is not working to keep water hot at all times. By not having a tank, the water heater is not working when hot water is not needed.

Emanuel came out to inspect why our commode was not flushing properly. After an inspection he describer the options. Since the commode was over 40 years old we picked the option to replace the commode with a new one. He Asked several questions about what we would like and the showed us two options. We picked the one that we liked and he obtained the commode from the ware house and installed it the same afternoon.. He completed the installation and did a great clean up of the area and answered answered all of our questions. I fully recommend Emanuel and 1-800-Plumber of Pearland

Steve E.
Joesph came out right on time. Showed me what my issue was, and told me my options (very professional). This company is fair and honest! They don't try to up sale or over price their product or service.. I highly recommend 1-800-Plumer of Pearland!! Go with these guys and you won't be disappointed!

Terril Kelly
"Great service ,plumber was very good and did a great job .very happy"
Joseph G.

This was THE most painless repair experience! We had a leak in a pipe behind our water heater, spewing water out into space, ugh. Joe and his apprentice, Dan, were here in about an hour or so. They were both so very friendly from the moment they showed up at the front door! After they determined the problem, we discussed the needed repair, and then they began to replace the pipe(s) behind the water heater. This was pretty much an all-day job and I can honestly say it was no problem having them in my home. They were not only professional and courteous employees; they were two very kind individuals, who were also comfortable and friendly around my crazy dogs! I have had nothing but the finest experiences with this company and cannot recommend them highly enough! They are the best!

Barbara H.
Alex was just wonderful. He explained everything did a great job and was friendly and courteous. Very professional in every way.

Satisfied Customer
Nick was wonderful did an outstanding job, explained all options and extremely thorough. She will call back and use us again. She was very pleased and very happy that she didnt have to clean up after him.

Satisfied Customer
Positive: Professionalism , Punctuality , Quality New hot water heater installed same day as estimate. Very friendly and quick. Very thorough explaining everything. read less

Satisfied Customer
Positive: Professionalism , Punctuality , Responsiveness Up front pricing

Satisfied Customer No surprise
costs at the end of a job On-Time
Committed to on-time arrivals
9 Benefits to Consider From a Tankless System
If you are in the market to have a new water heater installed in your home, there are a number of reasons to consider selecting a
tankless water heater
.
1. Energy Efficiency
One of the best benefits of a tankless system is its energy efficiency. The tankless system only runs when you need hot water. It can save you between 27 and 50% in water heating costs.
The system doesn't work continuously to maintain the warm water sitting in the tank, therefore not using as much energy as a system with a tank would use. One study suggests that a tank system wastes 40 to 50% of the gas it uses to heat water because it's running unnecessarily.
2. Instantaneous Hot Water
Cold water runs into the system and hot water comes out. It's pretty simple. This means you get instant hot water from your tankless water heater system.
Once the small amount of cold water that is in the water line is gone, the tankless system can continuously produce hot water for you on demand.
A tank water system has enough hot water in the tank. Yet, once the tank is empty, you will need to wait until the water is reheated to have hot water again.
3. Space Saving
A tank water system has to be installed in a location in your home where you have space. The large tank is large and uses valuable space. If you have limited space, like you don't have a basement or even a spare closet, the tankless system can be revolutionary for your home.
No longer will it use up a whole closet. It can be professionally installed on a wall or in the closet but used up significantly less space.
4. Always Have Hot Water
If you have a few people getting ready in your house in the morning and you aren't the first or second in the shower, you know what happens. You are the one that gets the shower without much hot water because your tank water heater has been emptied from the showers that came before you.
It hasn't had time to catch up yet.
This doesn't happen with a tankless system. You can have a continuous flow of hot water because it makes the water hot as you need it.
5. Tax Credits
One great benefit of investing and having installed a tankless water heater is the tax credits you can claim on your taxes. Because the tankless water systems are so much more energy-efficient they qualify for federal tax credits for installing them.
The Nonbusiness Energy Property Credit allows taxpayers to claim part of the cost of the unit and its installation on their taxes to get a credit. This initiative was extended to the end of 2021 for taxpayers to take advantage of.
You or the person who prepares your taxes would use Form 5695 to claim this credit with your tax filing.
6. Gas and Electric
Many tank water heaters are fueled by gas. In other words, they use a gas source to run and heat the water. This is fine if your home has a gas line run. This may not be the case in many scenarios.
Tankless water heater systems can be run with either gas or electric. This gives you much more flexibility on what to buy. It also provides more flexibility for where you can install the unit too.
You are not tied to installing where the gas line is located only. You can opt to put the unit in an upstairs closet instead of in the basement if you choose.
7. Longer Life
Let's face it, buying a water heater is not the most exciting purchase you can make as a homeowner. In fact, you might not even opt to do it until you get that blast of cold water that tells you there's a problem.
The average lifespan of a tank water heater is between 8 to 12 years. Water will corrode the inside of the tank, eventually making it not function properly. Because a tank system runs frequently, it is also going to wear out more quickly.
A tankless water heater system can last up to 20 years. Because it doesn't have the tank that is constantly working to keep warm the system lasts much longer.
8. Longer Warranty Life
It makes sense that a tankless water heater would have a longer warranty than the tank version. Knowing the run less and only work on demand means they are less likely to break.
Because they also last longer, there are better and longer warranties available on them too.
9. Eliminates the Chance of a Flood
A tank water heater holds large amounts of water. There is always the risk that the tank will rupture causing quite a mess with water spilling out of the tank. With a tank system, you run the risk daily of this happening especially as the water heater nears the end of its lifespan.
You eliminate that risk when you select a tankless water heater system. No tank means no chance of the tank leaking or bursting and spilling water everywhere. Even without the risk of a tank rupturing, the tankless system holds only the water it's heating at any given time all but eliminating the risk of a flood or water spill.
Finding a Tankless Water Heater Service
Many people appreciate the opportunity to take on a good DIY project in their homes. They visit the home improvement store and watch a YouTube video and tackle the project.

Installing a water heater, however, is best left to the professionals. When there is both water and either gas and electric involved, you want a professional doing the installation. We can help at one of our many locations including:
Not only can a professional help you with installation, but they can also help you to find the best unit for your needs. They can help you consider your options and choose which will work best in your home.
Tankless Water Heater Installation for Your Home
If you are ready for a new water heater in your home, you really should consider a tankless water system. It offers many benefits over a traditional tank water heater.
We can help with tankless water heater installation at one of our many locations. Contact us today for an appointment to discuss your water heater needs and to get installation set up.