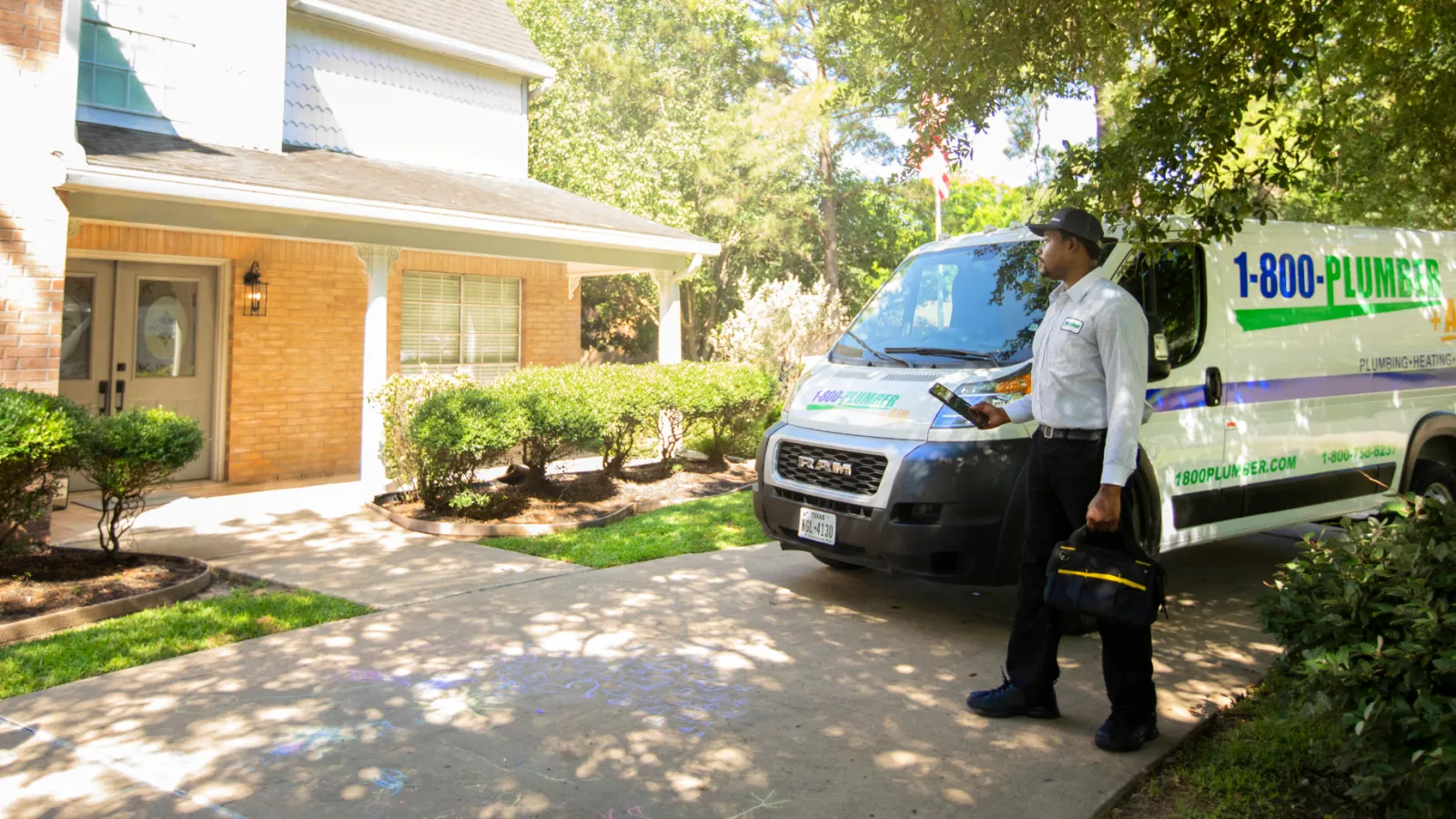 1-800-Plumber +Air
Commercial Water Heater Experts
Having a
HOME EMERGENCY?
Call or Find Your Nearest Pro!
The zip code you entered is not associated with one of our locations. Please visit our Locations page to find your closest location.

Your Professional
SERVICES
Why 1-800-Plumber +Air Provides the
Best Water Heater Service
In this article, we will discuss how to choose the right hot water heater for your business, based on the different options for electric, gas, and tankless models, and which one will be the right replacement for you and your business. A commercial water heater compared to a residential water heater, the commercial water heater will have a greater capacity for water storage, and energy input. We will go over the different factors in choosing a new or a replacement commercial water heater.
Why You Should Hire Professional Water Heater Services
How To Choose The Right Commercial Water Heater
When it comes time to replace your old or damaged commercial water heater, you will want to check the specifications label. The water heater you are replacing it with must have a matching or compatible capacity and dimensions. We at 1-800-Plumber +Air can help. Our licensed and insured technicians can answer all of your questions and make sure you are getting the correct commercial hot water heater. All commercial water heaters will clearly state gallon capacity, height, and diameter.
When you replace your electric commercial water heater, you will need to match the wattage and voltage with the new model. And when you replace your gas commercial water heater you will need to match the fuel type (gas or propane) and also the exhaust vent diameter on the new model.
Different Types of Commercial Water Heaters
Water heaters and heating take up a large amount of energy and will be some of the biggest contributors to your business electric bill. There are three basic types of water heaters, and three different types of fuel.
Tank storage water heater- A tank storage water heater takes the water and stores it in the tank. Once the water is in the tank then it starts heating the water. It is a reliable way to heat water, but if there is a high demand for hot water, the supply will eventually run out, and then take some time to heat the water all over again. Also, tank storage water heaters can waste a lot of energy, when the tank gets depleted, the tank will cool, so when it fills with water, now it has to heat the water and the tank again.

Tankless water heaters - These tankless water heaters heat water on demand and never run out of hot water. This water heater is also known as an "on-demand" water heater. These water heaters heat the water instantly whenever hot water is needed. They do not require a storage tank for the water so there isn't wasted energy when it comes to the tank. These water heaters are reliable, and users never have to worry about when they may run out of hot water.

A hybrid hot water heater - These do pretty much what they sound like, they have a small tank to store water, and they can also heat water on demand for continuous use. What makes these water heaters great, is they are the best of both worlds. When demand is high, they have the tank and the on-demand water heating to make sure there is always hot water for your business.
Energy is required to produce flames, or provide energy to the heating elements of the water heater.
Electric water heaters - Electric water heaters are the most common water heater found in homes and commercial buildings. Electricity is used to heat the heating elements to create hot water, be it an on-demand, tank water heater, or hybrid.

Gas water heater - Gas water heaters are the next most common water heater. The gas is used to create flames that heat the water. Natural gas is considered economical and an efficient fuel supply. A steady supply of natural gas can be found with a local utility company. Gas water heaters always have a nice supply of natural gas running to them, and even if the electricity goes out, the hot water heater will still work off the natural gas.

Oil-water heaters - These are not common water heaters in today's world. Oil can be used to create flames to heat the water, but once the oil runs out, you will have to fill the oil reservoir again. The other potential problem is usually oil is sold in bulk, so it may put a strain on the budget, and these water heaters are not known for being environmentally friendly.
If you need a water heater for your commercial building, Contact Us now! We offer different types of water heating models that are both efficient and effective. Aside from replacements, we also do repairs. Before we replace your water heater, we will check to see if it can be repaired, and if it cannot we will give you options based on your business needs.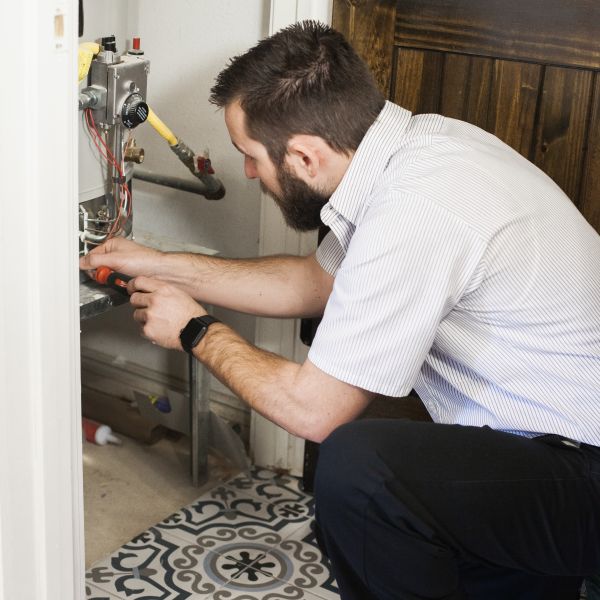 A Commercial Plumbing Service You Can Trust
Dealing with low or no hot water can put your business on hold, there is no time to lose when it comes to replacing or repairing your water heater. Get your business back up and running fast with 1-800-Plumber +Air. We understand how important it is to have hot water, and we are here to help.
If you are searching for a plumbing company you can trust, 1-800-Plumber +Air is always available. We are one of the industry leaders. No matter what the situation or the time, we can come over to help with all your commercial plumbing needs and more! Call for immediate assistance or Contact Us for a future appointment.
Apart from the services we offer, there's a lot that makes us stand out from the rest of the pack. First, we listen! We strive to give our customers exceptional service, which includes listening to their needs. Our technicians will listen and come up with a practical and lasting solution. We encourage our clients to ask questions whenever they need clarification. We also ensure we explain our proposals thoroughly and keep you informed every step of the way. So give us a call today!
Ready to
GET IT FIXED?
Contact Us Now!
"1-800-plumber +Air is an A+ company !!! Our plumber was Robert , he was very knowledgeable and friendly! He was efficient and got the job done !l fixed two toilets for us! Thank you so much!! I highly recommend"
Diana M.

Great service and knew exactly what to do. Kyle, was very nice! When I need a plumber, I'll call 1-800-plumber and ask for Kyle

David D.
The tech was so nice, knowledgeable and efficient.

Satisfied Customer
First plumber we called wanted $3500.00 to replace everything. Emanuel came out and suggested we change one part and less than $300.00 later we was up and running again. From Mark, to Taylor, and then on to Emanuel the whole experience was professional and I will be a customer for life. Hopefully not often though. Great working with you guys!.

Brian
Outstanding work and very professional!!!

Mando C.
z was fantastic! Very nice and easy to talk to and he explained everything perfect! Very professional! I would recommend him to anyone !

Satisfied Customer
Plugged drain outside of house. Came out the next day, showed us the video of the tree branches in our line, gave me a quote over the phone and I had them start work. Finished in a few hours and left with our system drain restored.

Craig C.
I cannot thank Nick enough for taking care of my plumbing inspection and fixing those shut off valves. He s a true professional and have a wonderful future ahead of you! God bless you and thanks again! read less

Satisfied Customer
Chad was very informative and professional. He and his co-worker are a very rare breed in that they fully prepared to go to work and get the job done right then. I would definitely recommend and use again Chad an 1-800-plumber.

Kenneth C. No surprise
costs at the end of a job On-Time
Committed to on-time arrivals