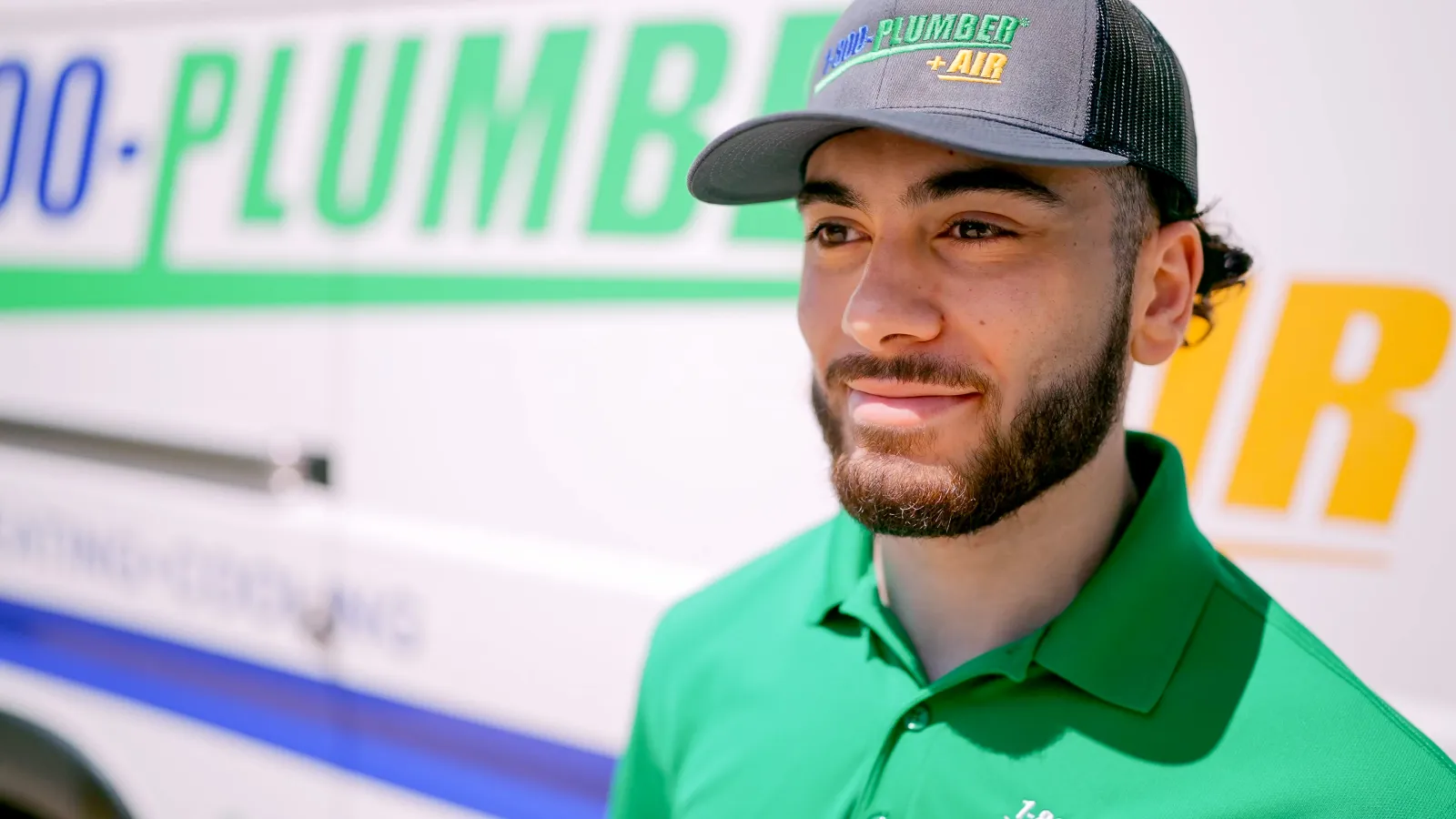 1-800-Plumber +Air
Clogged Sink Services
Having a
HOME EMERGENCY?
Call or Find Your Nearest Pro!
The zip code you entered is not associated with one of our locations. Please visit our Locations page to find your closest location.

Your Professional
SERVICES
Our Top Commercial
Services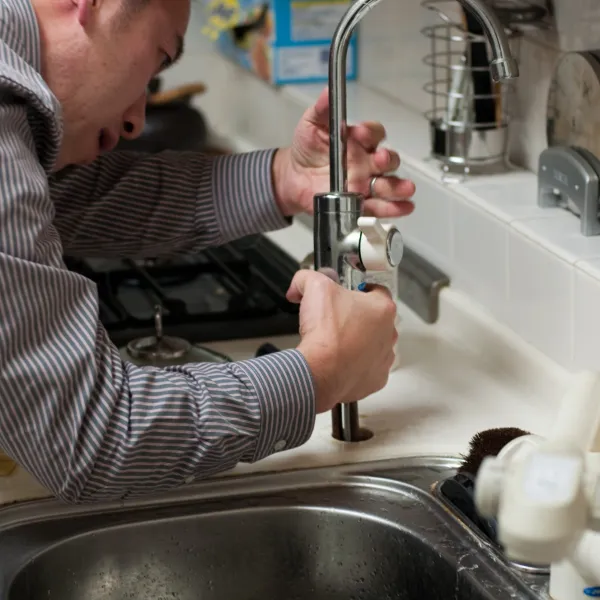 What to do About a Clogged Sink
1-800-Plumber + Air

Reasons That a Sink Gets Clogged
How to Keep Your Plumbing System Intact
Who to Call for a Clogged Sink
There are few things more inconvenient and smelly than a clogged sink. Whether it's your kitchen, bathroom, or any other sink in your home, clogs are never something you want to deal with. It's important that you know what to do when clogs occur and how to prevent them. Lucky for you, you've come to the right place! We're going to look at why clogs occur in your sink, what you can do to fix them, how to prevent them, and who to call when you're at your wits end.
Reasons That a Sink Gets Clogged

Most people don't realize that sinks are actually quite prone to clogging. Even sinks with garbage disposals installed are susceptible to clogs, though not as much as ordinary kitchen and bathroom sinks. Here are some of the top reasons that sinks get clogged.Food Particles
Food particles and debris are the main reason for clogs in kitchen sinks. Even with disposals, these types of clogs are quite common because people don't realize that not everything can go down the sink drain. Unfortunately, it's extremely easy to wash or dump unwanted food particles down the drain without giving it a second thought. Even if you're meticulous about protecting your kitchen drain, food can accidentally find its way into it.
When it comes to garbage disposals, there are certain items that they aren't capable of disposing of. Peach and cherry pits, orange peels, egg shells, coffee grinds, large pieces of hard food, and many other foods are off limits to garbage disposals.
Grease Deposits
A very common mistake that people make is thinking that they can dispose of their grease and fat down their drains. Unfortunately, while grease and fat appear to be liquids at first, they tend to harden over time. The result is often that they end up clogging your sink or jam up your garbage disposal.
Hair Balls
Hair balls are the number one cause of clogs in bathroom sinks and tub sinks. No matter how careful or meticulous you are, hair going down the sink is often inevitable. Hair tends to accumulate over time and turn into a ball that's big enough to clog your sink. Because these clogs form slowly over time, you'll first notice your water draining a bit slower than usual. As the clog worsens, draining will get slower until finally it doesn't drain at all.
How to Unclog a Sink
There are several ways that you can try to unclog your sink. Depending on where the clog is and what's causing it, you may have to try a few different methods.
Plunge the Sink
In cases of small objects such as toys and foods clogging a kitchen or bathroom sink, it's possible to remove the clog with a plunger. The concept is the same as plunging a toilet. The plunger will suction the blocking item to the top of the sink allowing you to easy remove it.
Use Boiling Water
Many times, boiling water is the easiest way to unclog a sink depending on what's causing the jam. Keep in mind that this won't work if there's standing water in the sink so you'll have to remove that first. However, the concept is quite simple. Bring about half a gallon of water to a boil and pour it directly into the sink that's clogged. Depending on what the issue is, boiling water will clear it right up.
Try a Baking Soda Mixture
Baking soda is one of the most underrated and useful ingredients in your kitchen. It can be used for a ton of different things including unclogging your kitchen or bathroom sink. All you need to do is pour one cup of baking soda into your drain followed by one cup of vinegar. Clog the sink so air can't get in or out and wait for 15 minutes. After 15 minutes, open the sink and run hot water down the drain.
Snake the Drain
Using a snake on your drain is often a last resort because it's slightly more difficult and invasive than other measures. However, snakes are extremely effective at removing hair balls, clumps of food, and small objects that are blocking your drain.
If none of the above methods work to unclog your drain, you would do well to pursue professional assistance. Contact us at 1-800-Plumber + Air if your sink is clogged and you've run out of ideas.
How to Keep Your Plumbing System Intact
In order to keep clogs from happening, it's important that you take preventative measures. Given enough time and use, clogs are inevitable unless you maintain and protect hem regularly.
Use a Strainer
Strainers are a great way to keep food and other particles from accidentally falling down your sink.
Avoid Putting Certain Things Down Your Sink
Strainers are effective at keeping solids from getting down your sink, but they won't stop grease and other liquids that turn to solids over time. By simply taking extra time to keep unwanted things out of your sink, you can avoid a costly clog.
Use Natural Cleaners
Natural cleaners are less harsh and contain fewer clogging chemicals than alternative cleaners. You should also make sure to always rinse your sink with steaming hot water any time you use it.
Seek Professional Assistance
The number one way to keep your sink from clogging is to contact us at 1-800-Plumber + Air and schedule a service visit. We will inspect your plumbing system and sink drains and make sure that they're not on the verge of clogging. We have years of maintenance and plumbing experience and will make sure that your drains are in tip-top shape.
Who to Call for a Clogged Sink
If it's too late and a clog is already upon you, you should still contact 1-800-Plumber + Air. We offer 24/7 emergency service and have the tools and experience necessary to fix any drain clog. We will even offer complementary tips and tricks for you so that you never have to endure a clogged drain again. Call us today if your sink is clogged or if you've noticed that water is draining slower than usual.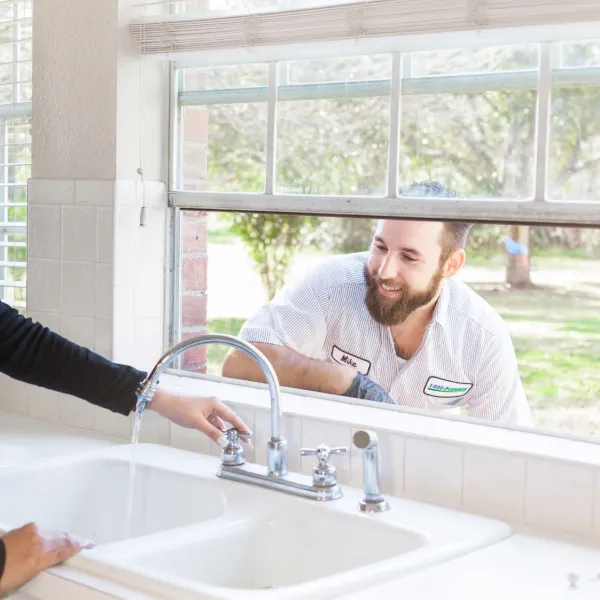 Need Kitchen Plumbing Repairs? Call 1-800-PLUMBER
Without functional kitchen plumbing, you won't be able to use your kitchen. Plumbing is the reason the water runs, the sink drains, and the gas stove works.
If you're having issues with your plumbing or kitchen drainage, contact us today for plumbing repairs.

Ready to
GET IT FIXED?
Contact Us Now!
Positive: Professionalism , Punctuality , Quality New hot water heater installed same day as estimate. Very friendly and quick. Very thorough explaining everything. read less

Satisfied Customer
Swayze did a wonderful job.

Satisfied Customer
Mark was great! He took the time to not only give a price, but explain everything a new system could do and how it would benefit them not just in heating and cooling, but dust reduction, utility bills, etc. Very Very pleased. read less

Satisfied Customer
Emanuel Reyes replaced my kitchen faucet and sink basket strainer today, 3/2/20. I appreciate the quality of his work. Emanual did a fantastic job. If I need a plumber in the future, I'll call 1-800-Plumber and ask for Emanuel Reyes.

Jean Broussard M.
The tech was so nice, knowledgeable and efficient.

Satisfied Customer
Kyle Urban is great! He does beautiful work and is a great guy! We will request him personally from now on.

Kelly W.
Kyle, was great! 800-PLUMBER called to say when he would arrive, and he was right on time. He even completed another job that wasn't planned on my end while he was there. I would recommend 800-Plumber to any of my family or friends. Laura Clear Lake

Laura E.
Chad was very informative and professional. He and his co-worker are a very rare breed in that they fully prepared to go to work and get the job done right then. I would definitely recommend and use again Chad an 1-800-plumber.

Kenneth C.
z was fantastic! Very nice and easy to talk to and he explained everything perfect! Very professional! I would recommend him to anyone !

Satisfied Customer No surprise
costs at the end of a job On-Time
Committed to on-time arrivals