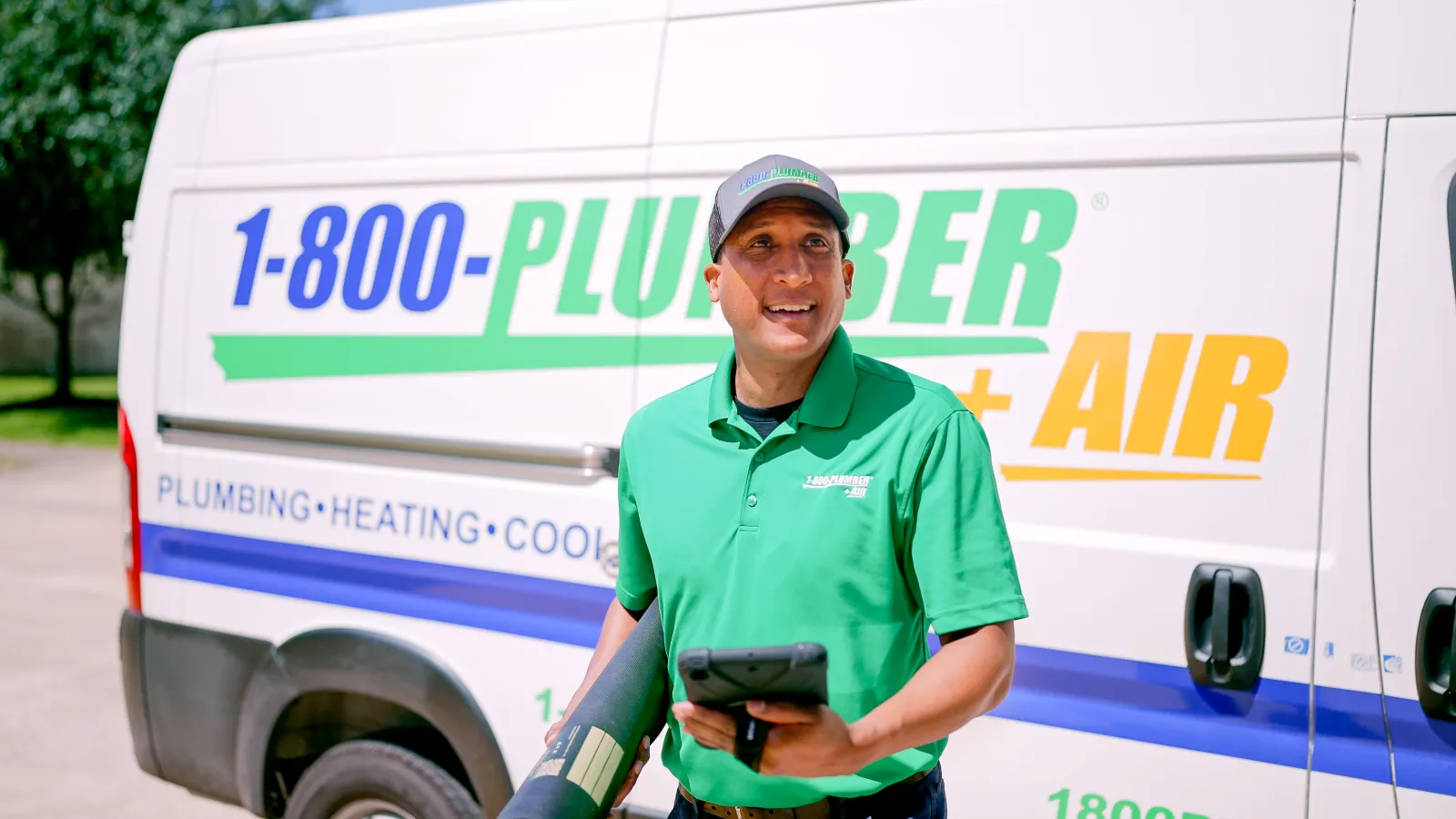 1-800-Plumber +Air
Sump Pump Services
Having a
HOME EMERGENCY?
Call or Find Your Nearest Pro!
The zip code you entered is not associated with one of our locations. Please visit our Locations page to find your closest location.

Your Professional
SERVICES
Our Top Commercial
Services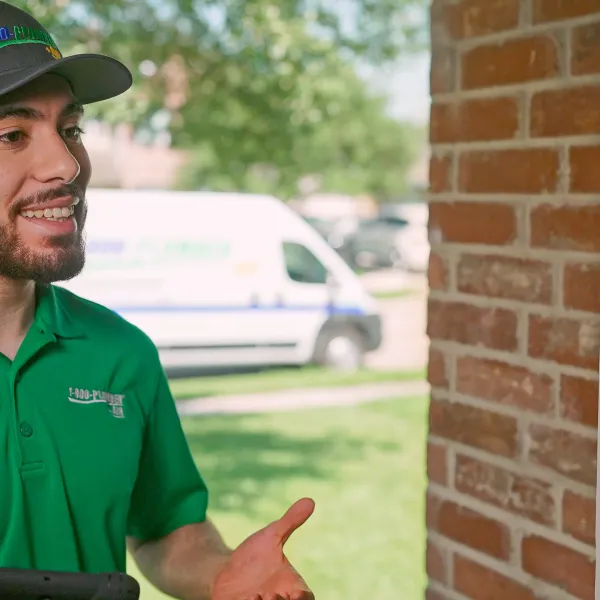 Sewer Line Replacement
1-800-Plumber + Air

What's the Purpose of Having a Backup Sump Pump?
Benefits of a Backup Sump Pump
Who Can Install and Maintain My Sump Pumps?
Sump pumps are one of those household appliances that you don't think about until it isn't working. Sump pumps are an absolute necessity and most people don't even realize they have one. While one sump pump is the golden standard, it's becoming more and more common for houses to utilize multiple sump pumps.
If you're wanting a backup sump pump or are only now realizing that it's an option, you've come to the right place. Sump pump maintenance, replacement, and installation are one of our specialties and you should contact us if you're in need of any of the above.
What Exactly are Sump Pumps?
Before you can decide whether or not you need a backup sump pump, you need to fully realize how important they are. Sump pumps are typically located in the basement of homes or on the lowest level of your place of residence. They're buried under the ground with their tops at ground level and are designed to keep your basement from flooding.
Moisture is inevitable in most locations around the country, especially in Texas. Even if you can't see it forming, moisture can trickle into your basement from appliances such as your furnace, washing machine, or air conditioner. Water is also especially common in basements with crawl spaces or foundation issues where moisture leaks in from the outside.
Water can accumulate extremely fast, especially during periods of heavy rain, and the only thing that will keep your basement from flooding is a sump pump. Water naturally drains into the reservoir of your sump pump. The sump pump is equipped with a motor and piping that carries the accumulated water from the reservoir to the outside of your home.
However, if there's a thunderstorm and your power goes out, your sump pump won't be able to do its job, which is where a backup sump pump comes in. Backup sump pumps are typically battery-operated to ensure operation during power outages. They can mean the difference between extensive water damage or a problem-free basement.
What's the Purpose of Having a Backup Sump Pump?
Having a backup sump pump is like taking out an extra insurance policy on your home. You hope that you never actually need it, but you're extremely thankful when you do. So, technically speaking, no one "needs" a backup sump pump, but it's recommended that everyone has a backup sump pump.
Power Outage
One of the most common reasons for flooded basements and water damage is power outages. Many power outages occur during thunderstorms, which means lots of rain. Power outages also mean that your electric sump pump won't work. Extensive rain and an inoperable sump pump is a recipe for disaster and can easily result in a flooded basement. No power to your sump pump can also be the result of a blown fuse or a tripped circuit breaker.
Clogged Exit Pipe
Water travels from your sump pump reservoir to the outside of your home via a 2 inch PVC exit pipe. If this pipe gets clogged for some reason, your sump pump will back up and won't be able to move water outside your home. This is another situation where having a backup sump pump can mean the difference between a flooded basement and a dry one.
Busted Float Switch
Your sump pump is equipped with a float switch that alerts your sump pump when it's time to activate. The float switch sits on top of the water and when it reaches a certain level inside the reservoir, it activates the pump, similar to a flushing toilet. If the float switch is busted or stuck at the bottom of the pump, it won't be able to float to the top and activate the pump motor. The result will be that your pump continues to take on the water until it overflows into your basement and floods.
Burned Out Pump
Like all electrical appliances, your sump pump motor consists of wiring, parts, and pieces that are prone to wear and tear. If your motor gives out, your pump is essentially a barrel in your basement that's taking on water. It's important to have your sump pump motor checked, tested, and serviced annually to make sure that it's working.
Benefits of a Backup Sump Pump
While preventing flooding in your basement is the main reason for a backup sump pump, there are additional benefits.
While it might cost you upfront to purchase and install the sump pump, it will pay off big time if your primary pump ever malfunctions. The amount of money that you'll spend on repairs will greatly surpass whatever you paid for your pump.
Protection against mold and mildew
Water damage is often what ushers in mold and mildew into your home. A backup sump pump that's battery-operated will prevent flooding, which will, in turn, prevent mold and mildew.
Your backup sump pump will have its own exit pipe which means that if your primary pump's exit pipe gets clogged, your backup will be there to save the day. Contact us to learn more about purchasing and installing a backup sump pump.
When you choose a backup sump pump from 1-800-Plumber + Air, installation is easy, fast, and non-invasive. The backup pump attaches to your current sump pit and kicks in only when the main one doesn't activate.
Who Can Install and Maintain My Sump Pumps?
If you're not convinced that you need a backup sump pump yet, I'm not sure what else will. Backup battery-operated sump pumps are a lifesaver if your primary pump ever gives out in the middle of a Texas rainstorm. If you're ready to take the next step in responsible homeownership, you should consider purchasing a backup sump pump.

Contact us at 1-800-Plumber + Air for top-notch sump pump maintenance, repairs, and installation. We offer 24/7 service and assistance for all of your sump pump needs.

Ready to
GET IT FIXED?
Contact Us now!
Emanuel Reyes did a very thorough job and was very courteous.

Charles M.
Chad was very informative and professional. He and his co-worker are a very rare breed in that they fully prepared to go to work and get the job done right then. I would definitely recommend and use again Chad an 1-800-plumber.

Kenneth C.
Kyle did an excellent job. He was very thorough and explained everything from start to finish. I would strongly recommend Kyle for any plumbing you might have.

Kyle
This was THE most painless repair experience! We had a leak in a pipe behind our water heater, spewing water out into space, ugh. Joe and his apprentice, Dan, were here in about an hour or so. They were both so very friendly from the moment they showed up at the front door! After they determined the problem, we discussed the needed repair, and then they began to replace the pipe(s) behind the water heater. This was pretty much an all-day job and I can honestly say it was no problem having them in my home. They were not only professional and courteous employees; they were two very kind individuals, who were also comfortable and friendly around my crazy dogs! I have had nothing but the finest experiences with this company and cannot recommend them highly enough! They are the best!

Barbara H.
So nice and professional.

Sharen B.
Justin and Richard from electric cane. Did a superb job! Highly recommend always!

Satisfied Customer
Nick was very nice, professional, and explained what he was going to do first and if we had to do something else we talked first. Nick knew his job. Great work. Appreciate you!

Evonne H.
Outstanding work and very professional!!!

Mando C.
Detailed orientated and honest inspection. Chad took his time and explained everything that was going on very well. The service fee was fair for the small issues he fixed, and he was able to make a referral for water restoration for us, I would use his service again and plan to when our water heater goes out.

Katie D. No surprise
costs at the end of a job On-Time
Committed to on-time arrivals