Your Professional
SERVICES
Our Top Emergency
Services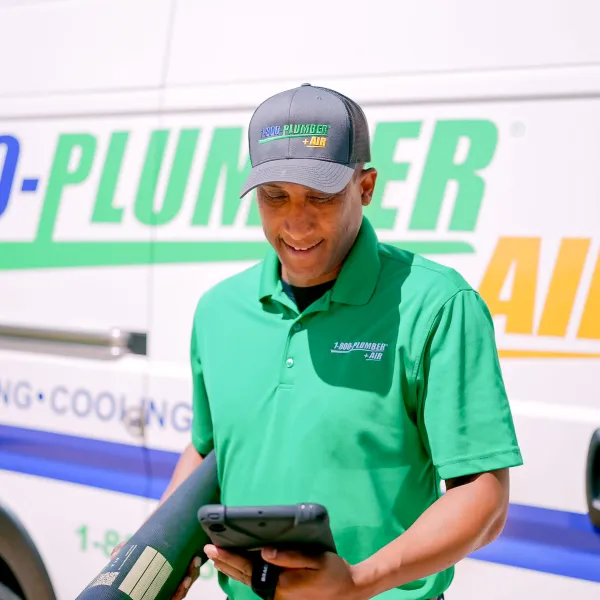 Sump Pump Repairs and Installation
1-800-Plumber + Air of Plymouth

Can I Fix or Install a Sump Pump Myself?
Who to Call for the Best Sump Pump Installation and Repair
Whether you're a new homeowner or you've been living in the same house for years, tons of essential components keep your home operational. These components range from plumbing to electrical to HVAC and everything in between. Your sump pump is one of the most important and often overlooked pieces of equipment in your home.
Because many people don't realize what a sump pump is or how it works, they don't put as much value into them as they should. However, to make sure you don't make this mistake, this article will focus on what a sump pump is and its importance to your home. If you know that it's time for a sump pump inspection, contact us at 1-800-Plumber + Air of Plymouth.
What is a Sump Pump?

Before you understand why your sump pump is so important, you must first understand its role in your home. In short, your sump pump's job is to keep your basement dry, safe, and free of water damage. They're located in your basement or at the lowest level of your home and mostly underground. Two basic components make up your sump pump system.
The Sump Pit
The sump pit is a barrel-like pit located underground and serves as a water-collecting reservoir. The top of the pit is either flush with the lowest level of the basement floor or slightly lower than it. If any of your basement water features or plumbing features overflow, your basement is designed in a way that directs the water flow toward the sump pit.
The Sump Pump
The sump pump is the mechanical portion of your sump system. Your pit is only so big and can hold a limited amount of water, which means that it needs to get redirected somewhere when it fills up. The job of your sump pump is to pump the water out of your pit through a series of pipes to the outside of your home.
Your pit is equipped with a floating device that sits on top of the water in the pit. When the float reaches a certain point in the pit, it automatically activates the sump pump, removing the water. This system is relatively foolproof and straightforward but is still prone to a few problems.
Common Sump Pump Problems
Clogged Exit Pipes
One of the most common problems with a sump pump system is that the exit lines get clogged. Depending on how old your sump pump is, there's a good chance that it was installed without a lid or that the lid has gotten misplaced. Either way, this leaves your sump pit exposed to debris, trash, and other nasties in your basement. If enough of these things find their way into your pit, they can clog the exit pipe that takes water from the pit to the outside of your home.
Power Loss or Outage
Your sump pump is an electrical device, which means that it won't work if the power goes out. Power loss can result from faulty electrical wiring, a tripped breaker, or weather issues causing a loss in power to your entire house.
If you're going to be without power for any time, it's important to find an alternative energy source for your sump pump. Contact us if you're interested in installing a backup, battery-operated sump pump for situations such as these.
Frozen Discharge Line
If you live in colder climates, you risk having a frozen discharge or exit line. The pipes inside your home and the pit itself should never freeze. However, the point of issue is where the pipe exits your home. Your pump must be strong enough to get water all the way out of your pipe so that it can't freeze.
Overworked Pump
If your pump is old or was installed incorrectly, there's a chance that it isn't strong enough to handle all the water in your pit. If this happens, your pump will overwork itself trying to get rid of all the water in the pit and won't be able to. It's vital that your pit and pump are of a correlating size and professionally installed by pros who know what they're doing.
Faulty Float Switch
The float switch is the trigger that signals your pump when it's time to turn on and remove water from the pit. If your float switch gets stuck at the bottom of the pit or if the connection between the switch and the pump is severed, you're in for a flood of trouble. Water will rise uninhibited inside your pit and overflow out the top of your float switch doesn't trigger the pump into action.
Can I Fix or Install a Sump Pump Myself?
Sump pump installation and repairs are difficult and should be left to those with plumbing experience. Outside of a clogged pipe or frozen water in your discharge line, there isn't much that you can do without the proper tools and experience.
Risks of an Inoperable Sump Pump
If your sump pump isn't working correctly or at all, the biggest thing you're risking is a flooded basement. Nobody expects their basement to flood, but when it does, it's essential that your sump pump is working as it should. Without it, there won't be anything to take water from your basement to the outside of your home.
Additionally, excess water in a basement is an excellent source of mold and mildew. This problem can then spread to the rest of your home, cause major health and structural issues, and be extremely costly to repair.
Who to Call for the Best Sump Pump Installation and Repair
If you want to install a second sump pump, replace your current one, or need services or repairs, call the pros at 1-800-Plumber + Air of Plymouth. With many years of plumbing experience, there isn't a whole lot that we haven't seen, fixed, or installed.
We also offer 24-hour service if your basement is in the process of flooding and your sump pump is out of commission. No matter what your needs are, 1-800-Plumber is here to help!
Ready to
GET IT FIXED?
Contact Us Now!
z was fantastic! Very nice and easy to talk to and he explained everything perfect! Very professional! I would recommend him to anyone !

Satisfied Customer
Had a problem with my drain. Representative came out and knew exactly what was wrong. They fixed it the problem fast and customer service was great! Will definitely use them again!

Adrian B.
Chad was very informative and professional. He and his co-worker are a very rare breed in that they fully prepared to go to work and get the job done right then. I would definitely recommend and use again Chad an 1-800-plumber.

Kenneth C.
Exceptional service! I highly recommend them for your plumbing needs!

Angelica C.
Justin and Richard from electric cane. Did a superb job! Highly recommend always!

Satisfied Customer
They replaced our heater and did an excellent job.

Satisfied Customer
We had to have someone come out today due to a sink and toilet leak. Swayze McLauglin was our plumber and he did a great job explaining the problem and how we could get it fixed. He was great at explaining price as well as what he was doing. Swayze was friendly and professional while he was here as well as working in these trying times with COVID-19 he followed all procedures and was great. We will be using yall the next time we need someone. Thank you so much Swayze for all your help!

Satisfied Customer
As a consumer and customer I am very happy with 1-800-Plumber Air of Pearland. I really appreciate the concern Joe and his helper showed for my issue and for the work they performed. I highly recommend 1-800-Plumber Air of Pearland

Lee
On time, fast working, and did a great job

Michael R.
This is a very professional and helpful team! Would definitely recommend to all my friends and family in the Houston area!

Tyler S. No surprise
costs at the end of a job On-Time
Committed to on-time arrivals