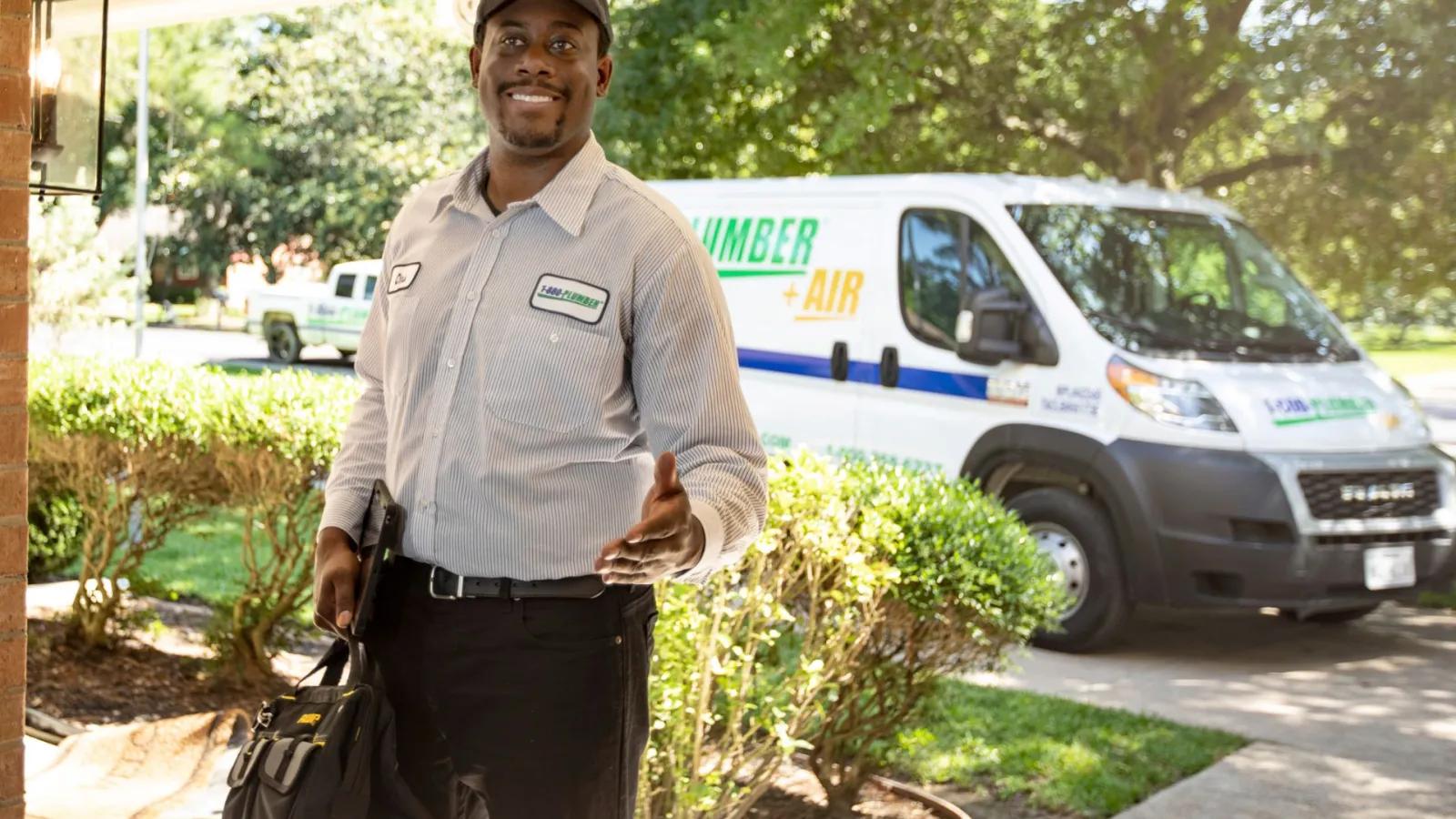 The Name You Trust for your
RE-PIPING
Having a
HOME EMERGENCY?
Call or Find Your Nearest Pro!
The zip code you entered is not associated with one of our locations. Please visit our Locations page to find your closest location.

Your Professional
SERVICES
Our Top Emergency
Services
Can You Give Your House Repipes?
1-800-Plumber +Air of Princeton
If you have an older house, your pipes may run into some severe problems, such as leaks, clogs, and bursting. Even the sturdiest of piping material has a time limit. If repairs are no longer cutting it, you might consider a full-on repiping. Thinking about installing the repipes yourself? Let 1-800-Plumber +Air of Princeton tell you everything you need to know about this process.
When Should You Get Repipes?
Repipes are expensive and can take as long as a week to accomplish. So, one non-recurring issue with your pipes shouldn't require total replacement. However, these scenarios might:
Your Pipes Are Too Old
As we said earlier, all pipes eventually give out. For instance, copper pipes can last up to 80 years, and brass ones can last for a century. If your home is newly built, you probably won't need repipes anytime soon. However, if yours has been around for some decades, you might need to put "repipes" at the top of your to-do list.
Before purchasing a new home, ask about the age of the pipes. If they're close to their limit, discuss repiping options with the current owner. The aged pipes might still be in reasonably good condition, but it's still best to be ahead of things.
Your Pipes Are Made of the Wrong Material
Copper and brass are great for pipes: strong, sturdy, and safe. That's not the case with two other common piping materials: lead and polybutylene. Although people are thankfully becoming more aware of the dangers of these pipes, we still wanted to emphasize why you should avoid them.
Lead pipes are extremely dangerous, due to the risk of lead poisoning. While they were banned from new building installations through the 1986 Safe Drinking Water Act, many existing lead pipe systems remain in place. Polybutylene pipes were popular for a time until the 90s, but are notorious for bursting quite easily. Don't tempt fate and continue using these inferior and dangerous pipes. Call 1-800-Plumber +Air of Princeton for professional repipes you can trust.
Your Pipes Are Constantly Having Issues
Constant repairs call for replacements. If you're spending hundreds of dollars at a time on pipe repairs, you should rethink your plan. Instead, focus your attention and budget on repipes.
Think about how you've been treating your pipes as well. Follow simple protocols like not flushing the wrong things down the toilet and running your water at a steady trickle during cold weather. Be aware of your pipes' positioning in relation to trees or other plants outside. It's not uncommon for a pipe to get clogged by a tree root growing inside of it.
Relining Isn't Possible
Relining is a process where pipes are repaired through applying a resin-covered tube. Unfortunately, it's not a foolproof method. Before you call for repipes, check first to see if you can try relining. If your pipes are too badly damaged or have morphed to form a "belly," it's probably too late for relining and you should go for repipes. Schedule an inspection with 1-800-Plumber +Air of Princeton if you're interested in potentially relining your pipes.
Can You Do Repipes Yourself?
If you pride yourself as a DIY expert, repipes could seem like the next great challenge. However, you shouldn't try it unless you have an actual plumbing license and experience. These are the reasons why repiping is best left to the experts.
Dangers
Repiping a home is an extremely dangerous task. That's why you need to hire a plumber who understands all of the necessary safety protocols. Professional plumbers know where to cut through drywall and how to safely remove old pipes and install new one. This isn't something you can learn on the go, and one wrong move could spell disaster.
It's possible you'll need to use a soldering torch to install these pipes, leading to even more potential danger. No matter how careful you, you can't match up with the safety and service of a professional plumbing company. Call 1-800-Plumber +Air of Princeton for safe repiping.
Difficulty
We understand the satisfaction that comes from accomplishing something difficult, but repiping without professional plumbing experience goes beyond difficult. It's just not a good idea, due to the level of expertise required and frustration you'll undoubtedly experience.
The more difficult repipes are for you, the longer it'll take to complete the task. 1-800-Plumber +Air of Princeton can ensure repiping done in a professional and timely fashion. We also don't charge extra for weekend, holiday, or evening work and are available for 24-hour emergency plumbing assistance.
Cost
Another appeal of DIY is that you can save money on professional services. But that's not a guarantee, especially not if you don't know what you're doing. We don't mean to sound harsh, but it's very likely that attempting your own repipes will result in you having to call a professional plumbing company and other experts to fix additional problems, such as drywall repair technicians.
You'll never be able to install repipes for free, but you can receive great installation without breaking the bank. 1-800-Plumber +Air of Princeton always charges by the project, so you know you're getting a fair, consistent rate no matter how long the job takes to complete.

Ready to
GET IT FIXED?
Contact Us Now!
What to Expect During Repiping
Having repipes installed can be a huge victory for you and your household, but it can also be a bit inconveniencing. These are the scenarios you need to prepare for if you're planning on repiping your home:
Protection
Repiping involves cutting into drywall, which can be extremely messy and ruin your furniture. A quality plumbing company will make sure that everything is properly covered with plastic or another protective material. Once the job is complete, the covers can be removed and your belongings can stay beautiful.
At 1-800-Plumber +Air of Princeton, we always want to protect our customers and their home. Before we start work, we'll make sure all necessary areas are covered and ask you if any additional coverage is required. We'll also ask you if any additional coverage is needed.
Water Shut-off
When pipes are being installed, your water will need to be turned off. Keep this in mind and schedule your repipes for a time when you'll be out of the house. If you work from home or can't otherwise leave, consider a back-up plan, such as drinking bottled water.
1-800-Plumber +Air of Princeton's has wide scheduling availability, including 24-hour plumbing emergency services. Let us know what works best for you, and we'll do our best to work within your schedule. We don't want to inconvenience you in any way.
Project Length
There's no set guarantee for how long a repiping will take. However, it shouldn't take longer than a week. It's possible to have the repiping completed in several days, depending on the amount of work involved.
1-800-Plumber +Air of Princeton's expert plumbers work smart and quickly. We aim to complete repipes as quickly as possible, without sacrificing quality. Give us a call if you're looking for great repipes for your home.
Why Call Us
If you need a repipes in the Princeton area, you need to call 1-800-Plumber +Air. These are some reasons why we're the best repiping company in the region:
Expertise
With 1-800-Plumber +Air of Princeton, there's no need to worry about work quality. Whether it's something as simple as unclogging a drain or as complicated as performing a total repiping, we'll always give you 100 percent. Our plumbers are all fully licensed, insured, and bonded, so you can be sure you're getting the best. Plus, we have a guarantee for all of our work, and we always stand by it. We believe integrity is the most important quality for any company to have.
Availability
1-800-Plumber +Air of Princeton is available 24/7. We understand that a sudden burst pipe can strike at any time. You might not call for a full-on repiping in the middle of the night, but there could be another emergency that requires our attention. We love the thrill of attending to different challenges, and the satisfaction that comes from knowing we've made a difference for our customers.
Customer Service
Customer service means many things. It means how you speak to your customers, how honest you are with them, and how fairly you charge them. 1-800-Plumber +Air of Princeton's customer service is among its best qualities. We are always seeking to do right by our customers and attend to all of their needs. If you have any requests or concerns while your repipes are being installed, please tell us right away.

Need Repipes in Princeton? Call Us!
Old pipes are old news. Get yourself some quality repipes from 1-800-Plumber +Air of Princeton. Our expert and licensed plumbers can bring new life to your pipes and home. Contact us today if you have any further questions or would like to schedule an inspection.

Fine young man and as far as I am concerned he can be his permanent tech. He was very polite and he was very pleased with him and will be calling us again to work with Manolo. Manolo needs a pat on the back and he did a good job.

Satisfied Customer
Plugged drain outside of house. Came out the next day, showed us the video of the tree branches in our line, gave me a quote over the phone and I had them start work. Finished in a few hours and left with our system drain restored.

Craig C.
Very nice and knowledgeable people from office staff to the plumbers. Would definitely recommend using this plumbing company.
Linda G.
Although plumbing is an extremely expensive repair, these guys always get it right and make it as painless as possible.

Satisfied Customer
EMANUEL REYES IS GREAT!!!!!!!!!!!!!!!!!!!!!!!!!!

Kathleen E.
Had a problem with my drain. Representative came out and knew exactly what was wrong. They fixed it the problem fast and customer service was great! Will definitely use them again!

Adrian B.
Great job! Very professional and friendly! Thank you for coming out on short notice!

A.S.
Justin and Richard from electric cane. Did a superb job! Highly recommend always!

Satisfied Customer
So nice and professional.

Sharen B. No surprise
costs at the end of a job On-Time
Committed to on-time arrivals