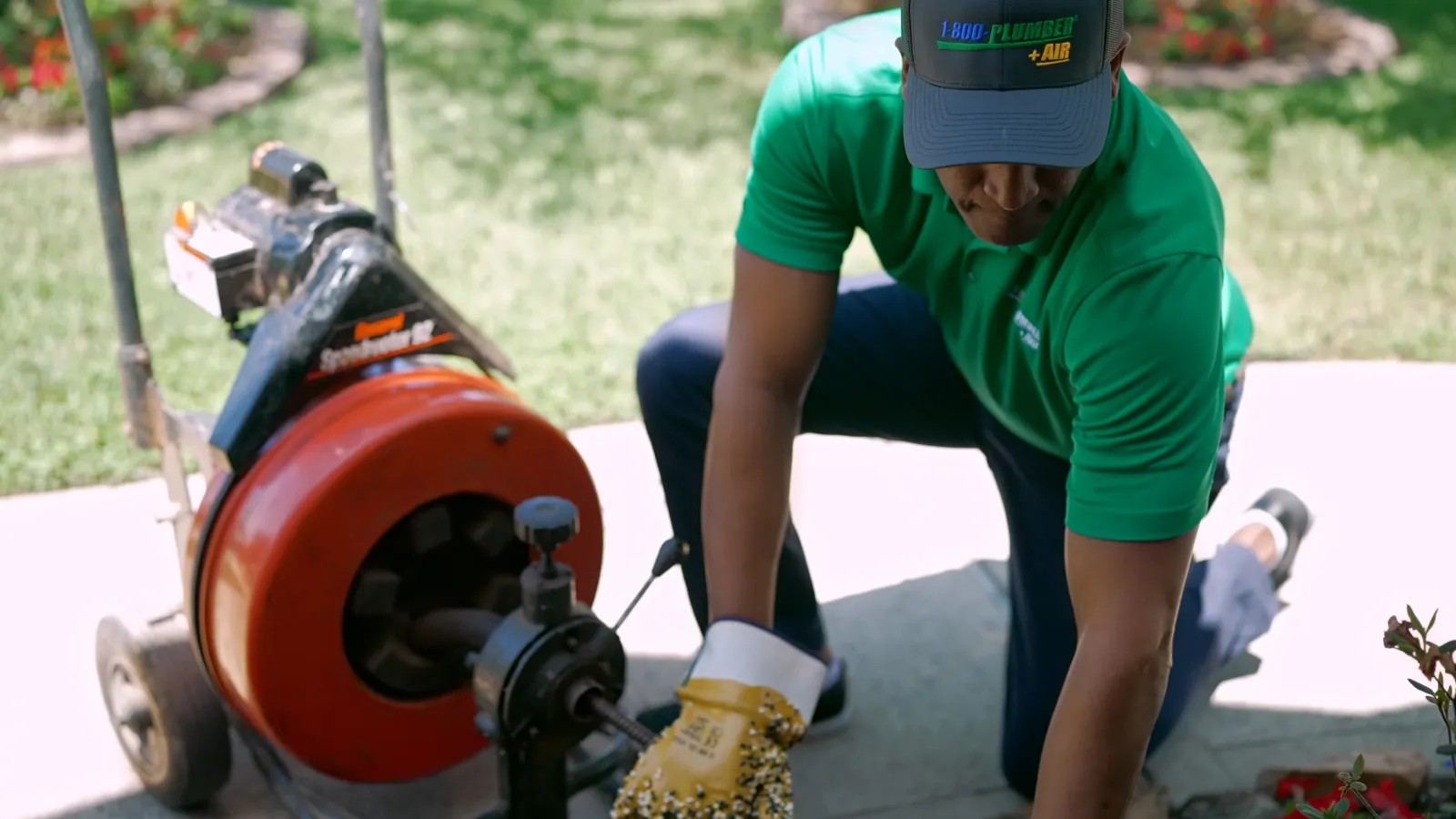 The Name You Trust for your
DRAIN CLEANING SERVICES
Having a
HOME EMERGENCY?
Call or Find Your Nearest Pro!
The zip code you entered is not associated with one of our locations. Please visit our Locations page to find your closest location.

Your Professional
SERVICES
Our Top Emergency
Services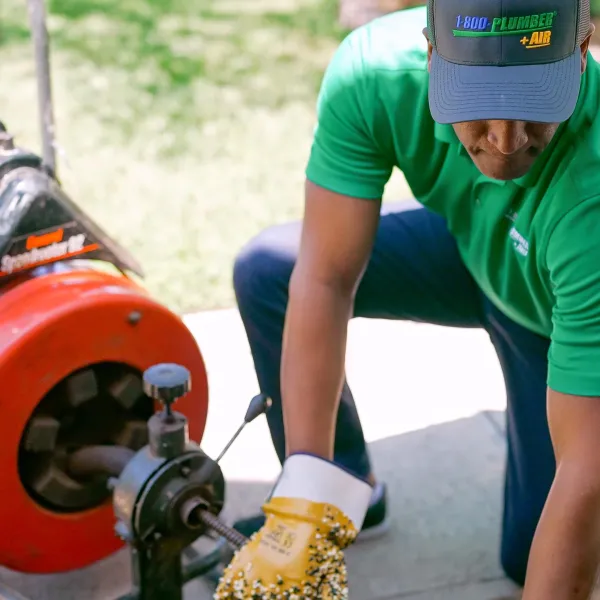 Drain Cleaning Maintenance
1-800-Plumber + Air of Princeton
The Benefits of Professional Drain Cleaning Maintenance
When you hire a professional plumber from 1-800-Plumber +Air of Princeton for drain cleaning services, you get more than just the satisfaction of knowing that your drains are clean. With their advanced equipment and expertise, they can inspect your pipes and identify any issues before they become problems. If they find anything wrong with your drainage system, they can take steps to repair it right away instead of waiting until something more serious arises. This can save you money on costly repairs in the long run.
Professional plumbers are also able to detect any corrosion or other damage caused by hard water build-up inside your pipes over time. Hard water often contains minerals like calcium and magnesium that can accumulate in drains and cause clogs if left untreated for too long. By hiring a professional plumber to clean out your drains regularly, you can keep them free from blockage and make sure that there are no hidden damages lurking within the walls of your pipe system.
Another benefit of professional drain cleaning is that it helps prevent bacteria buildup in your drains over time. Bacteria often form when food particles accumulate in the pipes due to improper disposal methods or simply because not enough hot water is used during dishwashing or laundry cycles. A professional plumber can use special detergents and disinfectants to flush out these bacteria colonies and ensure that no odors or health risks arise due to their presence in your pipes.
What are the most common causes of clogged drains?
The most common causes of clogged drains are build-up of grease and food particles, foreign objects like hair or toys, tree roots, and corrosion due to hard water. Grease and food particles accumulate in pipes when they are not disposed of properly; these build up over time until the pipes become blocked. Hair and other objects can also become wedged in the pipes, while tree roots can penetrate your pipe system and create obstructions. Hard water can cause corrosion in the pipes, which leads to blockages as well. All of these issues can be prevented by having a professional plumber perform regular drain cleaning maintenance.
Hiring a professional plumber for regular drain cleaning services is one of the best investments a homeowner can make. Not only will it help keep your pipes free from blockages and other damage, but it will also give you peace of mind knowing that any unseen issues are being monitored and addressed quickly. Save yourself time, money, and hassle by having regular maintenance done on your drains by 1-800-Plumber +Air of Princeton. Contact us today to learn more about our drain cleaning services and other plumbing solutions.
How can I prevent my drains from getting clogged?
To prevent your drains from getting clogged, practice good disposal methods and use enough hot water during dishwashing or laundry cycles. Additionally, you should have a professional plumber provide regular drain cleaning maintenance at least once a year. This will help remove any build-up of food particles and grease, as well as identify any foreign objects or tree roots in the pipes. Professional plumbers can also detect any corrosion caused by hard water inside the pipes and take steps to repair it before it becomes worse. Lastly, hiring a professional will help make sure that bacteria colonies are flushed out with special detergents to ensure safe drainage throughout your home.
What are the signs that I need professional drain cleaning services?
If you notice any issues with your drainage system such as slow draining, clogs, or foul odors, then it is likely time to call a professional plumber for drain cleaning services. You may also want to contact a plumber if you experience frequent backups in your plumbing system or if you notice any corrosion inside your pipes. Contacting a professional plumber can help save you time and money in the long run by preventing minor issues from becoming major problems.
Need a plumber? Contact us!
For these reasons—and many more—it's important to have professional drain cleaning services performed at least once per year by a qualified technician from 1-800-Plumber +Air of Princeton . While DIY solutions may seem attractive at first glance, they don't offer nearly as much protection as a full-service professionals who are trained in all aspects of plumbing maintenance and repair can provide. So don't wait—call today! You'll be glad you did!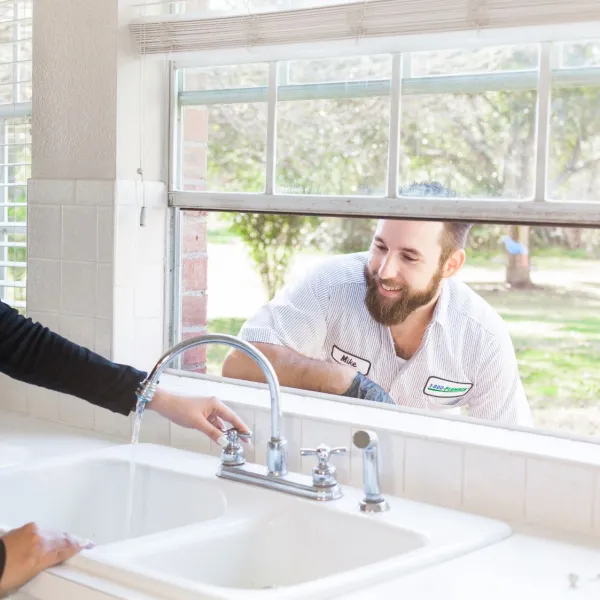 How Often Should You Have Your Drain Cleaned?
You should have your drain cleaned at least once a year, even if you haven't been dealing with any clogs lately. These are the reasons for annual drain cleaning.
Prevent Future Clogs
Just because you haven't been experiencing any clogs doesn't mean you won't. A drain cleaning service can find and eliminate potential clogs. They may also ask you about your habits, such as whether you pour grease and fats down the drain. Answer all questions truthfully, and follow all directions regarding drain usage.
Save Money
A drain cleaning is a lot more affordable than replacing your pipes. By having your pipes rinsed once a year, you could be holding onto a small fortune. Professional drain cleaning services, like those at 1-800-Plumber +Air of Princeton, can schedule yearly appointments to ensure your pipes are clean.
Early Signs of a Clogged Drain
The best time to call drain cleaning services is early on, when the clog has caused minimal damage. These signs are subtle, so you need to be aware of them:
Slow Draining
Water doesn't have to be completely still in your sink for you to have a clogged drain. If your shower water used to go right down the drain but now it seems to pool around your feet for a bit, you should call professional drain cleaning services. Without intervention, a "slow drain" could turn into a "no drain."
Strange Smells
If something smells "off," it means something else is probably off as well. Note any strange smells in your home and try to find them at their source, if your stomach can handle it. Early on, an odor from a clogged drain might be fairly mild. Over time, however, it could become downright noxious.
Gurgling Sounds
It's cute when a baby gurgles, but not when your drains do. When your pipes are blocked up, your drains can broadcast some pretty strange sounds. There might be some tree roots entangled with your pipes, causing the sound. Other causes could be unflushable items stuck in the pipes or an accumulation of things like soap scum and human hair.
Ready to
GET IT FIXED?
Contact Us Now!
EMANUEL REYES IS GREAT!!!!!!!!!!!!!!!!!!!!!!!!!!

Kathleen E.
Detailed orientated and honest inspection. Chad took his time and explained everything that was going on very well. The service fee was fair for the small issues he fixed, and he was able to make a referral for water restoration for us, I would use his service again and plan to when our water heater goes out.

Katie D.
z was fantastic! Very nice and easy to talk to and he explained everything perfect! Very professional! I would recommend him to anyone !

Satisfied Customer
I cannot thank Nick enough for taking care of my plumbing inspection and fixing those shut off valves. He s a true professional and have a wonderful future ahead of you! God bless you and thanks again! read less

Satisfied Customer
This was THE most painless repair experience! We had a leak in a pipe behind our water heater, spewing water out into space, ugh. Joe and his apprentice, Dan, were here in about an hour or so. They were both so very friendly from the moment they showed up at the front door! After they determined the problem, we discussed the needed repair, and then they began to replace the pipe(s) behind the water heater. This was pretty much an all-day job and I can honestly say it was no problem having them in my home. They were not only professional and courteous employees; they were two very kind individuals, who were also comfortable and friendly around my crazy dogs! I have had nothing but the finest experiences with this company and cannot recommend them highly enough! They are the best!

Barbara H.
Enes provided a very thorough and professional inspection, assessment and proposal for my sewer drain replacement.

Rany W.
Great job! Very professional and friendly! Thank you for coming out on short notice!

A.S.
Kyle, was great! 800-PLUMBER called to say when he would arrive, and he was right on time. He even completed another job that wasn't planned on my end while he was there. I would recommend 800-Plumber to any of my family or friends. Laura Clear Lake

Laura E.
Very knowledgeable, friendly and awesome work. Highly recommend this crew for any plumbing needs.

Tom T. No surprise
costs at the end of a job On-Time
Committed to on-time arrivals
Why You Should Never Use a Commercial Drain Cleaner Product

Reaching for a store-bought drain cleaner instead of the phone can definitely seem tempting. You might think there's no harm in just trying it, but that's actually untrue. These are reasons why you should never choose a commercial drain cleaner over professional drain cleaning services.
Bad For Your Plumbing
If you heard a product advertised for cars was actually bad for them, you definitely wouldn't buy it. Commercial drain cleaners can cause severe damage to plumbing systems. Their chemical makeup is quite corrosive and can wear down pipes over time. There could be drain cleaner hanging around your pipes, months after its initial application. Letting it linger could eventually lead to an unusable pipe.
Aside from your plumbing, your fixtures can lose their luster. Your target might've been the bathtub drain, but that won't stop the chemicals from eating away at your tub's exterior. You might need to install a whole new tub or sink if the damage is severe enough.
Bad For Your Health
Commercial drain cleaners come with warnings about proper usage. That's good, but it's also tragically easy for a mishap to occur. You could become burned from spilling the cleaner on your skin or become light-headed due to fumes. A person could go into shock from being exposed to these fumes. You also need to be cognizant of keeping young children away from these products.
Bad For the Environment
The chemicals you pour down the drain could re-emerge in someone else's drinking water. Drain cleaner pollutes the water, causing serious harm to the community in many ways. To protect your environment as well as your neighbors, get rid of the commercial drain cleaner.
Limited Effectiveness
Not only are commercial drain cleaners a threat to your plumbing, health, and the environment, but they're also not particularly effective to begin with. They're designed to eliminate clogs through the corrosive qualities of their chemicals. However, while that might seem like an acceptable temporary fix for a food clog (it's not), it's no match for other scenarios.
If you have a true root growing directly through your pipes, no commercial drain cleaner is going to make a difference. All you'd have to show for it is a clogged pipe that's now at-risk for corrosion. There's no treatment for a clogged pipe more effective than hiring professional drain cleaning services.
Professional Drain Cleaning Service in Princeton
Do you need a clog fixed right away or just want to make sure your drains stay clean? Call 1-800-Plumber +Air of Princeton. We're experts in every aspect of drain cleaning, and we are honored to help you.
Contact us today
to schedule an inspection.