Your Professional
SERVICES
Our Top Emergency
Services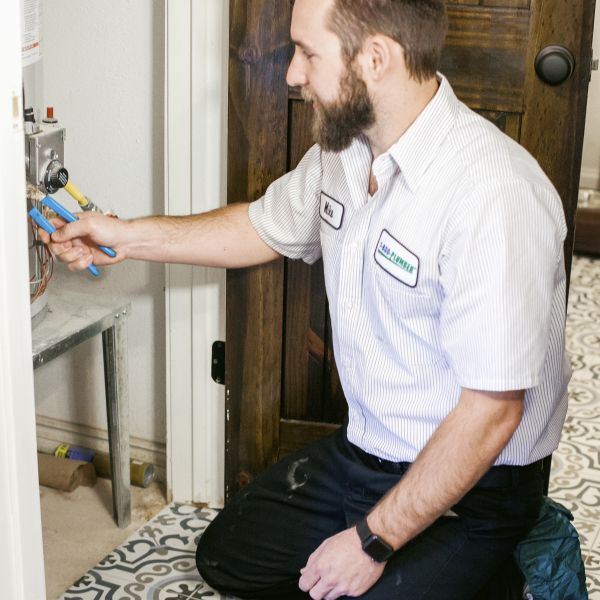 Hot Water Heater
1-800-Plumber +Air of Plymouth
We don't usually think about our hot water heater until there's some kind of issue with it. Like our energy bill increases, or the water in the shower doesn't stay hot for long, or worse, it's fluctuating. Most people don't know this, but hot water heaters run their best when they have yearly maintenance, otherwise, issues can pop up sooner rather than later. In this article, we'll tell you about the signs it's time to repair or replace your water heater, how to fix it, and what you can do to make it last longer.
Ready to
GET IT FIXED?
Contact us now!
When is it time to replace the hot water heater?
Your hot water heater should be replaced if it is over 10 years of age or if it is showing any signs that it could become dangerous to keep it any longer. These signs include puddles under the tank or erosion of the tank. It's important to look out for these signs or replace them after 10 years because a hot water heater can become dangerous if it's not given the proper maintenance every year or if it is old. A hot water heater isn't made to last longer than 10 years because water slowly erodes metal, which the tank is made out of, so as it ages, it becomes more prone to explosions. These explosions can be fatal to you, your family, and your home, so it's best to replace an aging hot water heater. Let's go over the other signs:
Puddles under the hot water heater
If you see a puddle under the hot water heater, this is usually a sign that there's something seriously wrong with the tank. Hot water heaters have safety features in place designed to tell you when something is wrong, and there is a temperature and pressure valve at the bottom. If the pressure becomes too much within the tank, or the water is too hot, the tank will drain a small amount at the bottom to keep it functioning safely. This is part of the reason it's so important to replace it after 10 years because these safety features start to degrade as time goes on. However, if the issue isn't the pressure within the tank, it could just be a leaky valve at the bottom. This can be fixed by tightening or replacing the valve at the bottom. However, we don't recommend you do this by yourself, because if it is the pressure within the tank rather than the leaky valve, this can be a dangerous situation to put yourself in. That's why if you see a puddle under the hot water heater, it's best to call a licensed and insured plumber to take care of the issue and make sure it's safe for your home.
Erosion

If you see holes in your hot water heater tank or the start of rust, it's time to replace the tank. A hot water heater is designed to last for about 10 years (12 if you're lucky!), but if you start to see signs of erosion, it means the tank has lasted its longest. Erosion can be a dangerous issue because hot water could spray out of the unit and cause injury to anyone around it. If you see this sign, call a professional right away to come take a look and help you replace the hot water heater to ensure safety in your home.
Knocking noises in the tank
If you're hearing a knocking or banging noise coming from the tank, this doesn't mean you must replace it. What you're hearing is probably natural sediment in the bottom of the tank, which happens over time because of the minerals in water like calcium and magnesium. This sediment can be flushed out of the tank by a professional and licensed plumber to help your hot water heater last longer and run more efficiently. Though the sediment is not dangerous, it can cause issues like higher electricity bills, less hot water, fluctuating temperature, and knocking noises. It's best to get this looked at right away so the sediment doesn't slowly build until there's no space for the hot water left.
Emanuel was excellent. He fixed our issue very quickly and explained exactly what the problem was and how he fixed it. Very friendly and trustworthy!

Kyle S.
Exceptional service! I highly recommend them for your plumbing needs!

Angelica C.
"They were very professional and on time, the technician did what he was suppose to do then cleaned up and left me with instructions on how to finish installing the parts after I finish doing some tile work that needs to be done."
Andrei G.

"Great service ,plumber was very good and did a great job .very happy"
Joseph G.

Chad C. with 1-800-plumber really cared. He was extremely thorough and made sure the job was done correctly. Would definitely recommend him!

Kathy Y.
Swayze did a great job and was very courteous polite, and knowledgeable .

Satisfied Customer
Justin and Richard did a great job.

Satisfied Customer
Mark was great! He took the time to not only give a price, but explain everything a new system could do and how it would benefit them not just in heating and cooling, but dust reduction, utility bills, etc. Very Very pleased. read less

Satisfied Customer
So nice and professional.

Sharen B.
They replaced our heater and did an excellent job.

Satisfied Customer No surprise
costs at the end of a job On-Time
Committed to on-time arrivals
Do I have to replace my water heater? Can I do it myself?
The only person that can truly diagnose whether it's time to replace or repair your water heater is a licensed and professional plumber. If your tank is older than 10 years, it may definitely be time to replace it, or if you're seeing any of the dangerous warning signs from above. However, let the professional be the judge of that, because maybe you just need a bit of maintenance to get the tank to last a bit longer.

We don't recommend doing any kind of maintenance or replacement for your hot water heater. Hot water heaters have policies and codes that need to be followed when installing them within your home, and the only people who can follow these are plumbers who have been trained and are licensed to do this. It is dangerous to try to replace a water heater on your own because of the issues that can happen if something goes wrong. This can be a fatal situation, so please call us at 1-800-Plumber +Air of Plymouth, or your local plumber to help you replace your hot water heater.
How to make a hot water heater last longer
Don't try to make your hot water heater last longer than 10-12 years. Anything longer than that can be dangerous. However, you can prolong the life of your hot water heater if you get yearly regular maintenance. A professional plumber can come to your home and flush the sediment from the tank. This will keep the tank clean and running smoothly for as long as those 12 years mentioned above. Remember to call a professional to help you with any part of your hot water heater.
Call us at 1-800-Plumber +Air of Plymouth
Need your hot water heater repaired or replaced or maintenanced? Call us today! We have licensed, insured professionals ready to help you 24/7. We can help you and let you know your options and what's best for the safety of you and your home.