Your Professional
SERVICES
Our Top Emergency
Services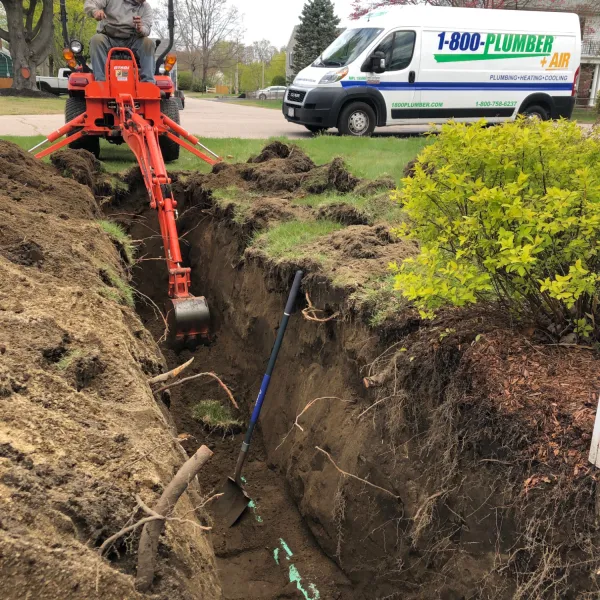 Sewage Backup
1-800-Plumber +Air of Plymouth

Sewage backups are a nasty, smelly problem that no one wants to deal with. Unfortunately, they're also a common occurrence, especially during the rainy season. What causes sewage backups, and what can you do to minimize the chances of one happening to you? Read on for answers to these questions and more.
Sewage backups can happen for a variety of reasons. One of the most common is heavy rainfall or flooding, which can overwhelm sewage systems and cause them to back up into homes and businesses. Other causes include clogged drains, tree roots growing into sewer lines, and collapsed sewer lines. In some cases, a backup may even be caused by an issue with your home's plumbing, such as a blockage in the main sewer line. Contact us now if you are having a sewer problem.
If I have a Sewage Backup is that an Emergency?

Call 1-800-Plumber +Air of Plymouth for all your plumbing needs
Why is Sewer Maintenance Important
Commonly, sewer upkeep entails utilizing a sewer electronic camera. A sewer system can help professionals provide an accurate assessment to identify the source of a plumbing issue. By completing this assessment, the plumber can take preventative measures to fix small problems before they become larger issues.
When you invest in a plumber and their professional sewer line inspections and maintenance, where is what you can expect to receive as a benefit:

Avoid obstructions as well as other debris
Reduce pipe related stresses
Protect your family, business, and employees from threatening biohazards
Prevent clean up and costly repairs from neglect.

Normal sewage system upkeep aids guarantee you're compliant with Plymouth neighborhood pipes codes, as well. This can save you from having to manage large fines or various other penalties.

Most Common Sewer Problems
There's a lot that can go wrong with your sewer line. Listed below are some of the most common sewer problems Plymouth plumbers run into most often:

Broken or misaligned pipes
Blocked pipes
Corroded pipes
Bellied or sunken pipes
Sewer backing up into a ditch Leaking pipe joints
Bad sewer smells
Tree roots damaging the sewer line

If a professional is able to catch these and other issues early, they can address them right away and prevent them from escalating.

What is a Sewage Backup?
A sewage backup occurs when the Sewer system is overloaded with water and/or sewage. This can happen due to heavy rains, melting snow, or clogged pipes. When this happens, the sewage can back up into your home through the toilets, drains, and sinks. A sewage backup is a messy and dangerous situation that should be handled by a professional.
Sewage Backup Causes
Sewage backups can be caused by a variety of reasons, the most common being blockages in the sewage lines. Grease, fat, and other debris can accumulate over time and create a blockage, which will backup the sewage line and cause it to overflow. Tree roots are also a common cause of sewage backups, as they can grow into the sewage lines and create a blockage. Other causes of sewer backups include cracked or broken pipes, improper installation, and even extreme weather conditions. If you experience a sewage backup, it is important to contact a professional plumber immediately to have the issue resolved. Sewage backups can cause extensive damage to your home and can even pose a health hazard, so it is important to take care of the problem as soon as possible.
If I have a Sewage Backup is that an Emergency?
Yes, Sewage Backup is an emergency. Sewage backups can cause extensive damage to your home and can contaminate your belongings. If you have a sewage backup, please call 1-800-Plumber +Air of Portland immediately. We will dispatch a technician to your home to assess the situation and begin the repair process. Sewage backups are usually caused by a blockage in the sewer line. This can be caused by tree roots, grease, or other debris that has built up over time. In some cases, Sewage Backup can also be caused by a broken pipe. If you have a Sewage Backup, please do not try to clean it up yourself. This is a job for professionals.
How to Prevent Sewage Backup
Sewage backups can be a major inconvenience and even a health hazard. But they are usually preventable. The most common causes of sewage backups are blockages in the sewer line caused by inappropriate items being flushed down the toilet or drained down the sink, tree roots growing into the sewer line, and severe weather conditions such as heavy rains or snow melting too quickly.
There are several things you can do to prevent a sewage backup:
- never flush anything other than waste and toilet paper down the toilet
- don't pour grease or cooking oil down the kitchen sink; instead, pour it into a container and dispose of it in the trash
- don't try to unclog a drain with a plunger or chemical drain cleaner; call a plumber instead
- keep trees away from the sewer line; their roots can grow into cracks or breaks in the line and cause a blockage
- if you live in an area prone to severe weather, have your sewer line inspected regularly to make sure it is in good condition and not susceptible to damage from flooding or freezing temperatures
If you do experience a sewage backup, call a professional plumber immediately. Sewage is considered hazardous material and should be cleaned up by trained professionals. In the meantime, stay away from the area and do not try to clean it yourself.
Call 1-800-Plumber +Air of Plymouth for all your plumbing needs
If you are experiencing a sewage backup, it is important to call a professional plumber as soon as possible. Sewage backups can be dangerous and can cause extensive damage to your home if not addressed quickly. 1-800-Plumber +Air of Portland is a reliable plumbing company that can help you with all your sewage backup needs. We offer emergency services 24/7 so that you can get the help you need when you need it most. Contact us today for all your plumbing needs!
From regular service appointments to emergency services our professional service for plumbing repairs, we are the plumbing company for you.
Apart from the services we offer, there's a lot that makes us stand out from the rest of the pack. First, we listen! We strive to give our customers exceptional service, which includes listening to your needs. Our technicians will listen and come up with a practical and lasting solution. We encourage our clients to ask questions whenever they need clarification. We also ensure we explain our proposals thoroughly and keep you informed every step of the way. So contact us today!
Ready to
GET IT FIXED?
Contact Us Now!
This was my first time with 1-800-Plumber Air of Pearland. I called with a minor issue with the dishwasher drain hose and asked that a tech be dispatched on Saturday so that I could be home from work. Chad was scheduled between 8am & 10am today (Sat) and arrived just before 9am. Chad was very knowledgeable and explained to me the entire process. He also answered my many many questions about what he was doing as he was doing it. I'm a smart guy but know very little about plumbing. I felt very comfortable with Chad doing the repair. The long and the short of it, 1-800-Plumber Air of Pearland has a new longtime customer and I will request that Chad be sent if possible the next time I have a plumbing issue.

George T.
"Great service ,plumber was very good and did a great job .very happy"
Joseph G.

Kyle did an excellent job. He was very thorough and explained everything from start to finish. I would strongly recommend Kyle for any plumbing you might have.

Kyle
He was everything you want in a employee!!! He was professional, kind, informative, patient, and very clean.

Ann B.
Mark was great! He took the time to not only give a price, but explain everything a new system could do and how it would benefit them not just in heating and cooling, but dust reduction, utility bills, etc. Very Very pleased. read less

Satisfied Customer
I had Kyle U as my plumbing tech. He did a great job and worked really hard to get to the bottom of things (like roots). He was also polite and honest.

Linda D.
Alex was just wonderful. He explained everything did a great job and was friendly and courteous. Very professional in every way.

Satisfied Customer
They replaced our heater and did an excellent job.

Satisfied Customer
Very professional, friendly, and on time.

A M.
As a consumer and customer I am very happy with 1-800-Plumber Air of Pearland. I really appreciate the concern Joe and his helper showed for my issue and for the work they performed. I highly recommend 1-800-Plumber Air of Pearland

Lee No surprise
costs at the end of a job On-Time
Committed to on-time arrivals