Your Professional
SERVICES
Our Top Emergency
Services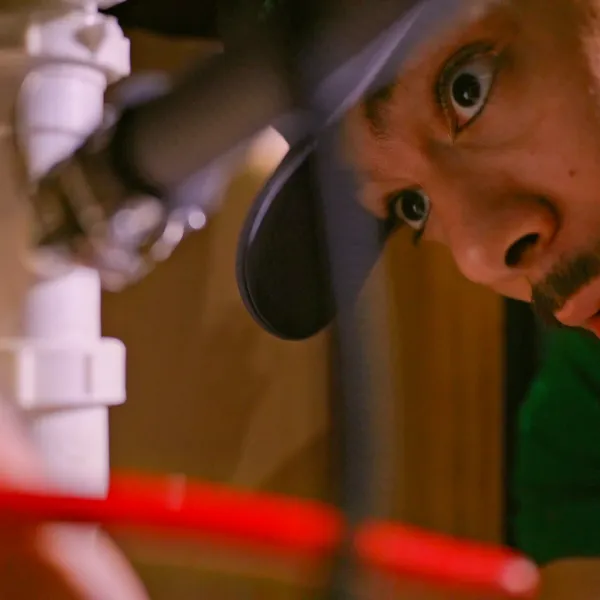 Bathroom Plumbing
1-800-Plumber +Air of Plymouth

Understanding the parts of your bathroom plumbing system

Bathroom plumbing services

Bathroom plumbing repair

Bathroom Plumbing Service You Can Trust
Whether you have clogged drains, noisy pipes or cold showers, bathroom plumbing issues should be addressed immediately before they turn into something major. While some problems can be easily resolved by yourself, you will still need to call 1-800-Plumber +Air of Plymouth to make sure that your plumbing system functions efficiently.
Understanding The Parts Of Your Bathroom Plumbing System

The largest number of plumbing fixtures can be found in your bathroom. That's why it is no surprise that it is the part of your home that often faces a majority of plumbing issues. Bathtubs, sinks, showers and household toilets are used frequently, making them susceptible to all kinds of plumbing problems. Understanding how each plumbing fixture works is the key to detecting plumbing issues.
Toilets
For every flush of a toilet, you're also opening a flush valve found in the bottom of your toilet's water tank. The flush valve enables water to rush down into your toilet bowl, flushing down the waste into the hidden drain pipe. Once the level of stored water in the tank drops when you flush, a fill valve will open to refill the tank so the preset water level will be restored. The water remains until your next flush.

These are the components of the toilet:
Water Tank

Bowl

Seat

Lid

Fill Valve

Flush Valve

Flush Handle
Common Toilet Problems:
Water Supply Leaks

Base-of-Toilet Leaks

Overflowing Toilet

Constantly Running Toilet

Tank-To-Toilet Leaks

Slow Flushing or Clogged Toilet
Bathroom Sinks and Faucets
Compared to the sinks and faucets found in your kitchen and other parts of your house, bathroom sinks and faucets are unique.
These are the components of bathroom sinks and faucets:

Drain Pipe

Sink Bowl

Water Supply Lines

Mechanical Drain Stopper

Faucet
Common Bathroom Sinks and Faucets Problems:
Slow or Clogged Drain

Dripping Faucet

Leaking Drain Pipe

Malfunctioning Drain Stopper

Unpleasant Odor Coming From The Sink

Deteriorated Caulking of Sink
Showers
Showers are known to be the most frequently used part of the bathroom. It comes with a waterproof enclosure responsible for producing hot and cold running water that the faucet delivers.
These are the components of showers:

Enclosure

Drain

Faucet

Shower Curtain or Door
Common Shower Problems:
Slow or Clogged Drain

Mold Growth

Leaking Shower Enclosure

Dripping Shower Head

Smelly Drain
Bathtubs
Most bathtubs can be used for either a shower or a bath. It also features a combination faucet with a tub spout, a shower head and taps.

These are the components of a bathtub:

Drain

Bathtub

Faucet and Shower Head

Door or Shower Curtain
Common Bathtub Problems:
Mold Growth

Smelly Drain

Damaged Caulking

Clogged Drain

Dripping Shower Head or Faucet
You will need a professional plumber to get your bathroom up and running. Contact us so we can check your bathroom plumbing for problems that can affect its efficiency.
Bathroom Plumbing Services
Fixing a bathroom plumbing problem can be a challenging task. You'll need 1-800-Plumber +Air of Plymouth to get the job done. These are the services offered by our trusted and highly-skilled plumbers.
Toilets:If your toilet is experiencing clogs and you tried to fix the issue yourself, it's time to call a professional. While traditional methods like plunging provide a temporary solution, they can still lead to damage in the long run. The problem might be coming from the sewer line and only a professional plumber knows exactly where the problem lies.
Repair: Licensed plumbers will assess and evaluate the problem to make sure they're targeting the right area. With proper tools and skills, they can reach these areas without problems.

Replacement: If the plumber finds out that your toilet or its components need replacement, you will be provided with all the information you need so you'll know what's going to happen during the replacement.

Installation: Installing a new toilet requires skills and knowledge to prevent unnecessary issues down the road.
Sinks: One of the worst problems you'll encounter is a clogged sink. Sinks are prone to all types of problems from leaks to clogs, because they are constantly used. If you have dripping or leaky faucets, attempting a DIY repair can do more harm than good. This is because sink clogs are caused by buildup. As for leaks, they are often caused by worn-out washers, faulty o-rings and buildup.
Repair: Plumbers who are trained and experienced will get right to work after assessing the issue.

Replacement: All sinks have unique features and for modern sinks with sensors, it needs a plumber who can expertly replace the sink and get it up and running in no time.

Installation: While a DIY installation job might be easy at first, you will realize how overwhelming it can be once some components fail to work. Spare yourself the headache by leaving this job to experts.
Shower: With showers being the heavily used item in your bathroom, frequent drips and leaks are common. There are aspects of repair and replacement that can be complicated and should only be handled by skilled professionals. Some problems with your shower may look simple but they often require tricky repairs. Licensed plumbers can accurately evaluate the problem and assure you of efficient and high-quality results.
Repair: Leaky showers are no easy task. The problem might stem from the surface, requiring expert insights.

Replacement: Broken or outdated showers need replacements. Replacing the components of your shower needs an experienced plumber.

Installation: There are many problems that will cost you more if you install a shower on your own. Be sure to choose 1-800-Plumber +Air of Plymouth to perform the installation process.
Bathtub: Every tub will have issues over time. Drain breakage, leaks and other bathtub problems are common so you need to hire a trusted plumber.
Repair: Repair overflow, broken levers and leaky spouts to prevent further damage. Put your trust in a professional plumber who knows how to fix the problem with your bathtub.

Replacement: When your bathtub is worn down due to constant use, allow 1-800-Plumber +Air of Plymouth to handle the complex problem.

Installation: Removing an old bathtub and installing a new one can be a complicated process.You will need a reliable plumber to perform this task properly.
Bathroom Plumbing Repair
All your bathroom utilities should be working properly but when one of your bathroom components fails due to leaks, clogs and other issues, you can rely on 1-800-Plumber +Air of Plymouth to handle all your plumbing concerns.
Bathroom Plumbing Service You Can Trust
Bathroom plumbing issues can be stressful. Contact us so we can perform reliable repairs as smoothly as possible. Our expert plumbing team at 1-800-Plumber +Air of Plymouth will make your plumbing problems a priority by doing everything right using our skills, experience and training.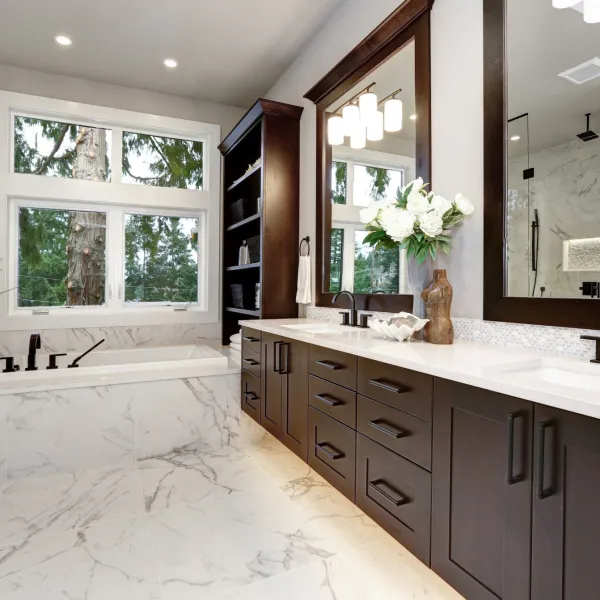 Bathroom Remodeling is not DIY
If you're planning a bathroom remodeling project, you don't want to skip hiring a professional.
They have all the knowledge and tools that you need for the remodeling project. They'll get the job done safely, cleanly, and quickly.
There are a lot of things we can do ourselves in our home but plumbing a bathroom shouldn't be one of them. For a free quote for your project, reach out to us today.
Ready to
GET IT FIXED?
Contact Us Now!
This was THE most painless repair experience! We had a leak in a pipe behind our water heater, spewing water out into space, ugh. Joe and his apprentice, Dan, were here in about an hour or so. They were both so very friendly from the moment they showed up at the front door! After they determined the problem, we discussed the needed repair, and then they began to replace the pipe(s) behind the water heater. This was pretty much an all-day job and I can honestly say it was no problem having them in my home. They were not only professional and courteous employees; they were two very kind individuals, who were also comfortable and friendly around my crazy dogs! I have had nothing but the finest experiences with this company and cannot recommend them highly enough! They are the best!

Barbara H.
My daughter Natalie Permenter actually ordered the service. I'm at her house during the day to keep my grandson. I was very impressed by Emanuel, the plumber that cam. He was very professional and seemed to really care about his clients. Natalie tells me the lady in the office also showed professionalism and a genuine desire to help. Emanuel was disappointed that he couldn't get the job done on day one; but promised to come back the next day. True to his word he was here bright and early. I am so impressed to finally find a company that really cares about the consumer; not just the dollar.

Judi W.
EMANUEL REYES IS GREAT!!!!!!!!!!!!!!!!!!!!!!!!!!

Kathleen E.
Justin and Richard did a great job.

Satisfied Customer
On time, fast working, and did a great job

Michael R.
As a consumer and customer I am very happy with 1-800-Plumber Air of Pearland. I really appreciate the concern Joe and his helper showed for my issue and for the work they performed. I highly recommend 1-800-Plumber Air of Pearland

Lee
Plugged drain outside of house. Came out the next day, showed us the video of the tree branches in our line, gave me a quote over the phone and I had them start work. Finished in a few hours and left with our system drain restored.

Craig C.
Swayze did a wonderful job yesterday, he answered all my questions perfectly, was very respectful and took the time to clean up his mess. I am really impressed and pleased with his work. read less

Satisfied Customer
This was my first time with 1-800-Plumber Air of Pearland. I called with a minor issue with the dishwasher drain hose and asked that a tech be dispatched on Saturday so that I could be home from work. Chad was scheduled between 8am & 10am today (Sat) and arrived just before 9am. Chad was very knowledgeable and explained to me the entire process. He also answered my many many questions about what he was doing as he was doing it. I'm a smart guy but know very little about plumbing. I felt very comfortable with Chad doing the repair. The long and the short of it, 1-800-Plumber Air of Pearland has a new longtime customer and I will request that Chad be sent if possible the next time I have a plumbing issue.

George T.
The tech was so nice, knowledgeable and efficient.

Satisfied Customer No surprise
costs at the end of a job On-Time
Committed to on-time arrivals