Your Professional
SERVICES
Our Top Emergency
Services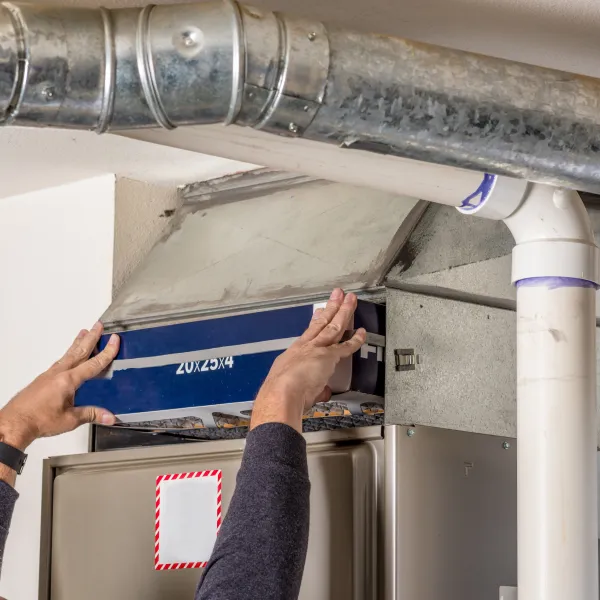 Heater and Furnace Installation in Plymouth 1-800-Plumber +Air
Any Plymouth resident can tell you that it gets ridiculously cold up here. For this reason, heaters and furnaces are of utmost importance. Should either of these entities break down whilst in the cold, dark throes of winter, you're bound to find yourself in a sticky situation.
Fortunately, we here at 1-800-Plumbing +Air are available to rectify such problems. We provide the top heater & furnace installation services in Plymouth and can have your failing model swapped out for a new one in just a short amount of time.
Regardless of the type of heater or furnace that you're looking to install, our team can accommodate you. Read on for more information!

Ready to
GET IT FIXED?
Contact Us Now!
Experienced Company
Just because an HVAC contractor has a license doesn't mean that he or she has the experience necessary to properly install a heater or furnace. Sure, he or she might know the theoretical aspects of both heater and furnace installation, but those theoretical aspects can end up being wildly different from reality.
In truth, in-field experience can make all the difference in the world. Why? Because it gives an HVAC contractor the opportunity to correct chronic mistakes and sharpen his or her skills. In other words, it allows an HVAC contractor the time to become an expert.
If you're choosing a furnace or heater installation specialist, we recommend choosing one with at least 2 years of experience under his or her belt. This is sufficient time for honing necessary skills and getting past costly mistakes.
Educated Employees
Minnesota is rare in that it's one of the only US states that doesn't require HVAC contractors to be licensed with the state. In other words, just about anyone can provide HVAC services in the state of Minnesota.
However, that doesn't mean you should pick just anyone to install your heater or furnace. You should still look for a company with educated employees.
When interviewing potential candidates, ask about the education levels of their employees. Make sure that these employees have attended an HVAC certification program of some kind. If possible, check for proof of this certification.
Yes, it's possible for an HVAC specialist to do good work without a formal education. However, it's not something you want to risk your time, money, or home on. Go the extra mile and make sure you're receiving education-backed service.
Insured Company
When a contractor installs a furnace or heating system, he or she is doing so on the client's property. This, unfortunately, can lead to property damage from time to time.
For this reason, when choosing a furnace installation specialist, you need to make sure that he or she is properly insured. Insurance will not only cover damage that is done to your property but it will also protect you in the event that one of the specialist's employees is injured on your property.
The key is to look out for both general liability insurance and workers' compensation insurance. If your prospective HVAC contractor can't show you some proof of these insurances, you need to look elsewhere. The last thing you need is to be embroiled in a lawsuit over some HVAC work that you paid for.
Reputable Suppliers
When you hire a company to install a furnace or heater, you're usually going to have that furnace or heater provided by the company itself. Sure, you might get a choice between a few options, but you'll be subject to the furnaces and heaters that the company has to provide.
This is why, when searching for HVAC contractors, you need to read up on their suppliers. The quality of their suppliers will directly affect the quality of the heating unit that you receive.
There are all sorts of reputable heating suppliers out there. However, there are some less-than-desirable suppliers out there as well. Do your due diligence and make sure you're receiving a quality product.

Justin and Richard from electric cane. Did a superb job! Highly recommend always!

Satisfied Customer
Friendly, courteous, knowledgeable.

Marylin L.
Joe and Kyle installed a new water heater. They were very professional and courteous. They explained my options and I was also offered a discount. I will definitely use this company again.

Linda B.
Kyle came when he said he would. He stayed in touch through out the day. Was very quick and efficient. If you need a plumber call Kyle.

Ashley C.
Emanuel was excellent. He fixed our issue very quickly and explained exactly what the problem was and how he fixed it. Very friendly and trustworthy!

Kyle S.
Very professional and knowledgeable. The office staff communicated well and were helpful and courteous. We had a major plumbing job done. The cost for all they did was reasonable. The service pro tech, Emanuel Reyes did a great job! We will definitely recommend 1-800 plumber of Pearland,

Wanda N.
Enes provided a very thorough and professional inspection, assessment and proposal for my sewer drain replacement.

Rany W.
fast appointment. service tech was awesome.

Satisfied Customer
Alex was just wonderful. He explained everything did a great job and was friendly and courteous. Very professional in every way.

Satisfied Customer
Joey was fantastic. Really great service!

Kathy C. No surprise
costs at the end of a job On-Time
Committed to on-time arrivals
Reasonable Rates
Not all furnace installers charge the same rates. In fact, the rates charged by different installers can vary wildly. For this reason, when searching for installers, you need to obtain estimates.
An estimate will give you a ballpark idea as to the types of costs you'll need to pay for services rendered. It will ensure that you're not hit with any surprisingly large bills.
Obtain estimates from a few different HVAC contractors in your area and compare them against one another. Then, use these comparisons to narrow down your options. Avoid the exceedingly high estimates, be wary of the exceedingly low estimates, and put most of your focus on the middle-of-the-road estimates.
In any case, know what you're paying before the services have actually been provided. Don't let a simple furnace installation destroy your bank account.
All Sorts of Heating Options to Choose From
There are more than a few high-quality heating options for you to take advantage of. These options include the following.
Furnaces
If you're looking to provide heat to all parts of your home (and if you're in Plymouth, Minnesota, you are), then you would be well-served by a furnace. Furnaces work in tandem with duct systems to spread manufactured air to all rooms in a property. They can be powered by both gas and electricity and are highly cost-effective to run.
Regardless of the size of your home or business, there is a furnace that can accommodate it.
Interested? Don't know where to buy a gas furnace? Don't want to waste time following furnace installation instructions? Give us a call and we'll install your furnace for you in a timely and professional manner.
Boilers
Another way to heat a whole home is with the use of a boiler system. Boiler systems boil water and then send it through a series of radiators. These radiators are installed in every room on the property and radiate heat throughout each room.
Boilers are highly efficient, suffering almost no heat loss whatsoever. As such, they can be very cost-effective to run.
There are oil boilers, propane boilers, electric boilers, and more. Regardless of the type that you're interested in, our team of skilled and knowledgeable heating specialists can help you choose an appropriate option. They'll then install it for you, providing you with radiant heat for years to come.
Heat Pumps
If you're only looking to provide heat to one room, or if you're looking for more temperature variation from room to room, you should consider installing heat pumps. These are small devices that mount to interior walls and heat only the room in which they're installed.
Heat pumps are highly efficient, losing almost no heat at all. And because they only heat single rooms, you can install several of them and control individual room temperatures as desired.
If you're interested in installing a heat pump, give us a call. Our team will help you find a suitable model and install it for you in a safe and proper manner.

The Importance of Building a Furnace Platform
When installing a furnace, it's vital that you first build a platform for it. This is so for a number of reasons.
For one, furnaces make noise. And if you don't have them set on platforms, this noise can become almost unbearable.
For two, furnaces need ventilation. If there's no space below the furnace, there won't be enough ventilation, and the furnace will perform poorly.
For three, furnaces are often installed in basements. Basements, on the other hand, are prone to flooding. You don't want to subject your furnace to floodwaters, so you need to keep it elevated.
If you wish, you can build a furnace platform out of a hodgepodge of materials. Note, however, that your furnace will best benefit from a professionally established platform. If you need help building a platform for your furnace, give us a call. Our team will build you a furnace platform that is both safe and functional.
Need Heater and Furnace Installation Services in Plymouth?
If you're looking for heater and furnace installation services in Plymouth, MN, there's no better company to call than 1-800-Plumber +Air. Our team of seasoned HVAC technicians is well-versed in the installation of all types of heaters and furnaces.
Skilled and licensed, they'll ensure that your system is installed in a safe and optimal manner. Get ready to reap the benefits of professionally-installed indoor heating.
Contact us now to schedule service!