Your Professional
SERVICES
Our Top Emergency
Services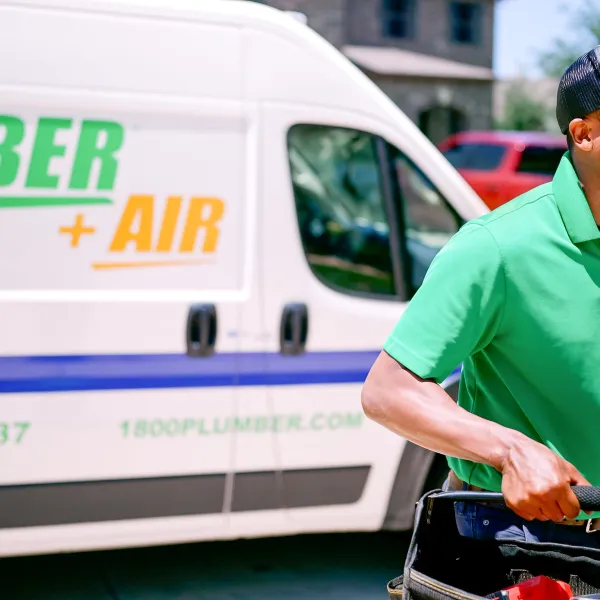 Gas Line Installation
1-800-Plumber + Air of Plymouth

Ready to
GET IT FIXED?
Contact Us Now!
Can I Install My Own Gas Line?

At 1-800-Plumber, we understand the desire to save money at any cost. While it's tempting to want to install your own gas lines, we strongly advise against it. Installing your own gas line is dangerous, unpredictable, and can turn expensive quickly without the proper tools or know-how. Additionally, there are rules and code requirements in place that you won't be aware of without the appropriate training and certification.
There are also a lot of risks involved with trying to install your own gas line. There will undoubtedly be dozens of connections, fittings, and pipe joints, and making any one of them incorrectly could result in a gas leak. There's also a steep cost involved with renting the tools and special fittings you'll need if you try to install your own gas line.
Different Types of Gas Line Materials
One of the first obstacles you'll need to deal with is deciding which type of gas pipe to use. There are several different types and materials of gas lines, but there are restrictions on where you can legally use them.
Flexible Corrugated Stainless Steel Tubing
This type of gas line consists of a flexible inner steel tubing wrapped in a protective sheath. Corrugated tubing is often used indoors in tight spaces when weaving in and out of obstacles that would impede a solid steel pipe.
The types of fittings and attachments used with flexible corrugated stainless steel tubing are different from those of traditional gas lines and could present problems to inexperienced installers. You should also limit this type of gas line to indoor use only.
Black Iron
Black iron or steel is the most common gas line material, both for interior and exterior use. However, you must follow proper procedures for each type of installation. When using black iron gas pipe outside, you must paint it with rust-resistant paint or wrap it in rust-resistant tape. It's also crucial to use the proper pipe dope and Teflon tape to seal each joint and connection.
HDPE Underground Pipe
Another type of gas line that's commonly used for underground installations is HDPE underground pipe. HDPE pipe is made of strong, resilient plastic and is only acceptable for underground use. It's typically used to run from the gas meter or generator to outdoor connections or the gas meter to a generator.
Various Aspects of Gas Line Installation
Adding to the difficulty of installing your own gas line are all the different components involved with a safe and proper installation.
Supply Line
The supply line is the main gas line from which all smaller lines stem. The supply line is the largest pipe in your gas line and runs from the gas meter or propane tank outside your home to wherever the last gas appliance is located in your home. Your supply line has to be properly sized so that it's large enough to feed all the branches coming off of it but not so large that there isn't enough pressure.
Branches
The branches are the smaller gas lines coming off the supply line and running to the individual appliances. The number of branches you have and what they're running to will determine the size of your supply line.
Drip Legs
Anytime you have a gas line running from above an appliance down to it, you have to install a drip leg near the appliance. Drip legs are small gas line attachments designed to capture dirt or debris that gets into your gas line before getting to the individual appliances.
The Meter
If you have natural gas, you'll have a gas meter outside your house. Gas meters should only be worked on by qualified plumbing or HVAC professionals or your gas company. Tampering with a gas meter when you don't know what you're doing is extremely dangerous, and even illegal in some cases.
Shutoff Valves
Every branch coming off the main supply line should have a shutoff valve before it reaches the appliance it's connected to. Shutoff valves get installed so that you or your plumber can terminate the gas flow to each appliance for servicing or repair purposes.
It isn't required, but there should also be a shutoff valve near the beginning of your supply line so that you can turn off all the gas to your home without having to access the outside gas meter.

Making the Connections
Finally, there's the question of making the individual connections between each pipe and fitting. Thanks to advancements in gas line technology, there are several ways that connections are made.
Traditionally, the only way to connect one part of a gas line to another was to apply pipe dope and Teflon tape and screw various joints and fittings together, similar to twisting a lid onto a soda or water bottle. All connections had to include a threaded male end and a threaded female end.
Now, however, there are numerous connection options, including using a Pro Press, compression fittings, or press-on fittings. Not all of these fittings and connectors are applicable in all places, which means you could quickly run into trouble trying to cut corners when installing your own gas line.
Who to Call for Premier Gas Line Installation
If you need your old gas pipes replaced or want to add on to them, contact us at 1-800-Plumber for top-notch gas line installation. We utilize every type of gas pipe material and various fittings and connections to make sure we can complete any job. No matter how difficult a job may be, the pros at 1-800-Plumber will get it done correctly and efficiently.
What Should I Do If There's a Gas Leak?
If you smell gas ( a rotten egg smell) or you feel faint and suspect a gas leak, leave your home immediately. Do not use any appliances or phones. Evacuate the area and get to a safe place, then call 911 to let them know. Then you can call your plumber.
Am I At Risk for a Gas Leak?
Gas leaks aren't common, but there are certain risk factors that can make them occur in certain situations. Be on the lookout for these different factors that can cause gas leaks.
Improper Installation
Did a certified and licensed plumber install your current gas lines? If you don't know, it may be time to call one and have them do a thorough inspection just to make sure everything is in proper and working order. Improperly installed gas lines are a serious risk for gas leaks and dangerous situations. A plumber will be able to tell if anything is done improperly and will have the tools to fix it.
Old Gas Lines
If your house is older, that means the gas lines are also older. This means they're less effective, but also more dangerous and prone to corrosion and leaks. Gas lines don't decay quickly. It takes time and gas could be leaking very slowly so it's not noticeable. Call a plumber to have your older lines inspected.
No Gas Detector
It's crucial to have a gas leak detector, because gas naturally has no odor. Humans have injected gas with the smell of sulfur (rotten eggs), so it's detectable, but it's always a good idea to have a gas detector as a trusty back up. Make sure your detectors are properly installed and always running, with any back up batteries if necessary.
Swayze did a wonderful job yesterday, he answered all my questions perfectly, was very respectful and took the time to clean up his mess. I am really impressed and pleased with his work. read less

Satisfied Customer
As a consumer and customer I am very happy with 1-800-Plumber Air of Pearland. I really appreciate the concern Joe and his helper showed for my issue and for the work they performed. I highly recommend 1-800-Plumber Air of Pearland

Lee
fast appointment. service tech was awesome.

Satisfied Customer
Chad C. with 1-800-plumber really cared. He was extremely thorough and made sure the job was done correctly. Would definitely recommend him!

Kathy Y.
Enes provided a very thorough and professional inspection, assessment and proposal for my sewer drain replacement.

Rany W.
Emanuel Reyes arrived on time and was extremely courteous and professional. Evaluated problem and took care of it in extremely short time and price was very fair. Will call again when necessary.

John T.
1-800 Plumbers Sugar Land is the best!! Hector the owner and his team of men, specifically Chad were great! Very friendly, thorough, fast, and I didn't feel like I was being taken advantage of or robbed.

Erinn D. No surprise
costs at the end of a job On-Time
Committed to on-time arrivals