Your Professional
SERVICES
Our Top Emergency
Services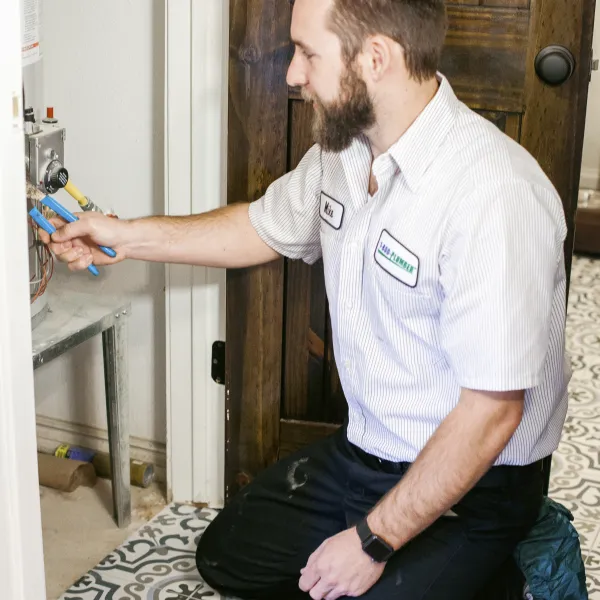 Hot Water Heater Professional: A Must

You probably don't spend time thinking about your hot water heater. However, when you think about the items that depend on it, you start to have a deeper understanding of its value.
Laundry, showers, bathrooms, and also warm are all areas of your house that consume hot water. So, if your hot water heater breaks, you will be very inconvenienced.
Thankfully, water heater services are readily available to you. Keep reading more to find out about why having a great plumber in Scottsdale is essential to your hot water heater.

Ready to
GET IT FIXED?
Contact us now!
Why You Should Work with a Professional
A water heater isn't something that you want to worry about with your house. They are vital for many appliances, but they are also a bit tricky to install.
If you attempt to repair it on your own, you might end up making the problem worse if you are not familiar with the different elements that make up the unit. A specialist, similar to a mechanic works on water heaters daily; they will be well-versed in the ins and outs of your water heater.
When hiring a professional for a water heater replacement, repair, or any other service, you should know what you'll be dealing with. Here's a rundown of what you should know:

Hot Water Heater Repair Costs
To have someone repair your hot water heater, the cost can range anywhere from $200-$1,000.
The amount you pay for hot water heater repairs, will depend on the type of work required. As always, different locations have different costs. Meaning, the cost in Texas will be different from Kansas.

The Tankless Water Heater
Since a tankless water heater doesn't heat up the water directly, it takes up much less space than a water heater with a tank.
The tankless water heater works by heating up cold water. When you turn on the hot water in your home, cold water is transferred to the water heater where it is heated by an electric element.

Hot Water Heater Replacement
When it concerns the hot water heater replacement, hiring a professional is extremely suggested and valuable.
An expert is most likely to understand specifically what they're doing so your hot water will work effectively. Plus, they can provide handy advice regarding maintaining the hot water heater. This will certainly end up saving you in the long run on repair services and replacements.

Hot Water Heater Repair
If you choose to repair your hot water heater, you definitely want to speak with a professional. Many times, you can save headaches and time from having a professional consultation.
Water heater professionals can respond to an emergency at any time of day. Plus, they know how to fix virtually any problem with your water heater as they're highly trained.

Just How to Repair a Water Heater
You'll need to inspect your water heater to determine the root cause of the problem.
Typically, you will want to start by shutting off the power supply prior to investigating the source of the issue.
There are a wide variety of issues that may be the issue, resulting in your water heater not effectively functioning. If you cannot identify the issue, consider calling your local plumber.

Tank Hot Water Heater
Container water heaters are one of the most typical types of water heaters.
When you're installing a hot water heater, think about the advantages and disadvantages of each. Benefits of a tank hot water heater include:

reduced purchase cost
cheaper set-up costs
higher hot water demand

A tank hot water heater uses much more energy but is typically less expensive to install.

Are You Ready to Have a Water Heater Service?
When it comes to installation and repair, hiring a professional for water heater services is recommended. As always, you can contact us at 281-412-4284 or 1-800-Plumber. Our name is our number.

We had to have someone come out today due to a sink and toilet leak. Swayze McLauglin was our plumber and he did a great job explaining the problem and how we could get it fixed. He was great at explaining price as well as what he was doing. Swayze was friendly and professional while he was here as well as working in these trying times with COVID-19 he followed all procedures and was great. We will be using yall the next time we need someone. Thank you so much Swayze for all your help!

Satisfied Customer
Plugged drain outside of house. Came out the next day, showed us the video of the tree branches in our line, gave me a quote over the phone and I had them start work. Finished in a few hours and left with our system drain restored.

Craig C.
Justin and Richard did a great job.

Satisfied Customer
"They were very professional and on time, the technician did what he was suppose to do then cleaned up and left me with instructions on how to finish installing the parts after I finish doing some tile work that needs to be done."
Andrei G.

Justin and Richard from electric cane. Did a superb job! Highly recommend always!

Satisfied Customer
I was greeted by Manolo Baez, introduced himself, polite, very clean, Manolo checked things out, I needed a new filter, explained the importance of good filters and how they work, I was very satisfied with his explanation. Manolo is knowledgeable and very professional, made me smile read less

Satisfied Customer
Chad C. with 1-800-plumber really cared. He was extremely thorough and made sure the job was done correctly. Would definitely recommend him!

Kathy Y.
Nick was very nice, professional, and explained what he was going to do first and if we had to do something else we talked first. Nick knew his job. Great work. Appreciate you!

Evonne H.
Chad was very informative and professional. He and his co-worker are a very rare breed in that they fully prepared to go to work and get the job done right then. I would definitely recommend and use again Chad an 1-800-plumber.

Kenneth C.
He is very professional and very respectful.

Satisfied Customer No surprise
costs at the end of a job On-Time
Committed to on-time arrivals