Your Professional
SERVICES
Our Top Emergency
Services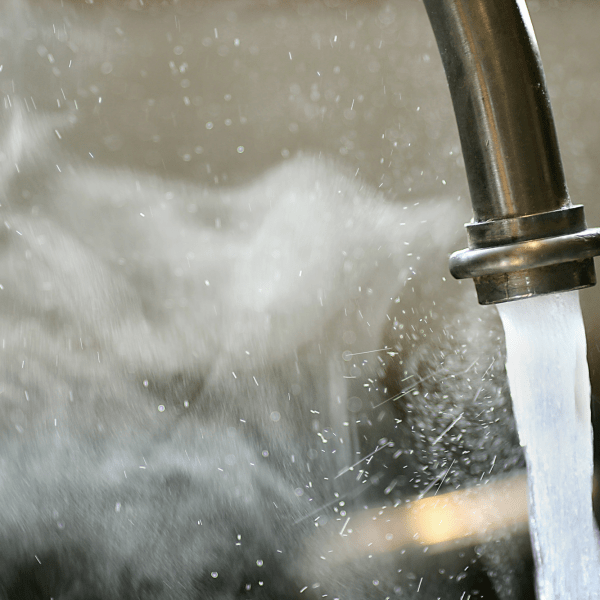 What is a Tankless Water Heater? Your Full Guide for Scottsdale, AZ

What is a tankless water heater? How do they compare to more standard water heaters? According to the Division of Energy, tankless water heaters can save you money on your electricity bill when compared to water heaters with traditional storage tanks.
On this page, we'll compare a tankless hot water heater vs your more traditional hot water heater; including the best fit for you. Additionally, we will offer you a closer look at the Rinnai tankless hot water heater installation process that is followed by our 1-800-PLUMBER +AIR team in Scottsdale.
Prepared to learn more regarding tankless hot water heaters? Time to read a bit more.

Why Go Tankless?
Let's begin with the basics: what is a tankless water heater? Simply put, a tankless water heater does not store hot water in a storage tank but will warm the water when needed. This means that they offer big increases in energy efficiency compared to water heaters with tanks.
When compared to standard hot water heaters, tankless heating systems have a tendency to be more expensive (at first); however, overtime they will provide energy savings. In addition, they typically last over 20 years.
The major downside when compared to typical tankless water heaters is their inability to produce a large volume of hot water. If you only have one, small tankless water heater, it may just have the ability to provide one faucet with warm water. This may mean you are unable to utilize multiple appliances at one time.
This issue can be alleviated by mounting a bigger tankless hot water heater or by having multiple smaller units.

Ready to
GET IT FIXED?
Contact Us Now!
Is a Tankless Hot Water Heater for Me?
In this area, we will take a closer look at learning if a tankless water heater is best for you.

How Much Warm Water Do You Use?
If you do not use a lot of hot water every day, a tankless hot water heater can assist in reducing your electricity bills. If you live in a smaller house in Scottsdale with fewer people, it may make sense to invest in a tankless water heater.

Do You Fulfill the Demands?
Tankless water heaters should be less than 50 feet away from a power source. If you use an electrical hot water heater, you need an adequate power supply while a gas unit will need ventilation.

Your Finances
As we pointed out, a tankless water heater often tends to be more expensive than traditional water heaters, with tanks. However, many companies offer the opportunity to finance your tankless heater, which may reduce your initial cash outlay.

Tankless Water Heater Installment

How will our technicians go about installing your tankless water heater? If it's a gas heater, we'll need to mount the unit onto your wall and connect water and gas lines as well as installing a flue.
If it's an electric heater, we'll need to mount it and connect it to water and electricity supplies.
Installation is fairly simple but should be done by a professional due to the potential for gas and water leaks and other serious issues.
Ready to Go Tankless in Scottsdale?
You began this page with one question "what is a tankless water heater?" We hope that we've helped you understand what they are and how they can help you. For more information about purchasing a unit, getting it installed, and cutting your energy bills, please contact us! We are local to Scottsdale and service the surrounding areas, and we would love to address any questions.
I was very impressed with Nick and that he was very professional. This was the first time we had used 1-800 Plumber and it wont be the last. Nick went above and beyond. read less

Satisfied Customer
1-800-Plumber fixed burst water pipe in my home. Hector and Chad explained the issue well, communicated timelines and completed work with an affordable price tag. I recommend their services.

Bhavna P.
As a consumer and customer I am very happy with 1-800-Plumber Air of Pearland. I really appreciate the concern Joe and his helper showed for my issue and for the work they performed. I highly recommend 1-800-Plumber Air of Pearland

Lee
This was my first time with 1-800-Plumber Air of Pearland. I called with a minor issue with the dishwasher drain hose and asked that a tech be dispatched on Saturday so that I could be home from work. Chad was scheduled between 8am & 10am today (Sat) and arrived just before 9am. Chad was very knowledgeable and explained to me the entire process. He also answered my many many questions about what he was doing as he was doing it. I'm a smart guy but know very little about plumbing. I felt very comfortable with Chad doing the repair. The long and the short of it, 1-800-Plumber Air of Pearland has a new longtime customer and I will request that Chad be sent if possible the next time I have a plumbing issue.

George T.
Kyle provided excelleent service as he always does. I have had some tricky plumbing problems and he has always solved the problem with efficient service and winning personality. He did a beautiful job on my pipe. He takes a lot of pride in his work .

Ruth L.
Chad C. with 1-800-plumber really cared. He was extremely thorough and made sure the job was done correctly. Would definitely recommend him!

Kathy Y.
This was THE most painless repair experience! We had a leak in a pipe behind our water heater, spewing water out into space, ugh. Joe and his apprentice, Dan, were here in about an hour or so. They were both so very friendly from the moment they showed up at the front door! After they determined the problem, we discussed the needed repair, and then they began to replace the pipe(s) behind the water heater. This was pretty much an all-day job and I can honestly say it was no problem having them in my home. They were not only professional and courteous employees; they were two very kind individuals, who were also comfortable and friendly around my crazy dogs! I have had nothing but the finest experiences with this company and cannot recommend them highly enough! They are the best!

Barbara H.
Kyle Urban is great! He does beautiful work and is a great guy! We will request him personally from now on.

Kelly W. No surprise
costs at the end of a job On-Time
Committed to on-time arrivals