Your Professional
SERVICES
Our Top Emergency
Services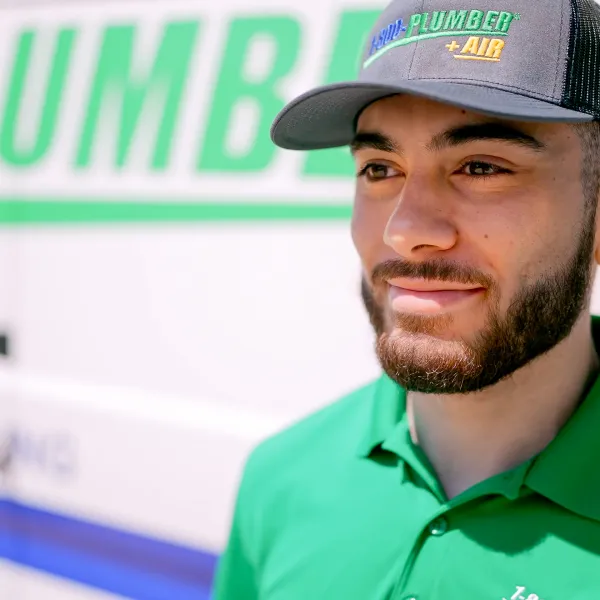 What is Orangeburg Piping and how do I know if I have it?
1-800-Plumber +Air of Scottsdale
Orangeburg Pipe is a type of home sewer pipe used in many properties built from 1945 to 1972. Also known as "no-corrode" pipe, Orangeburg is a type of bituminized fiber pipe made from a mixture of hot pitch and wood pulp. It gets its name from Orangeburg, New York, where it was originally mass-produced by the Fiber Conduit Company (which later changed its name to the Orangeburg Manufacturing Company).
What is Orangeburg Piping?
Having been in production for almost 50 years, it is estimated that there are over 6 million homes using this particular type of sewer pipe. A study conducted by Duke University found that most sewer pipes made out of this material are deteriorating quickly, or are already deteriorated. This is because Orangeburg Pipe uses cement mortar joints to join the pipe sections together, rather than rubber gaskets found in other types of brands. Over time, these mortar joints shrink and corrode, resulting in dozens of leaks throughout homes that have this type of piping.
The Duke University study concluded that "the extent of Orangeburg pipe installation in the U.S. is greater than previous estimates," and that their research proved that these types of materials were not resistant to corrosion nor rot as previously believed.
Orangeburg Pipe is made from hot pitch and wood pulp. This means it can be easily recognized by its black exterior. While it is not the only type of home sewer piping made from these materials, it makes up for almost 50% of all domestically-produced piping in America.
Unfortunately, this material will eventually degrade and fail, usually within 20 to 40 years depending on usage. Once the Orangeburg pipe has failed completely there are no fixable options for repairing the broken piping.
How to know if I need to replace my Orangeburg Pipes?
Orangeburg pipe will eventually degrade and fail, usually within 20 to 40 years depending on usage, and the degradation and failure of this type of piping typically occurs between the length joints rather than the mortar joints. Be on the lookout for these signs, however, it's best to get a licensed plumber out to check everything to ensure an Orangeburg pipe is the issue, because these signs could be because of something else.
Frequent toilet or sewage backups

Foul sewer odors within the building

Slow draining sinks or tubs

Mold issues

Patches of lawn that are greener than the rest of the lawn

Dips in the lawn

Sinking foundation in the building
There are no fixable options once your Orangeburg pipe has failed completely. Replacement is the only option that will restore functionality to your sewer system. However, your home or business will have a higher resale value with an updated system and the replacement process is quick, usually taking only a few days to complete.
The Benefits of Replacement for Orangeburg Pipes
Once you have made the decision to get your Orangeburg pipe replaced, it is important to get it done quickly. 1-800-Plumber +Air of Scottsdale has the resources needed to make this happen for you.
• A water/sewer permit will need to be issued by your local municipality (our experts can help).
• The old piping must be cut out and removed, usually in sections of 6 feet or less at a time.
• The new piping will be cut to length and fitted together. It is important to get this right, so the sections are typically measured at least twice before installation begins.
• Finally, your pipe replacement will receive a final inspection by your local municipality to ensure that it has been done correctly.
What can I expect from 1-800-Plumber +Air of Scottsdale?
The professionals at 1-800-Plumber +Air of Scottsdale have the experience and resources needed to get your piping replaced quickly, so that you can have a functional sewer system again. Our trained technicians will arrive on site equipped with the tools needed to diagnose the problem, provide an estimate for repair, and get your sewer system working again.
To be sure that you are hiring a reputable plumbing company, it is best to hire one that has years of experience in local markets, many positive customer reviews online or by word-of-mouth references, and full licensing credentials. 1-800-Plumber +Air of Scottsdale has all three, so you can be sure that they will get your piping replaced correctly.
To schedule an appointment with the experts at 1-800-Plumber +Air of Scottsdale to discuss repairing your Orangeburg Pipe system, simply fill out the online contact form or call us right away.
You can expect full professionalism from our experienced technicians, who will arrive fully equipped to diagnose your problem and make an accurate estimate for repairs. We are fully licensed and insured for your protection.
Contact Us to schedule your appointment with the experts at 1-800-Plumber +Air of Scottsdale. Or, simply fill out the online contact form. We look forward to serving you, providing solutions, and working hard for your complete satisfaction.
Apart from the services we offer, there's a lot that makes us stand out from the rest of the pack. First, we listen! We strive to give our customers exceptional service, which includes listening to your needs. Our technicians will listen and come up with a practical and lasting solution. We encourage our clients to ask questions whenever they need clarification. We also ensure we explain our proposals thoroughly and keep you informed every step of the way. So give us a call today!
Ready to
GET IT FIXED?
Contact Us Now!
Kyle Urban is great! He does beautiful work and is a great guy! We will request him personally from now on.

Kelly W.
He was everything you want in a employee!!! He was professional, kind, informative, patient, and very clean.

Ann B.
Very nice and knowledgeable people from office staff to the plumbers. Would definitely recommend using this plumbing company.
Linda G.
Nick was wonderful did an outstanding job, explained all options and extremely thorough. She will call back and use us again. She was very pleased and very happy that she didnt have to clean up after him.

Satisfied Customer
As a consumer and customer I am very happy with 1-800-Plumber Air of Pearland. I really appreciate the concern Joe and his helper showed for my issue and for the work they performed. I highly recommend 1-800-Plumber Air of Pearland

Lee
"1-800-plumber +Air is an A+ company !!! Our plumber was Robert , he was very knowledgeable and friendly! He was efficient and got the job done !l fixed two toilets for us! Thank you so much!! I highly recommend"
Diana M.

Nice bunch of guys. Did what they said and did it very well. Explained everything and took extra pre cautions with the Virus outbreak.

Mike P.
This is a very professional and helpful team! Would definitely recommend to all my friends and family in the Houston area!

Tyler S.
Joesph came out right on time. Showed me what my issue was, and told me my options (very professional). This company is fair and honest! They don't try to up sale or over price their product or service.. I highly recommend 1-800-Plumer of Pearland!! Go with these guys and you won't be disappointed!

Terril Kelly
EMANUEL REYES IS GREAT!!!!!!!!!!!!!!!!!!!!!!!!!!

Kathleen E. No surprise
costs at the end of a job On-Time
Committed to on-time arrivals