Your Professional
SERVICES
Our Top Emergency
Services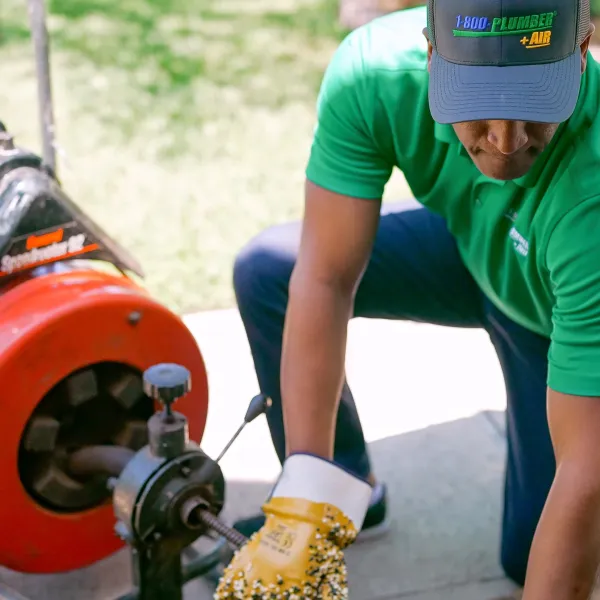 Indianapolis Drain Service
1-800-Plumber +Air of Indianapolis
If your drains are clogged or need cleaning, you should have the best drain service on your side. 1-800-Plumber +Air of Indianapolis offers drain service for customers all around the region. Read our tips for when you should hire a company to help with your drains.
Ready to
GET IT FIXED?
Contact Us Now!
When Should You Call Us?
A drain service isn't needed for every situation, but there are circumstances when a DIY approach isn't suitable. Call 1-800-Plumber +Air of Indianapolis if any of the following applies to you:
You Have an Intense Clog
Some clogs can't be handled with ordinary remedies like plungers and boiling water. You might have a backed-up drain because of a tree root that's grown inside of your pipe. These can only be solved with the help of a professional drain service, like 1-800-Plumber +Air of Indianapolis.
You shouldn't use a commercial drain cleaner to try and deal with a clog. They're highly corrosive and can cause lasting damage to your pipes, eventually leading to cracks and leaks. Secondly, they can't work on certain types of clogs.
All of Your Drains are Clogged
It's not random bad luck if each of your drains is clogged. This is a sign that you have something wrong with your main sewer line. The sewer line might have collapsed or otherwise be deteriorating due to age. There could also be tree roots growing inside the drain, or congestion due to improper disposal of grease and other items.
Your sewer line can be repaired/replaced, but this is work only for a drain service professional. At 1-800-Plumber +Air of Indianapolis, we can connect you with a quality plumber who can look inside all of your drain lines with high-tech camera equipment. Once we've determined the source of the clog, we work to remove it and restore your drain lines' quality.
Sewer Gas Odor
If you can smell, sewer gases are impossible to ignore. They can also be very dangerous due to hydrogen sulfide poisoning. If you smell sewer gases that aren't going away, you need to call an emergency drain service.
Your drains might have gotten so dirty that sewage and sewer gases have become trapped inside. A thorough drain cleaning can help to keep your home safe and hygienic. Don't ignore any unusual odors in your home, as they could indicate hidden dangers.
You Haven't Had Your Drains Cleaned
Yearly drain cleaning is recommended for all homeowners. Even if you do a good job of not letting hair and food clog your drains, there are still going to be things you miss or can't remove through ordinary methods. That's why you should call for a professional drain service, like 1-800-Plumber +Air of Indianapolis.
Our plumbers provide thorough drain cleaning services that remove annoying and dangerous obstructions. You can keep your drain pipes in better shape by reducing the risk of damage and keeping pests away. Call us for a drain inspection and cleaning.
Why Are My Drains Clogged?
You might not know exactly why your drain(s) is backed up, but this list might jog your memory:
Hair and Soap
Two of the biggest causes of shower drain clogs are hair and soap. Specifically, bar soap mixes with hard water to create soap scum, which can clog drains and stain surfaces. A good way to avoid this is by using liquid body wash instead.
You can also avoid hair clogs by installing a drain guard to catch your hair. If you do have a clogged shower drain, you can try to remove the clog by mixing baking soda and vinegar, letting it sit for a few minutes, and washing it down with boiling water.
Improper Food Disposal
You need to think before putting any food down your kitchen sink. Some things are just too intense for your garbage disposal and/or drains. Over time, you might have a clog that's very difficult to remove on your own.
One of the biggest mistakes is pouring grease and fat down the drain. These easily get stuck in your drain, as do rice and pasta. You should also avoid putting down animal bones, stringy vegetables, eggshells, or coffee grounds. Put these in your kitchen trash or in a separate container. You can reuse the eggshells and coffee grounds for composting.
Unapproved Flushing
No toilet, no matter how effective its flushing power, is meant to handle anything except toilet paper and human waste. Toys and other small hard objects obviously shouldn't go down the toilet. However, there are some other seemingly flushable items that also shouldn't.
Paper towels and tampons shouldn't go down your toilet, nor should cotton swabs or diapers. Don't take your chances on flushing anything, especially not when you have a wastebasket available. Be careful about how much toilet paper you use at a time as well.
Outside Forces
If you're careful about what goes down your drains, there should be another explanation, even if you can't immediately see it. There could be a tree root that's grown inside a drain pipe, a shift in the ground that also caused the pipe to shift, or hard water causing mineral buildup.

Call 1-800-Plumber +Air of Indianapolis if you can't immediately diagnose the cause of your clog. We'll find out what it is, safely remove it, and repair your pipes. Avoid trying any complicated drain line repairs yourself. You don't want to deal with the potential injury risk, as well as the additional damage it could cause to your drain lines.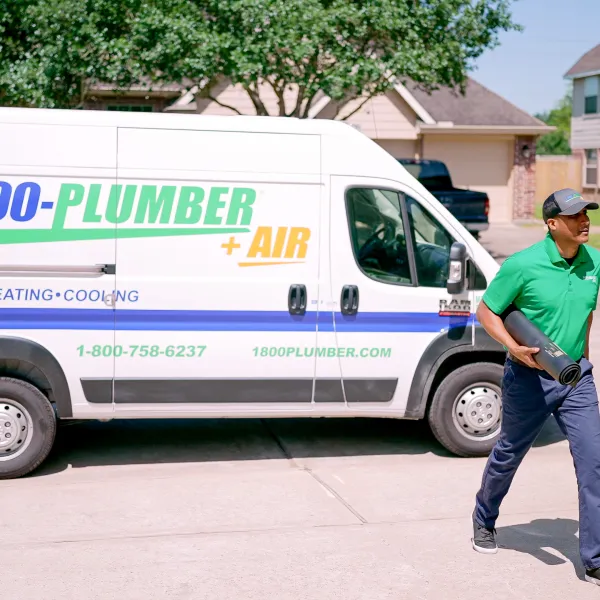 Hiring a Drain Service
Since drain problems can happen to anyone, everyone should know a quality drain service. These are some tips for finding the best drain service around:
Reviews
When looking up a drain service, check their reviews. Search for phrases like "drain cleaning" for specific feedback. Were they able to solve clogs and provide quality cleaning for their clients?
Don't just rely on anonymous reviews. You should also ask for direct references from the company. Be sure to also check the Better Business Bureau to make sure there haven't been any complaints filed against the company.
Availability
A drain service should be available when you need them. Due to the dangers of things like standing water, you shouldn't delay calling any longer than you have to. The best companies will offer emergency drain repairs.

1-800-Plumber +Air of Indianapolis is always available. Call us to schedule an appointment or right now for emergency drain service. We're available 24/7, which includes evenings, weekends, and holidays. We also don't charge extra during these visits.
Pricing
A drain service company should charge fair prices and avoid playing games with customers. When you get an estimate from some companies, they'll make it seem like you're getting a really good deal. However, the final bill is grossly inflated, but it's too late for you to do anything about it.
At 1-800-Plumber +Air of Indianapolis, we charge by the job, not by the hour. You won't be charged extra for a longer job or given surprise charges for materials. We want all of our customers to feel cared for and that they can trust us.
Interviewing
Remember that you hold a lot of power as a customer. Without people like you, drain services can't exist. That's why you need to treat every call to a drain service company as a job interview. Whoever you hire needs to be able to deliver.
Ask the right questions, such as what makes them the best company for the job and what specific methods they use for making sure drains are clear. At 1-800-Plumber +Air of Indianapolis, we're eager to share our experience and wisdom with our future clients. We also have proof of license and insurance available for all of our plumbers, so you can be assured you're working with a trustworthy company.
Need a Drain Service? You Need Us!
If you're good to your drains, they'll be good to you. Don't try to clear or fix your drains all on your own. Instead, call 1-800-Plumber +Air of Indianapolis. Our expert plumbers can make your drains cleaner than ever, and help your home to feel refreshed. Contact us today to learn more about drain service and other professional plumbing options.

Mason with 1-800-Plumber first listened to my issues and past experiences with other plumbing companies. He did a thorough diagnosis of the problem and found a solution, the correct solution which wasn't the most expensive solution. Thanks for your honesty Mason.

Carolyn P.
Swayze did a wonderful job yesterday, he answered all my questions perfectly, was very respectful and took the time to clean up his mess. I am really impressed and pleased with his work. read less

Satisfied Customer
"Had them install 3 faucets. Tech (Dustin) was on time and professional Nice job, clean and neat. Had tiny problem, called and he was here right away. Great and will use them again"
Wilbert H.

friendly, knowledgeable, helpful and courteous

Satisfied Customer
Kyle was efficient and professional when handling my faucet water leak. He was an expert problem solver to my numerous problems. Success!

Cheryl S.
Very nice and knowledgeable people from office staff to the plumbers. Would definitely recommend using this plumbing company.
Linda G.
Joesph came out right on time. Showed me what my issue was, and told me my options (very professional). This company is fair and honest! They don't try to up sale or over price their product or service.. I highly recommend 1-800-Plumer of Pearland!! Go with these guys and you won't be disappointed!

Terril Kelly
Mark was great! He took the time to not only give a price, but explain everything a new system could do and how it would benefit them not just in heating and cooling, but dust reduction, utility bills, etc. Very Very pleased. read less

Satisfied Customer
Justin and Richard from electric cane. Did a superb job! Highly recommend always!

Satisfied Customer
"1-800-plumber +Air is an A+ company !!! Our plumber was Robert , he was very knowledgeable and friendly! He was efficient and got the job done !l fixed two toilets for us! Thank you so much!! I highly recommend"
Diana M. No surprise
costs at the end of a job On-Time
Committed to on-time arrivals