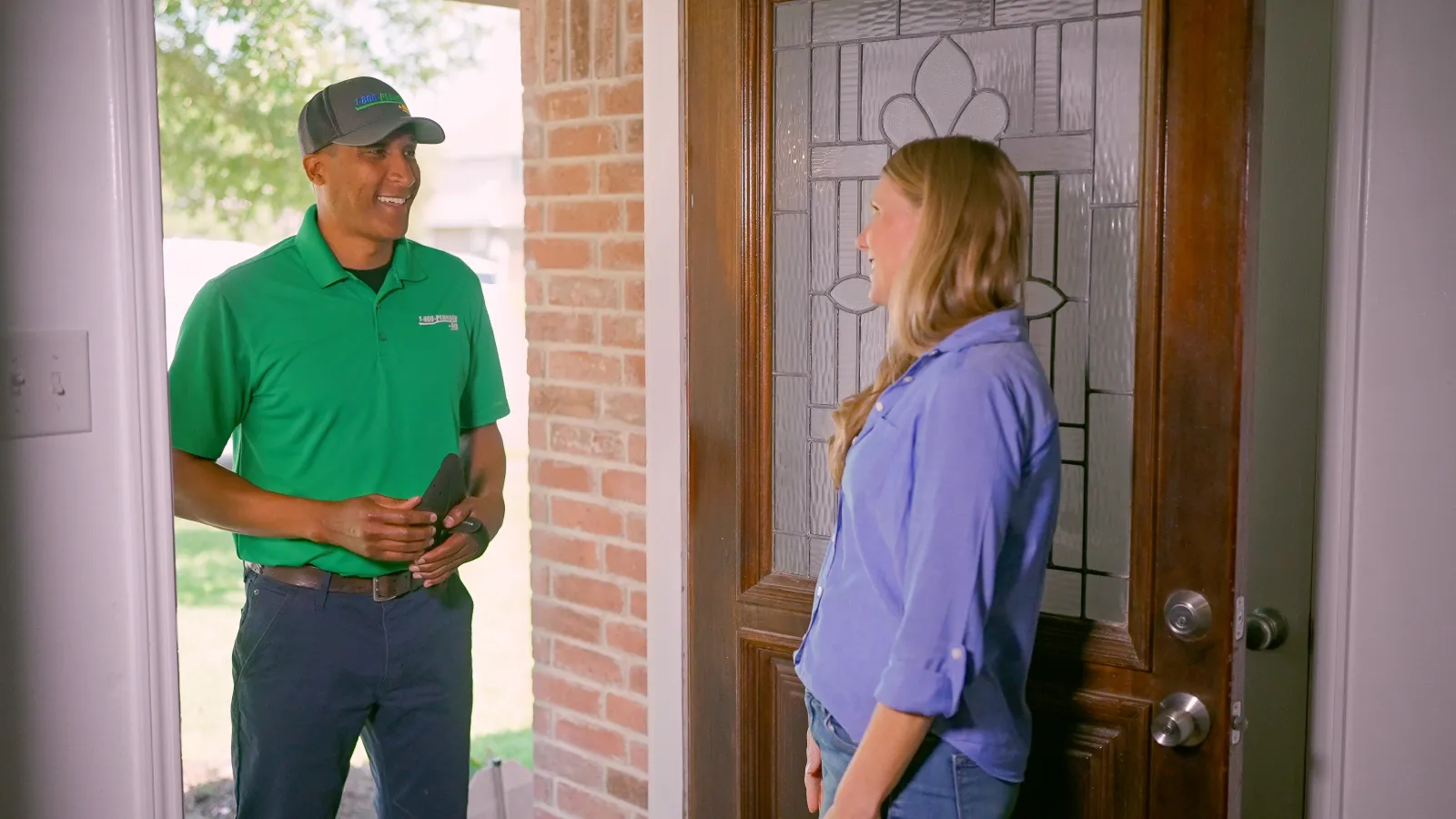 The Name You Trust for your
PLUMBING REPAIRS
Having a
HOME EMERGENCY?
Call or Find Your Nearest Pro!
The zip code you entered is not associated with one of our locations. Please visit our Locations page to find your closest location.

Your Professional
SERVICES
Our Top Emergency
Services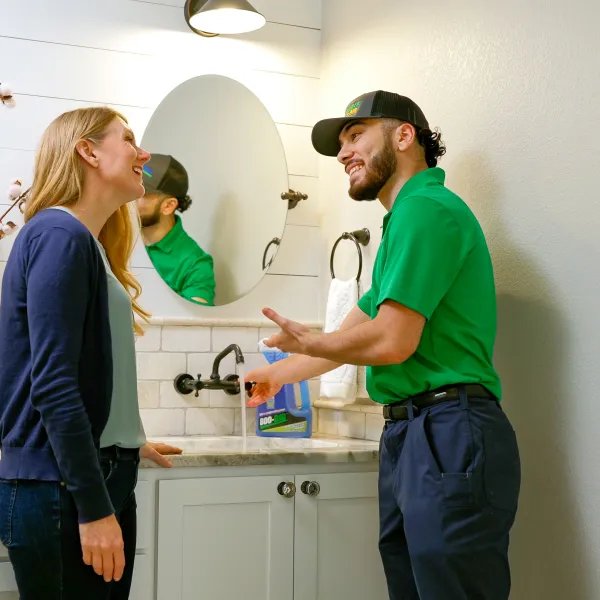 Who to call when you have plumbing issues in Indianapolis IN?
1-800-Plumber +Air of Indianapolis

Who to call when you have plumbing issues in Indianapolis? The best choice is 1-800-Plumber +Air of Indianapolis. We are an emergency plumber providing 24 hour/7 days a week service.
Contact Us
today!
What is the difference between a drain and waste line?
A drain line is used for water to flow from one area to another. A waste line is used for waste materials to leave a designated area.
How do I avoid plumbing problems?
You can avoid plumbing problems by noticing any leaks around the home, making sure there isn't any dampness or moisture on your walls or flooring, and having all of your appliances serviced at least once every year.
Where can I get help with my water heater problems in Indianapolis ?
When you have problems with your water heater in Indianapolis, 1-800-PLUMBER +Air of Indianapolis is the best call to make. We offer emergency service for any problems that you may encounter with your home's plumbing. We will send someone out immediately and get your problem fixed before it can pose a threat to your home or comfort.
What can cause low water pressure in Indianapolis?
Low water pressure is usually due to sediment blocking the flow of water or a faulty fixture. Sediment blocks the flow because it settles at the bottom of the pipes and restricts the opening where water flows through. A faulty fixture will restrict your flow because of a crack in the fixture. 1-800-PLUMBER +Air of Indianapolis offers services for these problems. They can either clean out your pipes or replace the fixture that has the crack/problem.
What are the different water heater parts?
Parts of your water heater include: the pressure relief valve, the anode rod (this is used to keep rusting down), the dip tube (keeps sediment from building up in your tank), and an expansion tank. 1-800-PLUMBER +Air of Indianapolis offers repairs for these parts/issues if you currently have any of them.
Where can I get help with my clogged drain in Indianapolis?
If you have a clogged drain in your home, 1-800-PLUMBER +Air of Indianapolis offers services that will fix the problem for you. They will send someone out to unclog your line and ensure that all problems are fixed. They offer the best service when it comes to clogged drains.
What are three signs it is time to replace my water heater?
3 Signs that indicate your need for replacement include: the heater is too old, the heating element needs to be replaced, or low water pressure. 1-800-PLUMBER +Air can help you to replace your water heater for a more efficient one. They will inspect the current one and determine whether or not it is too old, if the heating element needs to be replaced, etc.
What should I do about my leaking pipes in Indianapolis?
If you have any leaks in your pipes, you need to get them fixed immediately. If you leave the leaks for too long, they can cause a buildup of water in your home and lead to mold growth. The best thing that you can do is have these leaks checked by 1-800-PLUMBER +Air right away so that they can ensure that your issue is resolved quickly.
Is copper or galvanized steel more durable?
Galvanized steel is more durable than copper. However, if you use the proper piping material (K-55 PVC) it will be easier to maintain and result in no corrosion. 1-800-PLUMBER +Air offers this service for you so that they can recommend the right piping.
How does your plumber find leaks?
A plumber uses a variety of ways to detect leaks or other problems with your home's plumbing system. They will use leak detection equipment, pressure testing devices, and water temperature sensing systems. 1-800-PLUMBER +Air offers all of these services for you so that they can find the cause of your problem and fix it.
What is a drain line?
A drain line is a pipe that runs from your home to the drain outside. They help to carry water away from your home. 1-800-PLUMBER +Air offers services for drain lines if they have the root of your problem. They will help to clear any blockages that might be in the line and even install a piping system (PVC piping) so that you no longer need to worry about clogged drains or drain line problems.
What is a cleanout?
A cleanout is a device that allows you to get rid of waste through your drain line. They are used when you need to get rid of objects or other things in the line. 1-800-PLUMBER +Air offers services for these devices if they have an issue with them so that they can ensure that all waste is removed from your home.
What are some benefits of having a new water heater installed?
Some benefits include: more efficient water heating, no corrosion or rusting, and hot water is available as soon as you need it. The old heater might not be as efficient as it could be which means that your money could be going to waste. 1-800-PLUMBER +Air offers services by water heater experts who can help to ensure that you get the right heater and also install it in your home.
Why You Should Call 1-800-Plumber +Air of Indianapolis
We are here to resolve your plumbing problems, and also try to prevent them from reoccurring in the future. Contact us so we can provide you with any plumbing, heating, or cooling issues and we will properly address your needs.
Apart from the services we offer, there's a lot that makes us stand out from the rest of the pack. First, we listen! We strive to give our customers exceptional service, which includes listening to your needs. Our technicians will listen and come up with a practical and lasting solution. We encourage our clients to ask questions whenever they need clarification. We also ensure we explain our proposals thoroughly and keep you informed every step of the way. So give us a call today!
Ready to
GET IT FIXED?
Contact Us Now!
6. Insurance
If your plumber isn't insured, you could be on the hook for some serious charges. Not all states require insurance, but you should still make sure your plumber has it.

Proper insurance can protect both of you in the event of building and/or bodily damage. Make sure their policy is current as well, via their insurance provider.

Indianapolis 1-800-Plumber +Air plumbers are all completely insured. In case of an accident, things will be covered, and the project can continue from there.
7. Pricing
There's an unfortunate stereotype about plumbers and other contracting professionals being deceptive with their pricing. To keep yourself from being dragged around or otherwise misled, request a written estimate prior to a project starting.
Look at this closely, seeing if there are clauses, such as ones dictating you pay more if further expenses arise or if the project duration increases.

Do comparison shopping as well. Ask a minimum of three plumbers for their quotes on a project, as well as what they're charging for materials.

If someone's rate is far greater than the others', look elsewhere. The same goes for if they're charging exorbitant prices for supplies compared to hardware stores.
At Indianapolis 1-800-Plumber +Air, we're clear about our costs. When it's time to pay, there are no unwelcome surprises.
8. Honesty
A quality plumber is an honest one. They're going to give you the truth about the project and the deadline. If something is going to take a week to complete, they'll tell you a week.
See how long your plumber takes to complete projects, based on their previous experiences. You need them to be efficient, as the longer a project goes, the more expensive it can become.
Indianapolis 1-800-Plumber +Air is committed to transparency. Whatever you need to know, we're happy to answer, with the most comprehensive responses possible.
9. Availability
When you need a plumber, you typically need one right away. When you're researching plumbers, they should be able to start the new project within a week or sooner, if necessary.

Many plumbing jobs are emergencies. That's why you need to have an emergency plumber available, one who can stop by at all hours of the day - or night.
Indianapolis 1-800-Plumber +Air plumbers are available 24/7. Give us a call, and we'll work to get your issues remedied ASAP.
10. Guarantee
Guarantees aren't just promotional tactics for plumbers to get hired. They're ways to establish trust between plumber and client. Get a guarantee in writing so you have a record of what your plumber has promised.

1-800-Plumber +Air of Indianapolis, our guarantees are as good as gold. We say what we mean and mean what we say.
1-800 Plumbers Sugar Land is the best!! Hector the owner and his team of men, specifically Chad were great! Very friendly, thorough, fast, and I didn't feel like I was being taken advantage of or robbed.

Erinn D.
Emanuel Reyes did a very thorough job and was very courteous.

Charles M.
I had Kyle U as my plumbing tech. He did a great job and worked really hard to get to the bottom of things (like roots). He was also polite and honest.

Linda D.
Kyle Urban is great! He does beautiful work and is a great guy! We will request him personally from now on.

Kelly W.
Joey and Moses came out to replace a waterline and were AWESOME!!! They answered my questions, where patient, friendly (respectful) and VERY professional! This my 2nd time using 1800 plumber and both visits were great! I look forward to continue using them! read less

Satisfied Customer
First plumber we called wanted $3500.00 to replace everything. Emanuel came out and suggested we change one part and less than $300.00 later we was up and running again. From Mark, to Taylor, and then on to Emanuel the whole experience was professional and I will be a customer for life. Hopefully not often though. Great working with you guys!.

Brian
Chad was a pro..... personal..... and got right to work...... he explained each step he was taking and why .... very pleased with his. service and will highly recommend

Andy M.
EMANUEL REYES IS GREAT!!!!!!!!!!!!!!!!!!!!!!!!!!

Kathleen E. No surprise
costs at the end of a job On-Time
Committed to on-time arrivals
Choosing the Right Plumber
When you need a plumber, you might feel a little desperate and even more stressed. You'll do anything to take care of your pipes and drains. However, that could mean hiring the wrong plumber.
We made this guide so you can know what to look for in a plumber before hiring them. These qualities include:
Up-to-date licensure

Proper experience

Strong reputation/reviews

Quality equipment

Insurance

Clear pricing

Honesty

Availability

Guarantee
It doesn't take very long to find this information out. Once you have it, you can feel so much less stressed about whatever plumbing project you need accomplished.
What We Can Do For You
At Indianapolis 1-800-Plumber +Air, we don't like to rush things. We're efficient, but we're also caring. We strive to create a sense of camaraderie with all of our clients.

In addition to fixing your plumbing issues, we also offer pointers on how you can avoid further problems, such as:
Not putting anything down the toilet that doesn't belong there (e.g., paper towels, tampons)

Not putting clogging threats like fats, rice, coffee grounds, and pasta in garbage disposal

Not using too much drain cleaner, which can wear down and crack pipes

Not letting hair and soap clog drain

Not pouring hot water down the toilet
Let's Get the Job Done
Whether your plumbing job takes two hours or two weeks, Indianapolis 1-800-Plumber +Air is here for you. We have an amazing team of trained plumbers with plenty of accolades. Call us today at [number] so we can get you set up with the right plumber.

Refer to this guide throughout the process, from beginning to end. You deserve the best treatment when looking for plumbers in Indianapolis, and we want to be there for you.