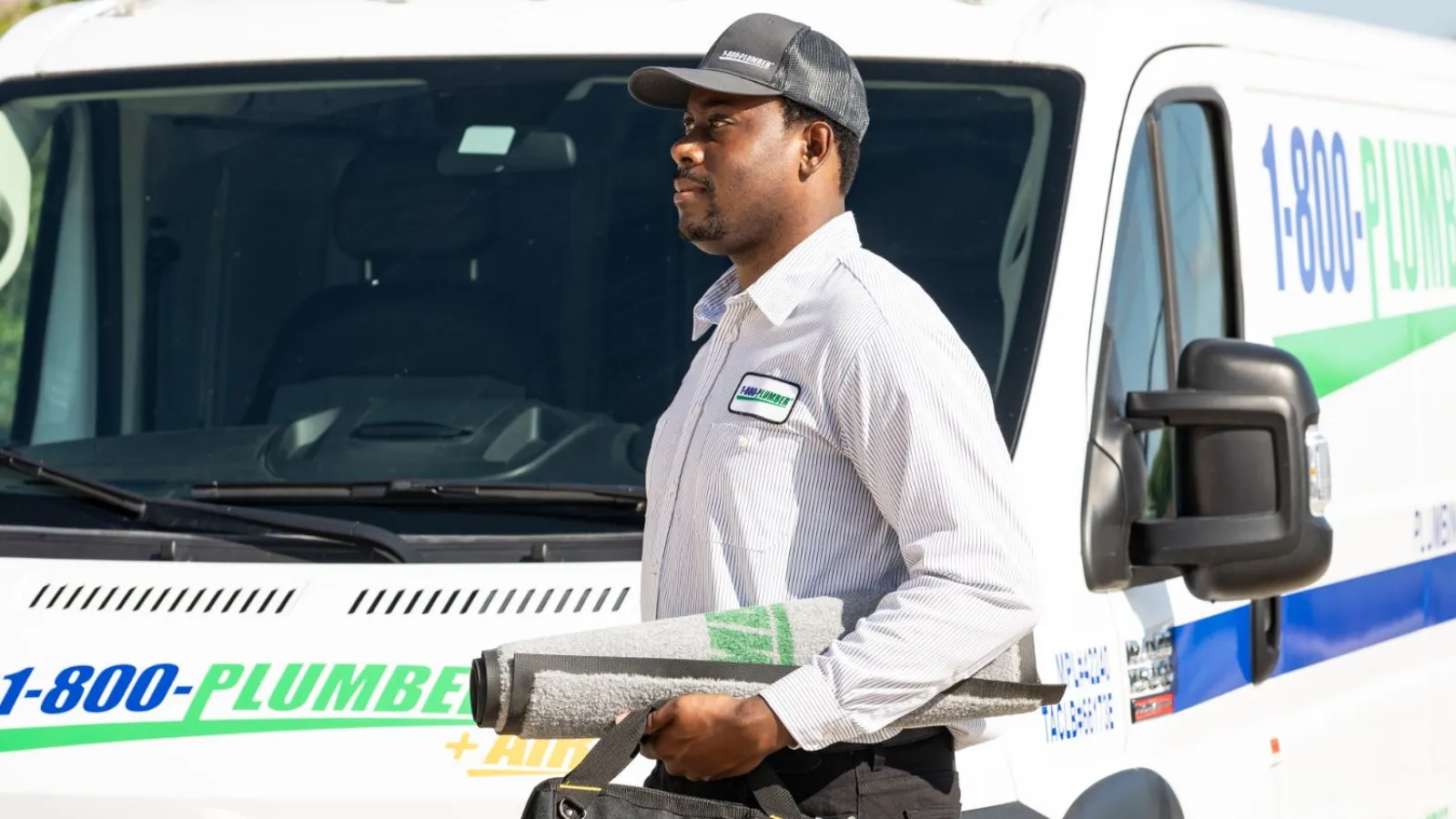 The Name You Trust for your
SEWER & DRAIN SERVICES
Having a
HOME EMERGENCY?
Call or Find Your Nearest Pro!
The zip code you entered is not associated with one of our locations. Please visit our Locations page to find your closest location.

Your Professional
SERVICES
Our Top Emergency
Services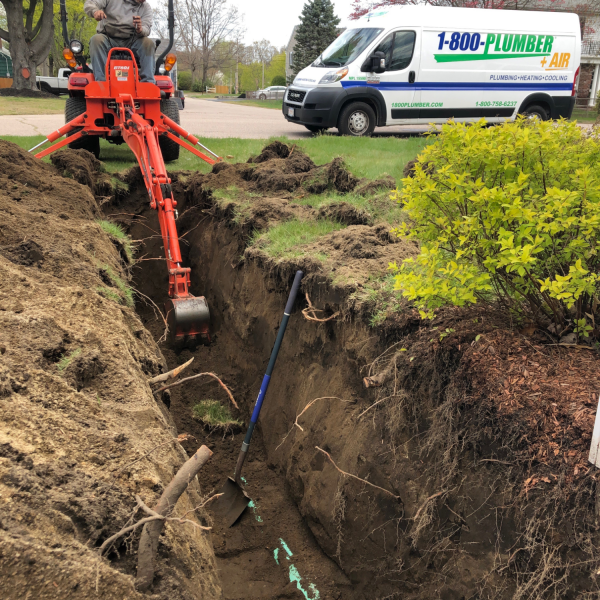 Sewer, Septic & Rooter Services | 1-800-Plumber +Air +Air Portland
Your sewer is a part of your home you commonly forget about, which is a good thing. A healthy sewer is an odorless and quiet sewer.
But when your sewer starts acting up, do you know how to handle it? Ignoring the signs of a sewer problem can lead to sewer backups and overflows. According to the EPA, there are between 23,000 and 75,000 sanitary sewer overflows in America every year.
If you're wondering how to fix a backup sewer, you've come to the right place. From understanding what plumbers are capable of to preventing your sewer from backing up into a ditch, we've got the answers to all of your plumbing questions.
Let's explore.
What Does a Plumber Do?
As a homeowner, it's critical to understand what plumbers do, so you know when to call one.
The extensive list of plumber responsibilities includes more than fixing faucets and toilets. Professional plumbers are well-versed in repairing a variety of problems in residential and commercial properties.
Plumbers follow blueprints, use specialized equipment to detect problems invisible to the naked eye, and may assist with designing new piping systems.
Some of the duties performed by a plumber include:
Installing, repairing, and providing preventative maintenance to pipes, drain systems, septic systems, valves, and fittings

Responding to plumbing emergencies

Cleaning garbage disposals

Water heater maintenance

Septic services and septic tank flushing

Routine sewer services

Administering and adjusting household water pressure systems

Identifying household and foundational leaks

Fixing running or clogged toilets

Installing appliances (such as water heaters, pipes, and bathtubs)

Gas line repairs

Water treatment

Collaborating with general contractors and electricians for constructive services
Because of their diverse skill set and piping knowledge, having a trustworthy plumber on speed dial is a good idea for any Portland homeowner. Whether you're unsure if your drains are clogged or you require new pipes, a professional plumber can assist.
When Should You Call a Plumber?
Timing is everything when it comes to plumbing repairs. Ignoring a plumbing problem can lead to widespread water damage throughout your Portland home.
You should call a plumber if you suspect something isn't right. Warning signs include:
Abnormal sounds (specifically gurgling or blub blub noises)

Foul odors (especially around your drains or septic system)

Abrupt changes in water pressure

Slow drainage

Unidentified water damage

Gas smells
A technician will visit your home and use specialized equipment to detect problems that might not be visible, such as water leaks and sewer clogs. Then, he or she will use specialized equipment to make fast and efficient repairs.
Leave things like sewer repairs, septic tank backflows, water heater problems, and installing equipment to the specialists. Tackling these projects on your own is both dangerous and difficult. Mistakes can put your home (and family) in danger.
But never fear, because Portland's local plumbing professionals are here to provide unparalleled services for residents throughout Multnomah County.
How to Fix Backup Sewer
Your home is equipped with multiple piping systems. It features outgoing sewer lines and incoming water lines.

Clean water moves towards your home. Outgoing sewer lines transport wastewater from your toilet, washing machine, shower, and sinks, away from your property.
But if your outgoing waste line becomes clogged, wastewater cannot leave your home. Instead, it creates a sewer backup that sends hazardous materials back into your home. The wastewater contaminates the home, causes water damage, and leads to mold.
If you have sewer problems, act fast. Do not attempt to fix the clog yourself. Homemade remedies and chemical cleaners will not clear your drain. They will cause further damage to your pipes.
Instead, call your local Portland plumbing team. A technician will shut off any water going into the drains. He or she may also disable your electricity if the wastewater is close to an electrical outlet.
A plumber will then repair the clog in your sewer line. In circumstances where aging pipes are the problem, the technician may have to repipe your sewer line.
Once the sewer lines are clear, the technician will put on proper safety gear (such as rubber gloves and heavy-duty boots) and enter the contaminated area. He or she will clean up the flooded space using a shop vacuum. The plumber will sterilize all of the affected areas to ensure there are no sewage remains lingering on your walls or floors.
Identifying and Preventing Backup Sewer Problems
The first step to fixing a backup sewer is identifying when there is a problem. The top warning signs of sewer line problems are:
Slow drainage throughout the residence

Waste backing up into other pipes

Accumulation of sewage (which you may smell before you see)

Waste flowing back into the home
Common causes of sewer line backups are tree root invasions, aging pipes, poor plumbing designs, and large clogs in sewage pipes.
Avoid a plumbing emergency by being mindful of what you flush down your drains. Schedule regular sewer maintenance. Avoid planting trees
within 20 feet
of an underground sewage line.
Ready to
GET IT FIXED?
Contact Us Now!
What's Causing My Bad Sewer Smell?
If you're wondering how to know if your sewer needs service, listen to your nose.
It's not uncommon for residents to smell a problem before they see one. Your sewer system is full of odors. Smelling something abnormal indicates a problem.
Many homeowners assume bad sewer smells are connected to the toilet. But this isn't always the case. In many circumstances, there may be problems in your sewer lines that are causing dilemmas in your drains. This leads to foul odors coming from sinks, showers, and bathtubs.
Keep in mind that bad sewer smells are a sign you need to take action. Ignoring the smells causes problems to get worse, and can lead to plumbing emergencies (like a sewer backup).
If you smell unpleasant sewer odors, contact Multnomah County's trusted plumbing professionals.
Clogged Sewer System
Smelling sewage in your kitchen or bathroom could mean there is a clog in your sewer system. Your sewer may not be able to handle the amount of sewage, whether it be due to blockages or faulty piping. The issue could also be a broken vent pipe, in which a professional plumber can make the necessary repairs.
Dry P-Trap
Bad sewer smells in your shower could be due to a dry p-trap. This causes water to evaporate from your shower.
The fix, however, is simple.
Just let hot water run down your shower drain for a few minutes to refill your p-trap. If the odors remain, call your local Portland plumber for further assistance.
Sewer Cleaning
More often than not, bad sewer smells signal it's time for a sewer cleaning. Regular sewer line maintenance ensures your outgoing sewer lines stay clear. They eliminate buildup like grime and residue that can lead to foul odors around your property.
Signs Your Sewer Needs Service
Homeowners should familiarize themselves with the common signs of sewer problems. The faster you identify an issue, the sooner you can fix the problem. Fast action leads to less property damage and less money spent on repairs.
The first sign of a sewer problem is foul odors around your home. Clogs in your sewer lines lead to musty or fecal-like smells throughout your property. A healthy sewer should not create any detectable smells.
Another common sign of a sewer problem is abnormal smells coming from your toilets, sinks, and showers. Running water sounds, gurgling toilets, or bubbling drains signify a sewer backup. Since the wastewater cannot move away from your property, air bubbles flow up with the water and create strange sounds.
If you notice slow drainage throughout your residence, consider calling a technician to take a look at your sewer. Sewer clogs prevent water from flowing away from your property. It causes water pools to form in showers and sinks. The standing water is a sign something isn't right in your pipes.
Finally, a luscious lawn may be a sign of an underground piping problem. Many plants thrive in nutrient-rich wastewater. Abnormally green patches throughout your lawn could signal a sewage issue.
If you notice any of these signs, contact your local plumbing professionals. They will know how to fix your sewer and prevent wastewater from wreaking havoc on your Portland home.
H3: Don't Skip Routine Sewer Services
Regular sewer maintenance and inspections by professional plumbers ensure your sewer system remains in tip-top shape. Qualified technicians identify early signs of problems and take action before any damage occurs.
Regular maintenance benefits your sewer system by:
Reducing stress on sewage pipes

Keeping sewer lines clear of debris and residue

Stopping buildup and clogs

Preventing pipe corrosion and leaking pipe joints

Hindering tree roots from invading and crushing your sewer line

Protecting your family from hazardous sewage backflows
Routine checkups from your local Portland plumbers ensure your sewer systems continue functioning and prevent an expensive plumbing emergency.
Portland's Top-Rated Sewer Service Professionals
From how to fix a backup sewer to repairing common septic problems, we are Multnomah County's go-to plumbing team.
We're proud to serve the following zip codes:
97035

97203

97207

97215

97219

97227

97231

97238

97239

97256

97292

97290

97296

97214

And more
Contact us now
to schedule your next service appointment or reach our agents at 1-800-Plumber +Air of Portland . We are available 24/7 to assist and guide you through common sewer repairs.
So nice and professional.

Sharen B.
Chad C. with 1-800-plumber really cared. He was extremely thorough and made sure the job was done correctly. Would definitely recommend him!

Kathy Y.
I really appreciated Manolos attitude and the way he had patience for all of my questions and never seemed like he was rushing or annoyed with me. He took the time to reexplain it to my husband when he got home. I didn't feel pressured into spending more money or like he was trying to just sell me stuff. I felt like he really took his time and that I was his priority. Thank you for having great service.

Satisfied Customer
Very knowledgeable, friendly and awesome work. Highly recommend this crew for any plumbing needs.

Tom T.
Kyle provided excelleent service as he always does. I have had some tricky plumbing problems and he has always solved the problem with efficient service and winning personality. He did a beautiful job on my pipe. He takes a lot of pride in his work .

Ruth L.
Very professional, friendly, and on time.

A M.
Had a problem with my drain. Representative came out and knew exactly what was wrong. They fixed it the problem fast and customer service was great! Will definitely use them again!

Adrian B. No surprise
costs at the end of a job On-Time
Committed to on-time arrivals