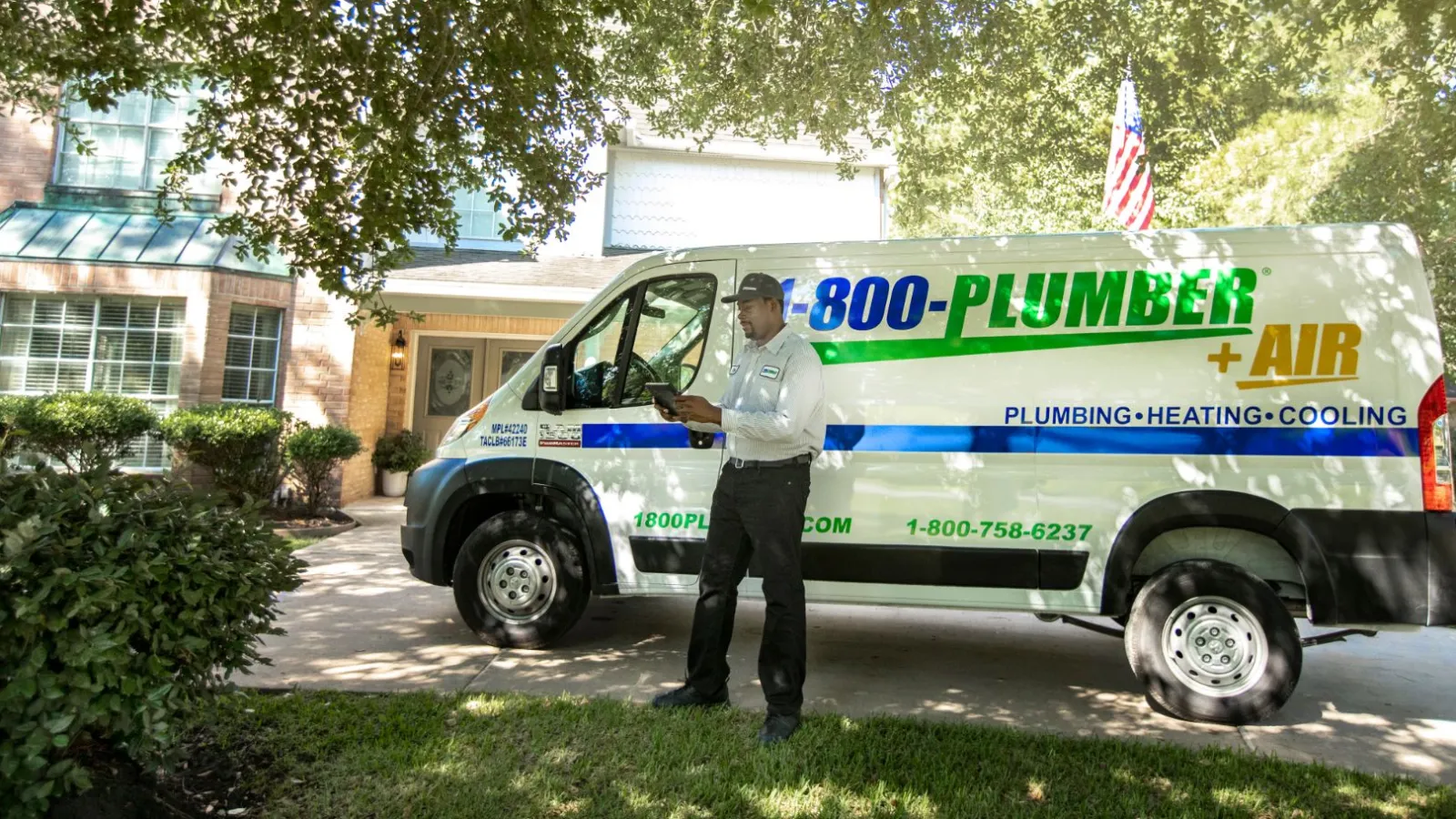 The Name You Trust for
RE-PIPING YOUR HOME
Having a
HOME EMERGENCY?
Call or Find Your Nearest Pro!
The zip code you entered is not associated with one of our locations. Please visit our Locations page to find your closest location.

Your Professional
SERVICES
Our Top Emergency
Services
How Much Does It Cost to Re-pipe a Home in Portland? Read Below to Learn More
Depending on the age of your home and how long you've lived there, you might never have to replace the pipes. However, when pipes reach a certain age, they need to be taken out and replaced with new ones.
Besides age, there are other ways you might suspect something is awry with your pipes. 1-800-Plumber +Air of Portland has numerous tips for how you can determine when your pipes are ready to go. Read our guide to figure out if your Portland home needs repipes.
Can't I Just Repair My Pipes?
Going through the repipes process can be pretty taxing, not to mention costly. There are times when it would be more practical to just get your pipes repaired, such as:
The Pipes Aren't That Old
Pipes need to be replaced at least once every 60 years. If yours aren't anywhere near that age, they might just need some minor maintenance. When purchasing/owning a home, make sure you know exactly when the current pipes were installed. They shouldn't need to be outright replaced if they've been installed fairly recently and are made of safe material.
Pipe Relining is Possible
A good alternative to repipes is relining. This is a way to remedy damaged pipes with a resin. It's a bit like performing surgery on your pipes, and it's a great way to revitalize them without totally replacing them.
During pipe relining, plumbers place a tube, covered in resin, into a pipe. This tube is then inflated to fill the pipe. The sticky resin allows it to latch onto the pipe. It's like a cast for a broken bone.

Pipe relining isn't always a solution. If the damage is bad enough, relining might not work or only work temporarily. Some of these scenarios included damage from tree roots, sag from pipes holding water (sometimes referred to as a "belly"), and your pipes being corroded and warped beyond repair.

Find certified and professional piping experts to handle your pipe relining. 1-800-Plumber +Air of Portland can determine the right solution for your pipes to get them back into place.
Repairs are Financially Feasible
As a homeowner, you need to budget for things like pipe leaks or other household annoyances. However, your budget shouldn't be decimated by constant pipe repairs. Small, inexpensive fixes can turn into large, expensive hassles very quickly.
The sunk-cost fallacy comes to mind. Instead of stepping away from a bad decision or changing their approach, people will stick with their old habits and surroundings. If your pipes constantly need attention, you're just delaying the inevitable, and spending far more than you need to.
Your Pipes Aren't Made of Lead or Polybutylene
If your home was built before 1986, the year of the Safe Water Drinking Act, there's a very good chance the pipes are made of lead. Repipes are a must then, due to the numerous dangers of lead exposure.

According to the CDC, lead is dangerous at all levels. There's no risk while showering or washing your hands, due to lack of skin absorption. You can also use a filter to process any water you're going to drink or cook with. However, it's best to just new pipes, made of non-toxic materials.
Polybutylene isn't toxic, but it can contribute toxicity to your home. This is a plastic material that was used up until 1995. Although it was touted as being very strong, the evidence says otherwise. PB pipes are prone to burst, causing extensive water damage and potentially mold in homes.
What Sort of Repipes Should I Get?
If any of that applies you to, congratulations on (hopefully) being able to keep your pipes in place, with minimal intervention. However, if you have old, unalignable lead pipes that keep needing remedying, keep reading. It's also just good to be aware of this information, for future reference.

Let's look at the most popular kinds of pipes and what they each can offer.
Galvanized Steel
Galvanized steel pipes are very common in homes, but they've fallen out of fashion considerably. To fend off rust, these pipes are coated in zinc. However, intentions didn't yield results. Galvanized steel can still rust, turning the water an unappetizing color.

While rust isn't necessarily dangerous to consume, lead certainly is. Galvanized steel pipes can contain some lead or be connected to larger systems with lead pipes. Remember: the only safe amount of lead in water is zero.

These pipes are also prone to corrosion, limiting the water pressure significantly. It's best to steer away from galvanized steel pipes, and instead opt for a safer, and longer-lasting material.
Copper
Outfitting your home with copper pipes means using "rigid copper," labeled (in ascending order of thickness) as Type M, L, and K. No matter what type you're using. copper is a most reliable material. Corrosion, leaks, and bacterial contamination don't affect copper pipes. It's also got a pretty outstanding lifespan, lasting more than 50 years.

So, what's the catch? Well, copper can be rather expensive. As demands for it goes up, so does the price. It's also not the most eco-friendly type of piping material, should that be important to you. Copper also isn't quite as strong as some materials (such as steel), but don't mistake that for weakness.
PVC Pipes
Polyvinyl chloride, or PVC, pipes are made of vinyl and plastic. Unlike polybutylene pipes, PVC pipes are built to last and do. They're recommended for homes with intense water pressure and have a strong immunity to corrosion and rusting.

However, as strong as these pipes are, they're not invulnerable. Since they're made of plastic, they can become warped from transporting hot water. They can be used for drainage, but not for any hot water purposes. It's also not recommended to drink water that goes through PVC pipes. Another thermoplastic, CPVC, (chlorinated polyvinyl chloride), is safer to use for hot water-consuming lines.
PEX Pipes
Also in the plastic pipes family is cross-linked polyethylene, otherwise known as "PEX." A newer type of plastic piping, PEX is desired for its flexibility and easy fusion. There's little trouble with creating a chain of PEX pipes from one wall to another. It's also more weather-resistant than PVC, although it is more expensive.

It's worth noting that you can't set up PEX pipes outside, due to UV sensitivity. Some have complained about the taste and smell of water sent through PEX pipes. However, there haven't been any reports or evidence of illness caused by these pipes.

If you're still not sure which type of repipes is best for you, we're eager to help you. 1-800-Plumber +Air of Portland offers consultation to help you determine which pipes are most suitable for your home.

Ready to
GET IT FIXED?
Contact Us Now!
Can I Handle Repipes Myself?
Unless you're a licensed plumber with proven experience in repiping, it's best to leave it to the professionals. While some pipes are easier to set up than others, the entire process is quite involved. Replacing even a portion of your pipes is demanding, let alone the entire home.
Trusted professionals, like ones from 1-800-Plumber +Air of Portland, are who to call for your repiping needs. Depending on the size of your home and the number of bathrooms, a repiping is possible in only a couple of days. However, you should be prepared for it to take longer.
Your repiping can coincide with other home renovations, including installation of a tankless water heater. If you're planning to put your house up for sale, install repipes beforehand. This is a proven method for increasing your house's market value.
Can I Use the Facilities During Repiping?
Your water will have to be shut off for at least part of the repiping, meaning you won't be able to use the bathroom, shower, or drink from your faucets at this time. However, we can schedule appointments to not interfere with your daily routine too much.
Let us know your work schedule, and we'll do our best to repipe when you're out of the house. If you work from home, you may need to temporarily bring your work to another environment or otherwise adjust your routine. We strive to avoid any and all inconvenience during the repiping process.
Repipes Done Right in Portland
Repiping is your chance to benefit your home in numerous ways. You can boost its value considerably, enjoy better tasting, looking, and smelling water, and make your home much healthier and happier overall.
1-800-Plumber +Air of Portland offers repiping you can count on. With our amazing team of certified technicians, you'll receive all the knowledge you need about repiping and what it can do for your home. Please contact us today so that we can set up an inspection, create an estimate, and finally, complete a repiping for your home.

Positive: Professionalism , Punctuality , Responsiveness Up front pricing

Satisfied Customer
Nick did a great job and very nice and professional. Thanks

Evonne H.
Detailed orientated and honest inspection. Chad took his time and explained everything that was going on very well. The service fee was fair for the small issues he fixed, and he was able to make a referral for water restoration for us, I would use his service again and plan to when our water heater goes out.

Katie D.
Emanuel came out to inspect why our commode was not flushing properly. After an inspection he describer the options. Since the commode was over 40 years old we picked the option to replace the commode with a new one. He Asked several questions about what we would like and the showed us two options. We picked the one that we liked and he obtained the commode from the ware house and installed it the same afternoon.. He completed the installation and did a great clean up of the area and answered answered all of our questions. I fully recommend Emanuel and 1-800-Plumber of Pearland

Steve E.
Got a text! Dispatcher was friendly and informative. Several text keeping me up to date and giving me plenty of opportunity to cancel if need be. Z was prompt, curtious and knowledgeable. Was glad to sign up for future business with the company. Excellent experience.

Tambre L.
I would like to recognize both Taylor and Emanuel for both outstanding customer service, professionalism,and craftsmanship on a recent repair at my home.

Alan J.
1-800 Plumber + Air and Electric has done several jobs for me. They are professional and respectful. Shawn Harvey has been great to work with. Would highly recommend!

Satisfied Customer
I really appreciated Manolos attitude and the way he had patience for all of my questions and never seemed like he was rushing or annoyed with me. He took the time to reexplain it to my husband when he got home. I didn't feel pressured into spending more money or like he was trying to just sell me stuff. I felt like he really took his time and that I was his priority. Thank you for having great service.

Satisfied Customer
He was everything you want in a employee!!! He was professional, kind, informative, patient, and very clean.

Ann B.
Nice bunch of guys. Did what they said and did it very well. Explained everything and took extra pre cautions with the Virus outbreak.

Mike P. No surprise
costs at the end of a job On-Time
Committed to on-time arrivals