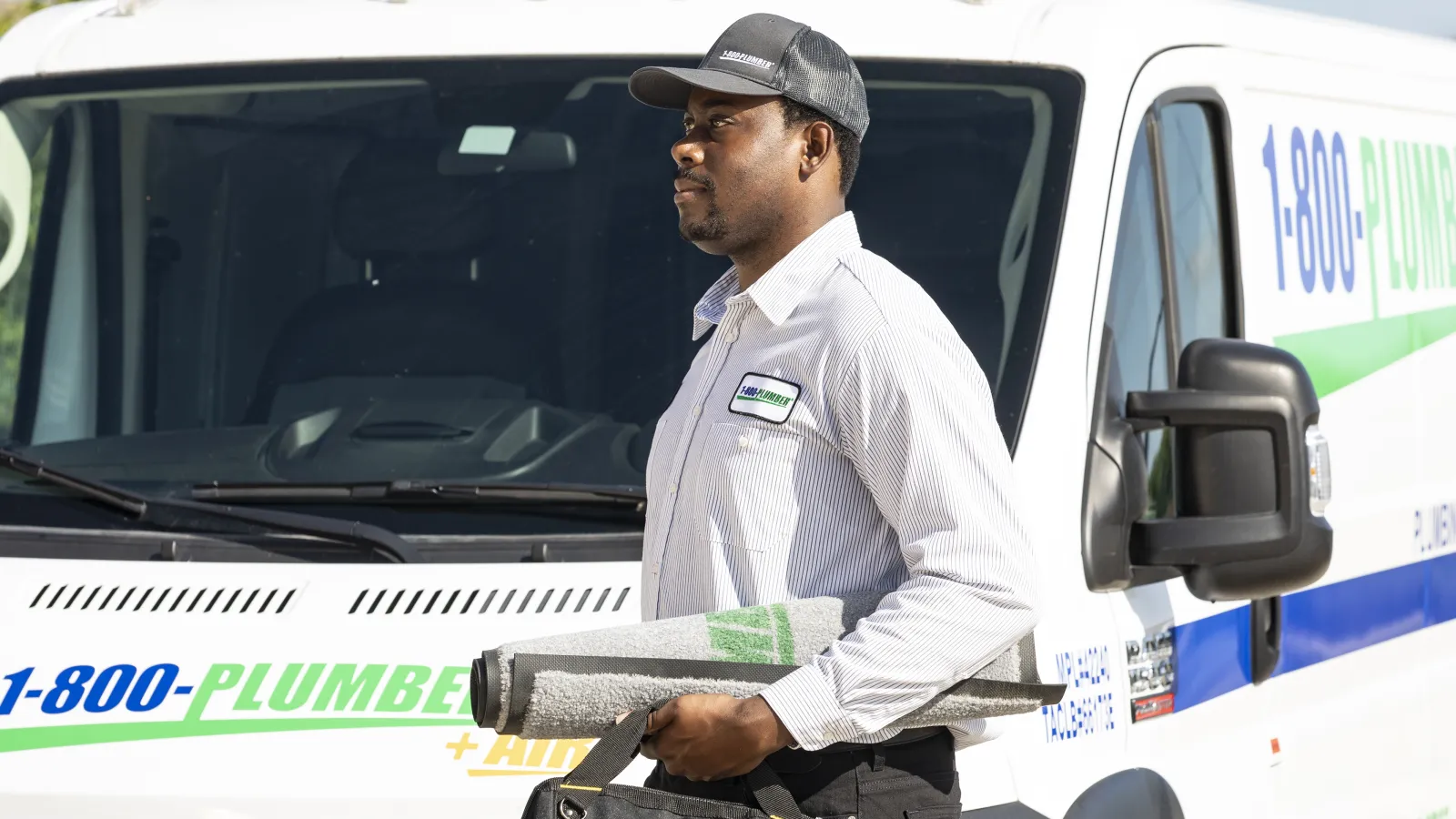 The Name You Trust for your
KITCHEN PLUMBING
Having a
HOME EMERGENCY?
Call or Find Your Nearest Pro!
The zip code you entered is not associated with one of our locations. Please visit our Locations page to find your closest location.

Your Professional
SERVICES
Our Top Emergency
Services
Kitchen Plumbing Professionals | 1-800-Plumber +Air of Portland
From sinks to dishwashers to refrigerators and more, kitchens are home to many entities that require plumbing. As such, kitchen plumbing systems need to be treated with the utmost care.
Fortunately, there are kitchen plumbing professionals available to help do that.
If you're looking for kitchen plumbing professionals here in Portland, 1-800-Plumber +Air is the company to call. We're well-versed in the installation of residential plumbing systems and can facilitate any and all kitchen-related plumbing tasks.
In the meantime, we're here to help you better understand residential plumbing systems. Keep reading for our easy-to-understand guide.
Ready to
GET IT FIXED?
Contact Us Now!
Understanding the Parts of a Plumbing System
Plumbing systems are composed of a number of different parts, each of which is necessary for the functionality of the system. These parts include the following.
Water Pipes
The arteries of the plumbing system are the pipes. These spread throughout the home, leading from the kitchen to the bathroom to the laundry room and any other area that requires a steady stream of water. These pipes are generally buried behind walls.
Modern plumbing pipes can be made out of a variety of materials. Note, though, that the most common water piping materials include copper, steel, and plastic.
Fittings
In order to get the pipe system from place to place with accuracy and precision, you must make use of fittings. Fittings connect different portions of the pipe, allowing it to travel in different directions.
These are available in a variety of styles. There are tee fittings, wye fittings, cross fittings, coupling fittings, adapter fittings, bushing fittings, union fittings, and elbow fittings (to name just a few). Each of these is designed to connect pipes from specific angles and directions.
Fittings are made out of a number of different materials, including copper, steel, and plastic. Though a relatively small part of the plumbing system, they're vital to its overall functionality. Without fittings, pipes would have to travel in a straight line, making them extremely impractical.
Fixtures
Fixtures are the access points for water in a plumbing system. They're where you go when you need to use water.
There are all kinds of fixtures. In the case of kitchens, fixtures run the gamut from faucets to dishwashers to refrigerators and more.
Drains
After water from the plumbing system has been used, it needs a place to be disposed of. This is why drains exist. Drains funnel old water down into the sewage system, ensuring that it's led out of your home entirely.
When it comes to kitchen drainage, there are several drains available. These typically include sink drains, dishwasher drains, and refrigerator drains.
Gas Pipes
Plumbing systems aren't just about water. They can include oil, gas, or propane as well. Of course, in order for these entities to be transferred from place to place, pipes must be used.
As such, there's a chance that your kitchen plumbing system will consist of gas pipes in addition to water pipes. This is particularly true if you have a gas oven range in your kitchen.
Kitchen Plumbing Services
There are a number of kitchen plumbing services to utilize. We'll provide you with a full run-down of these services below.
Kitchen Plumbing Design and Installation
Building a new home? Making some big changes to your existing home? If so, you might need help with kitchen plumbing design and installation.
We can help. We'll assess the dimensions and characteristics of your home, creating and implementing an optimal plumbing system for your kitchen. Using only the best of materials, we'll ensure that your system is ready to serve you for decades of use.
Kitchen Plumbing Repair
Like all plumbing, kitchen plumbing is vulnerable to damage. Though it won't incur problems on a regular basis, it will incur problems from time to time.
Fortunately, there are professional plumbing repair services available to help get it back to normal. We can carry out all sorts of kitchen plumbing repairs, including these five key services.
1. Replacing Burst Pipes
Whether it's because of water pressure inconsistencies, cold weather, or otherwise, if a pipe bursts in your kitchen, it should be swiftly and properly replaced. Failure to replace a burst pipe will result in water damage, which can cost you substantial amounts of money over time.
If you ever need to replace a burst pipe, you should call up your local plumbing professional. Replacing a burst pipe is an intensive process, and is best carried out by someone who knows what they're doing.
2. Increasing Water Pressure
Water pressure issues arise for a number of reasons. Maybe there's mineral buildup with the water pipes. Perhaps one of the system's valves is closed partially. Or, maybe the problem is the fault of the water supplier.
Regardless of the cause, low water pressure is an annoying issue that needs to be solved. If you ever encounter it, we can help. We'll assess every aspect of your plumbing system, locating the source of the problem and working to fix it.
3. Unjamming a Garbage Disposal
Of all the kitchen plumbing problems in existence, perhaps the most common is a jamming of the garbage disposal. This stands to reason, as the garbage disposal is constantly coming into contact with all sorts of organic substances.
But alas, it needs to be fixed. After all, who wants to go on without the use of a garbage disposal?
If you ever need help with your garbage disposal, give us a call. We'll have it up and running again shortly.
4. Stopping a Dripping Faucet
There are few plumbing problems more annoying than a dripping faucet. No, it doesn't have a huge impact on your water usage, but it can grate on your nerves over time. As such, you might decide to have your dripping faucet fixed.
If so, your local plumbing specialist will be able to help you. Odds are, the faucet will require a few new components, most of which are small and most of which can be installed in a swift manner.
5. Fixing Leaky Pipes
Another common kitchen plumbing problem is the problem of leaky pipes. Pipes become leaky for a number of reasons. However, pipes most commonly become leaky after being bumped around over time.
This is why leaks are common in the area underneath your sink. The pipes underneath your sink are exposed and are therefore coming into contact with cleaning supplies, bottles, and other items on a regular basis. At some point, the fittings will loosen to too great an extent, resulting in leakage.
If your pipes ever start leaking, bring in a plumbing specialist. They'll tighten up your plumbing system, eradicate water damage and all of the bad things that come with it (mold, musty smells, etc).
Kitchen Plumbing Maintenance
Kitchen plumbing systems see a lot of action. Not only do kitchens use a lot of water but they also facilitate the disposal of all types of food scraps. So, both their pipes and their drains receive a good deal of abuse over time.
This is why, on occasion, you need to provide your kitchen plumbing system with a bit of maintenance. Need help with maintenance tasks? Give a call to your local plumbing specialist, who can help with these common tasks.
1. Drain Cleaning
There's no doubt that your drains will need to be cleaned from time to time. If they're not cleaned, they will jam. And if they jam, they'll back up, leading to a whole host of horrible problems.
While you can partially clean your drains with the help of small plumbing snakes and liquid drain cleaners, they won't do the whole job. For this reason, every year or so, you're advised to have a plumber clean your drains professionally.
2. Faucet Cleaning
Kitchen faucets collect a great deal of grime and residue over time. This can affect not only the look of the faucet but its water pressure as well. As such, you need to clean it every six months or so.
If you need help cleaning out your faucets, give a call to your local plumber. They'll ensure that they're spotless, ready to perform at their maximum capacity once again.
Need Help With Residential Plumbing Systems in Portland?
Looking for help with your kitchen plumbing? If so, you needn't look any further than 1-800-Plumber +Air. We're the top servicers of residential plumbing systems in Portland and its surrounding areas.
Whether you need to install kitchen plumbing, have to make an important plumbing repair, or just require assistance with plumbing maintenance, we have you covered. Sporting a team of skilled and licensed plumbers, we'll ensure that your plumbing system is operating optimally.
Contact us
now to ask us a question or schedule an appointment!
Tony and Carlos are awesome in what they do. They did a great job on about 20 different projects for my family and me. They did security lights patio lights front porch lights. Ran all the electrical for our new master bath remodel. Added on some new interior lights and changed out some switches. I have light where there once was darkness. Thanks guys.

Satisfied Customer
Swayze did a wonderful job.

Satisfied Customer
Enes provided a very thorough and professional inspection, assessment and proposal for my sewer drain replacement.

Rany W.
Emanuel Reyes did a very thorough job and was very courteous.

Charles M.
Nick was wonderful did an outstanding job, explained all options and extremely thorough. She will call back and use us again. She was very pleased and very happy that she didnt have to clean up after him.

Satisfied Customer
Plugged drain outside of house. Came out the next day, showed us the video of the tree branches in our line, gave me a quote over the phone and I had them start work. Finished in a few hours and left with our system drain restored.

Craig C.
Detailed orientated and honest inspection. Chad took his time and explained everything that was going on very well. The service fee was fair for the small issues he fixed, and he was able to make a referral for water restoration for us, I would use his service again and plan to when our water heater goes out.

Katie D.
Friendly, courteous, knowledgeable.

Marylin L.
Joey and Moses came out to replace a waterline and were AWESOME!!! They answered my questions, where patient, friendly (respectful) and VERY professional! This my 2nd time using 1800 plumber and both visits were great! I look forward to continue using them! read less

Satisfied Customer
So nice and professional.

Sharen B. No surprise
costs at the end of a job On-Time
Committed to on-time arrivals