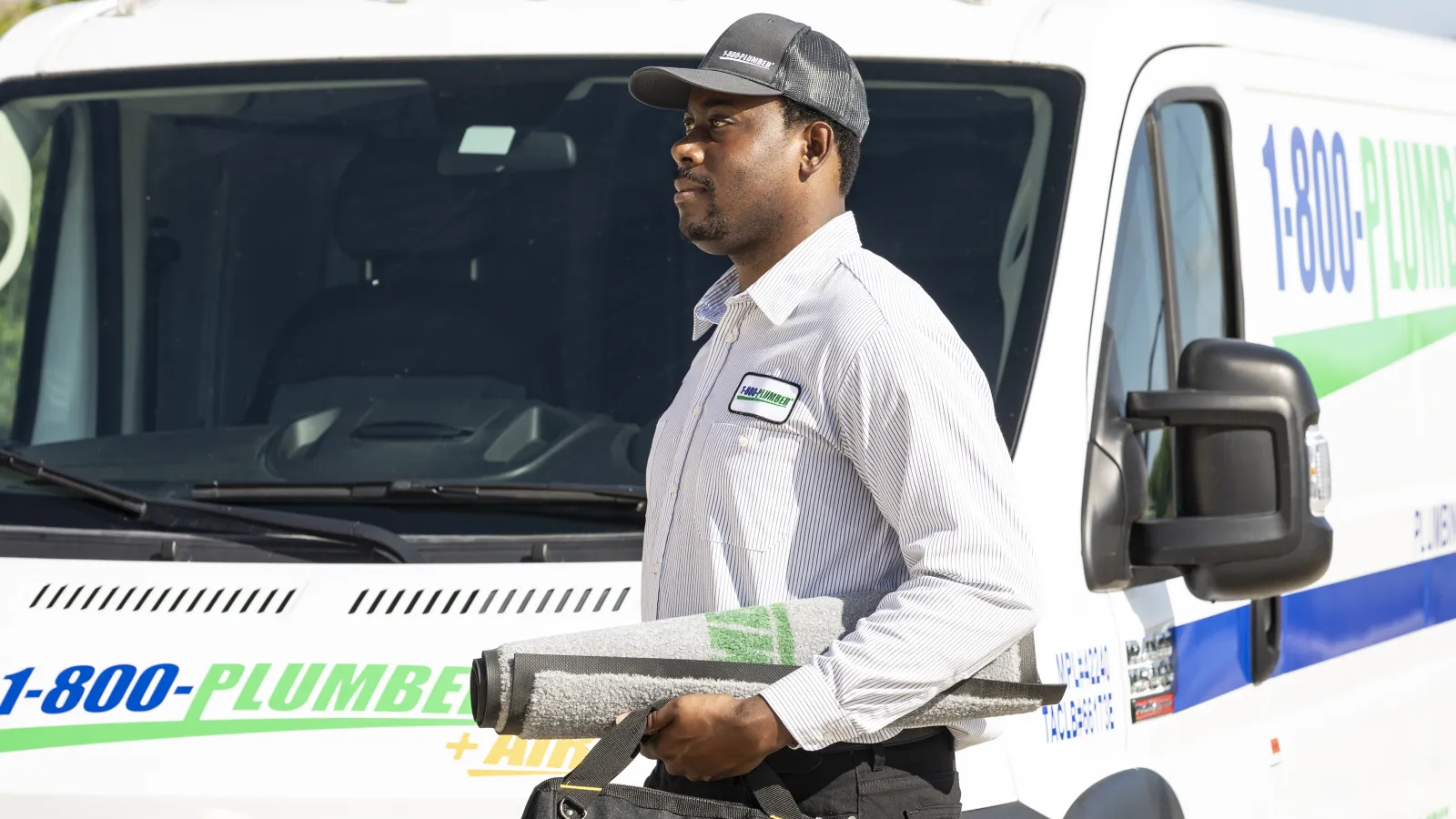 The Name You Trust for your
AC MAINTENANCE
Having a
HOME EMERGENCY?
Call or Find Your Nearest Pro!
The zip code you entered is not associated with one of our locations. Please visit our Locations page to find your closest location.

Your Professional
SERVICES
Our Top Emergency
Services
Air Conditioning Maintenance
1-800-Plumber +Air of Portland
Your air conditioning should never be taken for granted. Unfortunately, it's easy to do exactly that. Don't think you should only call if something has broken down or is about to. 1-800-Plumber +Air of Portland can teach you all about the importance of air conditioning maintenance.
Ready to
GET IT FIXED?
Contact Us Now!
How Air Conditioning Breaks Down
Your air conditioning not working or stalling might seem like it came out of nowhere. However, it'll likely be no surprise to a seasoned technician. These are some of the most common reasons for an air conditioning breakdown.
Improper Installation
If you hire the wrong people to install your air conditioning, your system can be on a lifeline. There are multiple essential components to an air conditioning system, and they should only be handled by certified professionals. Don't do it on your own either, as you could hurt yourself.

A professional air conditioning company, like 1-800-Plumber +Air of Portland, can find the right air conditioning for your home. If you need a new air conditioning system, we'll check out your home to determine the right size.
Uncleaned Air Filter
One of the simplest acts of air conditioning maintenance is also somehow one of the easiest to ignore. Air filters need to be checked and changed often.Clean them once a month, possibly more often if you have dogs and/or cats. You should also install new filters every 90 days, at least.

A dirty air filter can cause serious issues for your system. It can cause different components to overheat and/or freeze. Your air conditioning also can work to its full capacity unless it has a clean air filter. Buy multiple air filters at a time and have ready-access to them. 1-800-Plumber +Air of Portland offers systems with special "replace filter" lights.
Leaking Refrigerant
A refrigerant leak could be due to improper installation, a poorly designed system, or general age. No matter what the cause is, it needs to be handled right away. Otherwise, it can cause serious damage to your air conditioning and to your health.
Your air conditioning needs refrigerant in order to run. It's an essential part of the heat exchange that makes air conditioning possible. The less you have, the less efficient your air conditioning will be. Most importantly, refrigerant exposure is dangerous, causing breathing issues, nausea, and dizziness. Get to your nearest emergency room right away if you suspect anyone in your household has refrigerant poisoning.
Dirty Components
Your air conditioning is made of multiple parts, with different parts inside them. Both your indoor and outdoor units have fans and coils. These need to be kept clean to help extend their lifespans.

Regularly changing your air filters can also benefit your indoor fans and coils. Your outdoor unit might be harder to keep clean, due to the uncertainty of nature. Come around before the warm season and see if yours needs some trimming and/or cleaning.
Age
All air conditioning systems, no matter how well they're kept-up, will wear down with age. If yours has stopped working and is more than 10 years old, you'd likely be better off just replacing your system. There's a difference between extending the age of something through quality control and trying to force a system to keep working past its prime.

You can still replace your air conditioning even if it isn't that old yet. A newer, more energy-efficient system can save you a lot of money and greatly lower your overall carbon footprint. Call 1-800-Plumber +Air of Portland for more information about our systems.
Proper Air Conditioning Maintenance
Most of the above issues can be avoided with regular air conditioner maintenance performed correctly. These are some methods you can try:
Changing Filters
It's easy to change air filters, and you can make your air conditioning run much smoother by doing so. Besides helping the system function, you can also protect your health. A clean air filter is one that can handle dust and other allergens floating around your home, such as pet dander.
Cleaning Condenser Unit
Your outdoor condenser unit needs to be kept clean. Otherwise, outdoor issues could turn into indoor ones. Take yours apart and clean all around, making sure to spray down your fans and inside the unit. You'll also likely need to scrub your evaporator coil and drain.

There are a lot of steps involved in cleaning a condenser unit. You need to make sure you're not using any corrosive chemicals or dangerous methods. Call 1-800-Plumber +Air of Portland if you need your condenser unit serviced ahead of the warm season.
Thermostat Check
Temperature regulation is a very important function of air conditioning. Take a look at your thermostat and make sure it's working properly, keeping everyone in your home cool and comfortable.

If the thermostat isn't working, you might need to replace the batteries or check your breakers. It could be short cycling due to a buildup of dirt and grime. You may also want to upgrade to a more advanced thermostat. Look into Smart thermostats that set the temperature automatically, including based on whether anyone is home.
Professional Inspections
Sometimes, the best thing you can do is trust the experts. When you get your air conditioning installed, the company should also offer yearly maintenance appointments. These are to check your system and perform any necessary tune-ups. You might be totally in the clear, but you might need some repairs - or more.

Benefits of Professional Air Conditioning Maintenance
These are reasons why you should hire a professional air conditioning maintenance company:
Expertise
No one knows air conditioning better than the people who install it. If you call a professional and certified company, their experts should quickly recognize what's wrong and how to fix it. They'll be able to bring up relevant information about the age of your system or any external conditions.

1-800-Plumber +Air of Portland technicians know how to diagnose every air conditioning problem in the book. We also make sure to keep up with all of the latest in air conditioning technology. We want the best for all our customers, and we'll do all we can to provide it for them.
Certifications
There's no assurance greater than a professional certification. A legitimate air conditioner maintenance company will be bonded, insured, and licensed. Whether they're changing your air filters or replacing your blower motor, you need to make sure they're on the level.
If you've already worked with a company/contractor, you may have already seen this information. Should they be sending over a new technician, ask for their paperwork as well. At 1-800-Plumber +Air of Portland, we make sure to have every technician's documentation readily available for all of our clients.
Catching Problems Early
Air conditioning maintenance can happen once a year and add years to your system. Those who neglect their air conditioning may soon find it breaking down at the worst possible time. It's like your dentist catching a cavity before it can become an abscess.
It can also keep small problems from turning into bigger ones. A noticeable lack of airflow compared to earlier could indicate something is wrong with your blower motor. 1-800-Plumber +Air of Portland can catch these issues and more.
Saving Money
Air conditioning is a necessary investment, but it can end up costing you so much more than you realized. Over the years, the costs can really pile on. However, air conditioning maintenance is another necessary benefit, one that can save you a small fortune.

By catching problems early, you won't have to spend nearly as much on repairs. A tune-up can also help with your energy bills. If yours have been going up and you don't know why, it's likely that some parts need adjusting, if not replacement.
Strengthen Bond with Company
It's always good to be on friendly terms with people you do business with. By regularly hiring an air conditioner maintenance, you're telling them you trust and count on them. This is definitely something a quality company will take to heart.
At 1-800-Plumber +Air of Portland, we care about all of our work and all of our customers. Whether we're working with you for the first time or the fiftieth, we'll always give it our all. However, we greatly appreciate the long-term bonds we've formed with numerous clients.
The Best Air Conditioning Maintenance in Portland
Having an aIr conditioning system is a responsibility, and providing air conditioning is a privilege. 1-800-Plumber +Air of Portland cares about air conditioning and keeping systems in check. If you need your air conditioning inspected for any reason, please contact us today.

Nick was very nice, professional, and explained what he was going to do first and if we had to do something else we talked first. Nick knew his job. Great work. Appreciate you!

Evonne H.
Had a plumbing issue on a Sunday afternoon. Joey came out and got the problem resolved. He was very courteous, professional and knew exactly what to do.

Satisfied Customer
Enes provided a very thorough and professional inspection, assessment and proposal for my sewer drain replacement.

Rany W.
My daughter Natalie Permenter actually ordered the service. I'm at her house during the day to keep my grandson. I was very impressed by Emanuel, the plumber that cam. He was very professional and seemed to really care about his clients. Natalie tells me the lady in the office also showed professionalism and a genuine desire to help. Emanuel was disappointed that he couldn't get the job done on day one; but promised to come back the next day. True to his word he was here bright and early. I am so impressed to finally find a company that really cares about the consumer; not just the dollar.

Judi W.
We had to have someone come out today due to a sink and toilet leak. Swayze McLauglin was our plumber and he did a great job explaining the problem and how we could get it fixed. He was great at explaining price as well as what he was doing. Swayze was friendly and professional while he was here as well as working in these trying times with COVID-19 he followed all procedures and was great. We will be using yall the next time we need someone. Thank you so much Swayze for all your help!

Satisfied Customer
Jeff did a great job and let us know what was going on continually. He is a very personable technician.

Theresa D.
Excellent work by all, starting with the ease of making an appointment, the arrival of the service crew in a timely manner. They were on neatly dressed, very pleasant, explained everything and took the little extra steps to make the visit a success. I have used this plumber three times now and have always had exceptional service from them.

Jan C.
EMANUEL REYES IS GREAT!!!!!!!!!!!!!!!!!!!!!!!!!!

Kathleen E. No surprise
costs at the end of a job On-Time
Committed to on-time arrivals