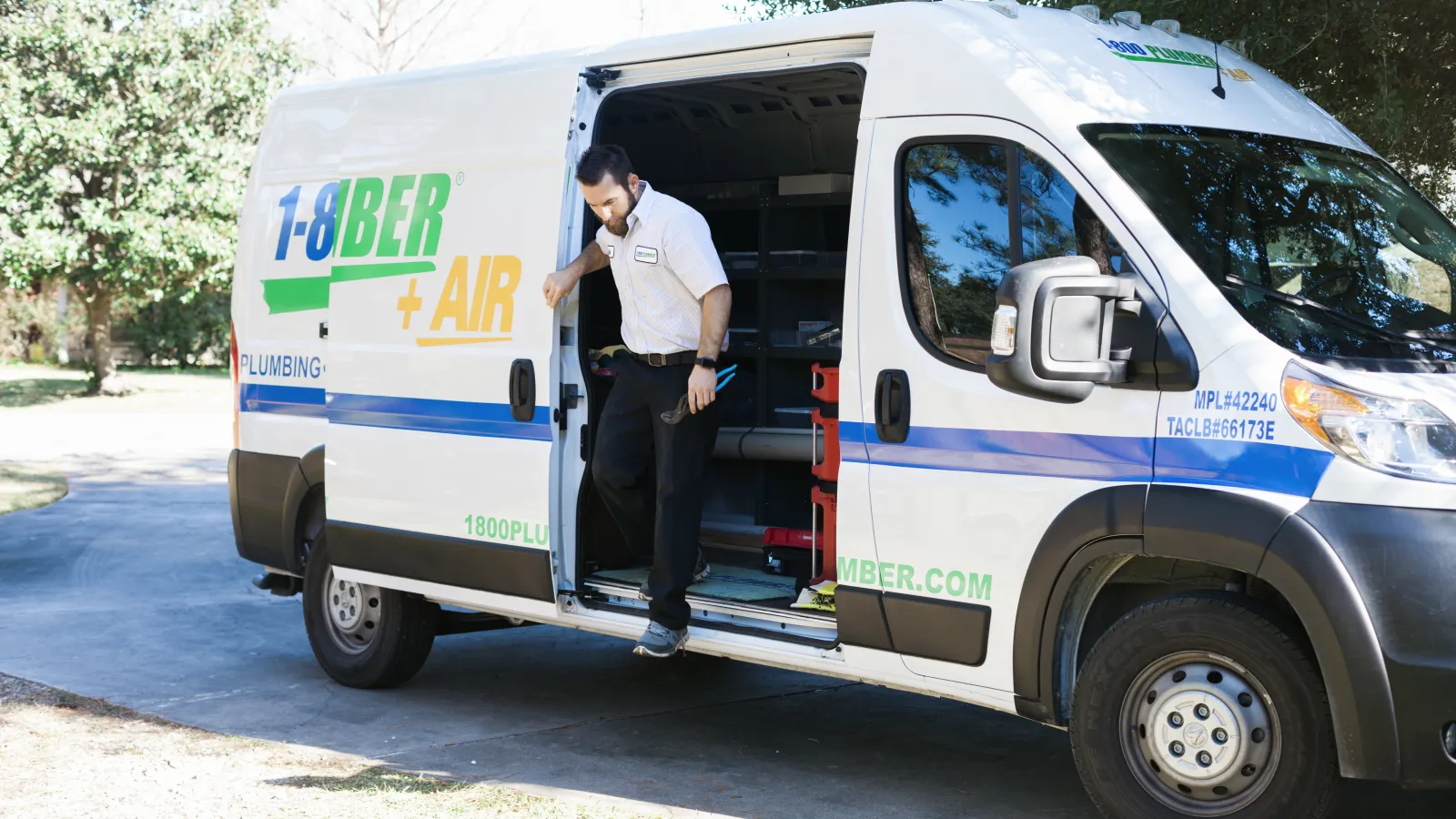 The Name You Trust for your
RE-PIPING YOUR HOME
Having a
HOME EMERGENCY?
Call or Find Your Nearest Pro!
The zip code you entered is not associated with one of our locations. Please visit our Locations page to find your closest location.

Your Professional
SERVICES
Our Top Emergency
Services
House Repiping - McKinney
1-800-Plumber +Air of McKinney
If you've been noticing leaks and creaks in your home, you probably have some old pipes that are in dire need of repairs or replacing. House repiping can seem like an overwhelming and expensive task to organize. However, if you want your home's foundation to remain intact and prevent further expensive repairs, then house repiping isn't a question—it's a necessity.
Here's everything you need to know about house repiping in Mckinney, Texas.
Ready to
GET IT FIXED?
Contact Us Now!
Important Information on House Repiping
Think of your home's plumbing system as a circulatory system. Your pipes are responsible for moving hot and cold water throughout your home via the water heater. Keep in mind, your pipes are delivering clean water to your home while also removing waste into a sewer or septic system.
Every homeowner knows—or should know—that over time, pipes wear down. They become blocked, they leak, and sometimes, they burst wide open. Depending on how old your home's piping is and the type of water running through it, these things may happen sooner than later.
When your piping becomes damaged, a simple repair might do the trick. Or, you'll need to replace the pipe and other surrounding pipes. Worst case scenario, you'll have to repipe your entire house.
Kyle provided excelleent service as he always does. I have had some tricky plumbing problems and he has always solved the problem with efficient service and winning personality. He did a beautiful job on my pipe. He takes a lot of pride in his work .

Ruth L.
Kyle did an excellent job. He was very thorough and explained everything from start to finish. I would strongly recommend Kyle for any plumbing you might have.

Kyle
Jeff did a great job and let us know what was going on continually. He is a very personable technician.

Theresa D.
Exceptional service! I highly recommend them for your plumbing needs!

Angelica C.
Chad was very informative and professional. He and his co-worker are a very rare breed in that they fully prepared to go to work and get the job done right then. I would definitely recommend and use again Chad an 1-800-plumber.

Kenneth C.
They were very professional and clean. Also did a great job on my air conditioning my house feels great.

Satisfied Customer
Swayze did a great job and was very courteous polite, and knowledgeable .

Satisfied Customer
Joey and Moses came out to replace a waterline and were AWESOME!!! They answered my questions, where patient, friendly (respectful) and VERY professional! This my 2nd time using 1800 plumber and both visits were great! I look forward to continue using them! read less

Satisfied Customer
Nice bunch of guys. Did what they said and did it very well. Explained everything and took extra pre cautions with the Virus outbreak.

Mike P. No surprise
costs at the end of a job On-Time
Committed to on-time arrivals
Is it Time to Repipe My House?
House repiping is quite the investment, which is why knowing when to consider repiping is crucial. The primary thing to consider first is the type of piping you have in your home now. Whether you've just moved in or you've been living in the same home for years, if you have old metal pipes, you don't want to waste any time.
The old ways of piping, using galvanized iron or polybutylene (poly) piping are now a thing of the past. These old metal materials tend to wear down quicker and are prone to leakage. They've also been known to contaminate your drinking water.
If you live in a place like Mckinney Texas, then you're fortunate enough to have some of the cleanest tap water in the United States. You don't want to chance contamination by keeping around old pipes.
If you're unsure whether it's time for some house repiping, here are some warning signs to pay close attention to:
The Water Temperature Fluctuates
Old, worn-out pipes can cause your regulator valve to jam up. The result is significant temperature fluctuations in your running water. So, if you notice that your water goes from nice and hot to freezing cold almost instantly, and visa versa, it's a sign that your pipes need to be replaced.
Your Water Permeates a Bad Odor
There are several reasons why your water may smell a bit off or look different. However, bad smells coming from your flowing tap is a symptom of old or rotting pipes. If your tap water smells bad, even just a little bit, call a plumber immediately—and don't drink it!
You Have Low Water Pressure
Low water pressure is another symptom attributed to several factors. However, the most common reason for poor water pressure has to do with corrosion and sediment build-up. Both corrosion and sediment build-up will block the water from trying to pass through your pipes which influences your water pressure.
Blockage can also lead to excess and unwanted pressure in certain areas of your piping. When this happens, your pipes may begin to leak, or worse—burst.
The Water Is Discolored
Much like experiencing low pressure or odorous water coming from your faucets and showerhead, discoloration is also a sign that it's time to repipe your house. If you notice that your water is discolored with a yellowish or brownish hue, it's likely due to your pipes are wearing down and collecting sediment.
If your water is anything but clear and odorless, please do not drink it or bathe in it.
There Is Visible Corrosion
It may be hard to tell if your pipes are corroded since they live behind the walls of your home. However, if you have metal piping and notice any visible corrosion in exposed pipes—such as under the sink—it's likely that the rest of your pipes are corroded. At this point, they're beyond repair and your house will need repiping.
You're Constantly Calling a Plumber
If you find that you're constantly calling a plumber to come and fix leaks, creaks, and other plumbing issues, house repiping is in order. It's especially important to note that if you've called on your local plumber dozens of times and they haven't pointed this out to you, it's likely that they're taking advantage of your constant plumbing issues.
If this is the case, it's time to reach out to a professional, especially in the Mckinney area.
Your House Has Lead Pipes
Lead pipes were installed in housing during the 1920s. They've been upgraded since then to the different metals listed above. However, you can still find old homes with lead pipes.
There's a reason contractors stopped using lead a long time ago. It presents a multitude of health risks. If your home has lead pipes, then repiping shouldn't even be a question.
How Long Does it Take to Repipe a House?
The amount of time house repiping takes depends entirely on the size of your house and how many bathrooms there are. The repiping can take anywhere from a few days to a few weeks.
It's important to mention that during the repiping process you and your family won't be without plumbing the entire time. The new piping will be laid out alongside the old piping, keeping your plumbing available. The only time you won't be able to use your plumbing is when your contractor makes the change from the old system to your new system.
The Cost of Plumbing for a Three-Bedroom Home
The cost to repipe a house depends on a variety of factors. A full repipe can cost anywhere from $1,500 to $15,000. It all depends on the size of your house, the existing plumbing network, and whether or not you're going for a full home repiping. It also depends on the materials you choose:
Copper is the most expensive out of all the materials with costs ranging from $1 to $3 per foot

CPVC is much cheaper than copper and is also the preferred material among contractors for repiping. CPVC piping starts off at about $0.40 per foot

PEX is a newer material used in plumbing and it's the cheaper of the three options. PEX piping starts at $0.30 per foot
Additionally, there's usually an extra fee if you choose to have your old piping completely removed from your home. Many homeowners opt to leave their old piping in place, but the choice is entirely up to you.
Repiping a House on a Slab
There's a rather significant disadvantage to having a slab foundation for your home. If your home has a slab foundation, that means it also has water lines running beneath it. Those water lines are typically made of copper piping as well.
As copper pipes age, they become thin and worn down, and are more prone to leakage. repairing copper pipes entails cutting the damaged section and refitting a new piece of pipe. That sounds simple enough, however, it also involves breaking through the slab to get to the piping.
Additionally, bad weather systems and excess weight can cause slab movement and cracking. Slab movement can cause both water supply lines and waste lines to break, resulting in leakage. Of course, you may have no idea that there's a leak happening beneath the slab until you notice that your water bill is unusually high.
Arguably the most difficult part about mending a water leak beneath a slab is locating the actual leak. Professional plumbers use special leak detection equipment such as acoustic disc ground microphones to pinpoint the problem area.
Opening up the slab beneath your home also gets messy. Anything within proximity should be removed or covered since there will be a lost of dust and debris flying around.
The Cost of Repiping a House on a Slab
As mentioned earlier, the cost of house repiping depends on a variety of factors. Those costs range from $1,500 to $15,000, which would include a house with or without a slab. However, some of the factors that may drive up the price include whether or not any damage has been done.
The only real way to know how much house repiping in Mckinney, Texas, will cost is to contact your
local plumbing professional
for an estimate.
House Repiping in Mckinney, Texas
When the time comes, there's no way around house repiping. As we've mentioned, it's quite an investment. Of course, if you plan to live in your home for a long time or plan to pass it down to your children; or even sell it, then repiping is a necessary investment.
It's also something that will save you money in the future, as constant plumbing issues will cost money to repair—especially if they cause a lot of damage to your home.
When you're ready to get started on your house repiping journey, contact us. Our plumbing specialists proudly serve the Mckinney area as well as other Texas locations.