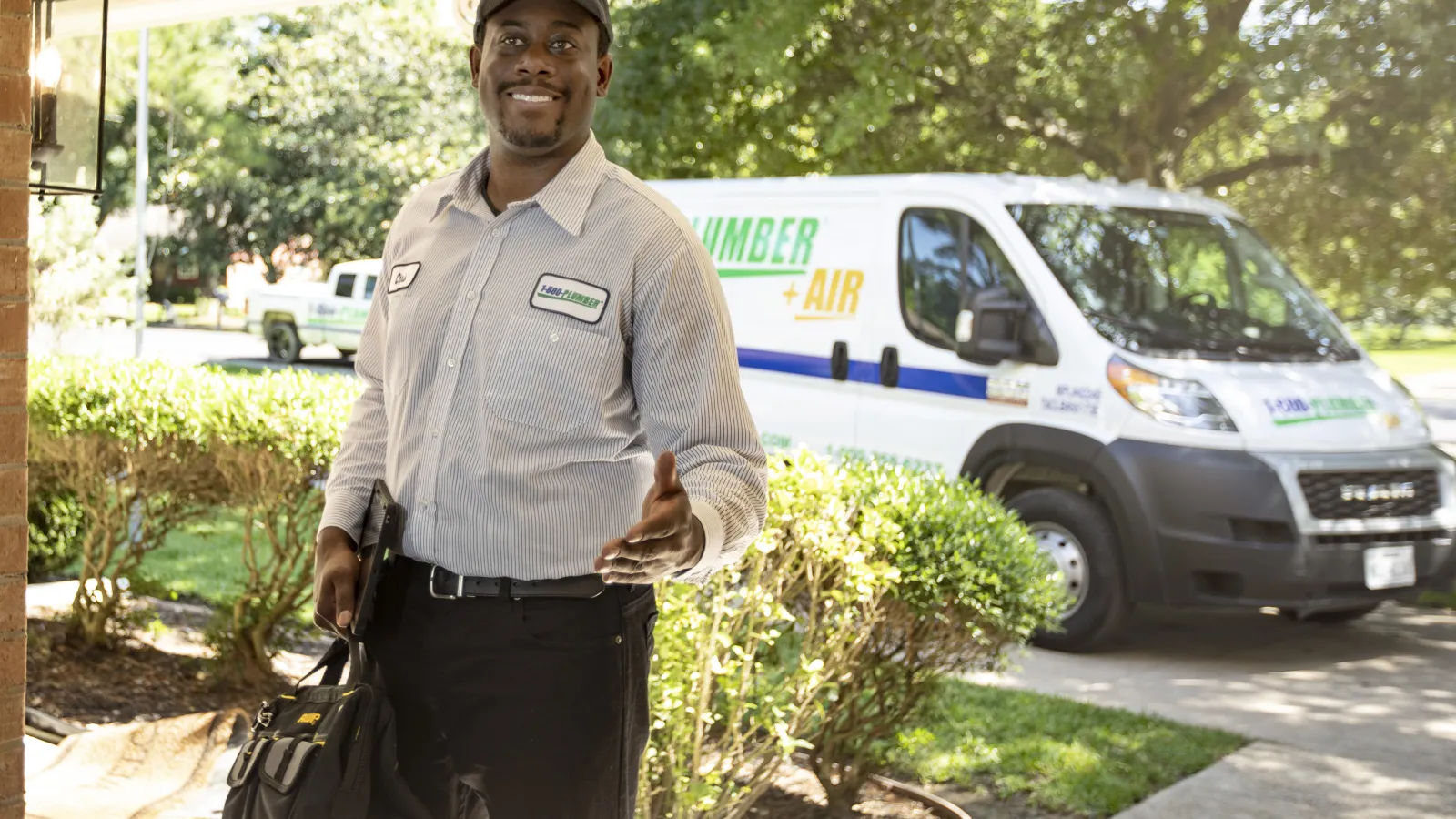 The Name You Trust for your
DRAIN CLEANING
Having a
HOME EMERGENCY?
Call or Find Your Nearest Pro!
The zip code you entered is not associated with one of our locations. Please visit our Locations page to find your closest location.

Your Professional
SERVICES
Our Top Emergency
Services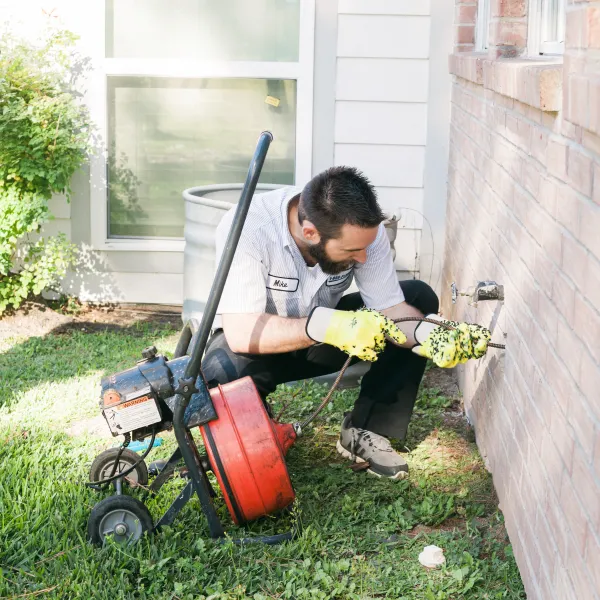 1-800-Plumber +Air of McKinney |
Drain Cleaning Services
With average temperatures dropping below 40 degrees, you don't want to be without hot water in McKinney, TX, when winter sets in.

Running a nice hot bath or shower after work can be one of the Texas winter's most underrated pleasures. However, one of the most common plumbing and drainage issues professionals encounter this time of year is no water or heating.
If you call for drain cleaning services for no water during the winter, you might have a frozen—or burst—pipe in your house.
Of course, you can always rely on professionals at 1-800-Plumber +Air of McKinney to come to your rescue in an emergency. However, you can consider some preventative measures to minimize the need for an urgent drain cleaning this winter.
Keep reading to learn how to maintain your pipes this winter and how to schedule drain cleaning services if needed.
Page Topics:

Ready to
GET IT FIXED?
Contact Us Now!
Service Your Water Heater
First, make sure your water heater is in good order and heating sufficiently.
Most people forget that their water heater needs maintenance, but it requires regular service to continue operating efficiently without needing repairs.
Showers, bathrooms, and laundry rooms all require hot water. So, if you lose hot water, it's very inconvenient. A professional plumber can service your water heater by checking temperature settings or ridding the tank of sediment. They can also change the instrument that helps prevent corrosion, called the anode rod.
Once or twice a year, have your water heater checked by a professional to save you from future stress.
Insulate Your Pipes
Pipes are no different than ceilings, floors, and walls—they require insulation to keep them warm. This prevents pipes from freezing and expanding.
You can get pipe insulation from most hardware stores. They come as easy-to-install kits with a thermostat to keep a check on the temperature of your pipes. If you need help at this stage, a plumber or drain cleaning service can assist.
Pipe insulation will block cold air from getting into the pipe and prevent warm air from exiting. You will likely only be able to address the pipes you can see. Your house will have some hidden pipes, and it might not be possible to insulate these. Insulating some, if not all, will reduce the risk of freezing.
Fix Any Leaks
No matter how minor a leak may seem, you must never put off fixing a leak—always address them right away.
Inspect your pipes each fall, and have all leaks repaired as soon as possible. If you don't trust yourself to do the job, call a plumber or drain cleaning professional to check it out for you. Don't rest until you know that you've identified and addressed every leak.
Find Your Water Shut-Off Valve
If you don't know where your water shut-off valve is, it's time to locate it now. If you ever encounter a burst water pipe, you'll want to switch off the valve immediately.
The longer you let the water run when you have a burst pipe, the more damage it will cause—and the bigger the hit to your wallet.
So, locate that shut-off valve so that you're prepared if you experience a burst water pipe. If you can't find it, ask your local plumber to advise you during their next visit.
Allow Taps to Trickle
Letting water continually dribble out of a faucet may sound counterintuitive, but on the contrary, this helps prevent your pipes from freezing. They won't freeze as easily with water running through them.
Running water can also serve as pressure relief, as tension builds as pipes freeze. The relief valve only needs a slim stream of water flowing to help stop the pipes from freezing or cracking.
Don't use this technique if you have a faucet that's located next to an outside wall. The drain could freeze, and then you'd have an overflowing sink.
Disconnect Hosepipes
Don't spend too much time thinking about your indoor pipes without taking care of your outdoor faucets, as well. They're even more vulnerable to the winter elements.
Take time to disconnect any and all outdoor hose pipes after draining them of water. Then, store them in a sheltered area such as the garage or a shed.
You can buy a cover hose bib to insulate outdoor faucets. They're a cheap form of protection that's easy to administer.
Open Cabinet Doors Under Sinks
If you know it will be a cold night, keep the cabinet doors open underneath your sinks. This may sound crazy, but there's actually a good reason for this.
Letting warm air from the house into your cabinet will allow it to circulate your pipes. The warm air prevents the pipes from freezing.
Heat Your House
You should also keep your house warm. The warmer your house, the warmer your pipes. Maybe don't run your heat 24/7, but at least keep it at a steady temperature.
Temperatures can drop quickly in the winter, so imagine falling asleep and waking up to frozen pipes—this is obviously not an ideal scenario. By not allowing the temperature to rise and drop wildly, you can rest easier.
Very professional and informative!

A B.
Nick was very nice, professional, and explained what he was going to do first and if we had to do something else we talked first. Nick knew his job. Great work. Appreciate you!

Evonne H.
Mark was great! He took the time to not only give a price, but explain everything a new system could do and how it would benefit them not just in heating and cooling, but dust reduction, utility bills, etc. Very Very pleased. read less

Satisfied Customer
My daughter Natalie Permenter actually ordered the service. I'm at her house during the day to keep my grandson. I was very impressed by Emanuel, the plumber that cam. He was very professional and seemed to really care about his clients. Natalie tells me the lady in the office also showed professionalism and a genuine desire to help. Emanuel was disappointed that he couldn't get the job done on day one; but promised to come back the next day. True to his word he was here bright and early. I am so impressed to finally find a company that really cares about the consumer; not just the dollar.

Judi W.
Very professional, friendly, and on time.

A M.
"Had them install 3 faucets. Tech (Dustin) was on time and professional Nice job, clean and neat. Had tiny problem, called and he was here right away. Great and will use them again"
Wilbert H.

Justin and Richard from electric cane. Did a superb job! Highly recommend always!

Satisfied Customer
Great service. Professional. Let everything nice and clean. Consistent experience.

Sonya W.
Detailed orientated and honest inspection. Chad took his time and explained everything that was going on very well. The service fee was fair for the small issues he fixed, and he was able to make a referral for water restoration for us, I would use his service again and plan to when our water heater goes out.

Katie D. No surprise
costs at the end of a job On-Time
Committed to on-time arrivals
Check Your Furnace
While you may consider your HVAC equipment reliable, don't forget your furnace needs servicing, as well. Have a professional check your furnace once or twice a year, especially before the cold weather kicks in.
This will allow you to identify and tackle any issues before they become major problems. Routine cleaning should include assessing the ductwork and blower.
Having your HVAC system in order means you can keep your home warm enough to prevent pipes from freezing.
Don't Forget Your Garage Door
Insulating your garage door won't just make the inside of your garage warmer. It will make your house warmer as well, as it connects to it and will lower your energy bill.
Warm air generated throughout your home will keep your pipes warmer, preventing them from freezing.
If you have water lines inside of your garage, you should consider insulating the entire thing. If you're expecting a cold winter, look into the option of a heat cable or portable heater, as well.
Seal Around Rim Joists
While we're thinking about insulation, let's talk about rim joists.
What is a rim joist, you ask? It's a prime area for a cold air leak. You can handle this by sealing around rim joists with foam. You'll find joists in the floor and holes around where pipes and cables pass through walls. You can also use caulk to seal these holes.
As you insulate, ensure that your furnace is getting combustion air. It's best to call in a professional for this job so that your pipes stay in good shape.
Shut Off the Water if You Leave Home
If you're planning on going on a vacation this winter—or selling your home—be sure to shut off the water. And call a drain cleaning service to take care of draining your pipes.
If you're away for a long time, especially during cold weather, there's a pretty good chance your pipes will freeze if any water is left in them. You don't want to return from a vacation and find a burst pipe.
Likewise, if your home is for sale, you don't want to leave the new homeowners with a burst pipe and any damage and flooding that occurs because of it.
While you're at it, shut off other appliances that could make your house cold, such as automatic ice-makers. If you have one, it will just continually make ice as you're away. Be savvy and think about the energy you can save by shutting off appliances that don't need to run 24/7.
Call Us for Drain Cleaning Services
Plumbing issues, such as burst pipes, are often inevitable, and that's why you need professional drain cleaning services. Knowledge is power, and knowing what to look for is key. The sooner you service your pipes, the less damage to your house and fewer headaches you'll have this winter!
Once you call 1-800-Plumber +Air of McKinney, TX, we'll take a look around your house and provide information on how to better equip your home for the winter looming ahead. We can assist with any of the services we've outlined here.
If you have an emergency, give us a call, and we'll be there to assist in no time.
Call us today to learn more about our drain cleaning services. Our nearest pro will be on their way to get the job done.