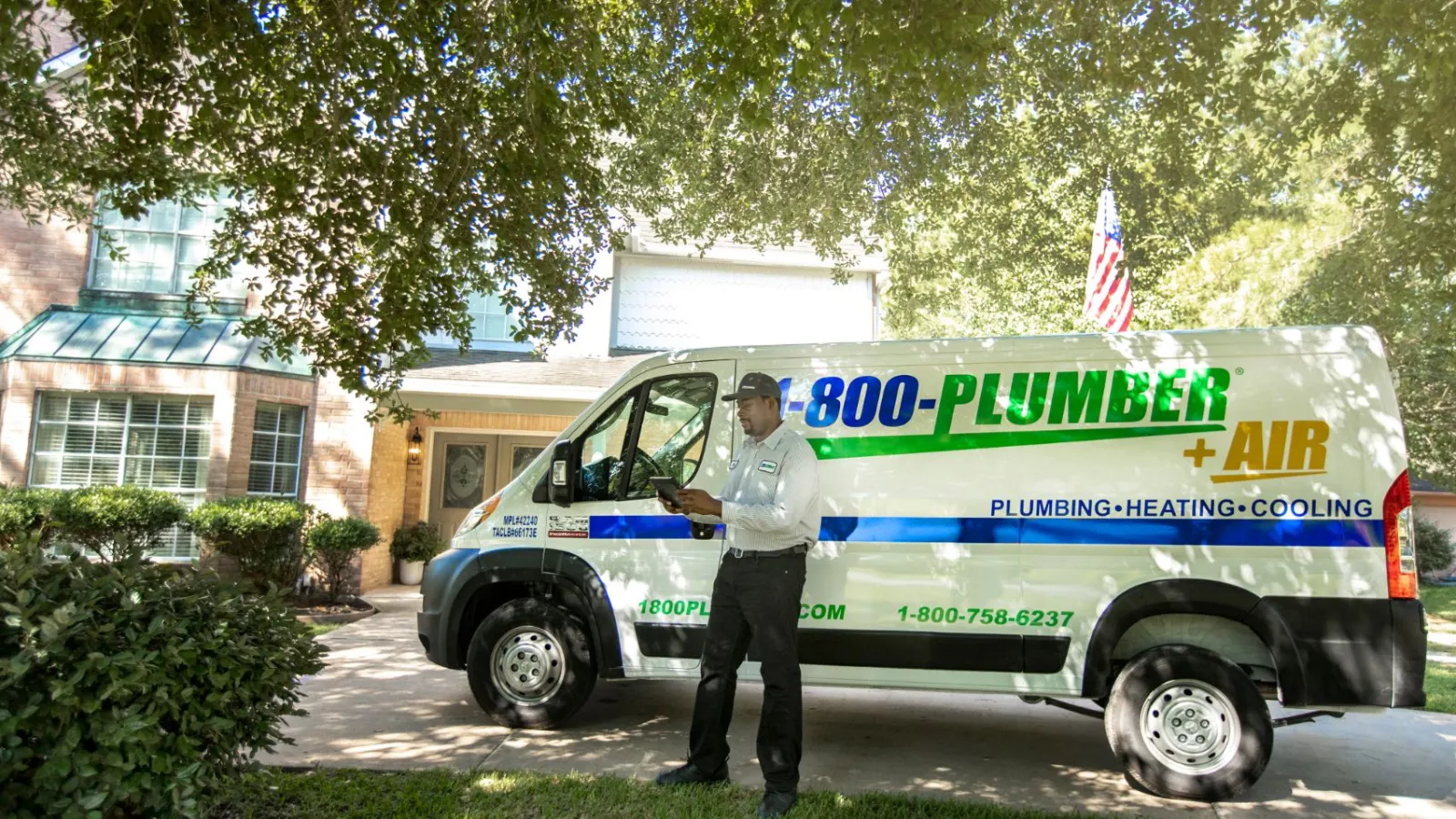 The Name You Trust for your
AC REPAIR
Having a
HOME EMERGENCY?
Call or Find Your Nearest Pro!
The zip code you entered is not associated with one of our locations. Please visit our Locations page to find your closest location.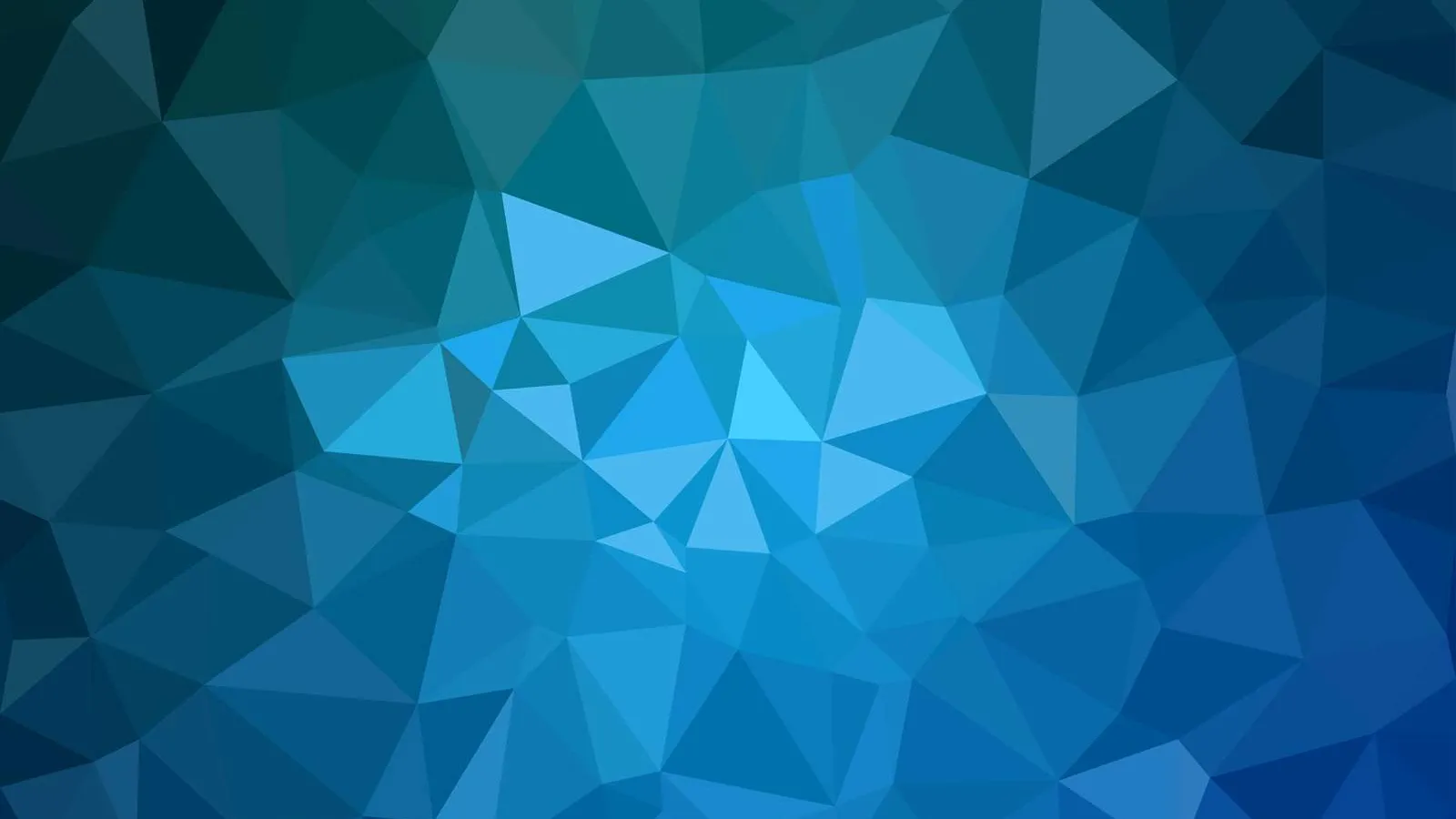 Your Professional
SERVICES
Our Top Emergency

Services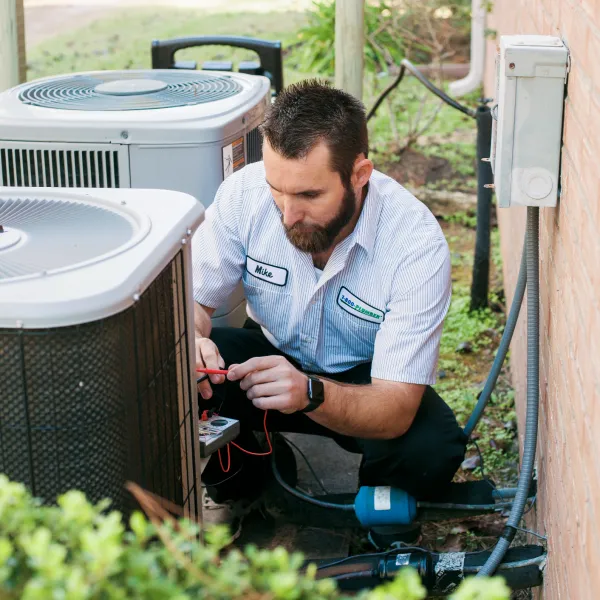 1-800-Plumber +Air of Pearland
What Services Should Your Air Conditioner Contractor Offer?
In a sweltering environment like Pearland, Texas, an air conditioner contractor is like a savior. If your system has become unresponsive or is otherwise flagging, you should call upon an air conditioner contractor to diagnose the problem and offer a solution.
But how do you find out if a contractor knows everything they need to? A good way is through studying their AC services. In this guide, we're going to focus on the services that all reputable air conditioner companies should offer.

Ready to
GET IT FIXED?
Contact Us Now!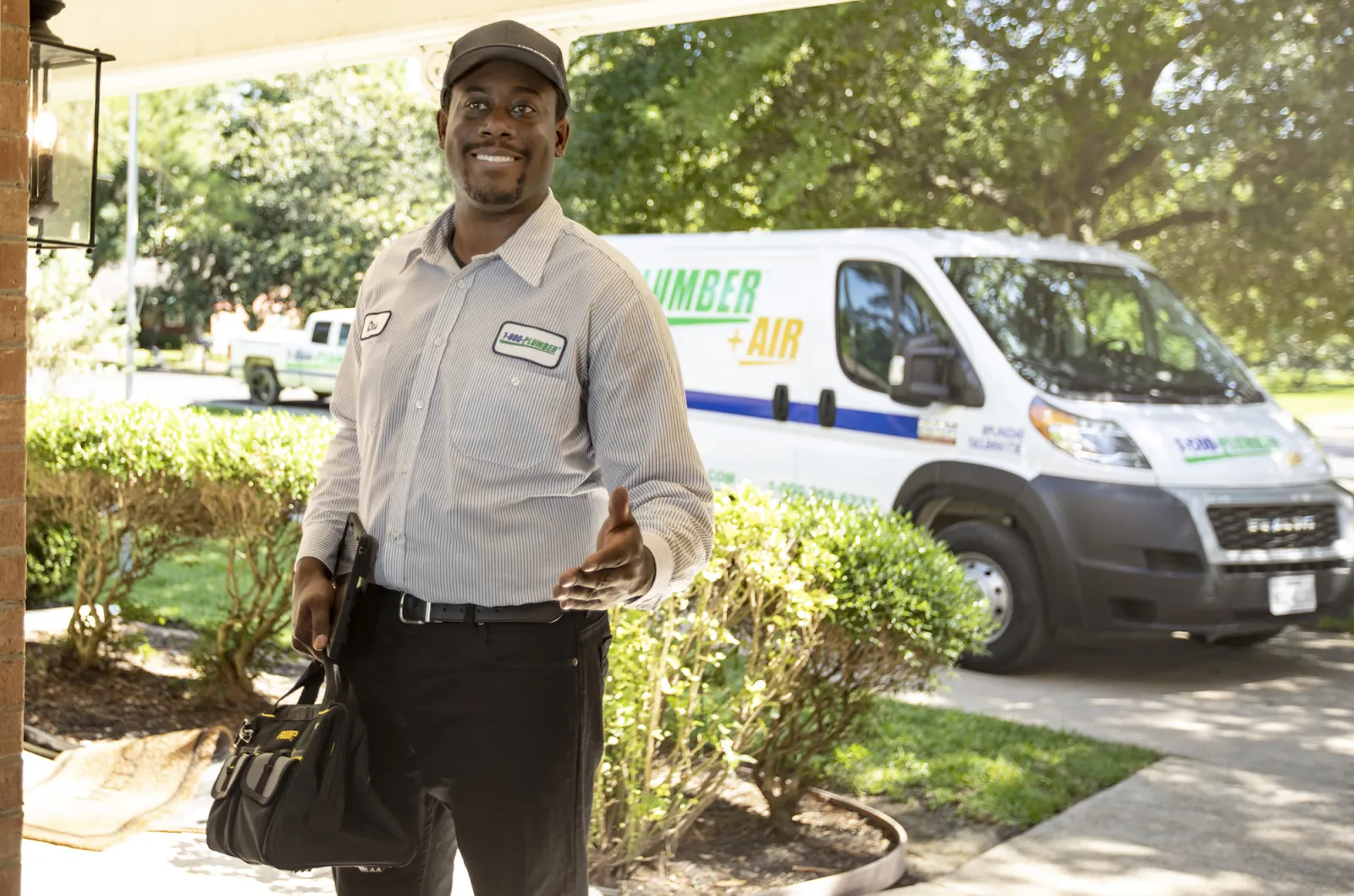 How Do I Know I Need An Air Conditioner Contractor?
Since you're reading this guide, you probably know whether you need an air conditioner contractor. But it's still good to understand the numerous situations that could call for a contractor, such as:
Air Conditioner Not Working
If your air conditioner won't start up and none of the typical solutions (checking thermostat and/or breakers, changing dirty filter) aren't working, you need to call an air conditioner contractor to really take a look at your system.
Your system might turn on but stop short of doing anything else. There could be no air coming out the vents or even warm air, instead of the cool air you should be receiving. Your system might also be short-cycling or even long-cycling. These are all traits of a faulty air conditioner and signs that you should hire an air conditioner contractor.
Increase in Energy Bills
Air conditioning is a necessary expense, but a compromised system can become unnecessarily expensive. If you see a major spike in your monthly energy bill and haven't been consuming more electricity than usual, it may be due to your air conditioner.

When an air conditioner loses its strength, it doesn't give up. It works its hardest to provide that essential cooling power for you and your loved ones. That might sound inspiring, but it means higher bills for lower results. An air conditioner contractor can examine your air conditioner to determine why your energy bills have increased so much.
Strange Noises
Depending on what kind of air conditioner you have, it could be moderately noisy, such as a window unit or central air system, or remarkably quiet, such as a ductless mini-split system. However, it's important that any noises coming from your air conditioner be familiar and typical.

Sounds can be grinding, buzzing, hissing, squeaking, and more. They can indicate issues such as compromised motors, parts coming loose, dirty air filters, or electrical issues. Once you hear these sounds, it's impossible to ignore them. The longer you go without addressing them, the worse they can get. Call an air conditioner contractor, such as ones from 1-800-Plumber +Air of Pearland, to investigate these noises and determine a solution for your system.
Strange Smells
It's easy to go "smell-blind," if you've lived in your home long enough. But a new odor can stop you dead in your tracks and wreak havoc on your sanity. At 1-800-Plumber +Air of Pearland, we have more than a few customers who called us after smelling something weird from the air conditioner.
There might not be anything inherently wrong with your air conditioner; it could be that a small animal, such as a mouse, wandered in and died. But it could be more complicated than just removing a dead rodent and disinfecting.

The smell could be caused by poor electrical wiring, mildew from too much moisture, or sewer gases that have cycled back into your home. Some of these smells can be more offensive than others, but none of them can, nor should be, ignored.
Your System is Getting Older
If an unbreakable air conditioner has been invented, nobody's told us. All air conditioners, from the cheapest to the sturdiest models, will eventually break down and need replacing. You can keep yours alive longer through regular check-ups and filter changes, but if your air conditioner is more than 10 years old, you should consult with an air conditioner contractor.
They can examine your unit to see what its long-term prospects are, if any. They should have strong familiarity with all major brands, but you should provide them with important information such as when it was installed and what kind of issues it's been having, no matter how insignificant they might seem.

If you're lucky, you might be able to use your air conditioner a few more years past its anticipated expiration date. However, you might be tempting fate for no reason other than pride. A new system, installed by the experts at 1-800-Plumber +Air of Pearland, can be so much better for your household. We'll discuss these benefits more in the next section.
What Services Should Your Air Conditioner Contractor Offer?
Now that you know when to call, how do you know who to call? An air conditioner contractor should have more than flashy ads and a friendly demeanor. They should prove they really know their stuff by offering these services:
Installation
It's unfathomable to think of an air conditioner contractor not providing installation services. However, just because a contractor installs air conditioners, it doesn't mean you should call them right away. First, you need to find out whether or not their installation methods are sound.

Unreliable air conditioner contractors may try a one-size-fits-all approach for installation, not think about what your home needs specifically, such as choosing the wrong-sized air conditioner. They also can work in a very sloppy manner, leaving cracks in ductwork and not using the right amount of refrigerant. They might not know what they're doing wrong, or they might just not care. Neither is a good explanation.
If you're considering hiring an air conditioner contractor, ask for at least three references, with at least one going back five years. Ask them about the installation quality and if any additional services were needed due to poor installation. Research reviews on sites like Angie's List to learn more about the company and its overall customer satisfaction rate.
Unit and Parts Replacement
Your air conditioner could need to be completely replaced or just need one part replaced, such as the compressor. Any air conditioner contractor you hire should know what needs replacing and be able to clearly explain why.
You might need a brand new unit because your current one is too old and is consuming too much energy. Or, you might need to swap out one part for another. Your air conditioner contractor should know how to verbalize their decision in a way that a layperson can grasp. Otherwise, it can seem like they're just trying things for the sake of trying them, without any real sense of purpose.
1-800-Plumber +Air of Pearland knows what to do and why. If you need to replace a certain part of your air conditioner or the whole thing, our technicians will ably explain why and what benefits the new part/system can provide.
Maintenance
An air conditioner contractor that doesn't offer maintenance is like a physician who doesn't offer check-ups. Contractors need to be available even when things aren't particularly dire. This could be the calm before the storm.
You should have your air conditioner inspected and serviced at least once a year. A good time to do this is in the early spring before it starts to get really hot. That way, you'll have plenty of time to catch any possible problems with your air conditioner well in advance of the sticky and sweaty conditions.
1-800-Plumber +Air of Pearland offers air conditioner maintenance as well as installation, repairs, and replacements. We'll help you nip problems in the bud and increase the longevity of every part of your air conditioner, from the compressor to the coils.
Emergency Services
If your air conditioner contractor offers emergency services, they can save you from a lot of stress. 24-hour emergency air conditioner repair is something you don't realize you need until disaster strikes.

A malfunctioning air conditioner is an emergency. It's more than a matter of discomfort, as high indoor temperatures can be extremely dangerous for vulnerable members of your household, such as young children, elderly relatives, and pets.

1-800-Plumber +Air of Pearland also offers 24-hour emergency services. We can and will come over at any time to help you with your air conditioner. If you have an AC problem that you know cannot wait, do not hesitate to call us.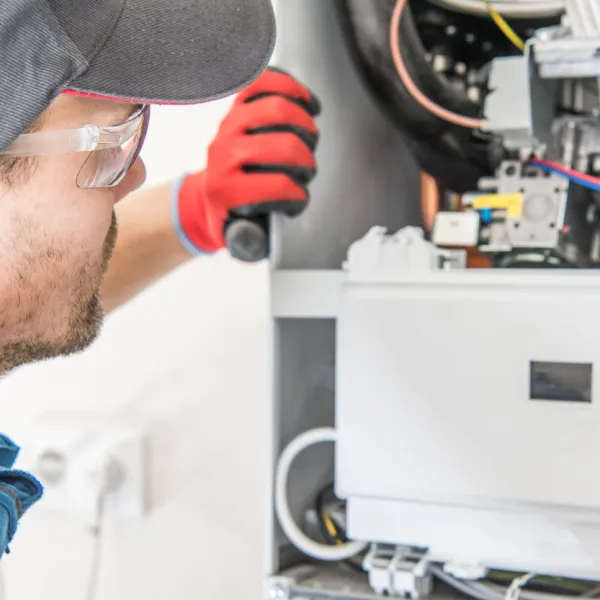 Call the Best Air Conditioner Contractor in Pearland
Every service that an air conditioner contractor should offer is provided by 1-800-Plumber +Air of Pearland. Our licensed and experienced technicians have made us and the Pearland community proud for years, and continue to do so.
Whether your system is making strange noises, producing strange smells, needs to be replaced, or has any other problems, send us a message. We want to help you in every way we can to keep your air conditioner running and keep you as cool as possible.

Joey was fantastic. Really great service!

Kathy C.
They were very professional and clean. Also did a great job on my air conditioning my house feels great.

Satisfied Customer
Very professional and knowledgeable. The office staff communicated well and were helpful and courteous. We had a major plumbing job done. The cost for all they did was reasonable. The service pro tech, Emanuel Reyes did a great job! We will definitely recommend 1-800 plumber of Pearland,

Wanda N.
"1-800-plumber +Air is an A+ company !!! Our plumber was Robert , he was very knowledgeable and friendly! He was efficient and got the job done !l fixed two toilets for us! Thank you so much!! I highly recommend"
Diana M.

Great job! Very professional and friendly! Thank you for coming out on short notice!

A.S.
Kyle was efficient and professional when handling my faucet water leak. He was an expert problem solver to my numerous problems. Success!

Cheryl S.
Had a problem with my drain. Representative came out and knew exactly what was wrong. They fixed it the problem fast and customer service was great! Will definitely use them again!

Adrian B.
Emanuel came out to inspect why our commode was not flushing properly. After an inspection he describer the options. Since the commode was over 40 years old we picked the option to replace the commode with a new one. He Asked several questions about what we would like and the showed us two options. We picked the one that we liked and he obtained the commode from the ware house and installed it the same afternoon.. He completed the installation and did a great clean up of the area and answered answered all of our questions. I fully recommend Emanuel and 1-800-Plumber of Pearland

Steve E.
Emanuel Reyes did a very thorough job and was very courteous.

Charles M.
This was THE most painless repair experience! We had a leak in a pipe behind our water heater, spewing water out into space, ugh. Joe and his apprentice, Dan, were here in about an hour or so. They were both so very friendly from the moment they showed up at the front door! After they determined the problem, we discussed the needed repair, and then they began to replace the pipe(s) behind the water heater. This was pretty much an all-day job and I can honestly say it was no problem having them in my home. They were not only professional and courteous employees; they were two very kind individuals, who were also comfortable and friendly around my crazy dogs! I have had nothing but the finest experiences with this company and cannot recommend them highly enough! They are the best!

Barbara H. No surprise
costs at the end of a job On-Time
Committed to on-time arrivals