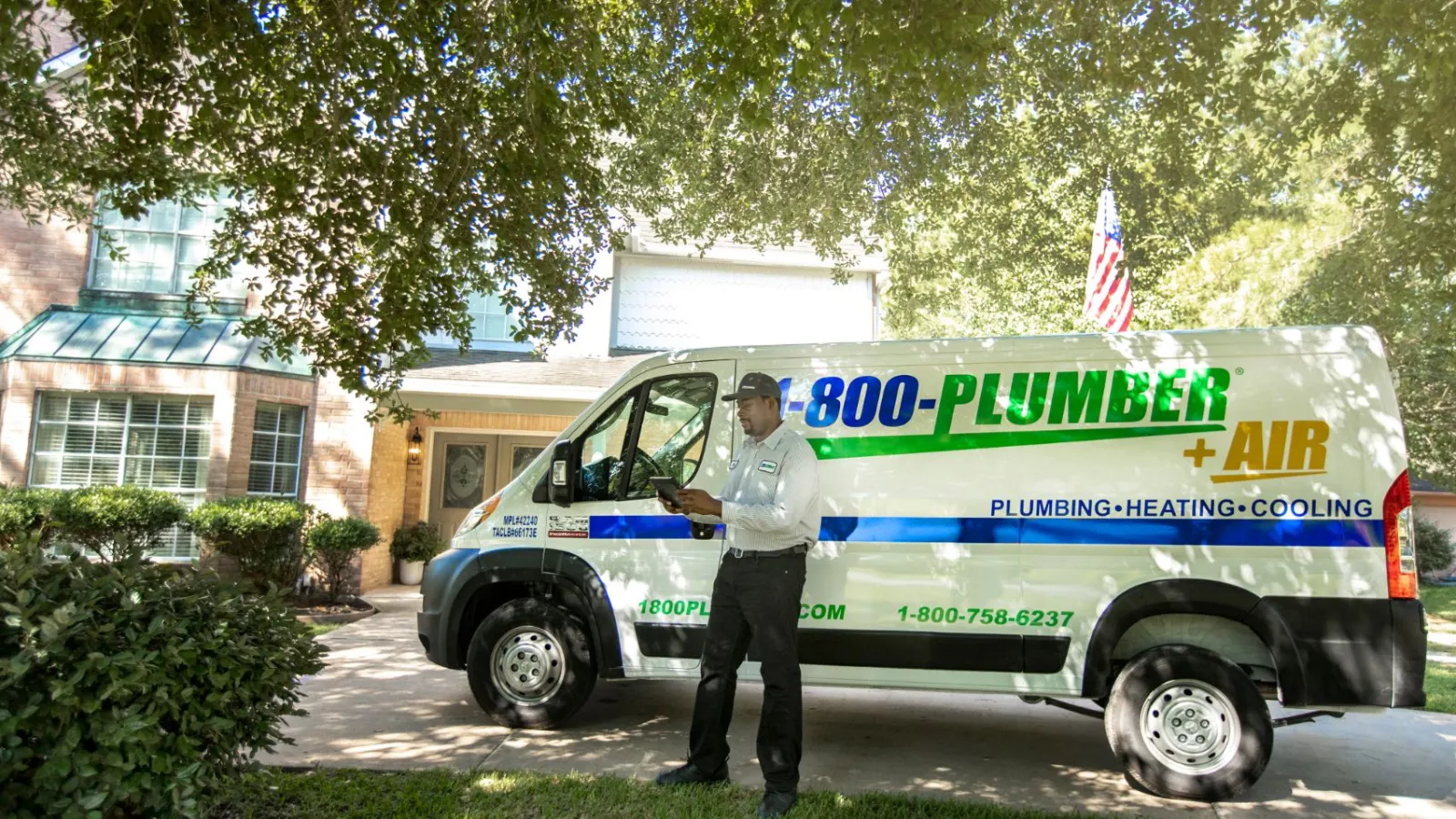 Air Conditioning Repair Services

Having a
HOME EMERGENCY?
Call or Find Your Nearest Pro!
The zip code you entered is not associated with one of our locations. Please visit our Locations page to find your closest location.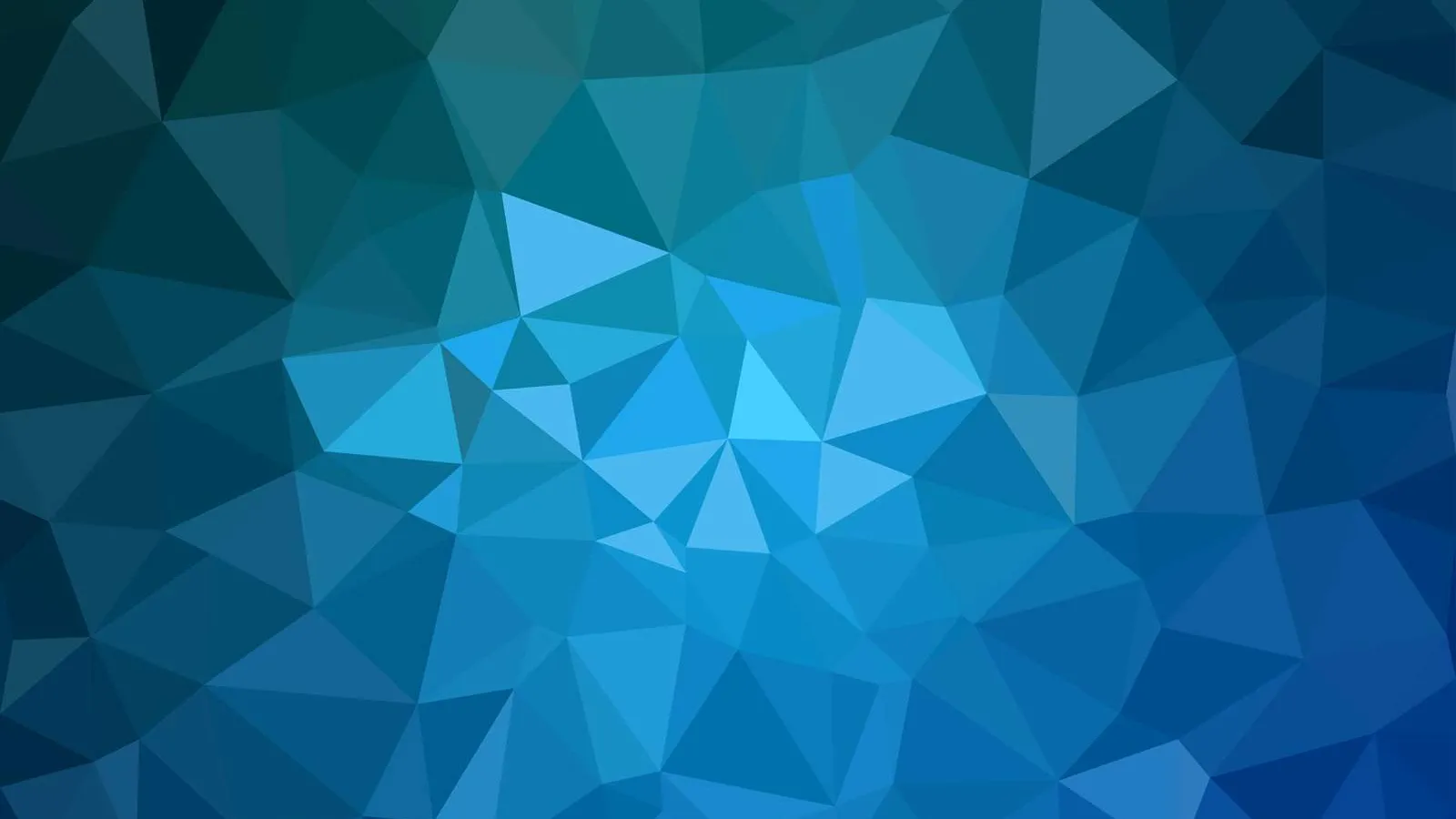 Your Professional
SERVICES
Our Top Emergency

Services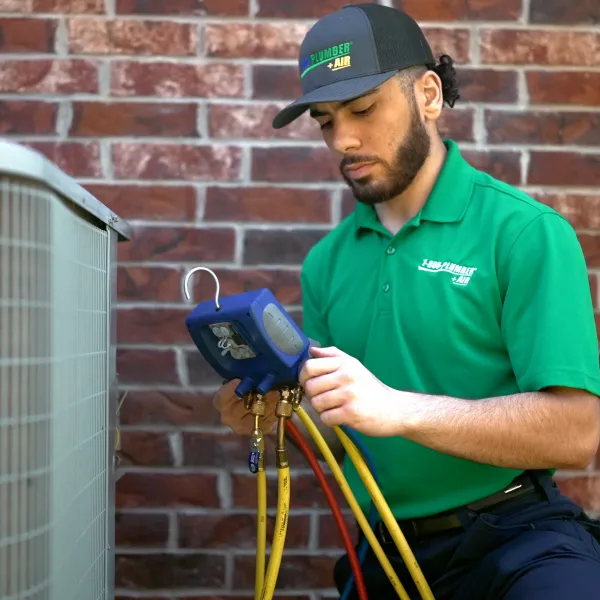 A/C Repairs in Pearland
1-800-Plumber +Air of Pearland
According to the U.S. Department of Energy, roughly six percent of all of this country's electricity comes from air conditioning alone. In a place like Pearland, Texas, where summer temperature highs can reach the 90s, proper-running systems are a must. 1-800-Plumber +Air will teach you all about A/C repairs in Pearland.
Ready to
GET IT FIXED?
Contact Us Now!
Our A/C Repair Services in Pearland
When temperatures reach 90 degrees, that's the worst time for your air conditioner to stop working. If your air conditioner is relatively new or has yet to require frequent repairs, experienced and skilled air conditioning repair Pearland specialists from 1-800-Plumber +Air of Pearland will be able to get it running again quickly, efficiently, and cost-effectively.
For the best in air conditioner repair, Pearland offers the most knowledgeable and expert service providers from 1-800-Plumber +Air of Pearland. We are highly trained A/C professionals here to help when the heat gets uncomfortable. Rely on 1-800-Plumber +Air of Pearland to restore comfort proficiently and swiftly.
Common Air Conditioning Issues and Repairs
An air conditioner uses several components to cool your home by transferring heat from the inside to the outside environment. The components that work together to facilitate the cooling process include the following:
Evaporator

Blower

Condenser

Compressor

Fan

Filter

Thermostat
The compressor is a pump that moves refrigerant between the evaporator and the condenser to transfer heat and cool the indoor air. The evaporator, located in the indoor unit, is made up of cooling coils in which refrigerant flows, removing the heat and humidity from the air. A blower or fan disperses and circulates the chilled air produced from the removal of the heat into the inside of the home. The condenser, located in the outdoor unit, contains coils that receive the heated air from the evaporator. With the help of a fan, the condenser releases the collected heat into the outside air. A filter removes particles from the air while the thermostat regulates the amount of cool air the units distribute.
Some common air conditioning issues can emerge if the coils in either the indoor or outdoor unit are dirty, the refrigerant is frozen, or the filter is clogged. Freezing happens when the refrigerant flowing through the evaporator can't extract the necessary heat to take to the condenser, either because the coils are dirty or the refrigerant levels are too low. When these conditions occur, the refrigerant temperature can drop below 32 degrees, causing ice to form on the evaporator coils.
Signs Your A/C Needs Immediate Repair
If you see the thermostat temperature creeping higher despite having the air conditioner on or electricity bills seem higher than usual, these are sure signs that something is wrong with the air conditioning system. Insufficient airflow, caused by blocked or leaky air ducts or clogged filters, can impede the operation of an A/C system. In addition, a failing compressor or motor can also cause minimal airflow.
Another sign of trouble with your A/C system is liquid leaking around your indoor unit. If the liquid is water, this can be an indication of frozen evaporator coils that are producing excessive condensation. However, if you see leakage and the indoor temperature is warmer than it should be, this could indicate refrigerant leakage and must be attended to immediately by A/C repair Pearland experts.
The Benefits of Hiring 1-800-Plumber +Air for A/C Repairs
The air conditioning repair Pearland TX professionals at 1-800-Plumber +Air of Pearland can diagnose problems quickly and efficiently to get your A/C units running, restoring comfort into your home sooner rather than later. However, if your A/C system is nearing its end of life or requires frequent repairs that are straining the budget, these Pearland specialists can replace your unreliable A/C system with one that works when expected and, at the same time, provide cost-savings on energy bills.
Trust the Experts at 1-800-Plumber +Air of Pearland, TX, for Reliable A/C Repairs
If you need A/C repairs, you'll need a great company on your side. You won't have to panic when you see signs that your air conditioner needs repairing. You'll know to call 1-800-Plumber +Air of Pearland, the best air conditioning repair Pearland professionals, for any air conditioning emergencies! Our Pearland professionals will have your air conditioner working in no time. Contact us or call us today at (281)506-7171 to learn more or to schedule service.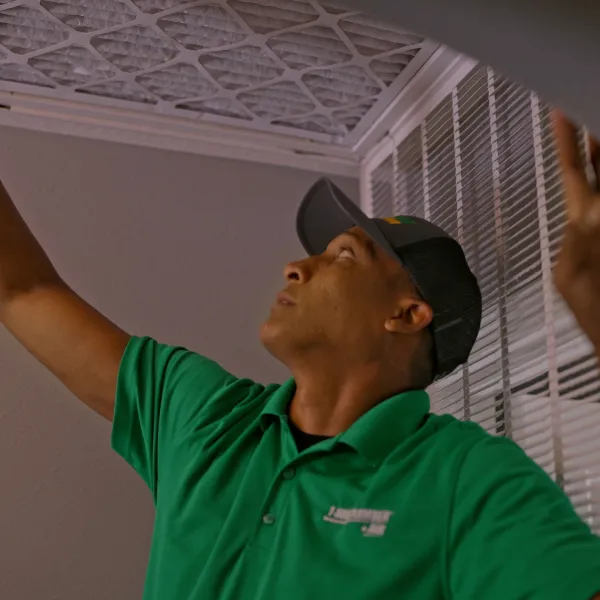 A/C Repairs You Can Do Yourself
Some A/C work should only be performed by licensed technicians or professional electricians. However, there are a few repairs you can do yourself, provided you're following all of the instructions and safety guidelines.
Replacing Filters
If your A/C isn't blowing as much air as it used to, or the air is warm, check the filters. It's easy to forget about filters when they're shut inside your vents. However, they are essential and must be properly maintained.
See how much dust and other things has accumulated on your A/C filters since you last replaced it. It can be pretty eye-opening to see how filthy it's become. Although filters bring contaminants out of your air, they have their limits. Clean out your filters every month and replace them every 90 days if you don't have pets, and every 60 days if you do.
Cleaning Coils
Your A/C has coils in its outdoor and indoor units. These are both crucial for the heat exchange that allows your A/C to cool your house. If your coils are dirty, your A/C can't function as well. They tend to get dirty much like filters do, accumulating dust and other contaminants. Air will have trouble flowing between the coils, resulting in a much-less effective A/C.
Fortunately, you don't need to do a lot to keep your coils clean. Simple household products work as cleaner, such as detergent and compressed air. There are also cleaners available specifically for coils. If you want the best coil cleaning possible, call 1-800-Plumber +Air of Pearland.
Cleaning Outdoor Unit
If you're already cleaning the condenser coils in your outdoor unit (also known as the "condenser unit"), check out what else is happening around your unit. Are the fins dirty, and is there overgrowth in the surrounding area? While you can't keep your unit 100 percent clean all the time, you can take simple measures to clean it up.

After shutting off power to the system, spray down the unit lightly with a garden hose, both inside and outside. Vacuum the fins as well, and pull off any other natural debris in or around the system. Set aside a day for cleaning at the beginning of spring to help your A/C enter the new warm period in excellent shape.
Unfreeze Coils
Your A/C can become literally frozen thanks to refrigerant on evaporator coils freezing. This can occur due to your evaporator coil being dirty, refrigerant levels being low, and clogged air ducts/filters. If your refrigerant is unable to obtain the necessary heat for the cooling process, your whole system is liable to suffer.

To unfreeze your coils, shut off your thermostat to prevent further refrigerant flow, and turn on the fan to warm up your coils and help melt the ice. Depending on how much ice is on your unit, it could take a day for your unit to fully thaw. You should also check your filters and coils to see if they need cleaning or replacing. Check for any signs of refrigerant leaks, as well as refrigerant poisoning. Call Poison Control if anyone in your household is showing indications of poisoning, such as nausea, headache, and confusion.
How to Find an A/C Repair Company
It's easy to know you need A/C repairs, but how do you know which company to work with, especially when there are literally dozens to choose from? 1-800-Plumber +Air has some tips that are easy to follow.
Reviews
You should value others' feedback when researching A/C repair companies. Read through reviews and see what one company offers over another in terms of reliability, pricing, and results. Any deficiencies in these or other important areas should be treated with caution. Don't work with any company who you think might make your problem worse.
Licenses/Insurance
Never assume that an A/C repair company is fully licensed and insured. If you don't check, you could spend your hard-earned money hiring unqualified technicians who don't follow proper repair procedures. Even worse, if they get hurt and they don't have any kind of liability insurance, the liability is going to fall on you and your wallet. Request proof of license and insurance from every technician sent to your home before you allow work to begin.
Emergency Services
When you need A/C repairs, you usually need them right away. Trying to get through even one broiling Pearland day with a broken A/C is a struggle. That's why you should focus on companies with 24/7 emergency services. 1-800-Plumber +Air of Pearland technicians can come by any time of day, including weekends and holidays.
Age
Older isn't always better, but an A/C repair company with both age and positive reviews on its side is one you can trust. 1-800-Plumber +Air has been around since 1999, and we've certainly earned a reputation for excellence, with franchises and customers stretching across the United States.
We also stay up-to-date with new developments in A/Cs and A/C repair. There are always new things happening, and we want our customers to have the greatest advantages possible when it comes to their HVAC systems. This, along with our excellent customer service and technical skills, are what help 1-800-Plumber +Air to stand out.
Need A/C Repairs in Pearland? Call Us
Don't fret if your A/C needs a tune-up. 1-800-Plumber +Air of Pearland can find the solution and make your A/C run better than ever.
Contact us today
for additional information.
Mark was great! He took the time to not only give a price, but explain everything a new system could do and how it would benefit them not just in heating and cooling, but dust reduction, utility bills, etc. Very Very pleased. read less

Satisfied Customer
Friendly, courteous, knowledgeable.

Marylin L.
I really appreciated Manolos attitude and the way he had patience for all of my questions and never seemed like he was rushing or annoyed with me. He took the time to reexplain it to my husband when he got home. I didn't feel pressured into spending more money or like he was trying to just sell me stuff. I felt like he really took his time and that I was his priority. Thank you for having great service.

Satisfied Customer
I had Kyle U as my plumbing tech. He did a great job and worked really hard to get to the bottom of things (like roots). He was also polite and honest.

Linda D.
Joey and Moses came out to replace a waterline and were AWESOME!!! They answered my questions, where patient, friendly (respectful) and VERY professional! This my 2nd time using 1800 plumber and both visits were great! I look forward to continue using them! read less

Satisfied Customer
"1-800-plumber +Air is an A+ company !!! Our plumber was Robert , he was very knowledgeable and friendly! He was efficient and got the job done !l fixed two toilets for us! Thank you so much!! I highly recommend"
Diana M.

"Had them install 3 faucets. Tech (Dustin) was on time and professional Nice job, clean and neat. Had tiny problem, called and he was here right away. Great and will use them again"
Wilbert H.

Thanks for getting here so quickly and finding the issue. Also thanks for suggesting the locking caps - Hopefully this will prevent theft of the freon.

David P.
Had a plumbing issue on a Sunday afternoon. Joey came out and got the problem resolved. He was very courteous, professional and knew exactly what to do.

Satisfied Customer
1-800-Plumber fixed burst water pipe in my home. Hector and Chad explained the issue well, communicated timelines and completed work with an affordable price tag. I recommend their services.

Bhavna P. No surprise
costs at the end of a job On-Time
Committed to on-time arrivals