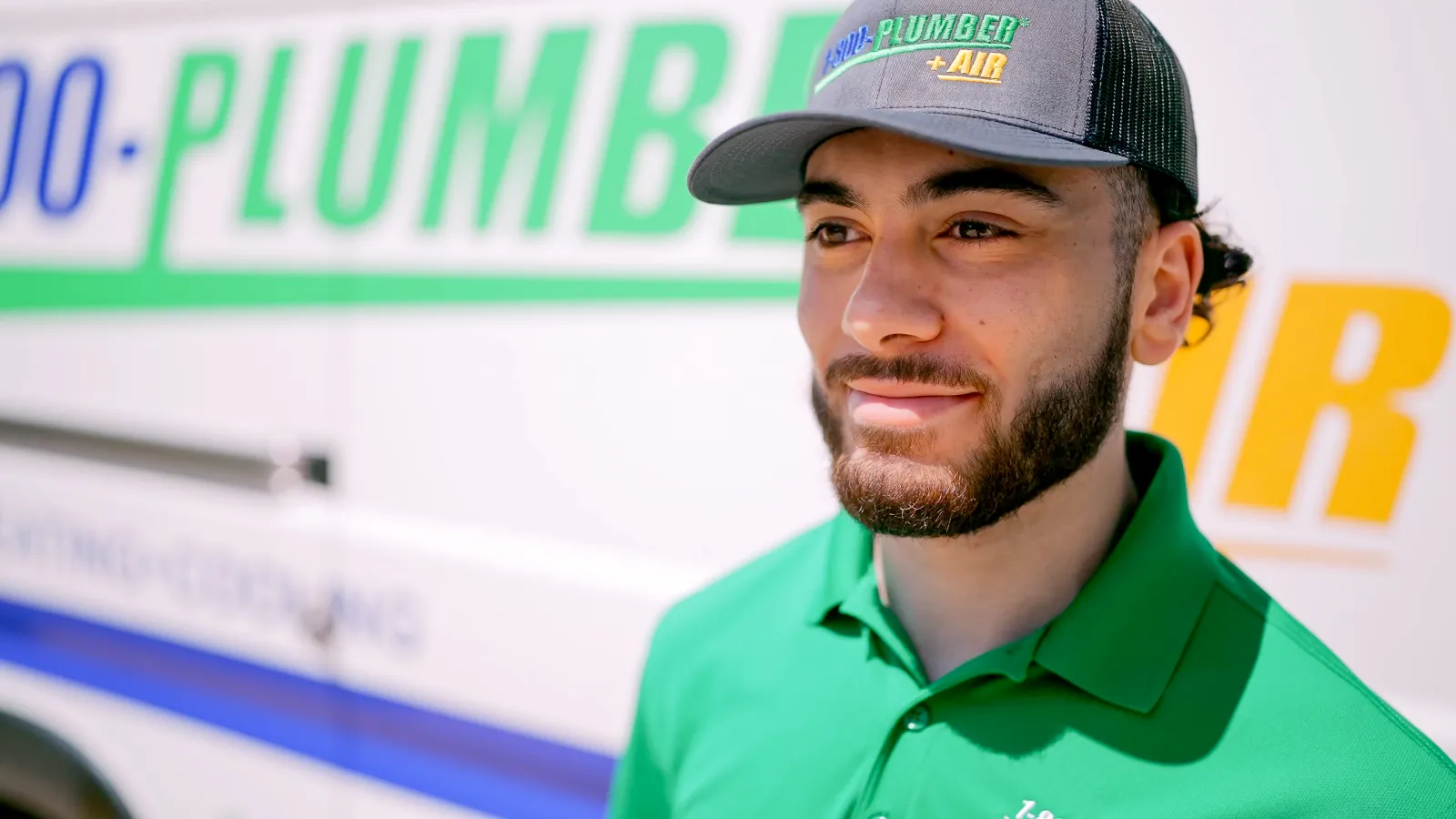 The Name San Antonio Trusts for
COMMERCIAL COOLING
Having a
HOME EMERGENCY?
Call or Find Your Nearest Pro!
The zip code you entered is not associated with one of our locations. Please visit our Locations page to find your closest location.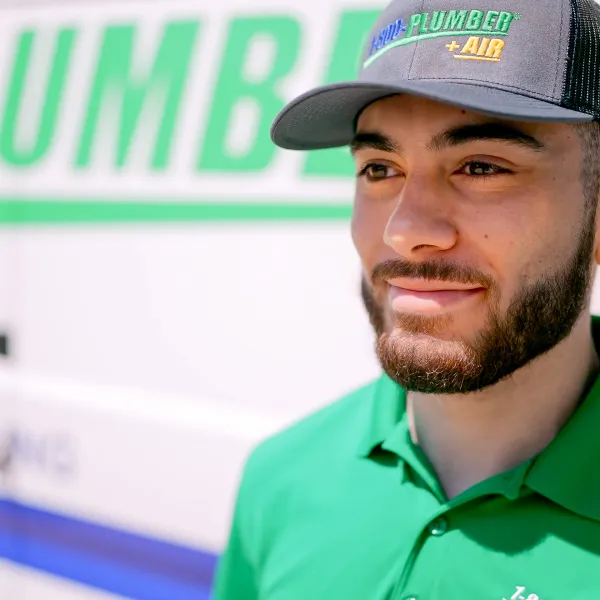 Commercial Cooling
1-800-Plumber + Air of Northwest San Antonio

At 1-800-Plumber +Air of Northwest San Antonio, we understand that keeping your commercial facility cool is essential for the comfort of your customers and employees. That's why our professional HVAC technicians are here whenever you need us. From installing and repairing air conditioners to performing preventative maintenance, we're keeping your business cool and comfortable all year long. We pride ourself in delivering the best customer service every time, and can't wait to answer your call.
What are the Most Popular Commercial Cooling Systems?

What is Commercial Cooling?
Commercial cooling refers to any type of cooling or air conditioning equipment used to cool the air on a commercial property. Most of the concepts and equipment used in commercial cooling are similar to that of residential properties but on a much larger scale. Most commercial properties require multiple cooling systems that are also larger in proportion than those used on houses or apartments.
What are the Most Popular Commercial Cooling Systems?
If you're thinking about replacing your existing cooling system or installing a new one, this section is for you. Modern commercial cooling systems are more efficient and easy to operate than older ones, and you have more options to choose from.
Split Systems
A split system is when you have an air conditioner outside your building connected to a furnace or air handler inside the building. The two units work together to provide both heating and cooling to the property. The inside portion of the system, the air handler, will have a series of ducts that carry conditioned air to various parts of your building.
Rooftop Units
Rooftop units, also known as all-in-one units, are when the heating and cooling of your commercial property are done by a single unit located on top of your roof. As with a split system, a series of ducts and pipes connected to the rooftop unit disperses the air throughout various parts of your building.
Mini-Splits
Mini-splits are somewhat similar to split systems but have one significant difference. Mini-split systems are heat pumps that feature an indoor unit usually mounted high on a wall and an outdoor condenser. However, where a split system has ductwork connected to it, a mini-split system doesn't.
Instead, a fan and vents are built into the indoor unit that blows cold air during the summer and hot air during the winter. On commercial properties with numerous large rooms, it might be wise to install a mini-split in each one of them rather than having a split air system.
Geothermal Systems
Geothermal commercial cooling systems are one of the newer heating and cooling methods. Geothermal systems use water to generate hot or cold air and send it through a series of ducts to various parts of your building. This system is also an all-in-one unit, but it's located inside your building rather than on the roof.
Most Common Commercial Cooling Problems
Refrigerant Problems
Regardless of what type of commercial cooling system you have, refrigerant is always a possible issue. Refrigerant is the component responsible for cooling the air that gets dispersed throughout your building. However, having too little refrigerant, a refrigerant leak or dirty refrigerant can all cause a world of problems for your cooling system.
Short Cycling
Short cycling is when the compressor on your air conditioner constantly stops and starts for no reason. Typically, your compressor will run until the thermostat is satisfied, then shut down. However, with short cycling, your compressor will stop prematurely and could be a sign of a significant problem with your commercial cooling system.
Dirty Filters and Coils
One of the biggest issues with residential and commercial cooling systems is when your air filters or coils get dirty. Your air filter's job is to keep the air flowing through your system as clean as possible. However, when it gets too dirty, it blocks the flow of air and can cause your air handler to get overworked and shut down.
Your cooling system has two coils: the evaporator coils and the condenser coils. The evaporator coils are inside your building, and the condenser coils are in the air conditioner. If either of these coils gets too dirty, the same problem will result as with a dirty air filter. Air must flow freely and unobstructed over the coils to get cooled, and if it can't, it could cause a malfunction with your commercial cooling system.
Poor Air Balance
No matter what type of system you have, poor air balance is always possible. Poor air balance is when one room feels freezing cold during the summer while another one is warm. When winter hits, the same problem will occur: one room feels like a sauna, but another feels like a freezer.
This problem is especially prevalent with older commercial cooling systems and properties. Nowadays, you have the option of multi-zone systems and dampers that keep this problem from happening.
How to Prevent Commercial Cooling Problems
The best way to prevent commercial cooling problems is to contact us at 1-800-Plumber + Air of Northwest San Antonio. Our skilled and experienced technicians will diagnose and fix the issue no matter what's going on with your HVAC system. It's also a good idea to schedule regular maintenance checks with us to ensure that your system is healthy and doing what it should.
Who to Call for All My Commercial Cooling Needs
While prevention and maintenance are always better than fixing problems, we can do it all for commercial cooling systems. No matter what type of system you have, how old it is, or how many issues it has, we're here to help. We have a talented group of licensed and experienced HVAC technicians who have seen it all.
Or, if you want to keep commercial cooling problems from happening in the first place,
contact us
to schedule a maintenance visit. We can inspect your system, perform routine maintenance, and notify you if we see any problems. Staying comfortable is essential at all times, and your commercial property is no exception.
Ready to
GET IT FIXED?
Contact Us Now!
Kyle did an excellent job. He was very thorough and explained everything from start to finish. I would strongly recommend Kyle for any plumbing you might have.

Kyle
I was greeted by Manolo Baez, introduced himself, polite, very clean, Manolo checked things out, I needed a new filter, explained the importance of good filters and how they work, I was very satisfied with his explanation. Manolo is knowledgeable and very professional, made me smile read less

Satisfied Customer
Thanks for getting here so quickly and finding the issue. Also thanks for suggesting the locking caps - Hopefully this will prevent theft of the freon.

David P.
Friendly, courteous, knowledgeable.

Marylin L.
Outstanding work and very professional!!!

Mando C.
EMANUEL REYES IS GREAT!!!!!!!!!!!!!!!!!!!!!!!!!!

Kathleen E.
Great service and knew exactly what to do. Kyle, was very nice! When I need a plumber, I'll call 1-800-plumber and ask for Kyle

David D.
Detailed orientated and honest inspection. Chad took his time and explained everything that was going on very well. The service fee was fair for the small issues he fixed, and he was able to make a referral for water restoration for us, I would use his service again and plan to when our water heater goes out.

Katie D.
Joey and Moses came out to replace a waterline and were AWESOME!!! They answered my questions, where patient, friendly (respectful) and VERY professional! This my 2nd time using 1800 plumber and both visits were great! I look forward to continue using them! read less

Satisfied Customer
1-800-Plumber fixed burst water pipe in my home. Hector and Chad explained the issue well, communicated timelines and completed work with an affordable price tag. I recommend their services.

Bhavna P. No surprise
costs at the end of a job On-Time
Committed to on-time arrivals