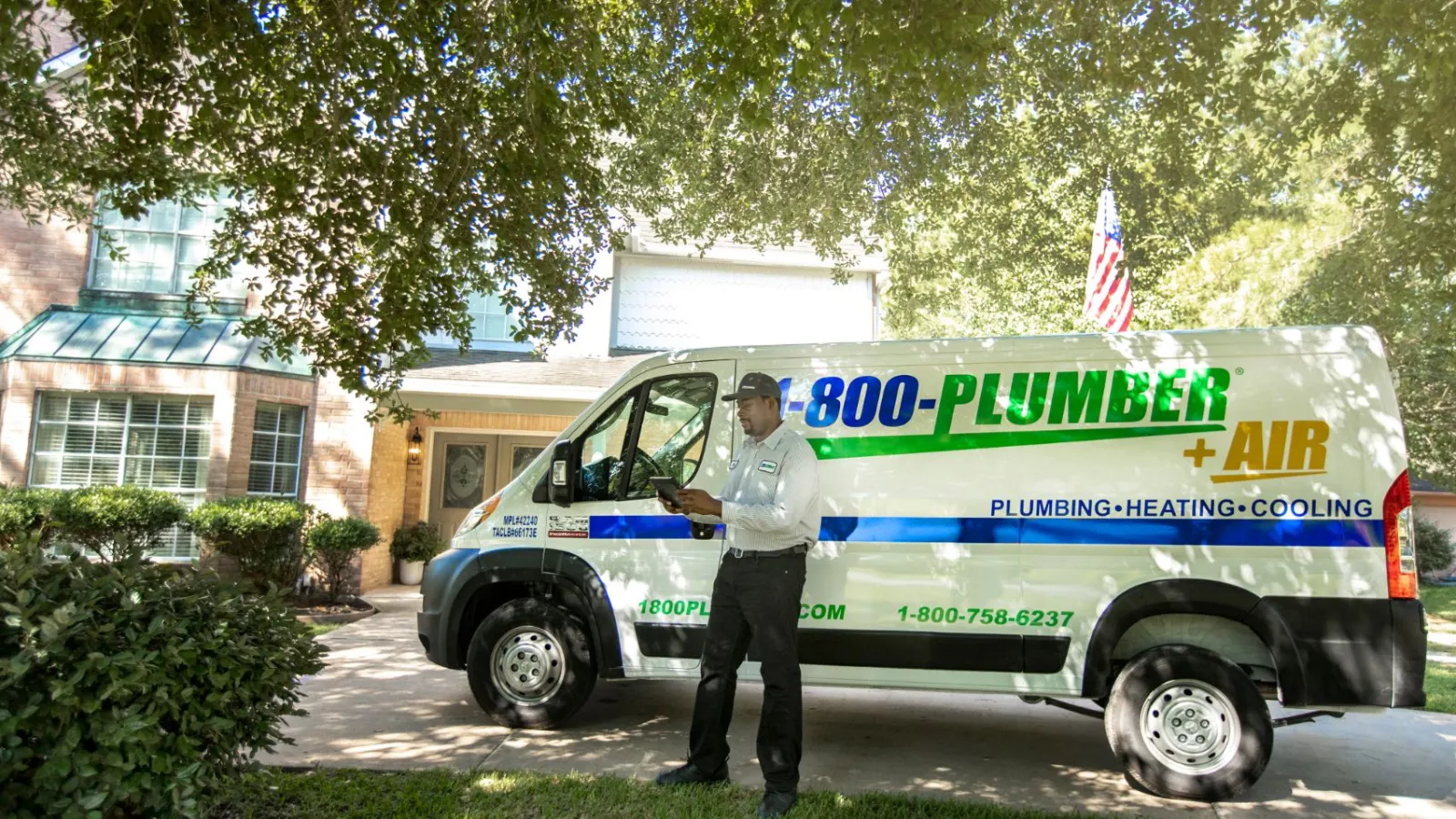 1-800-PLUMBER +AIR
Columbia AC Repair Services
Having a
HOME EMERGENCY?
Call or Find Your Nearest Pro!
The zip code you entered is not associated with one of our locations. Please visit our Locations page to find your closest location.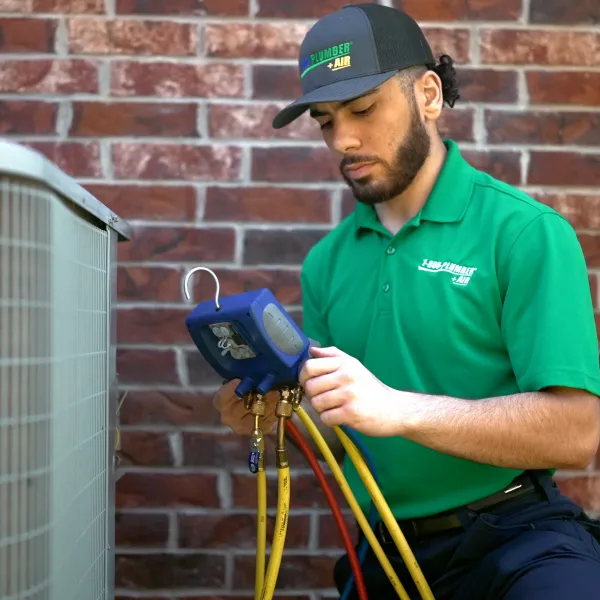 A/C Repairs in Columbia
1-800-Plumber +Air of Columbia
According to the U.S. Department of Energy, roughly six percent of all of this country's electricity comes from air conditioning alone. In a place like Columbia, where summer temperature highs can reach the 90s, proper-running systems are a must. 1-800-Plumber +Air will teach you all about A/C repairs in Columbia.
Ready to
GET IT FIXED?
Contact Us Now!
When to Get A/C Repairs
When your A/C starts acting up, you're going to have to consider if you should repair it or outright replace it. These are the circumstances that justify going for A/C repairs.
It's Fairly New
It's not economically sound to replace an A/C you just purchased. If it's an energy efficient model, you might've barely begun to experience the savings it offers. Assuming you purchased a quality system, the problem may primarily stem from its installation

Only hire companies with the best reputations for your A/C needs. A poor installation can result in an ineffective system and some major hazards to your home. Learn from your experiences and call 1-800-Plumber +Air of Columbia for A/C repairs.
You Haven't Needed Repairs Before
The first time you need A/C repairs shouldn't send you into a panic. It's likely all it needs is a little bit of adjustment. However, the more you need to call for A/C repairs, the more it'll eat away at your home improvement budget. At that point, it makes way more sense to purchase a new system.
Do some simple calculations to see if you'd be better off with repairing or replacing your A/C. If your A/C has never needed repairs before, but is approaching 10 years, it may be wise to just get it replaced. You might just be biding your time before it inevitably breaks down for good.
It Doesn't Use R-22
This section is a little more technical, but it should be easy to understand. R-22 is a type of refrigerant. All A/Cs need refrigerant in order to cool homes. However, R-22 is no longer in use as of 2020, thanks to a decree by the U.S. Environmental Protection Agency. Tracking it down can be very difficult, and it would be far more practical to just install a newer, more environmentally friendly, system.
Your System is Energy Efficient
You might grimace at having to spend money on A/C repairs, but have you considered how much your A/C might be saving you by default? With an energy-efficient system, you can save far more on your energy bills and enjoy quality air conditioning for much longer.
Check your system's energy rating and see how it compares to newer models. Developments in A/C technology means what seemed incredibly efficient five years ago is less so now. It may end up being far more practical to replace your system. Enjoy the excitement of looking for a new A/C, and call 1-800-Plumber +Air of Columbia for guidance on picking the best system for your home and your needs.
The Repair is Simple
Some A/Cs just need a little bit of TLC to get back into business. It might be a loose belt or some dirty coils. If repairs are possible and minimal, there's no need to replace.
However, there may be multiple problems occurring at once. If you have a laundry list of A/C repairs, you might just want to replace the system.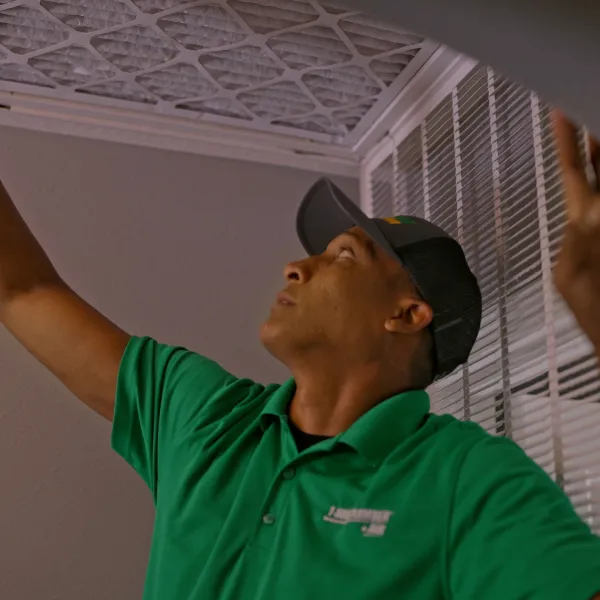 A/C Repairs You Can Do Yourself
Some A/C work should only be performed by licensed technicians or professional electricians. However, there are a few repairs you can do yourself, provided you're following all of the instructions and safety guidelines.
Replacing Filters
If your A/C isn't blowing as much air as it used to, or the air is warm, check the filters. It's easy to forget about filters when they're shut inside your vents. However, they are essential and must be properly maintained.
See how much dust and other things has accumulated on your A/C filters since you last replaced it. It can be pretty eye-opening to see how filthy it's become. Although filters bring contaminants out of your air, they have their limits. Clean out your filters every month and replace them every 90 days if you don't have pets, and every 60 days if you do.
Cleaning Coils
Your A/C has coils in its outdoor and indoor units. These are both crucial for the heat exchange that allows your A/C to cool your house. If your coils are dirty, your A/C can't function as well. They tend to get dirty much like filters do, accumulating dust and other contaminants. Air will have trouble flowing between the coils, resulting in a much-less effective A/C.
Fortunately, you don't need to do a lot to keep your coils clean. Simple household products work as cleaner, such as detergent and compressed air. There are also cleaners available specifically for coils. If you want the best coil cleaning possible, call 1-800-Plumber +Air of Columbia.
Cleaning Outdoor Unit
If you're already cleaning the condenser coils in your outdoor unit (also known as the "condenser unit"), check out what else is happening around your unit. Are the fins dirty, and is there overgrowth in the surrounding area? While you can't keep your unit 100 percent clean all the time, you can take simple measures to clean it up.

After shutting off power to the system, spray down the unit lightly with a garden hose, both inside and outside. Vacuum the fins as well, and pull off any other natural debris in or around the system. Set aside a day for cleaning at the beginning of spring to help your A/C enter the new warm period in excellent shape.
Unfreeze Coils
Your A/C can become literally frozen thanks to refrigerant on evaporator coils freezing. This can occur due to your evaporator coil being dirty, refrigerant levels being low, and clogged air ducts/filters. If your refrigerant is unable to obtain the necessary heat for the cooling process, your whole system is liable to suffer.

To unfreeze your coils, shut off your thermostat to prevent further refrigerant flow, and turn on the fan to warm up your coils and help melt the ice. Depending on how much ice is on your unit, it could take a day for your unit to fully thaw. You should also check your filters and coils to see if they need cleaning or replacing. Check for any signs of refrigerant leaks, as well as refrigerant poisoning. Call Poison Control if anyone in your household is showing indications of poisoning, such as nausea, headache, and confusion.
How to Find an A/C Repair Company
It's easy to know you need A/C repairs, but how do you know which company to work with, especially when there are literally dozens to choose from? 1-800-Plumber +Air has some tips that are easy to follow.
Reviews
You should value others' feedback when researching A/C repair companies. Read through reviews and see what one company offers over another in terms of reliability, pricing, and results. Any deficiencies in these or other important areas should be treated with caution. Don't work with any company who you think might make your problem worse.
Licenses/Insurance
Never assume that an A/C repair company is fully licensed and insured. If you don't check, you could spend your hard-earned money hiring unqualified technicians who don't follow proper repair procedures. Even worse, if they get hurt and they don't have any kind of liability insurance, the liability is going to fall on you and your wallet. Request proof of license and insurance from every technician sent to your home before you allow work to begin.
Emergency Services
When you need A/C repairs, you usually need them right away. Trying to get through even one broiling Columbia day with a broken A/C is a struggle. That's why you should focus on companies with 24/7 emergency services. 1-800-Plumber +Air of Columbia technicians can come by any time of day, including weekends and holidays.
Age
Older isn't always better, but an A/C repair company with both age and positive reviews on its side is one you can trust. 1-800-Plumber +Air has been around since 1999, and we've certainly earned a reputation for excellence, with franchises and customers stretching across the United States.
We also stay up-to-date with new developments in A/Cs and A/C repair. There are always new things happening, and we want our customers to have the greatest advantages possible when it comes to their HVAC systems. This, along with our excellent customer service and technical skills, are what help 1-800-Plumber +Air to stand out.
Need A/C Repairs in Columbia? Call Us
Don't fret if your A/C needs a tune-up. 1-800-Plumber +Air of Columbia can find the solution and make your A/C run better than ever.
Contact us today
for additional information.
Jeff did a great job and let us know what was going on continually. He is a very personable technician.

Theresa D.
Joesph came out right on time. Showed me what my issue was, and told me my options (very professional). This company is fair and honest! They don't try to up sale or over price their product or service.. I highly recommend 1-800-Plumer of Pearland!! Go with these guys and you won't be disappointed!

Terril Kelly
1-800 Plumbers Sugar Land is the best!! Hector the owner and his team of men, specifically Chad were great! Very friendly, thorough, fast, and I didn't feel like I was being taken advantage of or robbed.

Erinn D.
Detailed orientated and honest inspection. Chad took his time and explained everything that was going on very well. The service fee was fair for the small issues he fixed, and he was able to make a referral for water restoration for us, I would use his service again and plan to when our water heater goes out.

Katie D.
Wow wow wow, Paul was excellent. Fair price, honest, did everything he said he would do and more. Fixed a line not slopped and 2 breaks at the tap. I recommend this business any day of the week. Excellent. I will use them for all my plumbing needs. He let me use my online coupon.

Debra's Passion Boutique
Kyle was efficient and professional when handling my faucet water leak. He was an expert problem solver to my numerous problems. Success!

Cheryl S.
Swayze did a great job and was very courteous polite, and knowledgeable .

Satisfied Customer
Great job! Very professional and friendly! Thank you for coming out on short notice!

A.S.
He was everything you want in a employee!!! He was professional, kind, informative, patient, and very clean.

Ann B. No surprise
costs at the end of a job On-Time
Committed to on-time arrivals