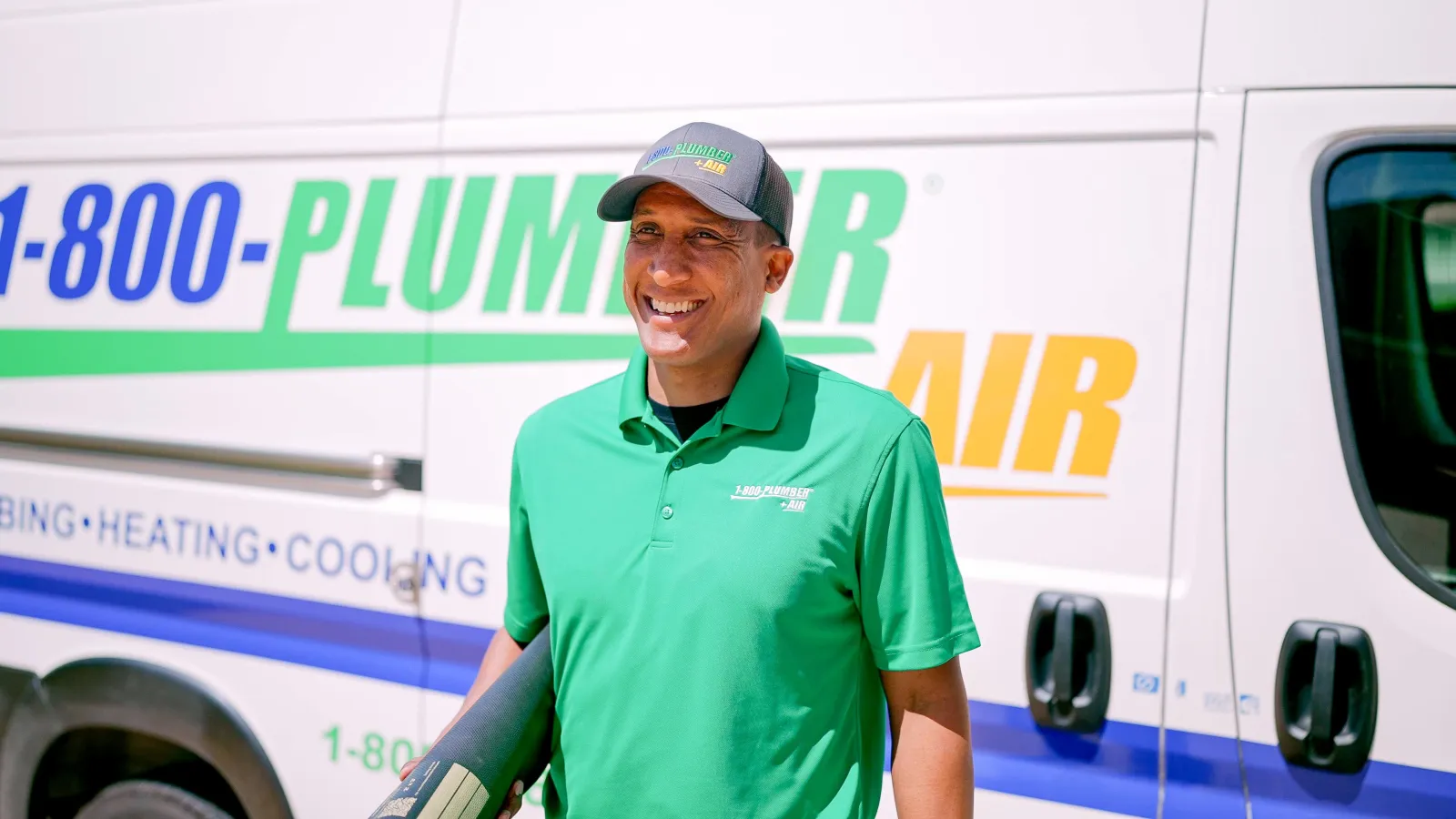 The Name Raleigh Trusts for
DRAIN CLEANING SERVICES
Having a
HOME EMERGENCY?
Call or Find Your Nearest Pro!
The zip code you entered is not associated with one of our locations. Please visit our Locations page to find your closest location.

Drain Cleaning Maintenance
1-800-Plumber +Air of Raleigh
Signs You Need Drain Cleaning Maintenance

The most common signs that you need a professional drain cleaning are slow draining water, frequently clogged drains, or foul odors coming from your pipes or drains. These issues could be caused by a variety of things including grease buildup, hair, foreign objects, tree roots, and more. If you're noticing any of these issues in your home, it's best to call a plumber right away before the problem gets worse.
Types Of Drain Cleaning Services
There are various types of services that 1-800-Plumber+Air of Raleigh offers in order to keep your drains running properly. Hydro jetting uses high-pressure water jets to blast through tough blockages and clear out debris from inside the pipe walls. This type of service is great for commercial businesses because it gets rid of large buildups quickly and effectively. Additionally, 1-800-Plumber+Air of Raleigh also offers camera inspections which allow our technicians to get an up close look at what's going on inside the pipe so they can identify any potential problems quickly before they become bigger issues later on down the line.
Why do I need to have my drains cleaned?
Having your drains cleaned regularly is essential for the health and longevity of your home's plumbing system. Without regular drain cleaning, you can be faced with a wide range of problems, from clogged pipes to slow draining water, foul odors and even damage to the lines. If these issues are not addressed promptly, it can lead to costly repairs or even pipe replacement down the line. So, by taking preventative maintenance measures now, you can save yourself time and money in the future.
How often should I have my drains cleaned?
The frequency of drain cleaning depends on the size of your home, its age, and the type of plumbing system you have. Generally speaking, it is recommended that residential homes get their drains cleaned every 1-2 years in order to prevent build-up and keep everything working smoothly. For commercial buildings or high traffic areas such as restaurants, more frequent cleanings may be necessary. Additionally, it's important to contact a professional immediately if you notice any signs of blocked pipes or slow draining water so they can address the issue quickly before it worsens.
What happens if I don't have my drains cleaned?
If you don't have your drains cleaned on a regular basis, you can be faced with some serious consequences. First, your pipes may become clogged from accumulated debris such as grease, hair and other foreign objects, leading to slow draining water or even complete blockages. This could lead to water damage in your home, as well as costly repairs and even pipe replacement. Additionally, dirty drains can produce foul odors which can be unpleasant for you and your family.
Need a plumber? Contact us!
No one likes dealing with slow or clogged drains and having to call a plumber in the middle of the night when things go wrong can be very stressful. That's why it's important to stay on top of drain cleaning maintenance so you don't have to deal with any emergency plumbing situations in the future! With our experienced technicians and variety of services offered at 1-800-Plumber+Air of Raleigh, we can help make sure that all your drainage needs are taken care so you don't have to worry about them anymore! Contact us today for more information!
Contact Us for Your Emergency Drain Cleaning Needs
Are you in need of emergency drain cleaning? If so, contact us to solve the problem, no matter what time of day. We are glad to be your go-to solution for any drain or plumbing problems in your home. Our expert and professional team will resolve all of your drain problems, offering peace of mind and a quick repair for your kitchen, bathroom, or piping.
Ready to
GET IT FIXED?
Contact Us Now!
As a consumer and customer I am very happy with 1-800-Plumber Air of Pearland. I really appreciate the concern Joe and his helper showed for my issue and for the work they performed. I highly recommend 1-800-Plumber Air of Pearland

Lee
Chad was a pro..... personal..... and got right to work...... he explained each step he was taking and why .... very pleased with his. service and will highly recommend

Andy M.
Joey and Moses came out to replace a waterline and were AWESOME!!! They answered my questions, where patient, friendly (respectful) and VERY professional! This my 2nd time using 1800 plumber and both visits were great! I look forward to continue using them! read less

Satisfied Customer
He was everything you want in a employee!!! He was professional, kind, informative, patient, and very clean.

Ann B.
did a excellent job on repiping my house n clean n very please with the work they done.

Willie W.
"Great service ,plumber was very good and did a great job .very happy"
Joseph G.

Jeff did a great job and let us know what was going on continually. He is a very personable technician.

Theresa D.
I had Kyle U as my plumbing tech. He did a great job and worked really hard to get to the bottom of things (like roots). He was also polite and honest.

Linda D. No surprise
costs at the end of a job On-Time
Committed to on-time arrivals